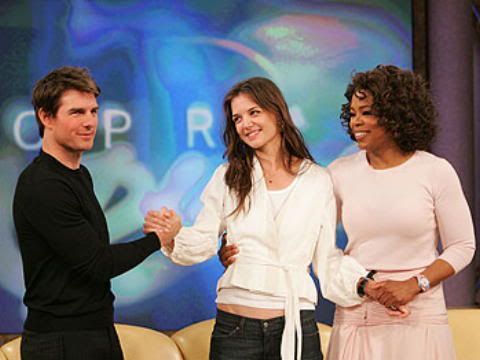 Tom and Katie are having yet another wedding celebration this Saturday at the Beverly Hills mansion of his business partner Paula Wagner. It's meant to be a big affair for friends and family who couldn't travel all the way to Rome to get the Scientology pitch. Noticeably absent from the guest list is Oprah, who certainly pissed off Tommy for commenting that she didn't "buy" his couch-jumping antics proclaiming his love for the little actress on her show.
Oprah was all "I don't get invited to everyone's wedding" when she was asked about being snubbed from the Rome wedding. I wonder what she's going to say about this, which kind of brings the snub home:
TomKat didn't invite the talk queen to their wedding in Italy. Now Winfrey's rep confirms that she hasn't been asked to the post-honeymoon bash thrown by Paula Wagner, Cruise's UA producing partner, and Cruise's agent, Rick Nicita. (Some believe that Viacom chief Sumner Redstone started thinking about cutting Cruise loose after seeing his infamous couch-jumping antics on Oprah's talk show.)
Look for lots more pictures of smiling brainwashed faces in your favorite glossies next week. TomKat must not have received enough coverage for their last wedding, and is planning another just as the news dies down.
After his second wedding party, Cruise will start work on a new war film called Lions for Lambs with Meryl Streep and Robert Redford.
Here are pictures of Katie bringing Suri to meet Victoria Beckham during her stay in LA. Beckham is said to be looking for real estate in the Cruise's neighborhood. Pictures from KatieHolmes.com