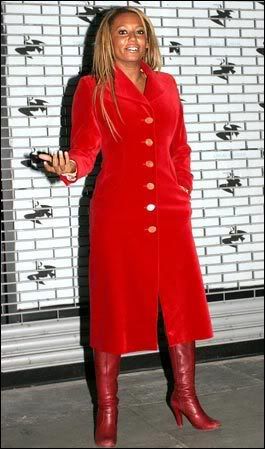 Eddie Murphy never broke up with four-months pregnant Melanie B. He didn't even bother to phone or text message her the news, and she had to find out from her friends, who heard it after he told a Dutch television station that he wasn't with her and didn't know if the baby with his. That's harsh:
MEL B learnt she had been dumped by Eddie Murphy – when friends phoned to tell her.

The ex-Spice Girl was on a US-bound jet when he told the world on a TV show.

Mel only found out when she landed and checked messages from worried friends.

She bravely smiled through her torment but a pal admitted yesterday: "Mel's beyond gutted. She was set to marry this guy and now he's knocked the wind out of her."

The mum-to-be, 31, left her Los Angeles home last week for a wedding in Britain, hoping that one day she too would walk down the aisle with the comic.

But Eddie, 45, was secretly seeing new love Tracey Edmonds. He later told a Dutch TV station he had ditched Mel and wanted a DNA test to prove the baby was his.
Tracy Edmonds recently claimed to be dating Murphy for six weeks. That means he's been cheating on his pregnant girlfriend with her all that time.
The Sun reports that Melanie is floored that Eddie wants a paternity test, and that she had no idea the split was coming. She just thought they were fighting a little.
Word is that Melanie just didn't get along with Eddie's mother while they were all trying to live together in his mansion. Staff are said to have found her demanding, and everyone questioned her motives when she became pregnant just a few months after meeting Murphy.
Now that she's been dumped without a word from the cheating comic, he's going to come off as the bad guy no matter what she did while they were together.