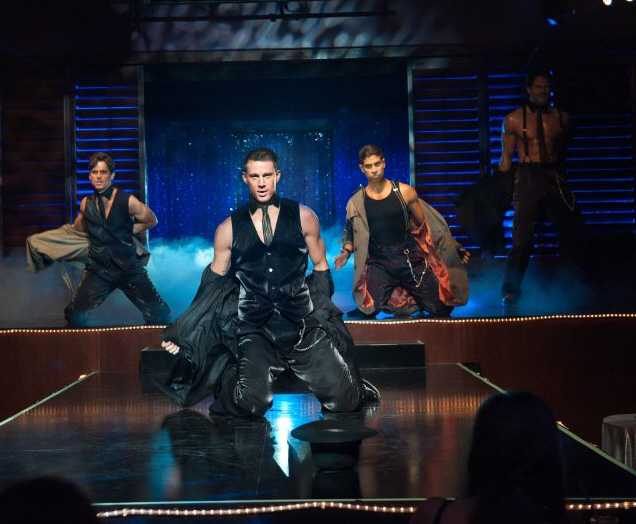 Ladies (and gents of a particular persuasion), only a few days stand between us and the release of Steven Soderbergh's male stripper movie, Magic Mike. I am more than a little bit restless with anticipation at the very thought of this show on the big screen. Of course, the running joke on Twitter this week has been the injustice of Katy Perry's movie being in 3-D while Channing Tatum and his boys will appear only in two dimensions. That's okay though because I can imagine the third one in all its epic glory … especially when it come to Joe Maganiell's well-endowed Big D*ck Ritchie character.
The movie's press has been heating up quite a bit this week, and TMZ has posted an amusing video of Channing Tatum from his "real" stripper days when he screwed up the "YMCA" dance onstage. Hey, he still looks good though! And here's a followup to last week's story about Channing's former stripper buddies who claim he stole their moves and their tales and then turned them into a blockbuster movie. Naturally, the topic came up in a press conference, and Channing set the record straight:
Magic Mike star Channing Tatum is laughing off accusations that he used the real-life stories of two former male strippers he once worked with in his new movie.

Thomas "Awesome" Austin and London Steele — both of whom worked with Tatum during his brief stint as a stripper in Tampa, Fla. — told TMZ last week that they think the movie's characters bear several resemblances to their own lives.

The duo — who are upset that Tatum didn't involve them in the movie or consult with them — say that special stripper moves they taught Tatum are used in the movie, including the "Hot Seat," which Austin claims to have invented.

They also claimed that the title of the Steven Soderbergh-directed movie — which stars Tatum, who also produced — is a name that Austin coined for a fellow dancer. Austin added that Tatum was an "amateur" when they met. "He only danced for four months," he told TMZ. "How many events could have happened to him?"

But at a Magic Mike press junket Saturday at the Four Seasons Hotel, Tatum defended himself against their accusations. "Those guys have been trying to make money off of me since I got into this business," Tatum told reporters.

The actor said that the movie's characters are not based on anyone. "Look, there's nothing that's factual in this whole movie other than that I was an 18-year-old kid and went into this world and I dropped out of college from playing football and was living on my sister's couch," he said. "There's not one character that I took from my real life; this is just a world that I went into, and I had a perspective on. And we created everything from a fictional place."

Still, he had good words to say about his former co-workers. "I don't want to say anything bad about them because they're part of the reason why I think this world is so interesting," he said. "They're very interesting, intriguing and bizarre characters, and I'm thankful for weird people out there. They're some of the most creative people."
[From Hollywood Reporter]
Yep, I figured those disgruntled stripper buddies were just looking to make some shut-up money off this movie. Besides, what exactly was their point about Channing only being in "the biz" for four months? I could be wrong here, but it seems like getting up onstage every night and taking one's clothes off could get really repetitive in short order, and there are only so many permuations of screaming women to experience, right? At a certain point, imagination must be used to come up with the stories upon which this movie was based. Any strippers or former strippers have an opinion on this issue?
Here's another tidbit from the press onslaught, which is an interview with Alex Pettyfer and Cody Horn, and Alex comes off as surprisingly charming (must be the accent). In fact, Kaiser reacted with a "This boy is HOT," and I have to agree that he's pretty smoking for a guy with a "Thank You" tattoo above his crotch. The video itself is available at E! Online, but it's an auto-play vid, so we're not embedding it. Here are some excerpts:
He said "yes" to Soderbergh without thinking: "Next thing I know I'm in a costume fitting with an American-flag thong with everything hanging out and I go 'I've really just got to dive into this head first'. And I did and it scared me and I was terrified about the dancing."

His fear of dancing: "I've never danced in my life," Pettyfer shares. "I can't put one foot in front of the other, let along shake it…But you know what I learned–apart from Channing's amazing dancing–the funnier, the grimier, the dirtier it is, the bigger reaction you get."

His first time: "When you see me come out for the first time with the song 'Like a Virgin' is the first time I had ever performed any dance, it was the first time I had ever really been onstage in front of an audience. I've always been able to hide behind a camera. [Here], all the reactions you get are genuinely the same reactions you see in the movie because Stephen shoots the audience at the same time he's shooting you, so you really got to impress them."
[From E! Online]
At the end of the interview, co-star Cody Horn added that the film set was a pretty amusing experience in and of itself: "Anything, anything that happens while someone's in a thong is automatically hilarious." Can you imagine what it was like for her to go to work every day and be surrounded by gorgeous and mostly naked men? And then she got to rub up with and kiss Channing Tatum too. Lucky bitch.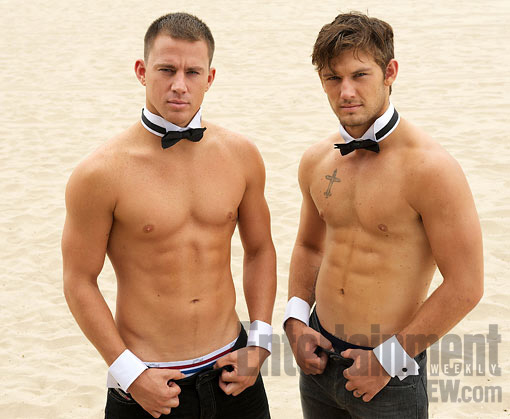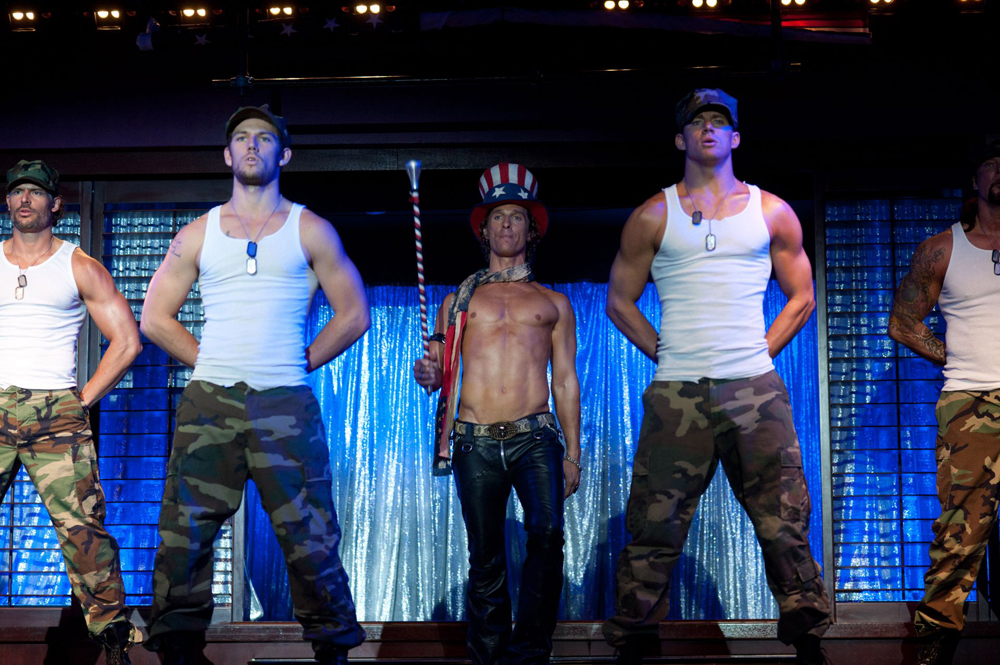 Photos courtesy of AllMoviePhoto