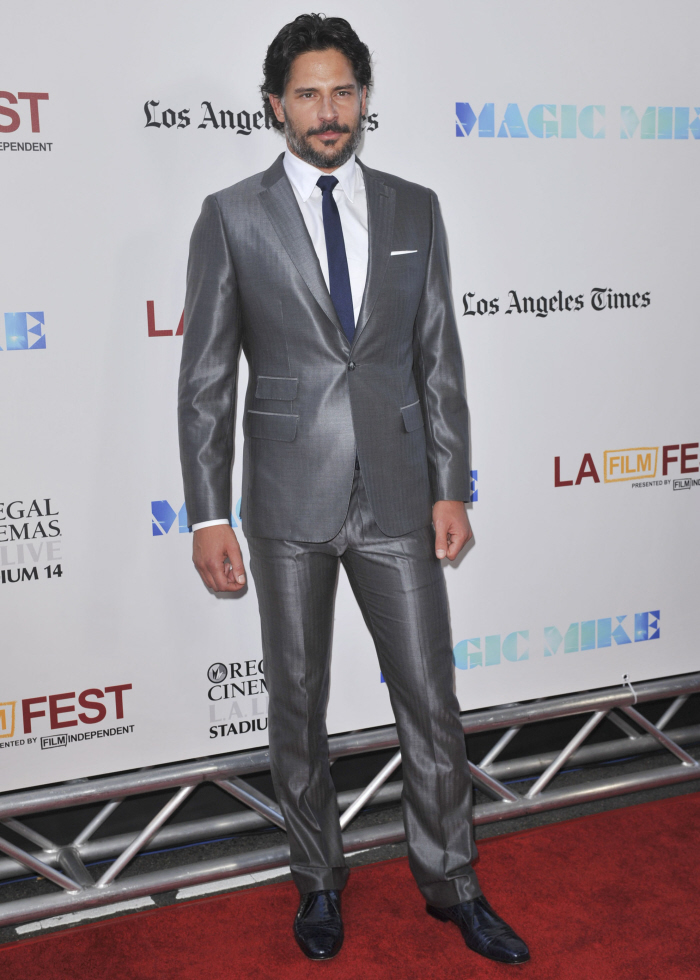 These are some new photos of Joe Manganiello at the LA Film Festival premiere of Magic Mike last night. His suit is incredibly shiny. And it looks… tight. He's a really big guy, so I'm thinking that he has some tailoring issues. Either that, or he just loves a slim-cut suit. Anyway, last week, random tabloid sources claimed that Joe was "helping Demi Moore get her groove back". I said at the time that it sounded like Demi's horribly ineffective publicity team was attempting to make her sound sexy and desirable to yet another younger man. And of course Joe had to come out and deny it:
Joe Manganiello is single . . . and happily so! The Magic Mike stud, 35, was first linked to Demi Moore, 49, in early June after witnesses spotted them chatting and during the That's My Boy after party in L.A. But in an interview on Ryan Seacrest's KIIS-FM radio show Thursday, Manganiello assured women everywhere that "there is 100 percent zero truth" to relationship rumors.

(Moore split with Ashton Kutcher, 34, in November 2011 after six years of marriage; he had been unfaithful to her on numerous occasions, most notably with party girl Sara Leal on their sixth wedding anniversary.)

At the Samsung Galaxy S III launch in Beverly Hills later that night, Manganiello admitted to Us Weekly that he typically doesn't "care to talk about his personal life, unless it is to shoot down rumors that I'm dating someone — like what showed up on the internet this week."

Though he was hesitant to say much more about his personal life, Manganiello — whose engagement to model Audra Marie ended in 2011 — was delighted to talk about his role as an exotic dancer in Magic Mike.

"You have no idea what you are in for! You are going to be speechless," he promised. "It's really to an honor to be a part of the movie, and when I found out Steven Soderbergh was directing, I was all in."

To prep for his role as Big Dick Richie, Manganiello consulted "a really good friend who was a male stripper in Dallas in the '90s" and enrolled in "stripper boot camp" with costars Channing Tatum, Alex Pettyfer, Matt Bomer and Matthew McConaughey.

"It consisted of doing body and hip rolls in the mirror for hours on end," he laughed to Us. "Funny, but I'm serious."
But! It seems like Joe might not be completely single – he's just NOT dating Demi Moore. People Magazine notes that Joe was seen with a "tall, leggy blonde" last Thursday and that he and the blonde were "canoodling and definitely getting cozy."
Page Six also has a little piece about Joe this morning – they discuss, in somewhat graphic terms, Joe's role in Magic Mike and how BIG certain things are. You can read that piece here.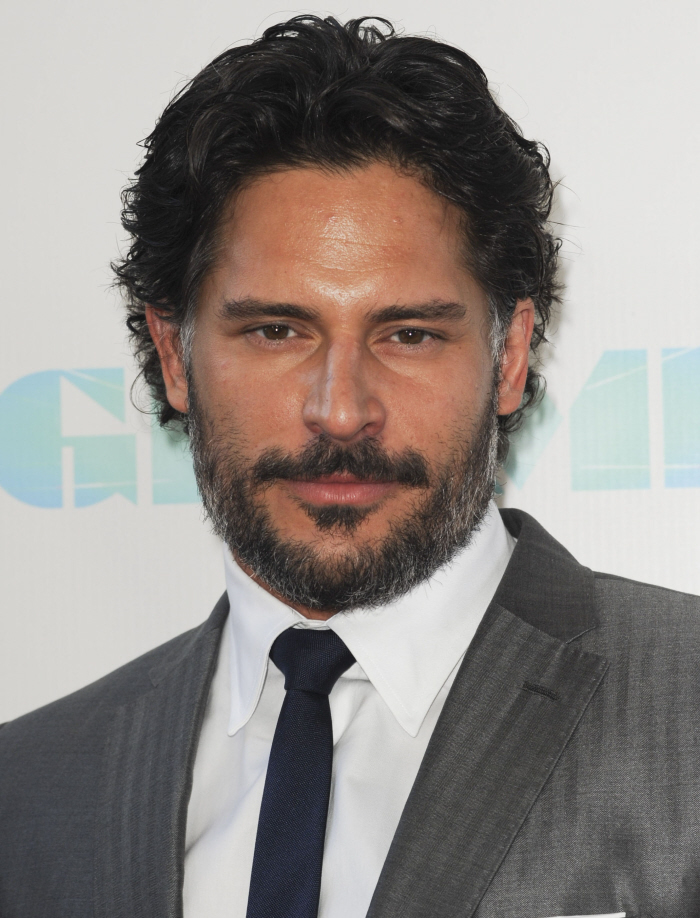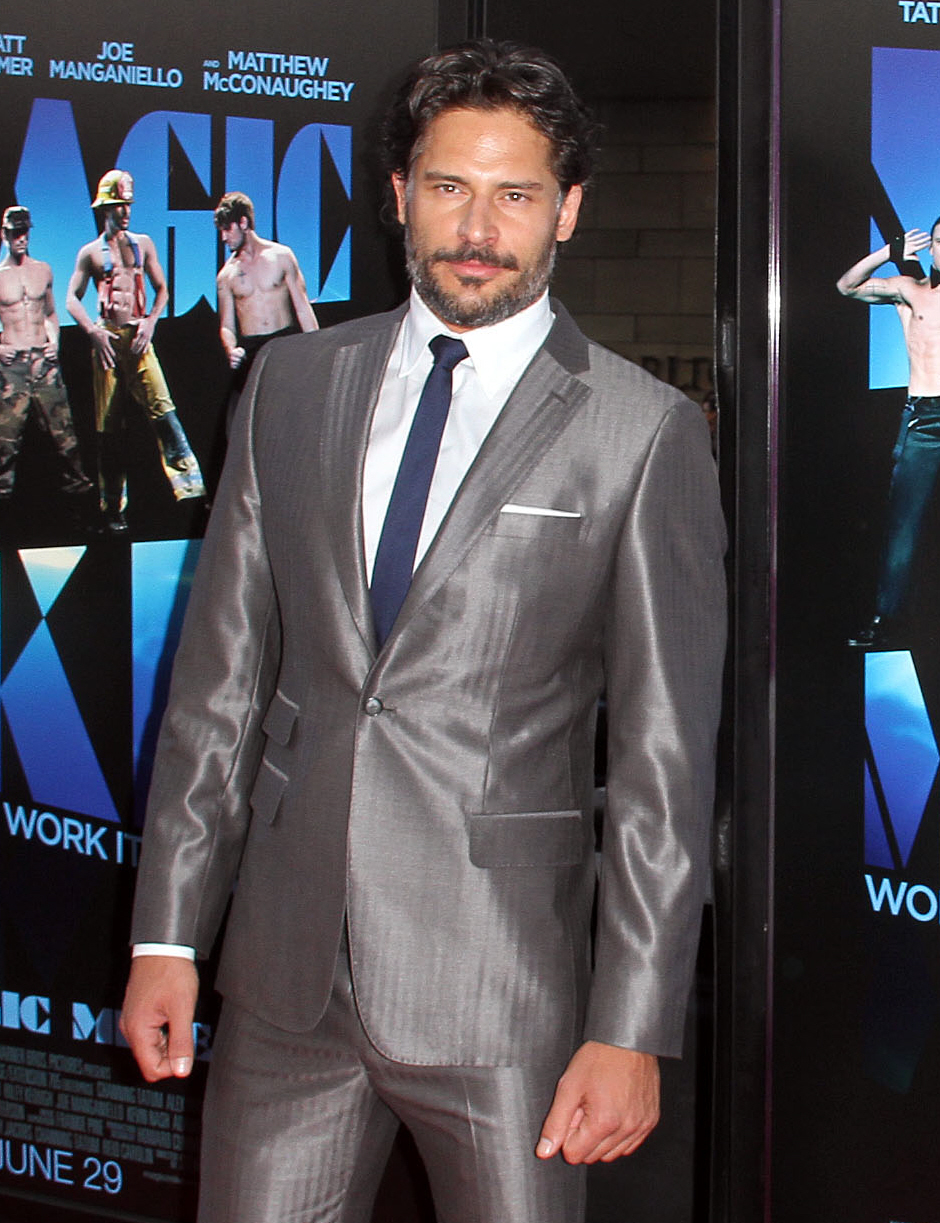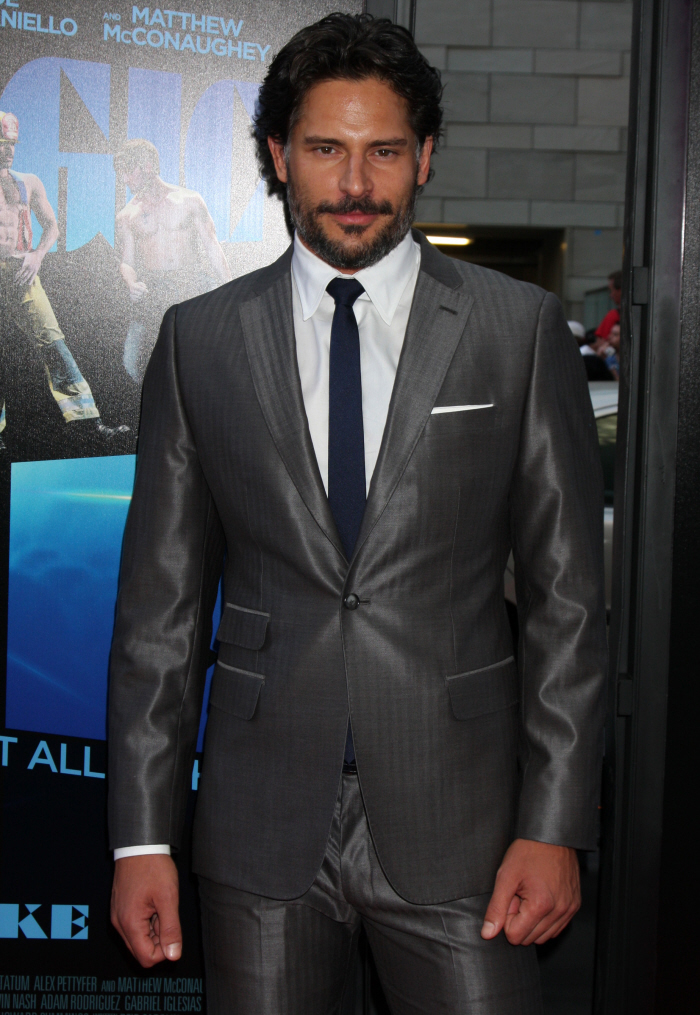 Photos courtesy of WENN, Fame/Flynet.