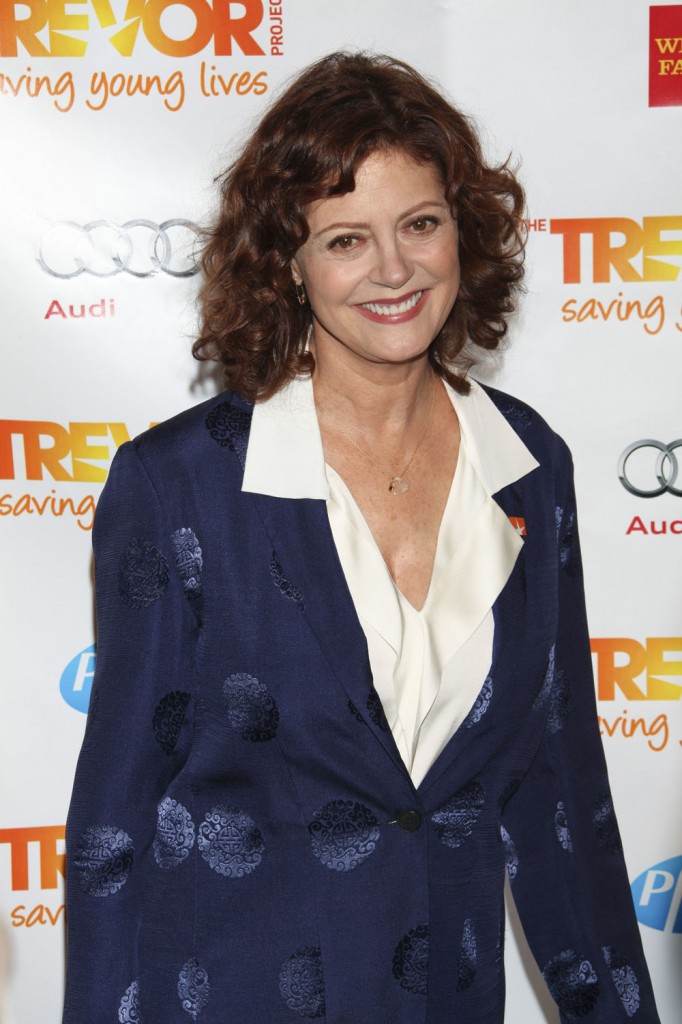 When I was in grad school I had a professor who couldn't use a computer or type and I found it kind of fascinating. He would either hand write his notes for us or have his secretary transcribe them, which just seemed like a total waste of time. The guy was in his late 70s and that was the mid 90s though, not nearly 20 years later when we're walking around with smart phones, iPads and little laptops that fit in our purses. (How I wish I had those things in college when they would have made such a difference.) So I'm surprised to hear Susan Sarandon, 65, admit that she can't turn on a computer or use Google. My mom and dad are around her age and they've been online since dialup days. (Can you hear the sound in your head now of the modem connecting? I can but as I've already established I'm old.) All their friends are online and they're chatting on Facebook and sharing photos of their grandkids. It just surprises when someone says that they can't use a computer or the Internet, if I'm reading this right. Here's what Sarandon said, she was at an event for the Trevor Project, an LGBT suicide and crisis prevention group:
Susan Sarandon isn't bothered by bad reviews — or good ones, for that matter. She doesn't read them at all, and abstains from Google. "I wouldn't even know how to Google myself," she told us at a Trevor Project gala at Chelsea Piers. "I don't know how to touch a computer." As far as critics of her work, the star takes an ostrich-like approach: "I don't want to know," she says. "Even stuff that's really good shouldn't get stuck in your head, because it's not real." Sarandon was honored at the benefit to fight teen suicide. When asked about the online bullying phenomenon, she replied, "Usually the people that have time to go online and sit there and be negative are such losers. But, of course, you can't understand that when you're a kid."
[From The New York Post]
Sarandon had that young boyfriend for a long time (although we haven't heard about him for a while), she's into ping pong and she's always been committed to liberal causes. I just assumed that she's online like so many of the rest of us, and that's where she gets her information. I'll admit that sometimes I yearn for the time when I wasn't connected all the time, when I wasn't compelled to check my email and the news just one last time before I went to bed. But to be honest, I have a hard time remembering what that was like. My son will never know what that was like. Is that progress or is it scary? Is it a bold statement to say that you don't know how to use a computer and you can't be bothered? I think it is, and I admire it like I admire people who do incredible things like go on an inexpensive vacation around the world for months at a time. I know it's not for me, but I can't help wonder what it would be like, and if I would enjoy it.
Here Susan is at the Trevor Project event in a really fug dot print navy suit and wide-collar white shirt. Look at her shoes! Does that make me a loser for pointing out her bad outfit? What do I care, she'll never read it. She's also shown at the "That's My Boy" premiere with her sons Miles Robbins and Jack Henry Robbins. Cute! (Except for her suit. She looks great otherwise though.)
Update: Susan probably isn't as computer illiterate as she claims. She joined twitter this week and her account is verified and everything. Maybe someone is helping her with it.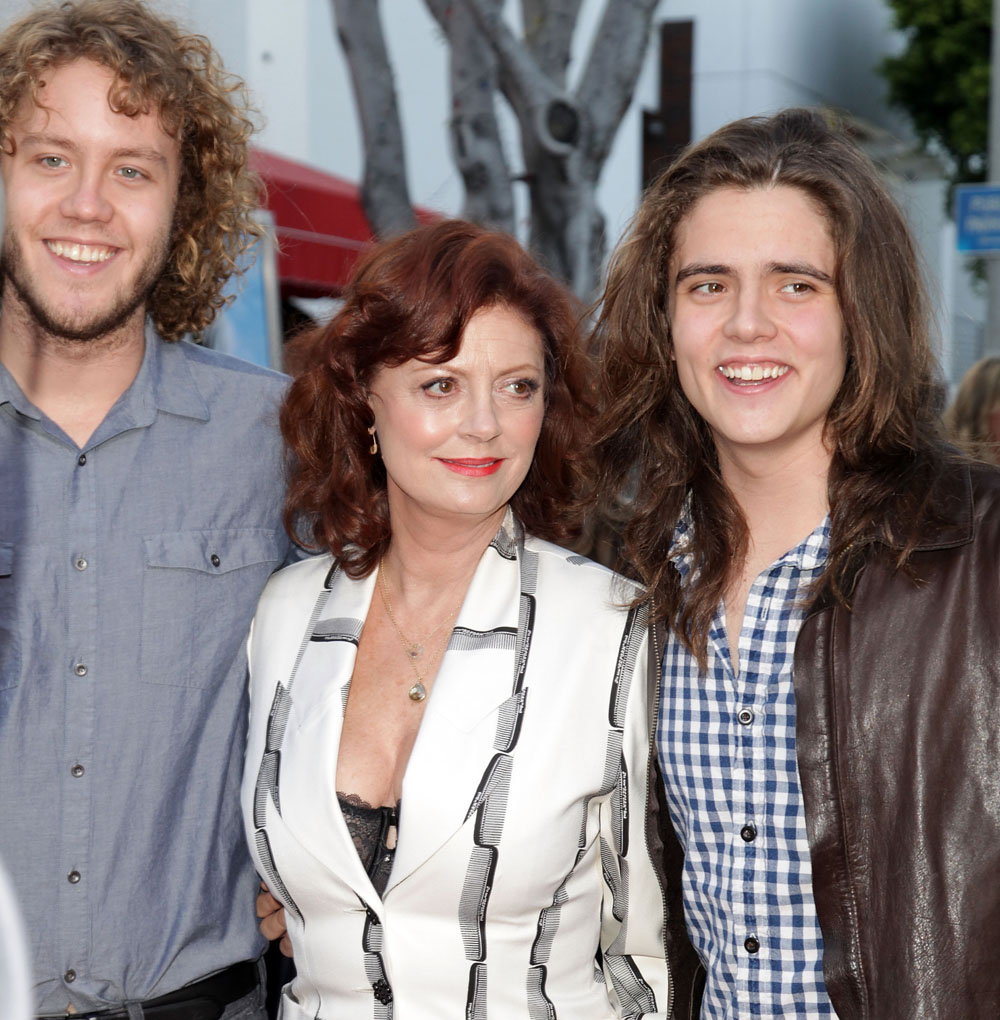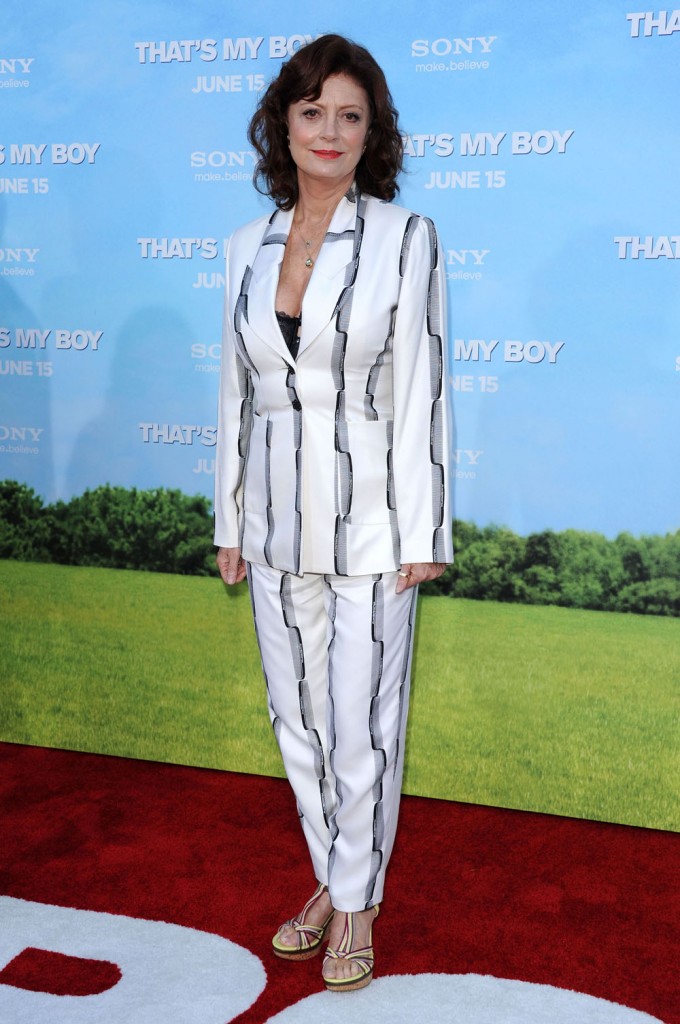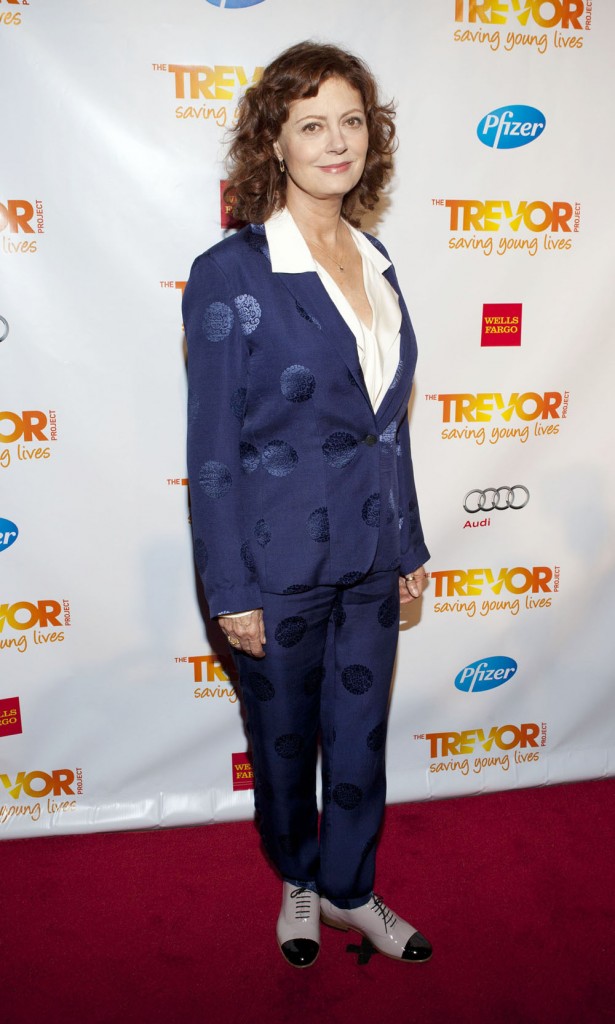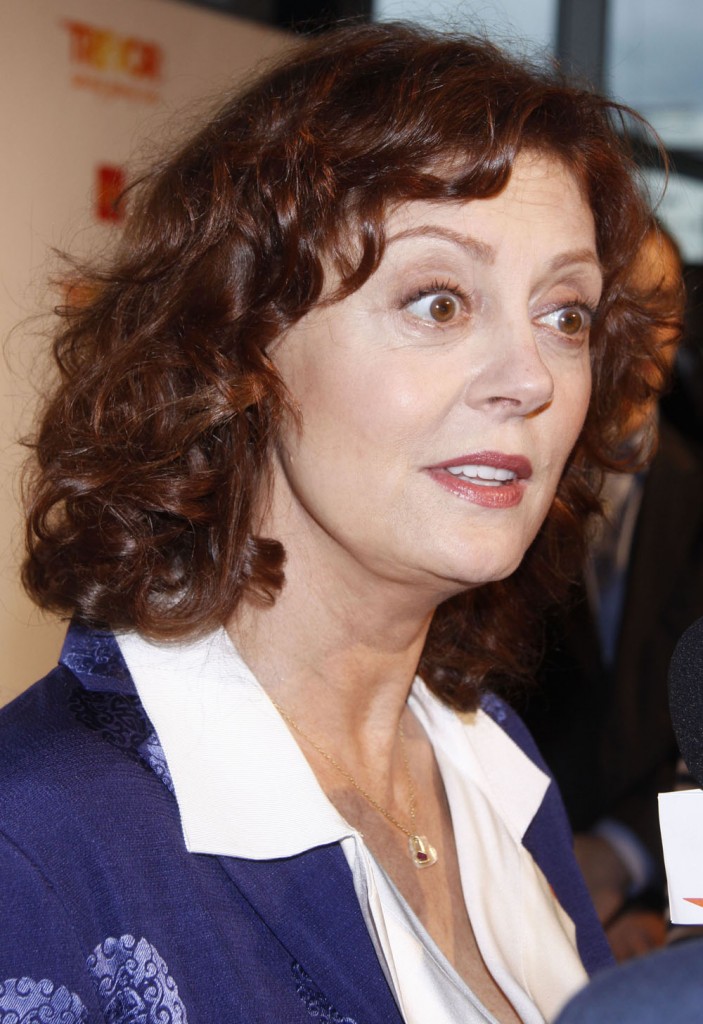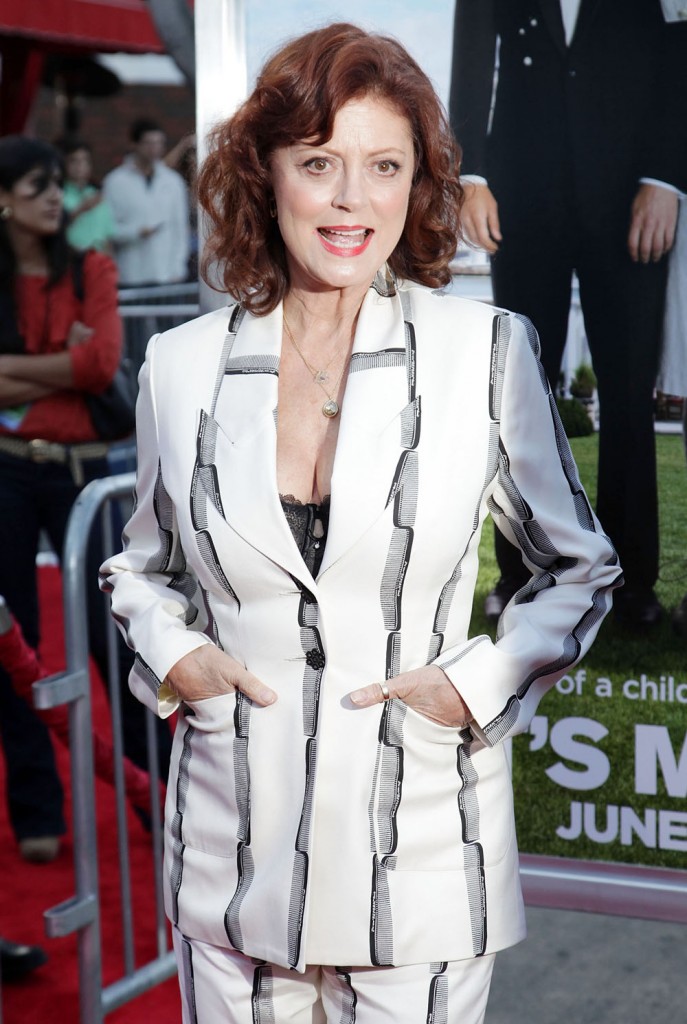 Photo credit: WENN.com