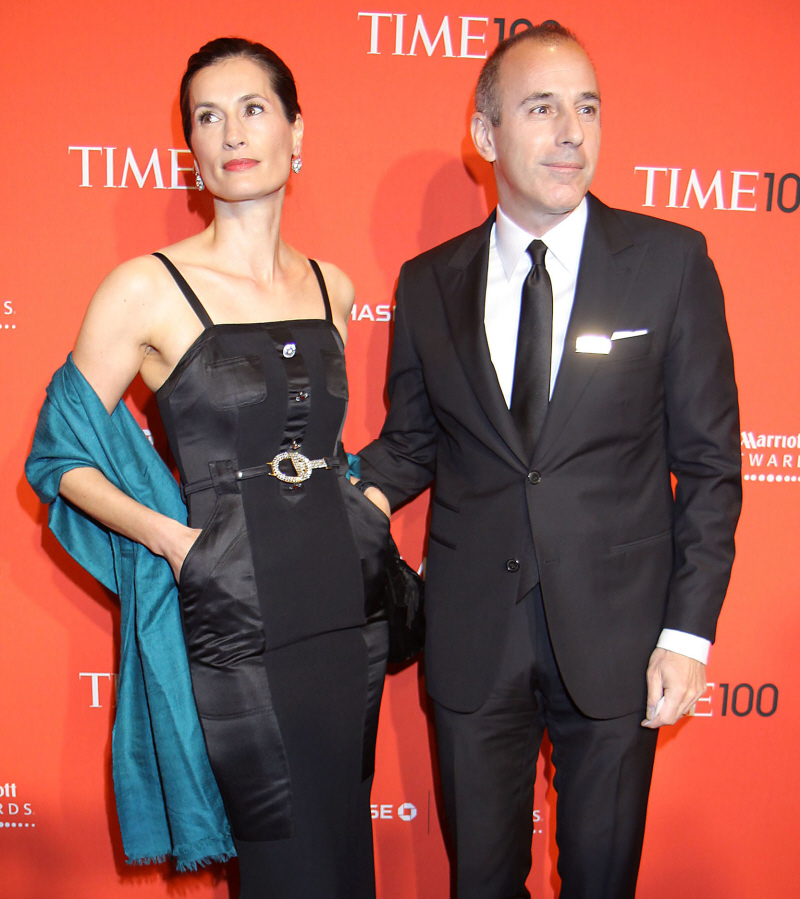 I think it was two summers ago when CB and I thought it was going to be a lazy, un-scandalous few months in which nothing happened – and then Radar started publishing all of those "leaked" recordings of Mel Gibson going apesh-t on Oksana Grigorieva and suddenly it became The Summer of Mel's Crazy. It just goes to show you – you can't pick some of the stories that are going to be become major, weeks-long events. Well, as the sultry summer begins, it looks like one of the biggest stories out there is The Firing of Ann Curry. It's not so much Ann and the issues around her – although that's an interesting discussion – but it's also about Matt Lauer and his problems with women.
The Enquirer has been ahead of the Matt Lauer rumors for years. Lauer's second wife, Annette Roque, has already tried to leave Lauer once before, even filing for divorce only to withdraw the petition later. There are lots of stories about Lauer's ALLEGED wandering dong, and how he might have had an affair with Natalie Morales in 2006-07 (their alleged affair began in Torino?), and there were rumors about Lauer and Meredith Vieira too. Maybe that's why Meredith has no interest in coming back to Today, even though producers allegedly begged her? Don't know. But I do know that Natalie Morales story seems to have legs. Yesterday, Page Six reported that Morales was considering leaving Today (and NBC entirely) because she felt "passed over" for the co-anchor job. Now Radar/The Enquirer claims that Lauer's wife Annette is pissed off because she's hearing that Natalie is in the running. Annette is threatening to divorce Lauer if Natalie gets co-anchor. EPIC.
There's drama brewing on Today in the wake of Ann Curry's sudden departure from her co-host seat and it's almost as good as an episode of the Jersey Shore!

Ratings for the morning program have plummeted since Curry took over from Meredith Vieira last year, and as a result, the veteran journalist is being handed a pink slip and Matt Lauer's wife Annette Roque isn't happy about the situation.

She fears the replacement will be none other than Natalie Morales, the woman Lauer was not only accused of having an affair with, but also fathering one of her children.

Morales has been a regular fixture on the show for a few years now and was upset she didn't get the co-host gig after Vieira left. It's now rumored she's threatening to quit the show if she doesn't get the job even though Savannah Guthrie and Hoda Kotb are the front-runners.

Meanwhile, that's not the only threat going around. Roque, reportedly told the NBC host that if Morales gets the job, she's divorcing him.

"When she heard about Ann getting the boot, the first thing she told Matt was that she didn't want him cozying up any closer to Natalie," a source close to Lauer's wife told The National Enquirer. "In fact, Annette drew a line in the sand and said if he pushed show bosses to make Natalie his new co-host, she'd divorce him. Annette knows Matt is the key to the Today franchise and his bosses will put whoever he wants in the co-host chair."

A NBC Universal representative had no comment on Curry or her replacement, but said the talk of Morales, 40, being upset was 'totally untrue'. But Roque isn't taking any chances and is doing everything she can to ensure Morales doesn't get the job.

Lauer, who is said to have signed a $25 million deal earlier this year to stay with Today, was accused of having an affair with his coworker when they were covering the Winter Olympics in Italy in 2006.

Meanwhile, after only a year on the job, it's said that the network is going over the final details of Curry's severance package from her $10 million a year contract.
I really don't know why Annette doesn't just divorce him. If Lauer is only doing a fraction of what Annette suspects, she needs to get the hell out. I've also heard rumors that Annette and Matt pretty much live separate lives anyway, for what it's worth. She stays out in the country on their horse farm, and Matt stays in the city.
Meanwhile, TMZ reports that Today is already preparing for Ann Curry's departure, and that the show is already editing a "farewell montage" and that a deal will be made by the end of the week. Curry still wants $20 million and no contract. NBC wants to give her $10 million and a foreign correspondent position. As of yet, no deal has been made, but NBC is already grooming Savannah Guthrie, apparently, and they definitely want Guthrie for the Olympics coverage. TMZ's sources also say that Natalie Morales is definitely NOT leaving Today and that she "loves her job and she's completely happy with what she's doing." Well played, Natalie.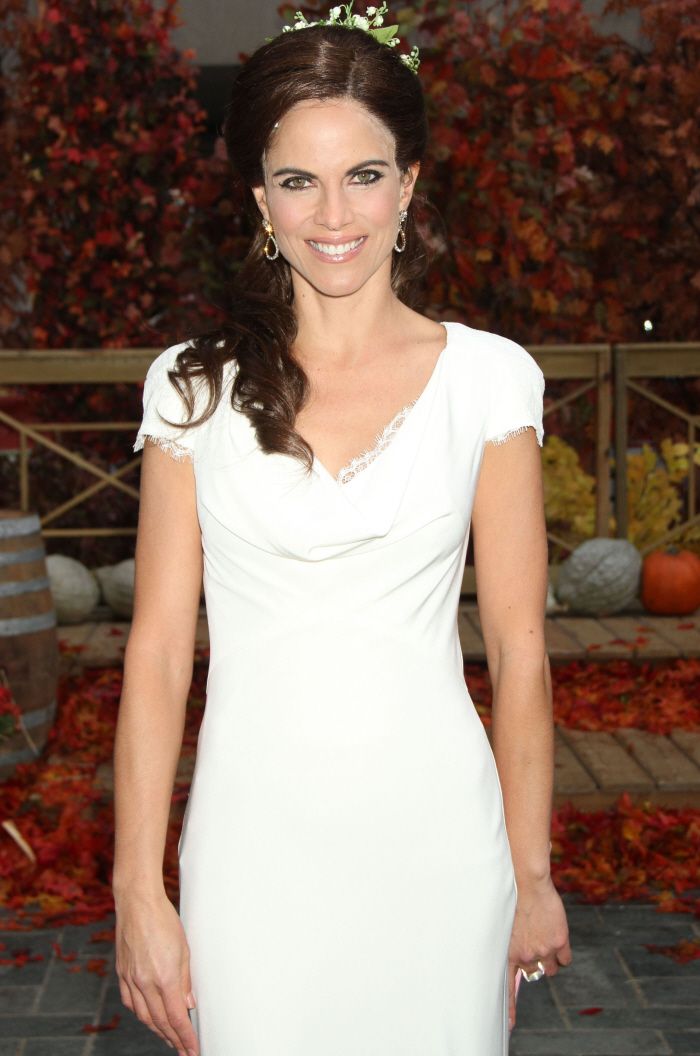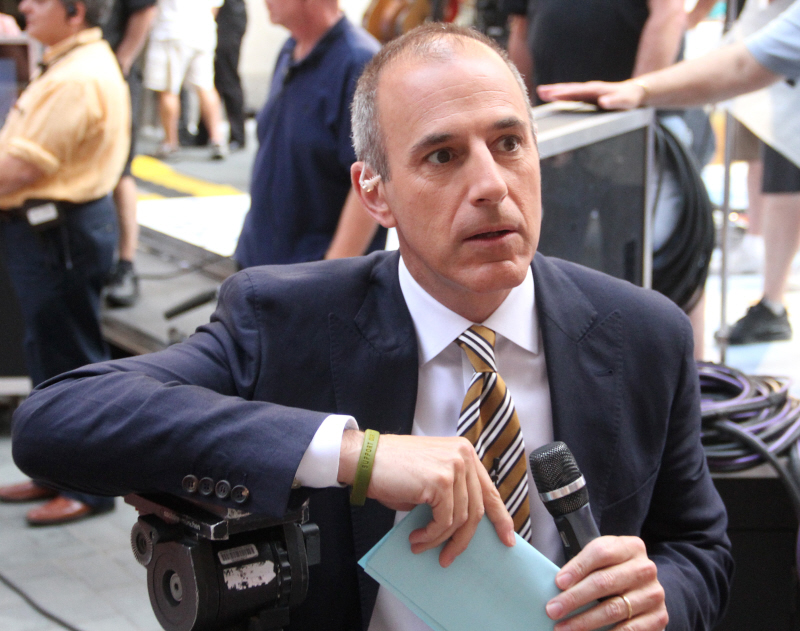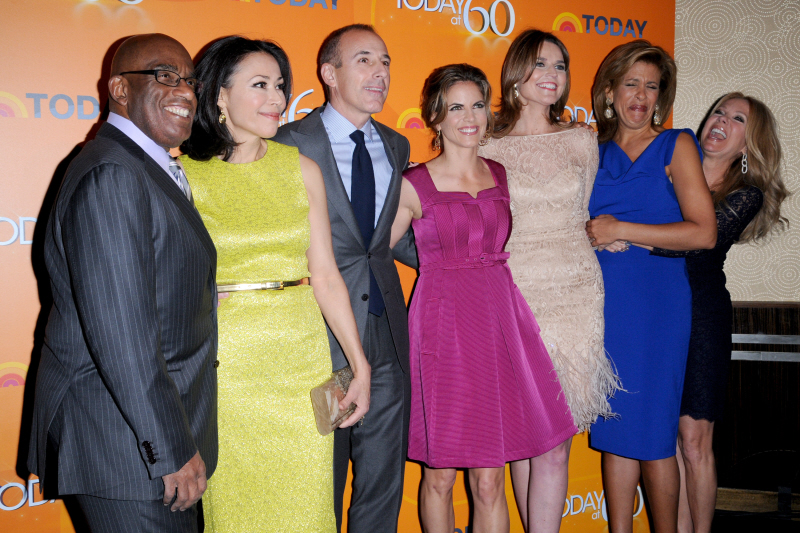 Photos courtesy of WENN.