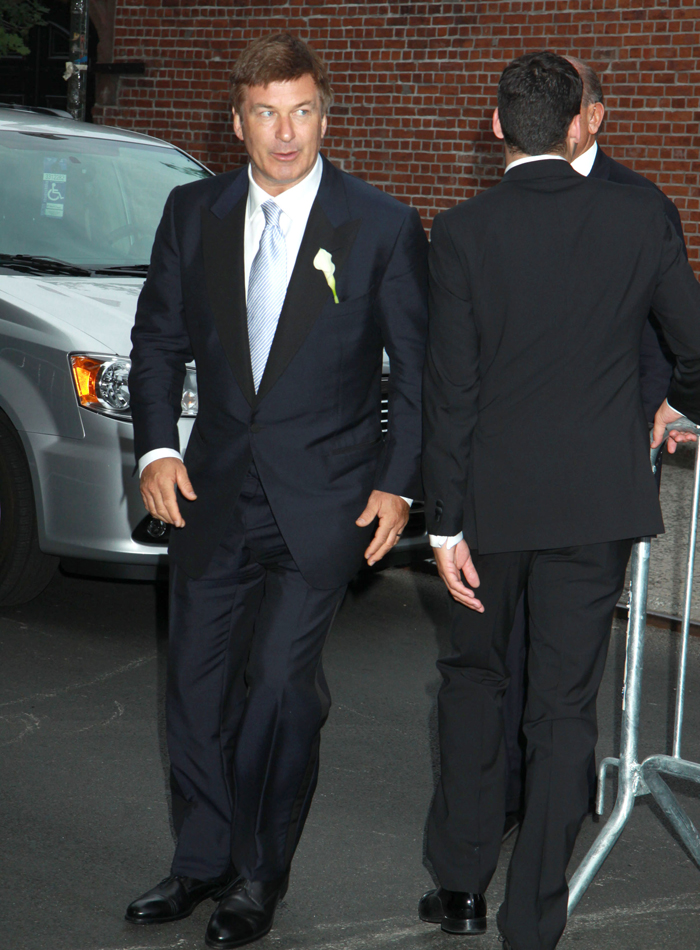 Alec Baldwin, 54, married his much younger (and mysteriously so) girlfriend, Hilaria Thomas, on Saturday at NYC's St. Patrick's Cathedral after a three-month engagement. Here are some photos from outside the church, and Alec totally kept his cool in front of photographers — unlike earlier this month when he allowed his inner rage monster to take over while attacking an NYDN photographer. There was also a little incident last week in which Alec mouthed off and threatened another photog, but while he said some offensive things to the guy, he didn't completely fly off the handle. So … progress. And at his wedding, Alec seemed to completely behave himself, which might be because he wants to still claim that his yoga instructor woman is a calming influence. Perhaps that's a bit rude of me to joke about, but I still find it Hilarious (get it?) that Hilaria the yoga instructor would marry such an anger-filled man. Namaste.
Anyway, Alec and Hilaria were very hush hush about their impending nuptuals like nearly any celebrity (or in this case, half-celebrity) couple. The New York Post learned that Alec went a bit overboard by withholding reception details until yesterday and then sending them via text message. Oddly enough, this is Alec's first marriage in the eyes of the Catholic Church since he and Kim Basinger were married on a Hampton's beach instead of inside an actual brick-and-mortar church. Here's a photo of Hilaria arriving at St. Patricks in a grey t-shirt and jean/booty shorts as well as the details from People: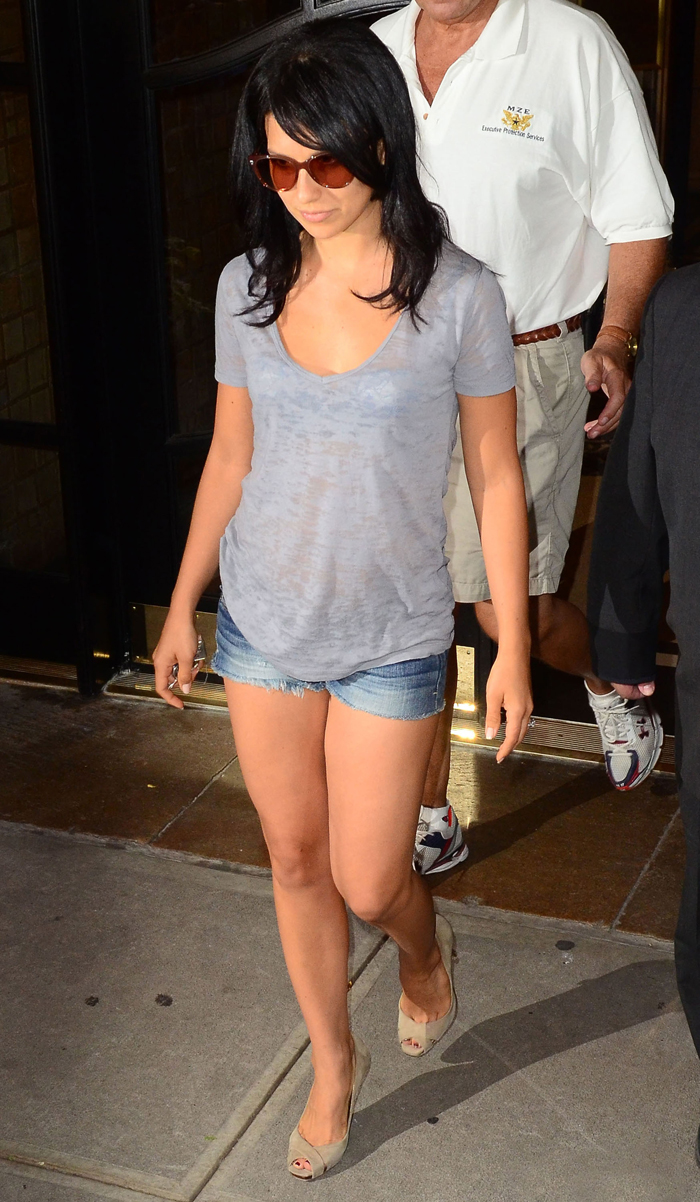 Only three months after announcing their engagement, Alec Baldwin and Hilaria Thomas have tied the knot.

The 30 Rock star, 54, and yoga instructor, who is at least 25 years his junior, wed on Saturday at St. Patrick's Old Cathedral in New York, a friend of the couple's confirms to PEOPLE.

The bride — who'll now take Baldwin's name — wore a silk magnolia trumpet Amsale gown with cap sleeves and a keyhole back neckline accented with crystal buttons.

Amsale also dressed Hilaria's mother and Baldwin's daughter Ireland. Baldwin had a tuxedo by Tom Ford.

Friend Matthew Hiltzik tells PEOPLE: "Hilaria Thomas and Alec Baldwin were married this evening at St. Patrick's Old Cathedral in New York City with family and friends sharing in the joy of the occasion."

The Rev. George Deas performed the ceremony, which was conducted in English with readings in Spanish (the bride grew up mostly in Spain), and guests included Baldwin's costar Tina Fey and his brothers Stephen and Billy Baldwin.

Also attending were Woody Allen and wife Soon Yi, Mariska Hargitay, Robert Kennedy Jr. and Saturday Night Live producer Lorne Michaels.

The reception was set to take place in NYU's Kimmel Center.

In the days leading up to the nuptials, the bride took to Twitter to share her excitement. "Being a bride is stressful…. ayyyyyyy," she Tweeted Tuesday.

And it seems the planning went on up until the big day. "If I buy one bride magazine, which should it be?" she Tweeted Wednesday. And on Friday, she thanked the exercise program Physique57 for "making me bride ready, physically and mentally!"

Baldwin, who began dating Thomas last summer, has said that she is "very important" to him.
[From People]
Congrats to Alec and Hilaria! I hope they have a long and healthy marriage, and I hope Alec learns to chill out a little bit. Here's a photo of Alec's brother, Stephen, outside the church. He's the one who tipped off the post about the text message invites. Brothers are good like that.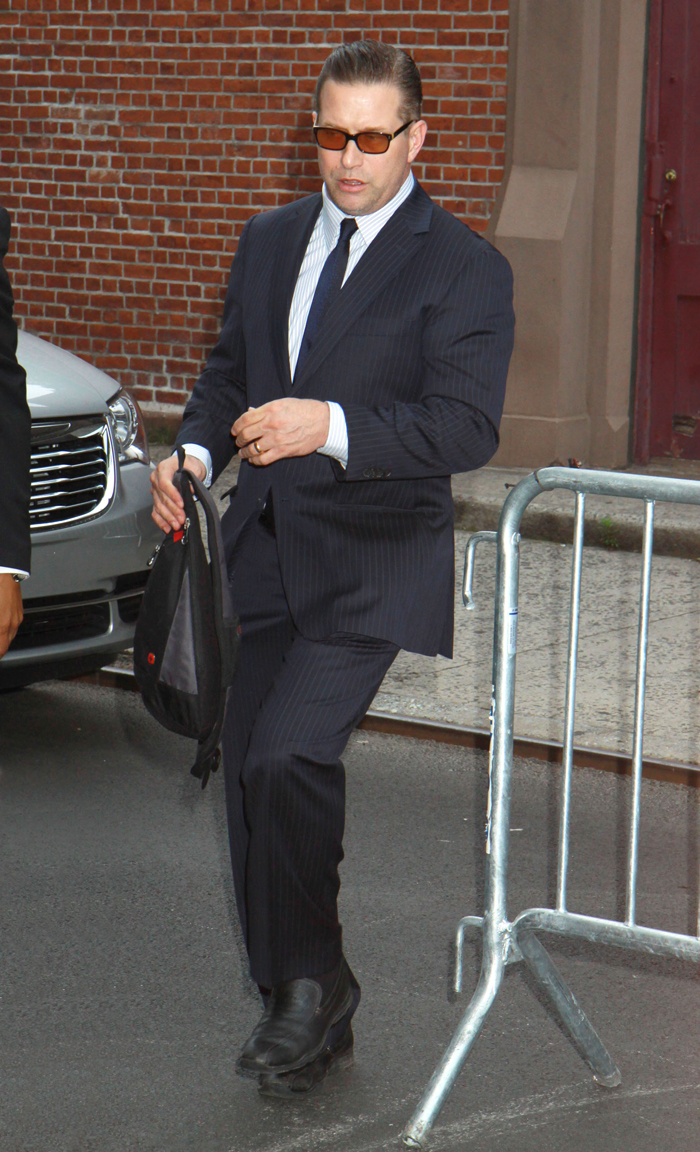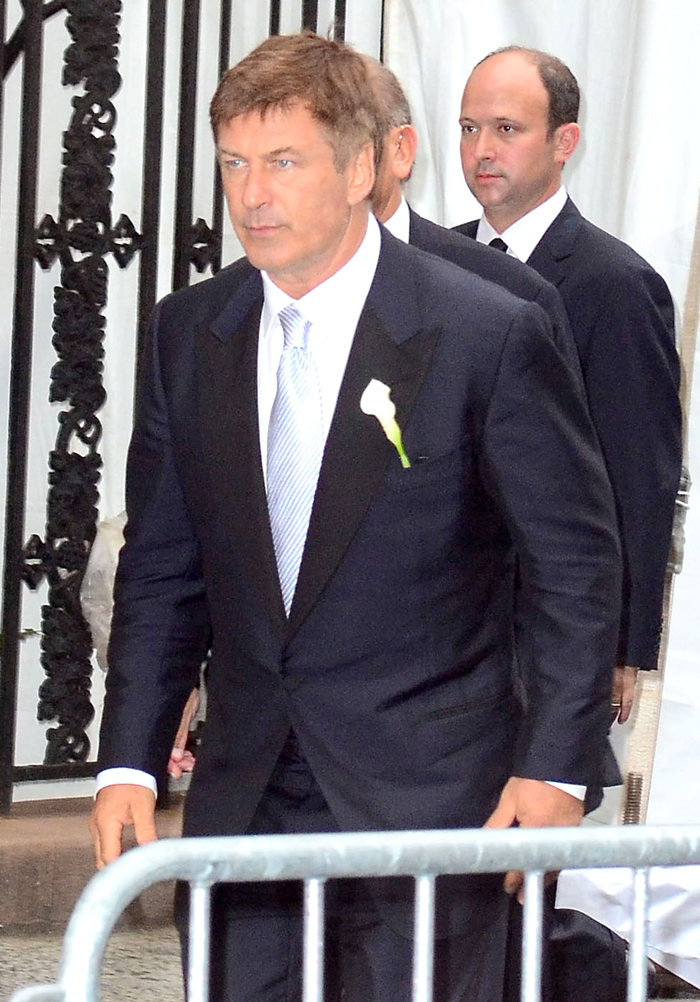 Photos courtesy of Fame/Flynet