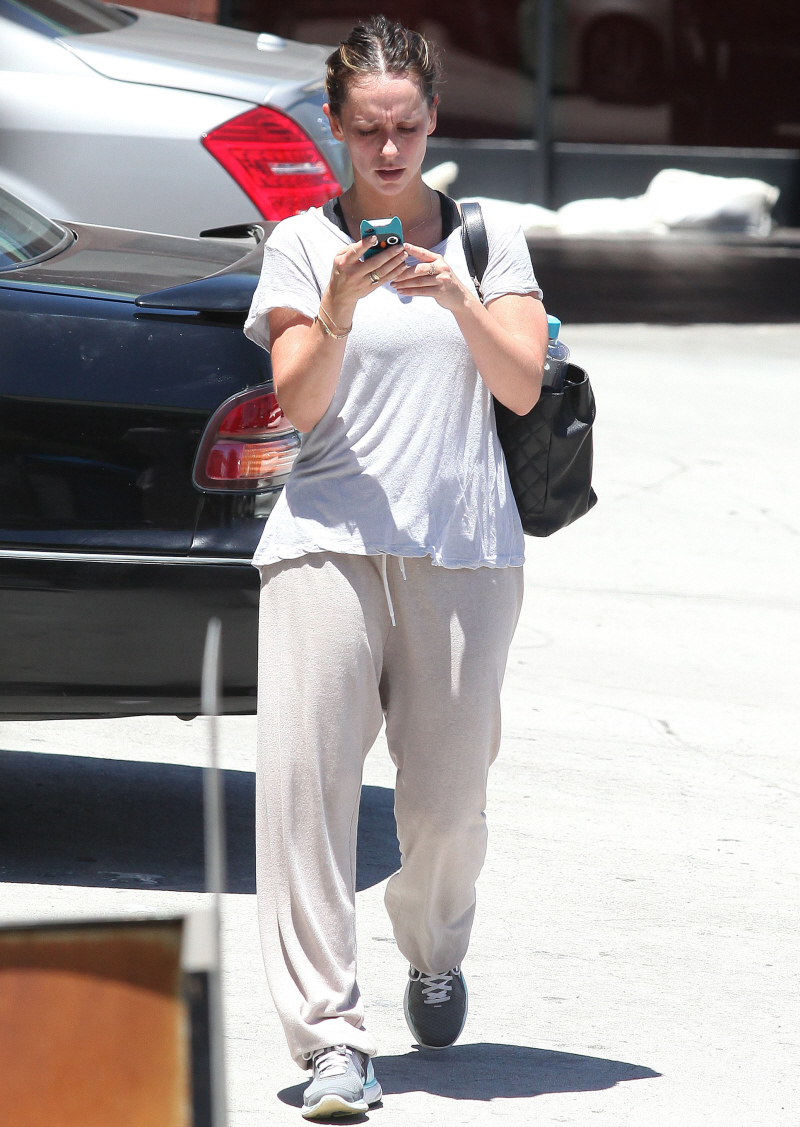 These are new photos of Jennifer Love Hewitt leaving a gym on Saturday. Curious timing? Curious style? Just wait for it.
Within maybe 30 minutes of hearing that Katie Holmes had cut five and a half feet of unhinged Xenu-lovin' out of her life, Bedhead and I were already theorizing about Tom Cruise's next girlfriend/wife/brainwashing victim. I think I have a good enough idea of what Tom likes in a girl – he likes 'em young, he likes 'em to have careers (but not careers that could in any way compete with his career), he doesn't do A-listers, and he tends to avoid the obvious choices, the Hollywood blondes and the girls that top the "Sexiest Blah of Blah" lists. Although… rumor was that Tom "auditioned" the likes of Scarlett Johansson, Kate Bosworth, Jessica Alba and Lindsay Lohan to be his Bride of Xenu before he settled on Katie Holmes, so maybe I have Tom's "type" wrong. Still, I feel like there's ample evidence to suggest that Tom might go with my suggestion, which came to me almost immediately – who should Tom go for next? JENNIFER LOVE HEWITT!!!!!
Think it through. She's famous in her own right, but she's pretty much a solid C-list with B-list name recognition. She's got a career (that Lifetime show about handies), but it won't interfere with Tom's whatsoever. She's not "obvious" – she's not, like, Ashley Greene or some Gossip Girl. She's pretty in the same way Katie Holmes is pretty – accessible, girl-next-door, etc. Plus, let's face it – J.Love is ALREADY crazy. I'm surprised that she's not already down with Xenu – imagine what she would do for Xenu if Tom Cruise promised J.Love her Tiffany's Pre-Selected Engagement Ring Option #1? She would agree to a million audits.
Of course, I theorized J.Love would be down for Tom Cruise before I heard about Tom's weird "33" thing – all of his marriages have broken apart when the wife is 33. Mimi Rogers, Nicole Kidman and now Katie Holmes – all were 33 when divorce proceedings began. Jennifer Love is 33 years old right now. Maybe Tom should start a new cycle – start dating them when they're 33. Except that most 33-year-olds probably know better than to get involved with Tom. J. Love doesn't know any better. Trust me. She would be perfect.
I think that's why J.Love went to the gym on Saturday. She's getting in shape so she'll be ready when Tom calls.
UPDATE: Yes, J.Love's mom died recently, and I'm sad for her. But… I still think she would be great with Tom.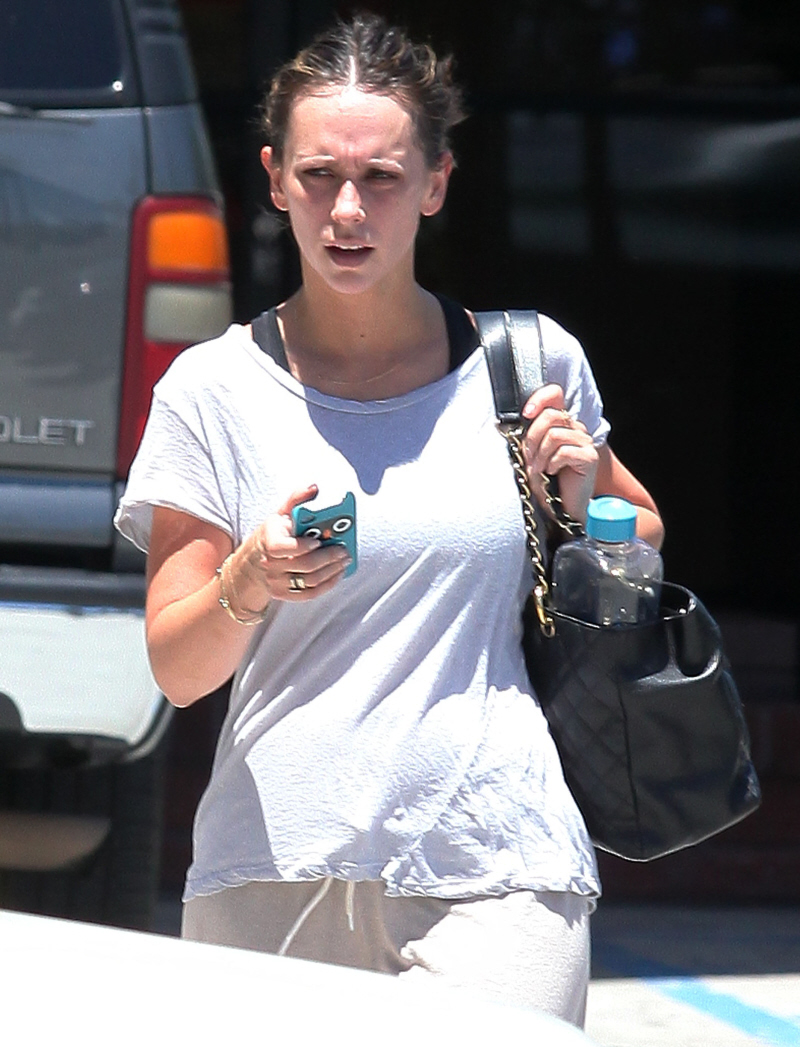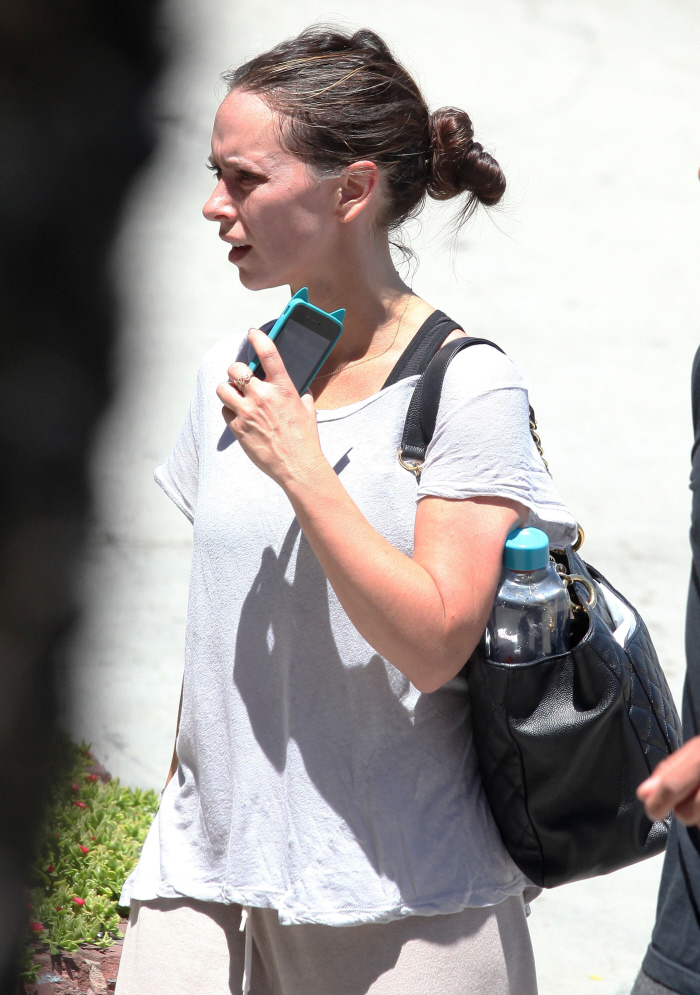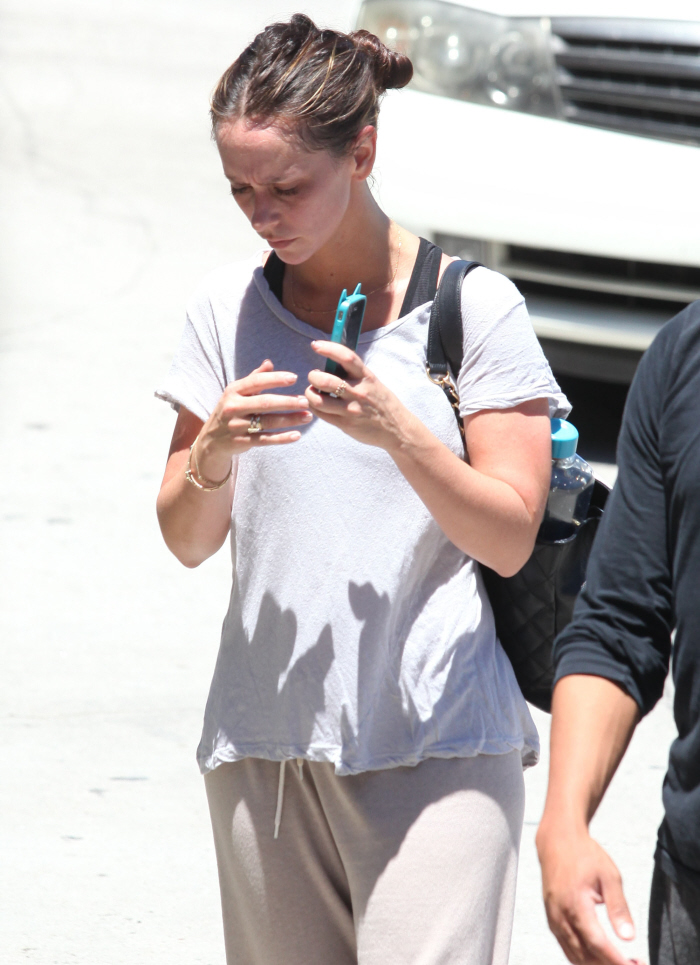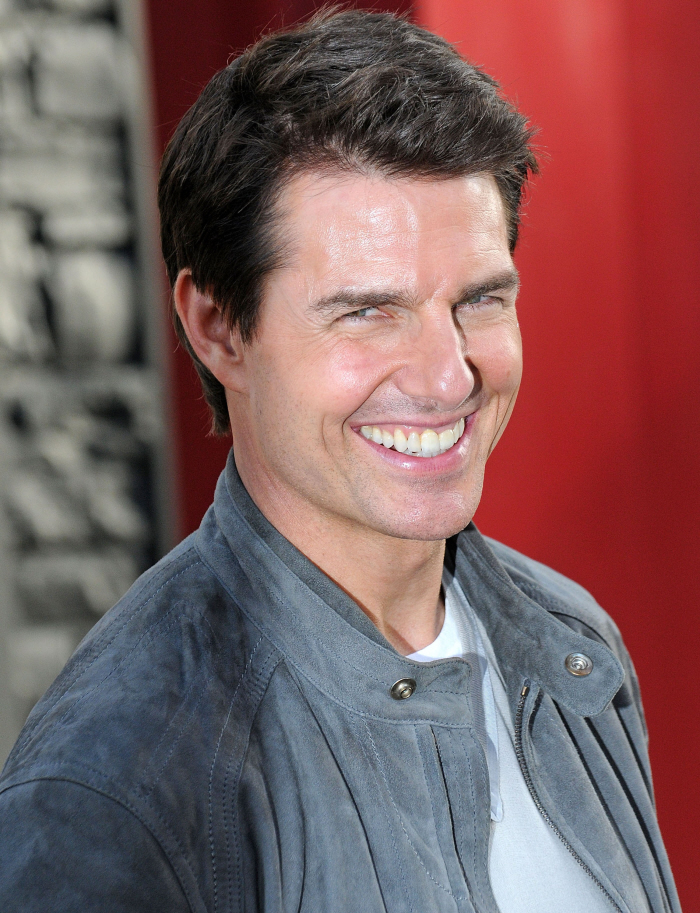 Photos courtesy of Fame/Flynet.