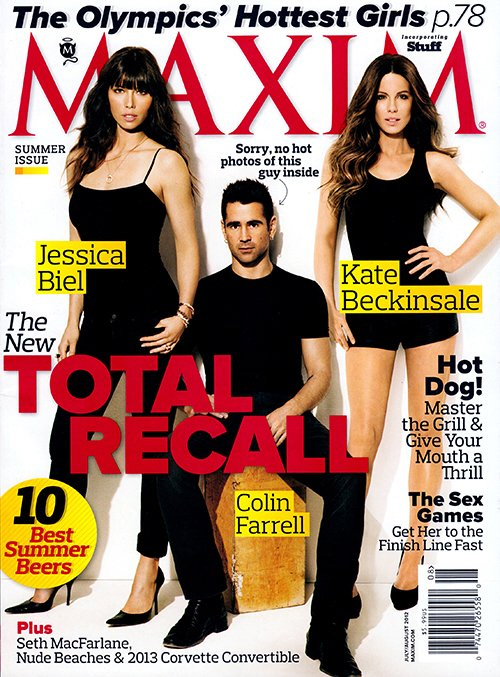 The three stars of Total Recall are featured on the cover of the August issue of Maxim. Colin Farrell seems… bewildered? Yes. Me too, Colin. You know a movie isn't going to be some towering pinnacle of feminism when the best part seems to be Kate Beckinsale, rocking cleavage and a space-age gun. So it is with the Total Recall remake. I'll probably see it (as a rental, or at the dollar movie), but I'm not happy about having to make the choice between A) Thinking Jessica Biel even has the acting chops to pull off a sympathetic, 2-dimensonal character like Melina and B) Thinking Kate Beckinsale has the requisite bad-assery to pull off the mega-bitch character Lori. If I'm forced to choose, I choose Kate being a mega-bitch. Because Biel is simply awful. Here's the latest trailer:
The special effects look pretty cool. But Colin really needs to stop sleepwalking through these remakes and stuff. Remember when everyone hoped he would become the next great dramatic actor? Anyway, Kate also appears on the new issue of Glamour UK. Some highlights from the interview:
On how losing her dad at an early age has helped her views on growing older: "I love 'pretty' as much as anybody, but if that's all there is as a culture, we're screwed. I think you have to be as objective about that as possible and say, 'There is nothing that serves my soul in wondering how crow's feet are going to affect my life.' It's something to be resisted. Ageing is going to happen and it should. My father died at 31, so to me ageing is extremely preferable to the alternative, which is not ageing. Every year I get past 31, I think, 'Thank God.' It's a gift to be able to go, 'I look different, that means I'm not dead!'"

On her thoughts on having another child: "There's absolutely part of me that goes, 'I'd love to have a baby in the relationship I'm in, and have that experience when the relationship's really good and exclusive,' but I'm just not sure. At some point the decision will be made for me, when my ovaries dry up and die. We'll see. There's nothing that makes me go, 'And now I must have triplets!'"

Kate on beauty: 'I feel like beauty is a gift that you have for a while, and you enjoy the hell out of it while you have it. And if you're lucky enough to have a daughter and you give it to her, you enjoy the fact she has it. My mother was always very, very beautiful – she still is, in her sixties. I'm sure she feels, "Wouldn't it be nice if my neck did this?" but not to the degree of cutting parts of herself odd and dragging them behind her ears. I feel very similar. I much prefer how my mother looks to the people I see here [in Los Angeles] with wind-tunnel face.'

On not losing weight after giving birth to her daughter: 'There's an obsessional hatred of normal human processes. Pregnancy changes a woman's body and it should. It isn't normal to not look like you've had a baby immediately after you've had a baby. I was gigantic after I had Lily – I put on a good 3 ½ stone, and it didn't go 'til I stopped breast feeding… I was lucky that Britain wasn't so paparazzi-orientated [then]. I was allowed to get on with it and enjoy my baby – and figure out what being a mother was all about instead of worrying about [fitting into] my f**king jeans.'
[Via The Mail & Celeb Gossip]
I love what she says about NOT losing weight after her pregnancy. Kate actually does seem to be reasonable and rather awesome about what kind of image and life lessons she's giving to her daughter – and Lily is 13 years old, and probably at that age when she's looking for signs of hypocrisy in her parents.
Now… all of that being said, I think Kate looks kind of tweaked in these Glamour photos. Maybe it's just Photoshop, though.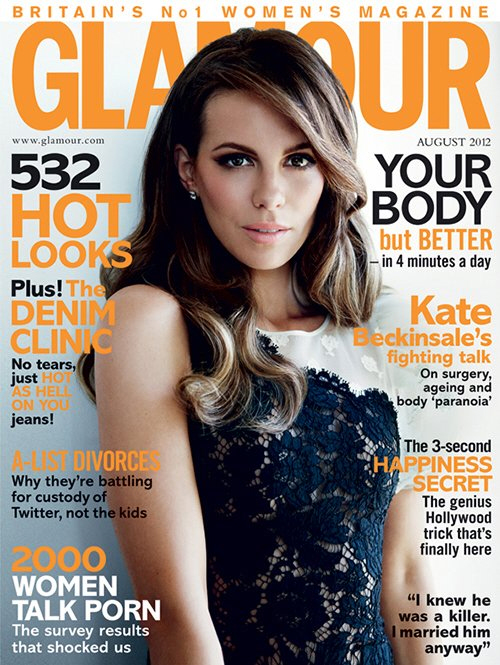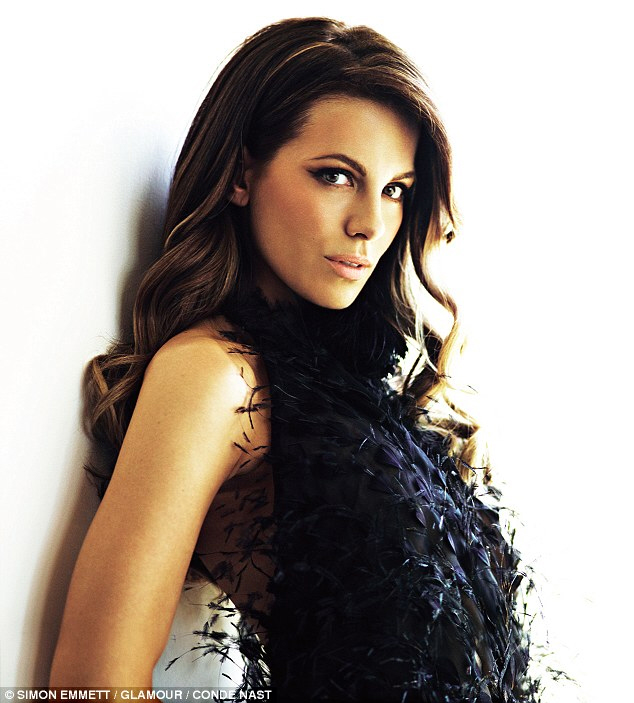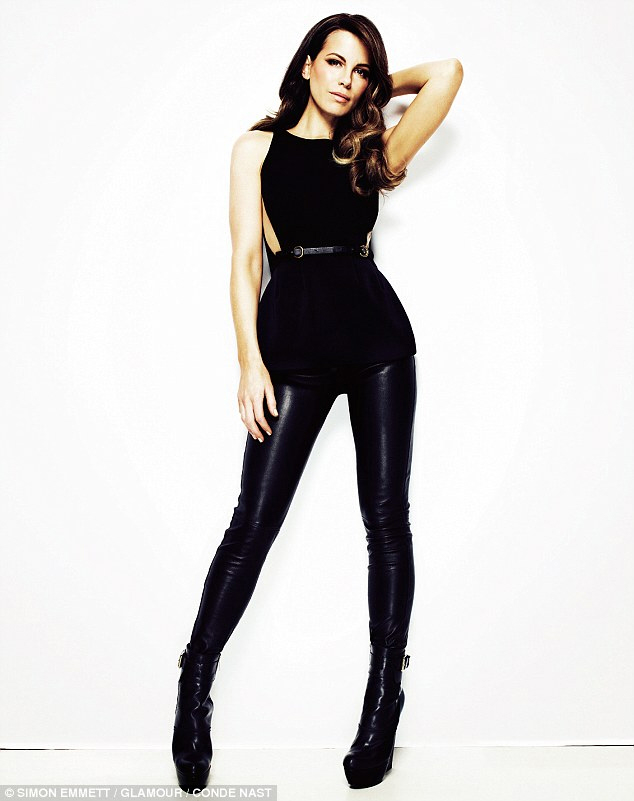 Photos courtesy of Glamour UK, Maxim.