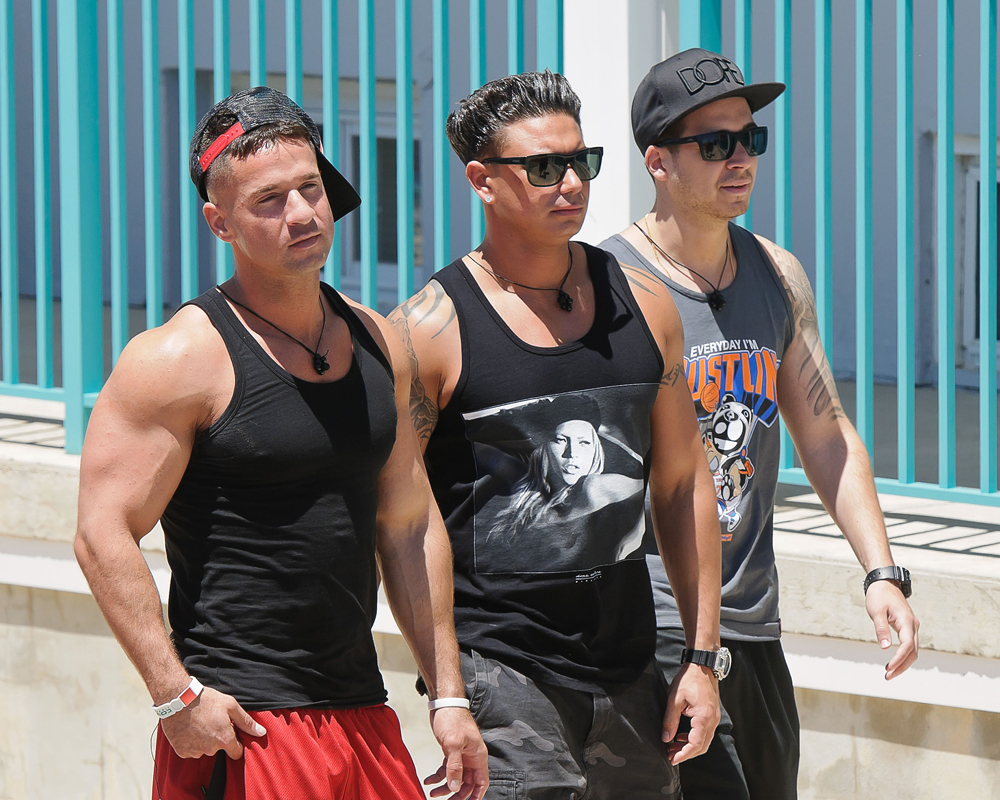 It's been awhile since we've written about "Jersey Shore," but the cast is currently filming the sixth season of the show in Seaside Heights, so I guess that's a decent excuse for an update. From the above photo, it looks like Mike "The Situation" Sorrentino, Pauly D, and Vinny are up to no good per their usual routine. Pauly is wearing a Kate Moss t-shirt though, so it looks like high street fashion is very well represented on the boardwalk this season. I'd say that The Situation looks healthier after completing rehab, but I'd be joking because he still seems like the same overtanned, juiced-up weirdo as always. Oh, and Snooki (who is living in a house next door to the group home) is still very, very pregnant and wearing hot pink like a boss.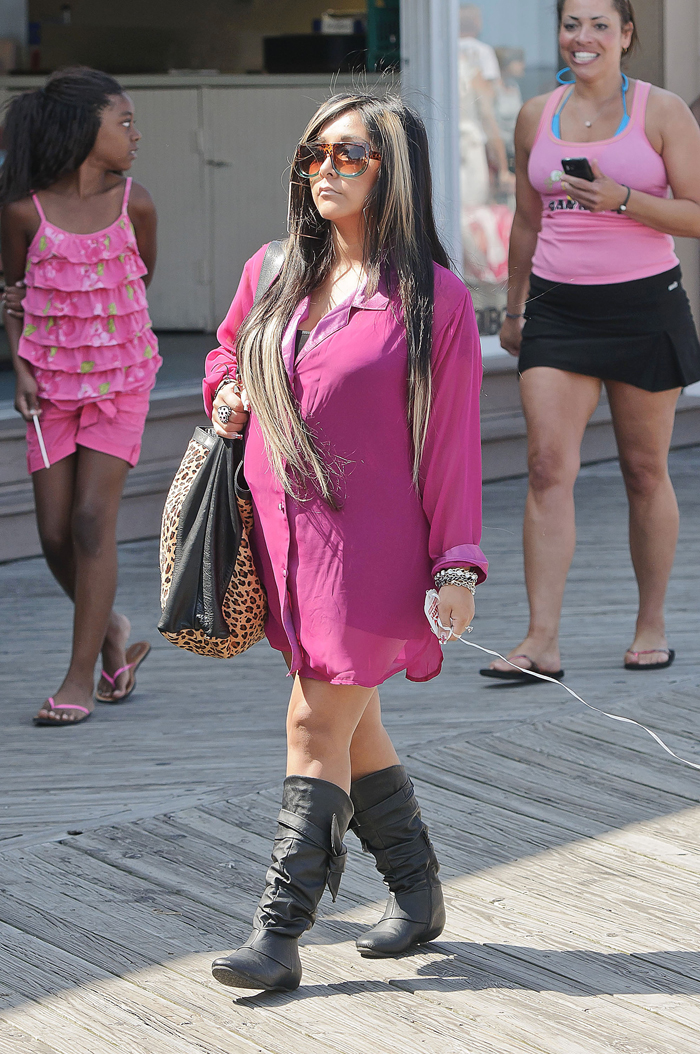 Meanwhile, here's a little tidbit that will surprise no one but gross out everyone nonetheless. MTV, apparently in an effort to curb post-show lawsuits, made all of the cast members sign a "VD clause" since, you know, most of them (at least the dudes and Deena) are having casual, random hookups on a regular basis:
It has been revealed that the cast of Jersey Shore were ordered to sign a "VD clause" in their contract. MTV, who make the show, added the clause so the cast cannot sue the company if they contract a sexually-transmitted (or venereal) disease.

Under the head of "Health of Other Participants," the clause states that the cast, who include Snooki and JWoww, take full responsibility for any nasty side effects of the frequent sexual encounters featured in the episodes.

It states: "I acknowledge and accept, that the other participants have not been screened for any diseases, sicknesses or other health conditions (and specifically have not been tested for any sexually transmitted diseases) and I assume all risks of interacting with the other participants, including any consensual contact."

The seedy contract was leaked to Seth Kaufman, who has written a book, The King of Pain, about the cynical business of reality television, reports the New York Daily News.

Mr Kaufman, a former editorial director of TVGuide.com, says that he received the contract "from someone close to the show."

Jersey Shore is one of MTV's most popular reality television shows. Currently in its sixth season, the fly-on-the-wall documentary follows a group of people who live in the same summer rental in Seaside, New Jersey.

On the show, one-night stands are a frequent occurrence and in the fifth season, Polizzi announced she was pregnant with part-time cast member Jionni LaValle's child.

Best friend JWoww isn't exactly shy when it comes to having sex either. In the opening credits, she says: "After I have sex with a guy I will rip their heads off."
[From Daily Mail]
I guess this makes sense, especially when it comes to Pauly D and Vinny, who get laid more than the rest of the cast combined. Poor Situation doesn't get nearly as much tail as he used to land, but when he does land girls, they're usually pretty easy types who only want to have sex with him to be on television. Is it a gross and distasteful type of legal clause to include in a contract? Absolutely. But is it practical? For sure.
From the photos that have emerged so far from the taping of this season, it's easy to conclude that it's the same old drunken escapades from this crowd. There was reportedly a bar brawl that resulted in J-Woww having to wear a leg brace in this photo.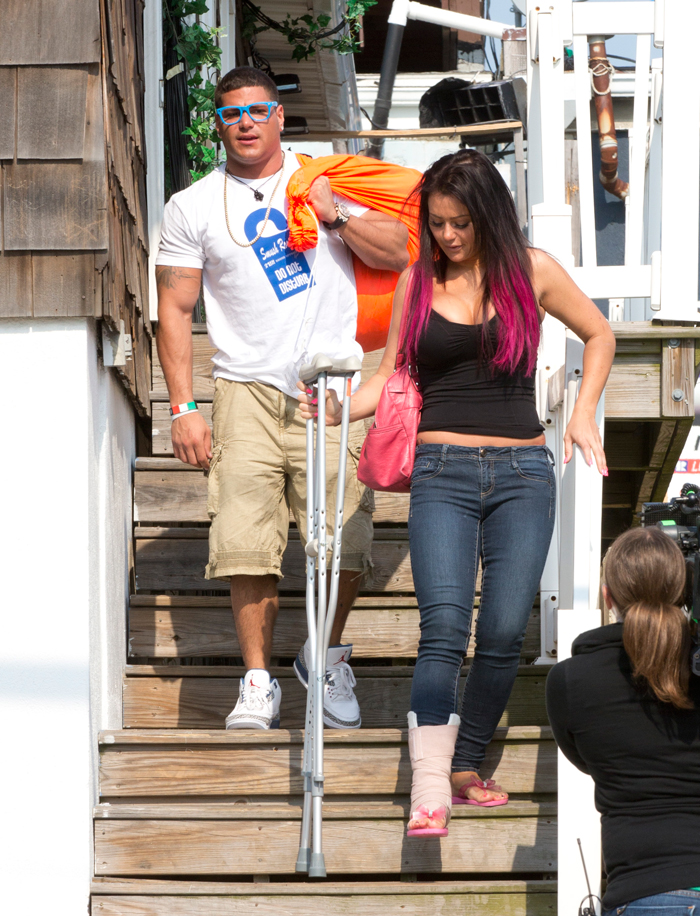 And during the same brawl, Deena was reportedly arrested for drunken and disorderly conduct. Here's her parents picking her up from the police station. They must be so proud.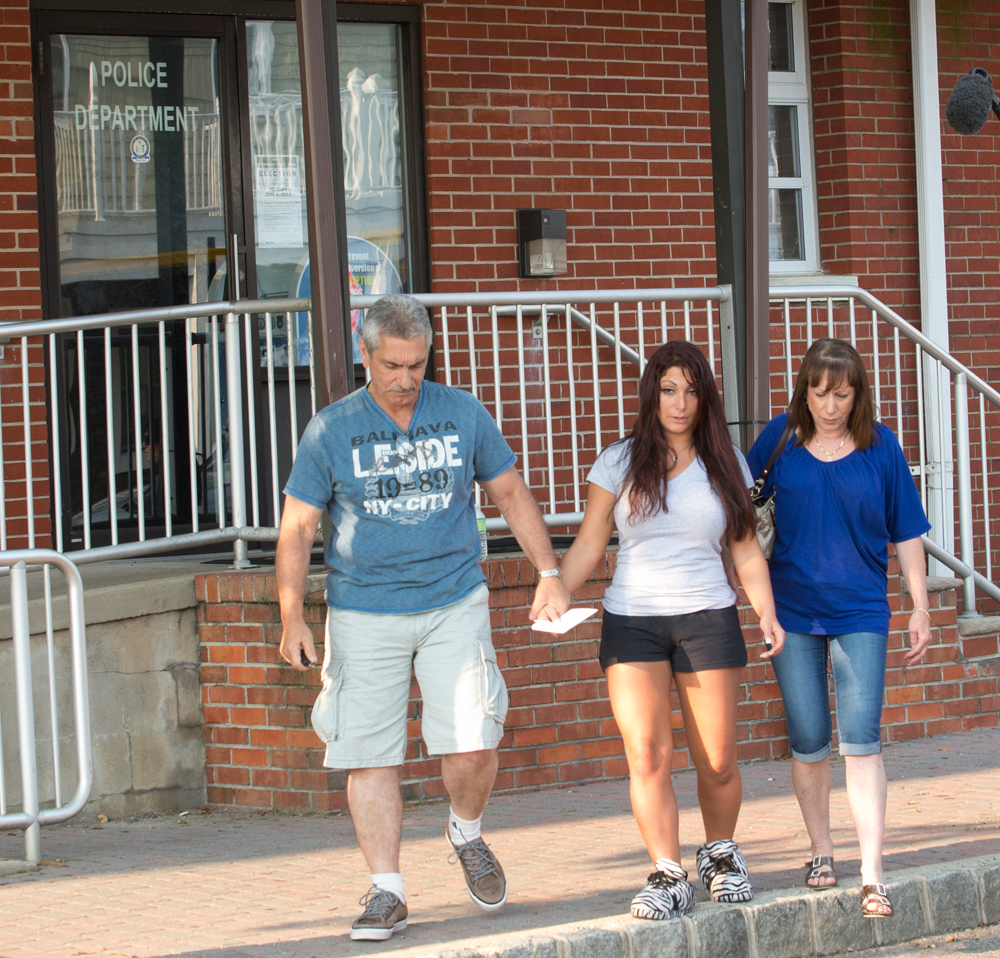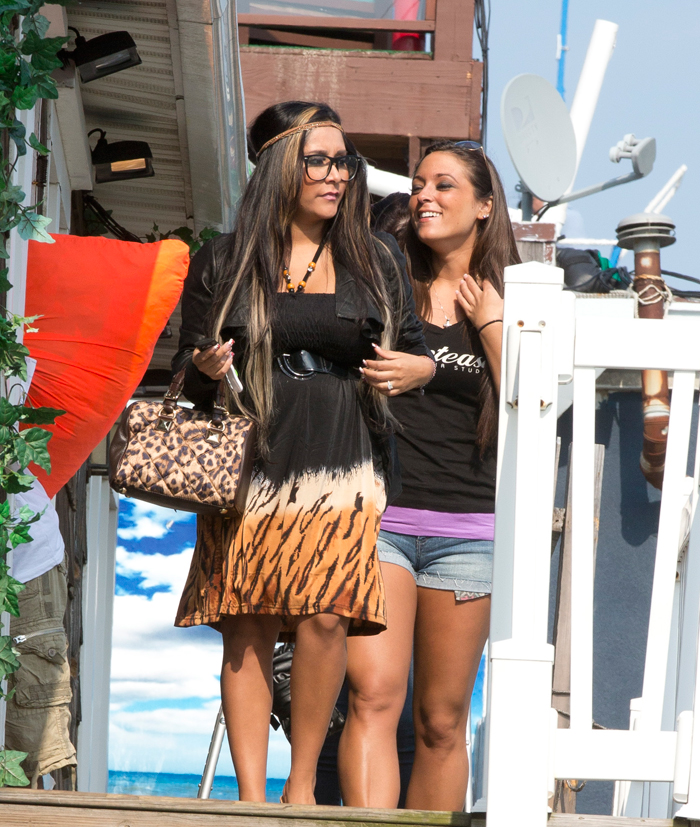 Photos courtesy of WENN