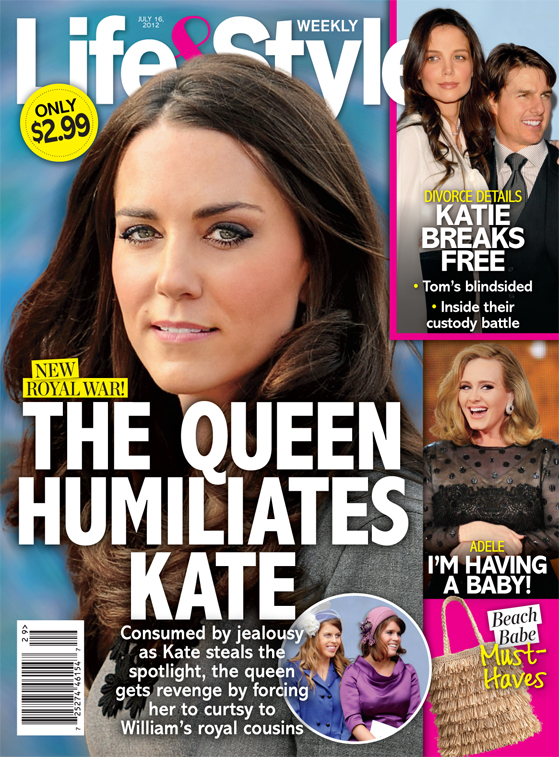 Can you believe that Life & Style didn't use Tom Cruise and Katie Holmes as their main cover story? Maybe they just really wanted to discuss this Duchess Kate story – because it's a good one! Last week, we discussed the Queen's new protocol measures which she decreed to ensure that "blood princesses" are always ahead of (protocol-wise) "princesses by marriage". It's all very archaic, for sure, but it has real-world implications too. The Queen's protocol decree means that Princesses Eugenie and Beatrice never curtsy to Duchess Kate, and when Kate is without William, she has to curtsy to them. It means Camilla (Duchess of Cornwall) can't show up by herself ahead of Princess Anne. Some read the news as the Queen's not-so-subtle reminder to both Camilla and Kate that they can both be removed from the royal family. Anyway, Life & Style claims that Kate is "humiliated" by the new protocol:
During Queen Elizabeth's recent Diamond Jubilee celebrations, all eyes were on Prince William's wife of 14 months, Kate Middleton, who appeared to be embraced as a member of the family. But just weeks later, Kate has been delivered a slap in the face.

In an official revision to the Royal Household's Order of Precedence, Kate, 30, is now required to curtsy to Prince Andrew and Sarah Ferguson's two daughters, Princess Beatrice, 23, and Princess Eugenie, 22. Why? They're considered blood princesses, while Kate merely married into the royal family.

"It's a total humiliation for Kate," a source in Kate and William's social circle confirms to Life & Style. "It's like a demotion for her in the royal family, and the queen is the one who ordered this."

Even more insulting, when William's with her, no curtsy is necessary — but if she encounters them without her husband by her side, she has to bow down, whether in public or private.

"These moves from the queen are designed to remind Kate that just because she's popular, she isn't as important as the queen or any other royal-born family member," a friend reveals.
I believe the part about these moves being a reminder to "Kate that just because she's popular, she isn't as important as the queen or any other royal-born family member." The Queen reportedly felt that way about Diana too –that just because she was the most "popular" member of the royal family, it didn't really mean anything.
Also – Kate and William were at a "society wedding" over the weekend, and they ran into a slew of ex-girlfriends and ex-boyfriends. The English upper class is so incestuous! Anyway, you can see some photos here. Pippa was there too. Some people are saying Kate looked pregnant, but I kind of think it's just a really unflattering dress. Kate needs to burn that one, it makes her look thick-waisted, and this is not a thick-waisted girl. At all.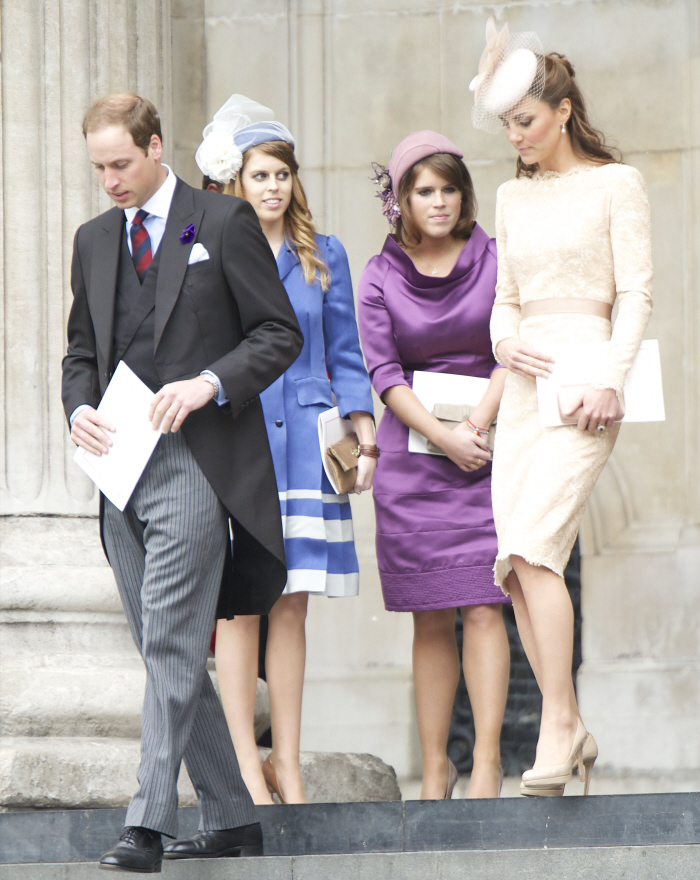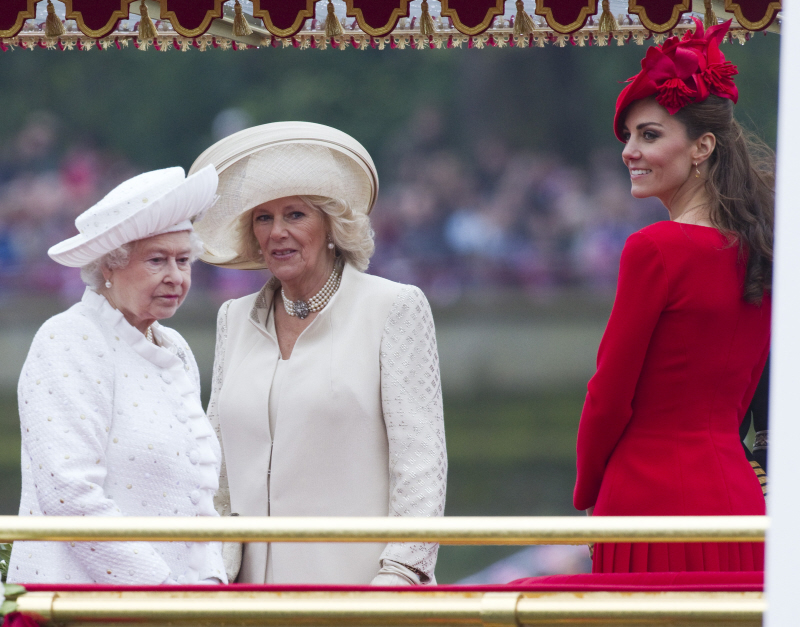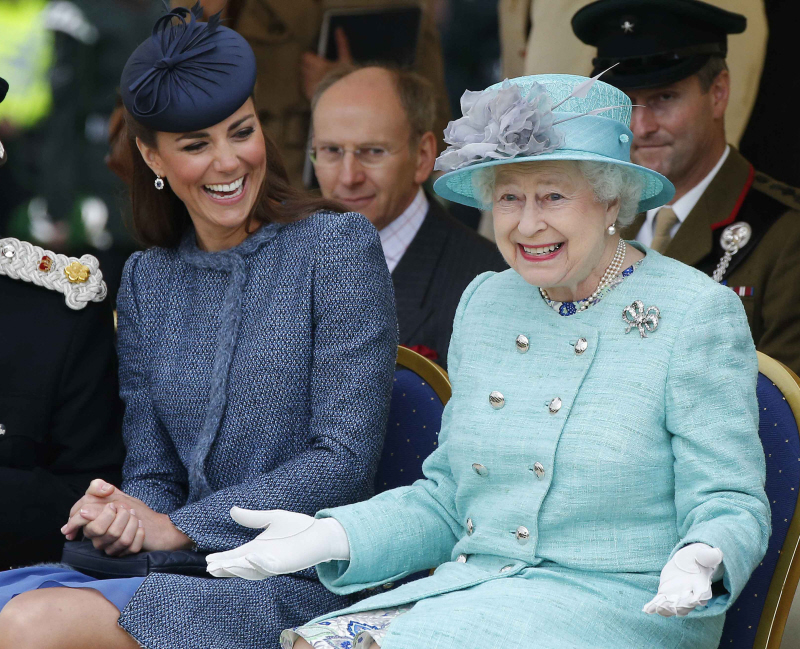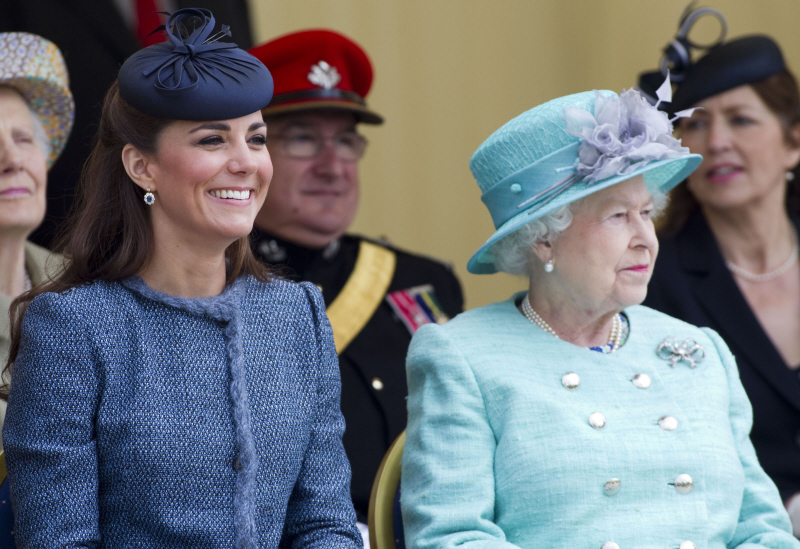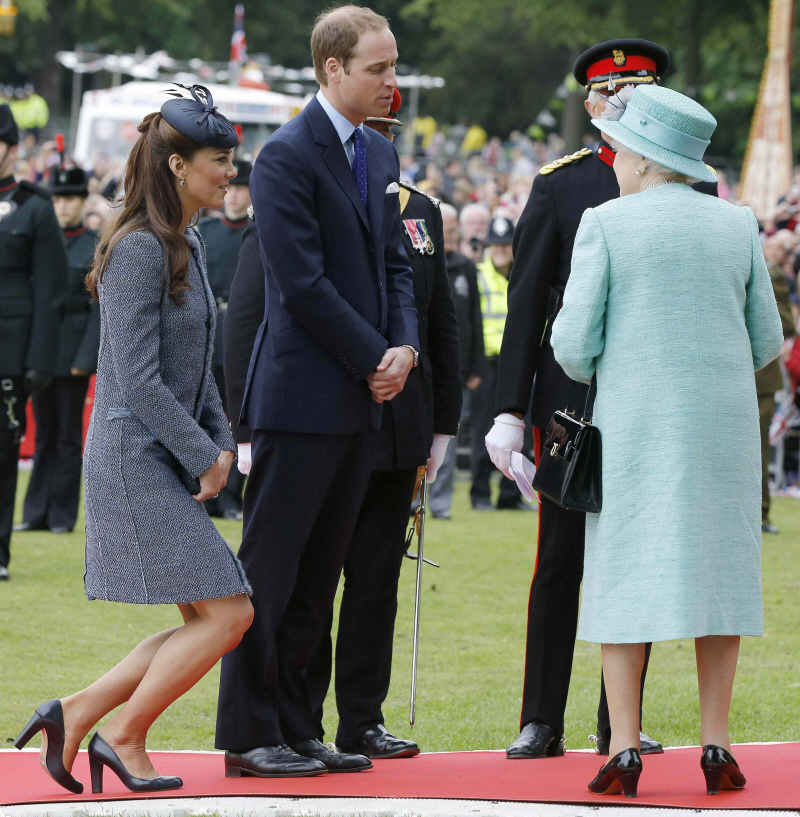 Photos courtesy of WENN.