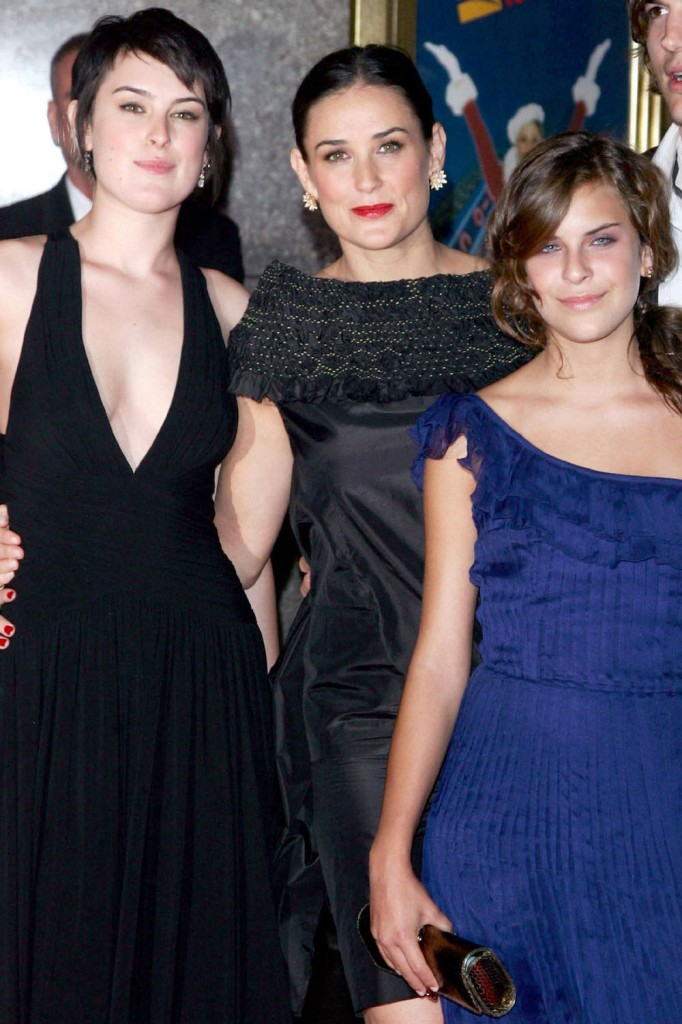 Rumer, Demi and Tallulah in 2007
During the holiday, the news came out that there were topless photos being shopped around of Tallulah Willis, 18, laughing and smoking what appeared to be a joint. I was going to write that we've already seen Tallulah with her ass hanging out, but I was mistaken, that was her older sister, Scout, 20. Scout turns 21 at the end of the month, and given her history with underage drinking we'll probably hear something about that when it happens. I didn't find that story about Tallulah too shocking or newsworthy, since it's just some pot and boobs, but it's possible those photos will surface online or in a tabloid soon. One of Tallulah's acquaintances probably sold her out.
Anyway we've heard that Demi Moore's relationship with her daughters has been strained, to say the least, since even before she went to rehab. Tallulah and Scout were reportedly embarrassed by how their mom was going off the rails after her split with Ashton. Back in February, In Touch reported that Tallulah and Scount wanted "nothing to do" with Demi. Tallulah was living with dad Bruce Willis at the time and Scout was off at college. Demi was said to have had a decent relationship with her oldest daughter Rumer, 23, and we know she was partying with Rumer and her young buddies when she ended up overdosing. (She was even hitting on Rumer's guy friends, allegedly.)
Then last month we heard all about Tallulah's high school graduation and how Demi forbade her ex, Ashton, from attending. Back then Radar quoted a source who claimed that her daughters didn't think Demi was sober. "They're really worried about everything she is doing lately and they're getting mad at her. Demi has been doing things that make them worry that maybe she isn't staying sober and they're not happy about her behavior. The last thing these girls need is dealing with their mother going through yet another episode."
Well now Radar claims that since the graduation happened the girls, including Rumer, aren't talking to their mom at all. What's more is that they all want to stay friendly with their ex stepdad, Ashton, which of course makes their relationship with Demi even more awkward. Here's more:
Demi Moore's daughters are no longer talking to their troubled mother, a source close to the family tells RadarOnline.com exclusively.

The source says the relationship between the three girls and Demi has reached "breaking point" after a series of fights and they have cut off all contact with her.

"Rumer, Scout and Tallulah just don't want to deal with the drama at the moment," a source close to the family tells RadarOnline.com. "Since breaking up with Ashton, Demi has been a mess. The girls were there for her through it all — the split and the rehab but now they just feel like they need a little distance.

"Demi is just being very needy right now and the girls are tired of it, they want a mother not another little sister. They are all concerned that she is going to relapse and head back to rehab and they can't deal with the stress and worry of it.

"The breaking point was Tallulah's graduation. None of the girls wanted Demi there but she turned up anyway and it was really strained. They had a huge fight afterwards and the girls decided it would be in their best interests to take a break from Demi for a while.

"Another huge bone of contention has been the girls' relationship with Ashton. They all adore him and talk to him regularly which Demi hates, but he was a huge part of their lives when they were growing up and they don't want to break off all contact with him.

"This won't be forever, but for now the girls just need a little breathing space and to concentrate on themselves and their own lives."
[From Radar]
You know I've had a lot of sympathy for Demi. Some people find her insufferable, but I just think she's lost her way and doesn't know how to pick up the pieces. I'm gradually coming around to the idea that she's an addict and a mess, though. Maybe she's just embarrassed and laying low, but we haven't seen one interview with her since she got out of rehab. She's executive producing an interview show with her friend Amanda de Cadenet for Lifetime called The Conversation. Demi could have easily sat down with Amanda and talked about things, but she hasn't. I get that she's too close to the situation still, and maybe she wants to process everything before she makes another public appearance.
I just found this video of Demi doing a press conference for the show back in October. At first I thought it was from earlier this year, after she got out of rehab, but it's before. (Demi speaks at :50 and 2:18 if you want to skip to those parts.) Demi's speech is slurred and she has trouble finding her words in this video. She's able to articulate her thoughts, but she seems sleepy and drugged up. Again, this is before she went to rehab, so maybe she's sober now, but this latest story is making me doubt that. I guess I don't blame her daughters for trying to distance themselves from her. It must be painful to have a mom who's an addict. Still, do they have to hang out with Ashton? They should be avoiding that guy too.
Photos of Demi at Tallulah's graduation are here. She looks pissed off!
Demi, Ashton and Tallulah in 2008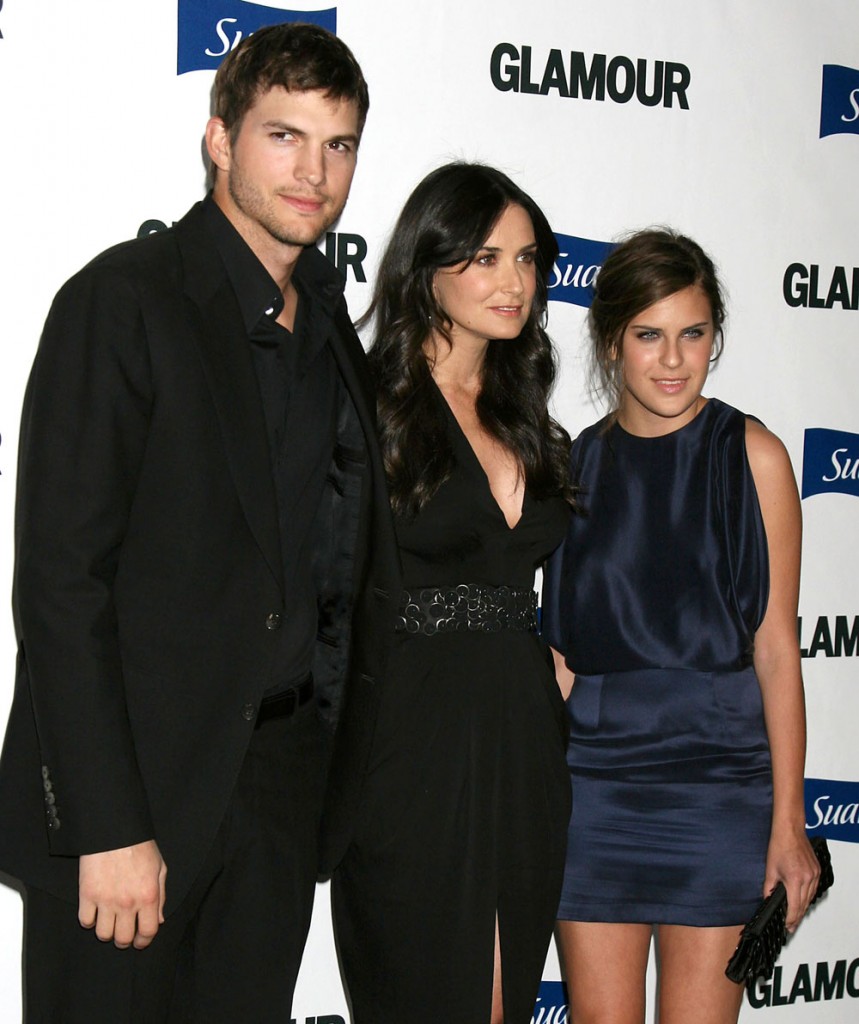 Tallulah in 2012 at Coachella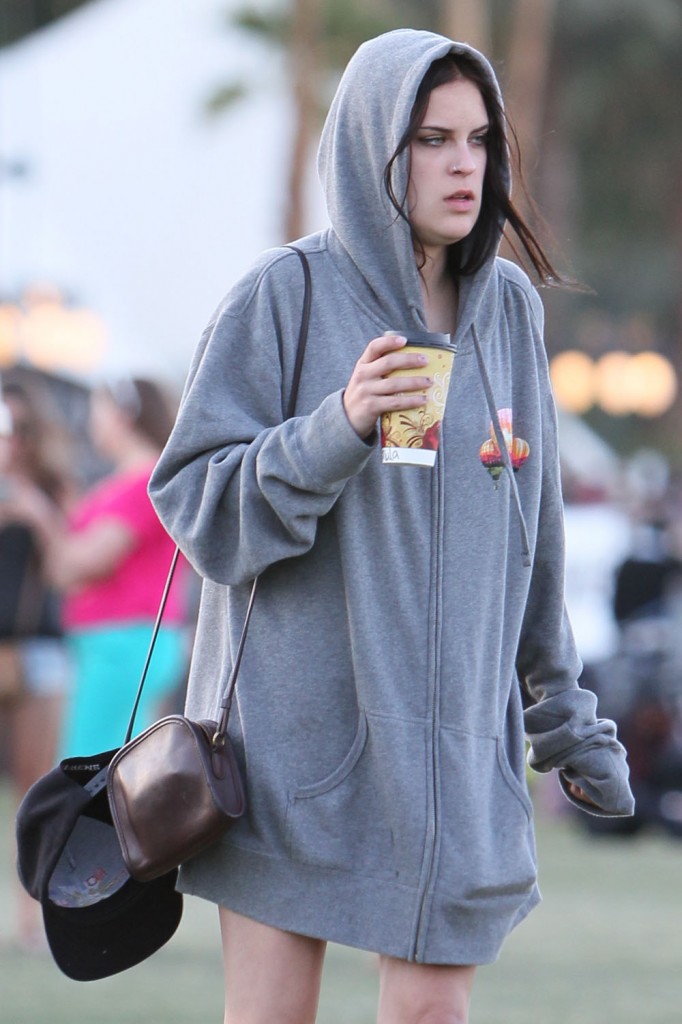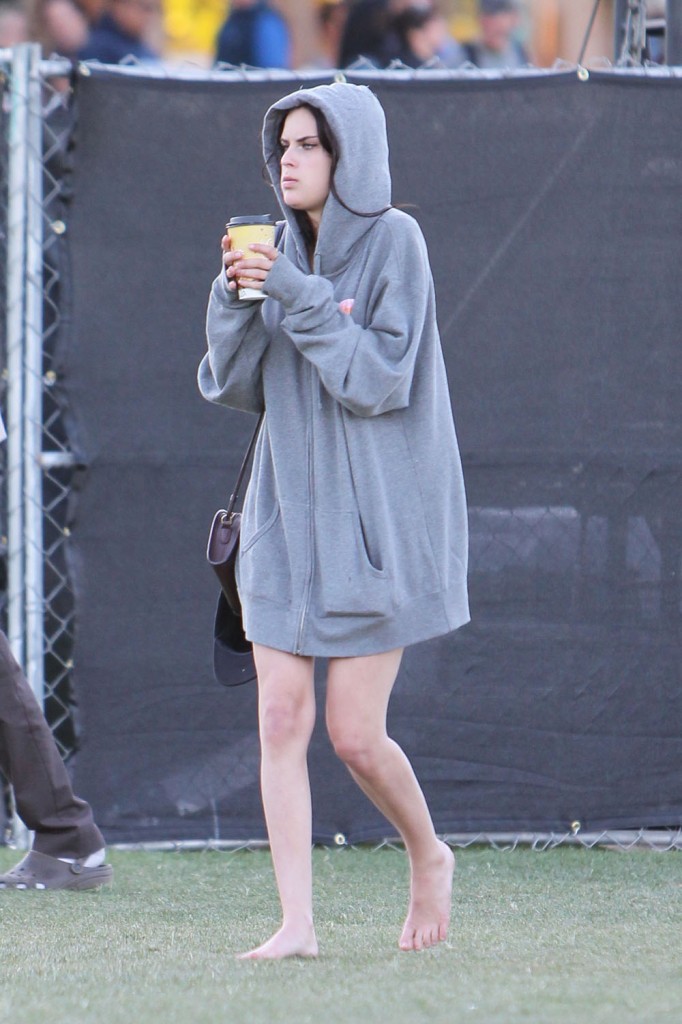 Scout with her dad and stepmom in 2010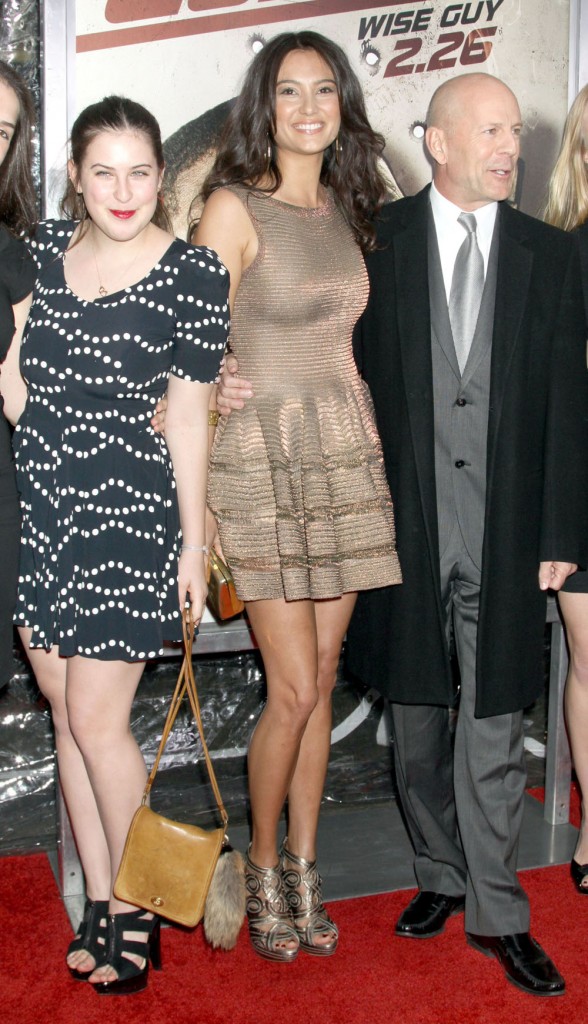 These event photos with Demi are from 2007 and 2008. Tallulah is shown alone at Coachella on 4-14-12. I hope her clothes got wet or something and someone lent her that awful hoodie to wear. Scout is shown in 2010 with her dad and stepmom. Photo credit: Fame and WENN