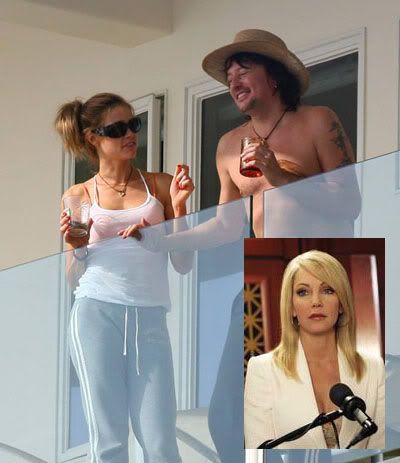 You've probably heard that Denise Richards and Heather Locklear had a falling out over the fact that Denise is dating Heather's ex, Richie Sambora.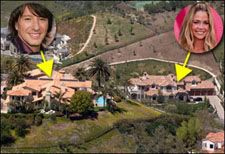 It turns out that they were best friends and lived right next door to each other LA. They also shared an on-screen girl-on-girl kiss in Locklear's show Spin City
Heather told Denise she was dead to her after learning of Denise's affair with her estranged husband:
Not surprisingly, the affair does not please Locklear, who views it as betrayal. In fact, when Denise went with a friend to a Bon Jovi (featuring Sambora) concert and after-party on March 3 in L.A., a source tells Star: "Heather went crazy when she learned her best friend had gone to the party. She told Denise she was a traitor who had betrayed their friendship."
She reportedly even went so far as to ask if Richards and Sambora were having an affair, and Denise — who hadn't slept with him yet — was too stunned to answer, prompting Locklear to proclaim, according to a source, "Well, I think you've answered the question. I never want to see you again."
She reportedly concluded, "You no longer exist to me. It's like you've died."
Meow! Locklear can be as much as a bitch as the characters she portrays. Locklear suprised Sambora with divorce papers this February after 11 years of marriage. She is said to have discovered an e-mail sent to Sambora by a former assistant who enclosed nude pictures of herself. Locklear may be dating David Spade now, but there's not a lot of evidence and Spade denies the relationship.
Denise Richards filed for divorce from Charlie Sheen in March after a tumultuous relationship. She alleges that Sheen threatened to kill her and was addicted to gambling, pain pills, and porn.
It looks like Richards and Sambora are pretty happy swapping partners with their neighbors. Too bad Locklear is so bitter about it. Pictures [via]
Update: Denise Richards urged Heather Locklear to file for divorce! No wonder she's so pissed!