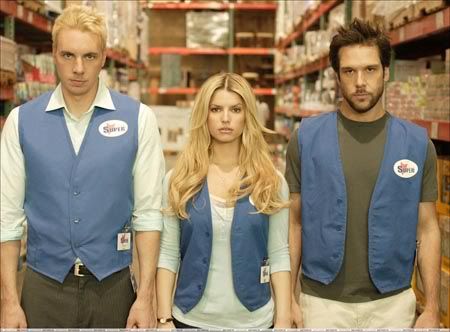 Nick came off so thoughtful and was quite flattering to Jessica in his interview with Rolling Stone. The fact that he refused to dish any dirt on Jessica and her crazy family led Rolling Stone to double-cross Nick and sell the story without his permission to Us Weekly.
Nick and Jessica had a little meeting at Jessica's house to discuss his Rolling Stone interview:
The same week Nick Lachey's bombshell interview on his split from Jessica Simpson ran in Rolling Stone,
he dropped by her new mansion for the pair's first post-breakup "date."
Sources say Simpson wanted to talk to Lachey about his loose-lipped ways. Says a Simpson pal, "They promised each other they wouldn't kiss-and-tell."
Meanwhile, a friend of the former boy-bander says Lachey agreed to the meeting out of consideration for Simpson's well-being: "When you see someone pretending to be happy, but you know they aren't really happy, you get concerned. He can't help but worry about her."
How did the night turn out? For details on the dinner and the real story behind Jessica wearing her wedding ring again, check out this week's issue of Us.
Jessica has been seen wearing her wedding ring around her neck to remind her of happier times, and Nick said in his Rolling Stone interview that he still loves his estranged wife. We think they split up because Jessica was too immature to handle the relationship. Are they going to get back together?They both seem to love each other, so maybe they'll give it another chance.
Here are two pictures from Jessica's upcoming film, "Employee of the Month," and some candids of her shopping for antiques in Hollywood. [via]