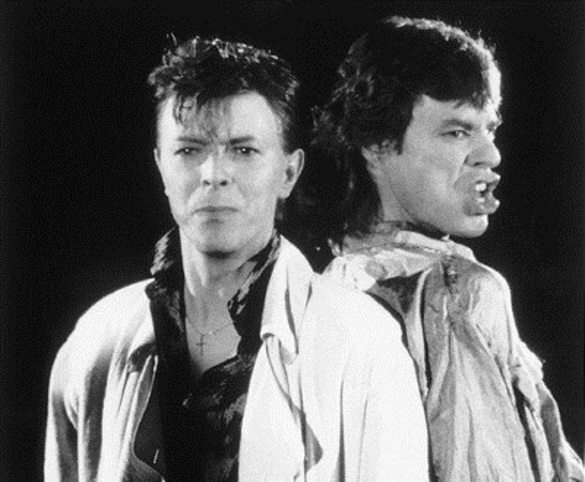 Yesterday, we discussed the possibility that Angelina Jolie and her "hypnotic" vadge played mind-games on Mick Jagger. The story originates in a new biography of Mick Jagger, although I don't know if this biography is any way "authorized" – considering the dirt, probably not. The book is called MICK: The Wild Life and Mad Genius of Jagger, and in the excerpts yesterday, sources claimed Jagger was infatuated with Angelina in 1997, and he was always trying to call her and he was prepared to leave Jerry Hall for her. This apparently went on for years. Anyway, the NYDN has even more excerpts from the book, and these excerpts are all about Mick's emotional and sexual affair with… David Bowie. For real? You can read the full NYDN story here. Here are some more highlights:
In 1973, Mick Jagger was still coy about his own sexual preferences, but Bowie made no effort to conceal the fact that both he and his wife were bisexual and often shared partners. "Mick looked at David and wondered if maybe this was the wave of the future," said Leee Black Childers, former executive vice president of MainMan, the management firm that handled Bowie. "Mick was very conscious of doing whatever it takes to stay hot; David was the hottest thing around at the time."

"It was the glitter era, and everybody wanted to be part of the bisexual revolution," explained singer Chuckie Starr, who ran into Mick at a party in Beverly Hills the week that "Angie" hit number one. "Mick was no different. He was wearing rhinestones, blue eye shadow, and platform shoes."

Angie Bowie also looked askance at the blossoming relationship between Mick and David, but for very different reasons. She thought her husband had nothing to gain from cozying up to Jagger, and that such a friendship might even cost him credibility with his hip, young fan base.

Bowie, who called Jagger Mike — never Mick — thought differently. Not only was he in awe of Mick's ability to electrify audiences year after year, but he respected the veteran rocker's songwriting talent and business savvy. "He thought Mick was a financial genius," Angie said. "We all did."

Bowie and Jagger were soon spotted everywhere together without their wives: sitting ringside at the Muhammad Ali-Ken Norton bout, hanging out at the London disco Tramp, yelling and stomping their approval at a Diana Ross concert, or just cuddling up together on a hotel room coach. Neither superstar complained when one enterprising photographer snapped the two men in a moment of repose, Bowie tenderly cradling Mick's head in his lap. Bowie also took Mick to gay films. "David," said British TV producer Kevin Kahn, "is a born proselytizer."

By October 1973, the Bowies were living on Oakley Street, just a stroll from Cheyne Walk. Angie had been out of town for a few days when she returned home one morning and went straight to the kitchen to make some tea. The Bowies' maid, who had arrived about an hour earlier, approached the lady of the house with a peculiar look on her face. "Someone," she told Angie, "is in your bed."
Angie went upstairs to her bedroom, slowly pushed the door open, and there they were: Mick Jagger and David Bowie, naked in bed together, sleeping. Both men woke up with a start. "Oh, hello," said Bowie, clearly taken by surprise. "How are you?"

"I'm fine," Angie replied. "Do you want some coffee?"

Mick, blinking awake, remained silent. Angie returned a few minutes later with coffee and orange juice on a tray. While it was not a case of coitus interrupts, Angie "felt absolutely dead certain that they'd been screwing. It was so obvious, in fact, that I never even considered the possibility that they hadn't been screwing."

Angie was upset at the time, unsure if David was serious about Mick — and, if he was, how she could ever compete with him. "Even though I cared," she said, "there wasn't much I was going to do about it . . . Maybe," she tried to joke later, "they were writing 'Angie' when I caught them in bed together."
The excerpt goes on and on – Angie Bowie wanted to fool around with Mick but she "missed her chance" because she was having a giggle fit. Marianne Faithfull, Mick's ex-girlfriend, had an affair with David Bowie for a few months in 1973. One of the various sources claimed, however, that "Mick and David were really sexually obsessed with each other. Even though I was in bed with them many times, I ended up just watching them have sex." Oh, and both Bowie and Jagger had affairs with Bebe Buell (Liv Tyler's Mom) who also boned "Elvis Costello, Rod Stewart, Jimmy Page, Aerosmith's Steve Tyler, Todd Rundgren, and Prince." Once Bowie and Jagger realized they were both sleeping with her, they tried to lure her into orgies. For the love of God. IT WAS THE SEVENTIES. This is what everyone did in the '70s. Let's face it. If your parents were in their 20s in the 1970s, they were probably doing all of this. Trust me.
Update by Celebitchy: Here's Mick and David doing "Dancing in The Street" circa 1985. I used to love this video! I'm getting a kick out of watching it again and imagining them sleeping together.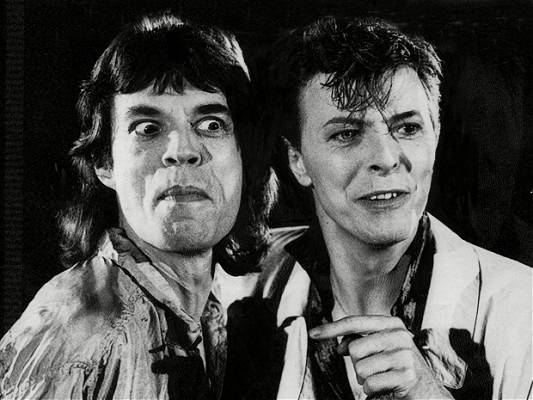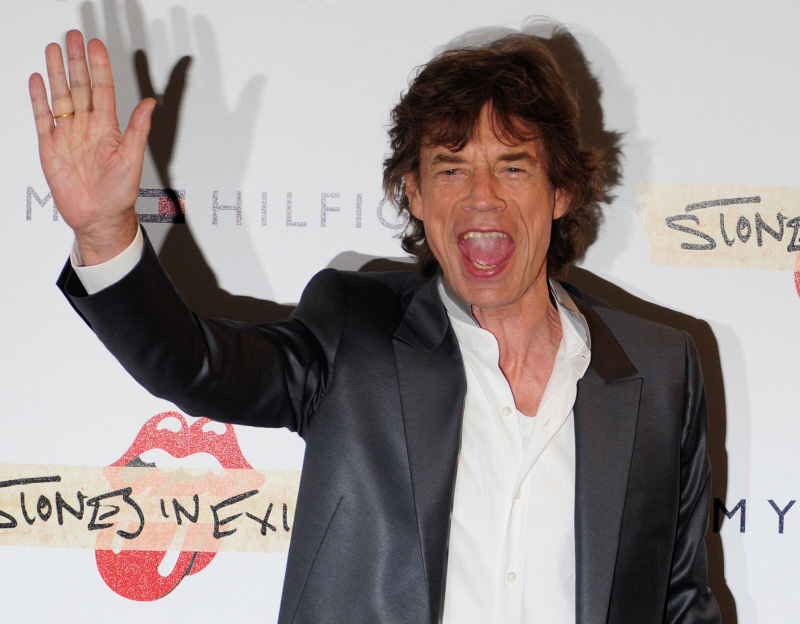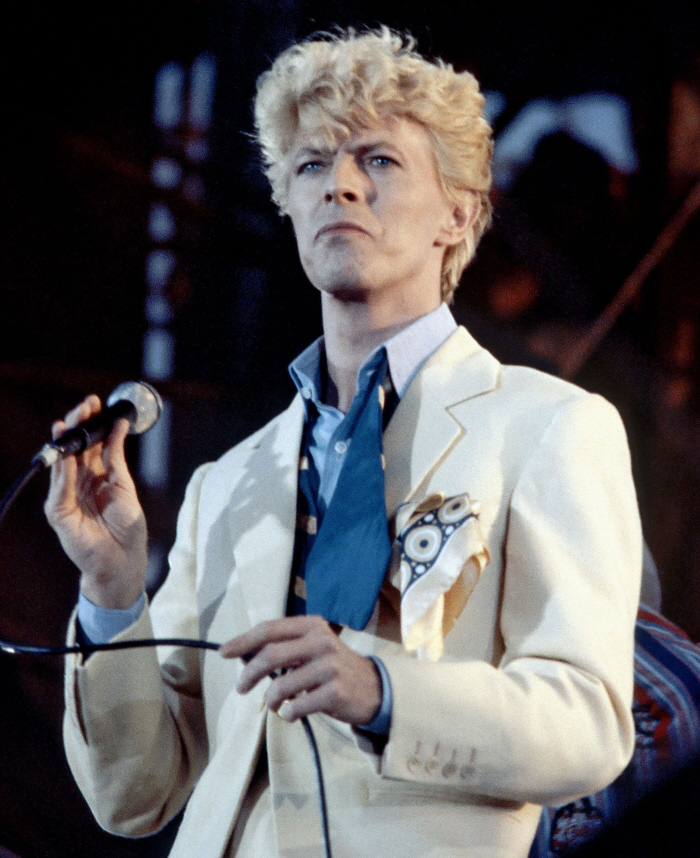 Photos courtesy of WENN.