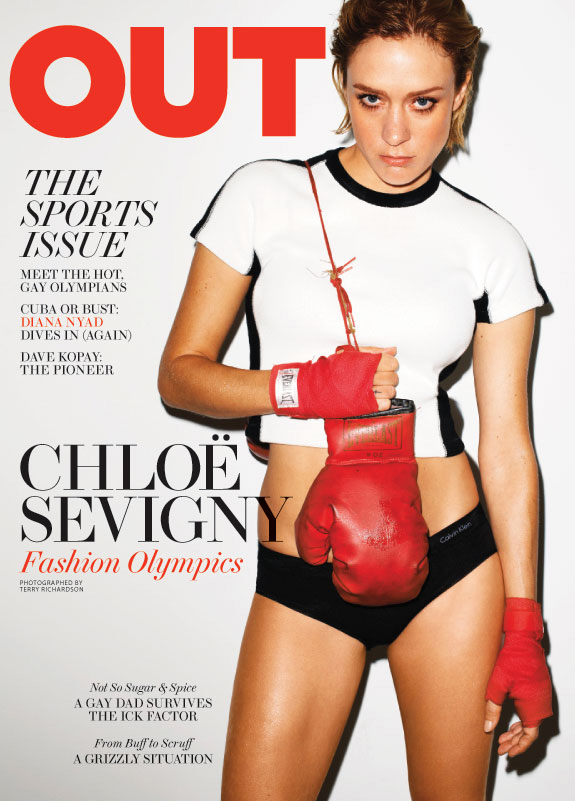 Chloe Sevigny covers the new issue of Out Magazine. Believe it or not, Chloe is not the Poster Girl for all things LGBT – that always surprises me, actually. I always associate her with all things LGBT-friendly, but she's pissed off the gay community several times now. So the first part of her Out interview is almost terse, like she's waiting for the other shoe to drop. Then she loosens up and starts talking. Chloe is being interviewed because she has a new show on British television called Hit & Miss. She plays… wait for it… a transgender hit woman (formally a man) who finds out she fathered a son before she had the operation. The boy's mother has died, so Chloe (the boy's father) has to raise him. All while being a hit-woman. Here's the thing – I think I could handle the story without the whole "hit woman" plot line. You can read the whole Out Mag piece here, and here are some highlights:
Chloe was concerned about her transgender character: For her role in Hit & Miss, Sevigny went through firearms training, accent coaching, and kickboxing lessons, but mastering those wasn't the things that troubled her. "I was worried people would be angry that they didn't cast a real person who was transitioning. I asked why they didn't, and the producers said they didn't find the right person. It's a big responsibility toward that community, and I wanted to do them right."

She got in trouble for saying "tranny" in the past: "I didn't know you weren't supposed to use that word," she says now. "There are all these tenses too. Look, it's a complex process to go through, and it's a complex thing to talk about. I'm still not even sure if I'm doing it right, and I really don't want to offend anyone." She continues, "I'm just so sensitive these days. I've gotten in so much trouble. I've gotten emails from the GLAAD people."

She wears a prosthetic penis in the TV show: "Being around the men on set, being naked, and having that on, I just felt insecure and uncomfortable. Plus the process to put it on was very involved. I had to shave myself, it's glued on, painted, like any prosthetic. It's not fun to have someone right up in your private parts," she deadpans before letting out her hooting laugh, a signature Chloë-ism. "I think the root of why I was so upset with having it on was that I wasn't fully trusting of the producers and directors," she admits. "Now I can rest assured, because I've seen it, and it's not gratuitous. It shouldn't be a show about a f–king penis.'"

Does she see herself as a gay icon? Sevigny rolls her eyes. "What does being a gay icon even mean?" she challenges.

Giving Vincent Gallo a beej on camera: "People expect me to say I regret Brown Bunny, but I won't," she says, referring to the 2003 film that climaxed with her giving a bl-wjob to Vincent Gallo.

She's not into the fashion scene because she's old: These days, Sevigny seems ambivalent with being on the scene, despite her perennial front-row seat during Fashion Week and appearances at events ranging from Vogue's swank Met Ball to crowded art openings in Chinatown. She says she prefers to stay at home and invite friends over, avoiding the bar scene. "I'm 37. What am I going to do there? Meet a husband? Not gonna happen — they're all 25."

But she still wants more dresses to choose from: For the British premiere of Hit & Miss she requested about 20 dresses for consideration but received only two. "Aren't I one of the top searches on Style.com, for crying out loud?" she says with mock disgust. "How hard is it to get a f–king dress from Valentino?"

She's not typical Hollywood: "Hollywood does not know what to do with me," she says. "They do not like me. That's why I end up in these seemingly difficult movies." These challenges have caused her fans to expect the unexpected from her. "I know. So boring," she groans. "But it's been a long time, and I'm still here, damn it," before adding the afterthought: "Thank God."
No one wants to dress Chloe! That's because she's kind of a trainwreck on the red carpet lately. Like, it's gotten pretty bad, actually. Which came first, though? Did good designers stop dressing her so she started to look like hell, or did she start to look like hell and good designers stopped dressing her?
But! I do think Chloe is an actress to be admired, because I certainly didn't expect her to still be working at this point. Not only is she still working – she's got the kind of IMDB page that most hipster actresses would kill for. I think Chloe's career is less about her commitment to independent film, though, and more about what kind of stuff she gets offered. But maybe I should give her more credit. One of my favorite pieces of Hollywood trivia – Chloe was offered one of the lead roles in I Know What You Did Last Summer. She turned it down!!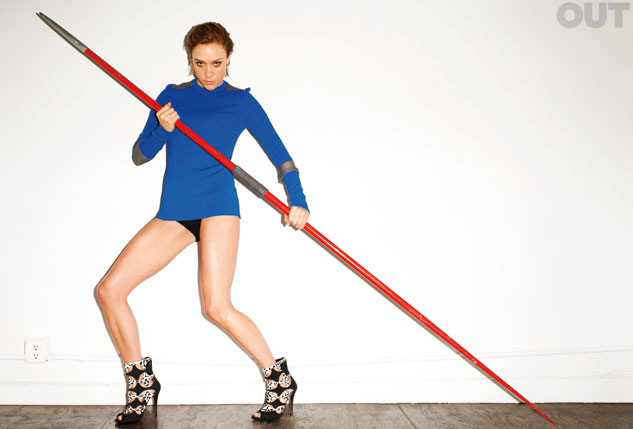 Photos courtesy of Out Mag.