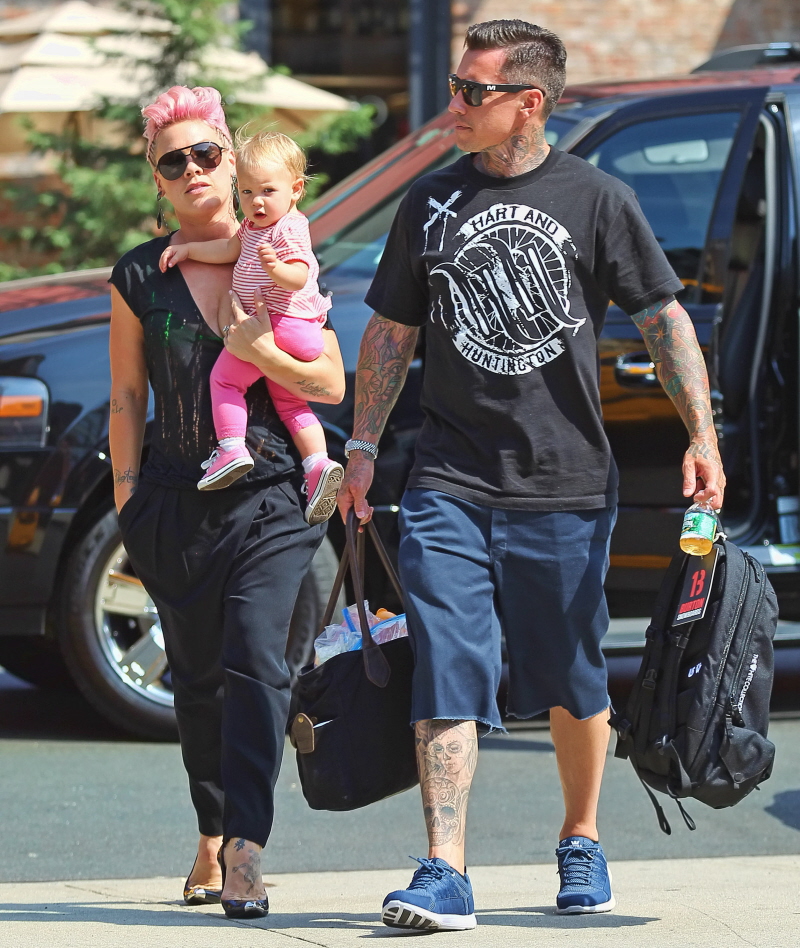 Here are some new photos of Pink, Carey Hart and their daughter Willow in LA yesterday. Aren't these cute? I love when we have new photos of Pink with her baby girl. Are you surprised Willow is a blonde? I am. I didn't even remember that Pink is a natural blonde too. Anyway, cute photos, cute baby, so what else is new with Pink? She had a new radio interview, and she was talking about how her life has changed now that she's a mom. No more cigs, no more whiskey. Good girl.
Motherhood hasn't stopped Pink from living it up on a regular basis, but her ways of celebrating have indeed been altered.

Explaining that it's "so much cooler" adding daughter Willow Sage to her and hubby Carey Hart's travel group, the pop singer, 32,told Philadelphia's Q102 radio station on Wednesday, "We wake up and dance. [We] party naked in the hotel room."

But she goes on to say that late nights with her little one in tow aren't quite the same as the ones had when it was just with Hart, 36.

"It's a different kind of partying," Pink says, of what now consists of "diapers and underwear."

Dropping her raging rituals included kicking her vices to the curb.

"It used to be whiskey, tears and cigarettes," she says. "Now it's [my baby's] kind of tears, no cigarettes and the color of poop. Pure joy. I miss the whiskey, not the cigarettes."

The "Raise Your Glass" singer's new upbeat, healthier outlook on life will be reflected in her new album, The Truth About Love, slated to drop in September.

"I do a lot of dancing now with [Willow] and I'm just happier," she says. "This album is a lot of rock and roll but it reflects that there's a dance party in our house … You're career goes up and down, but … at the end of the day, if I didn't do another thing, I'm blessed. I like myself more than I used to."
Willow is about 13 months old, so it's possible the "no whiskey" thing could be a breastfeeding issue. But why couldn't Pink have a whiskey anyway? Is the "no whiskey" thing more about "being a good mother"? Sigh… it's been a while since I've had a drink too. I stopped drinking last year (for the most part – I had wine on Thanksgiving, and a few sips of a daiquiri a few months ago) and I haven't really missed it that much. I gave it up for a diet/get-my-life-together thing, and once I stopped, I was fine. But the other day I really wanted a summery, fruity, rum-based cocktail but I didn't have any mixers so I forgot about it. Now that I've read this Pink story, I'm thinking about how nice it would be to have some Jack Daniels on the rocks. I swear I barely think about alcohol these days, but maybe I should just go ahead and have a cocktail and stop being so f–king neurotic about it? *quietly obsessing*
We should do a poll. "Should Kaiser have a cocktail and stop being so g–damn neurotic?"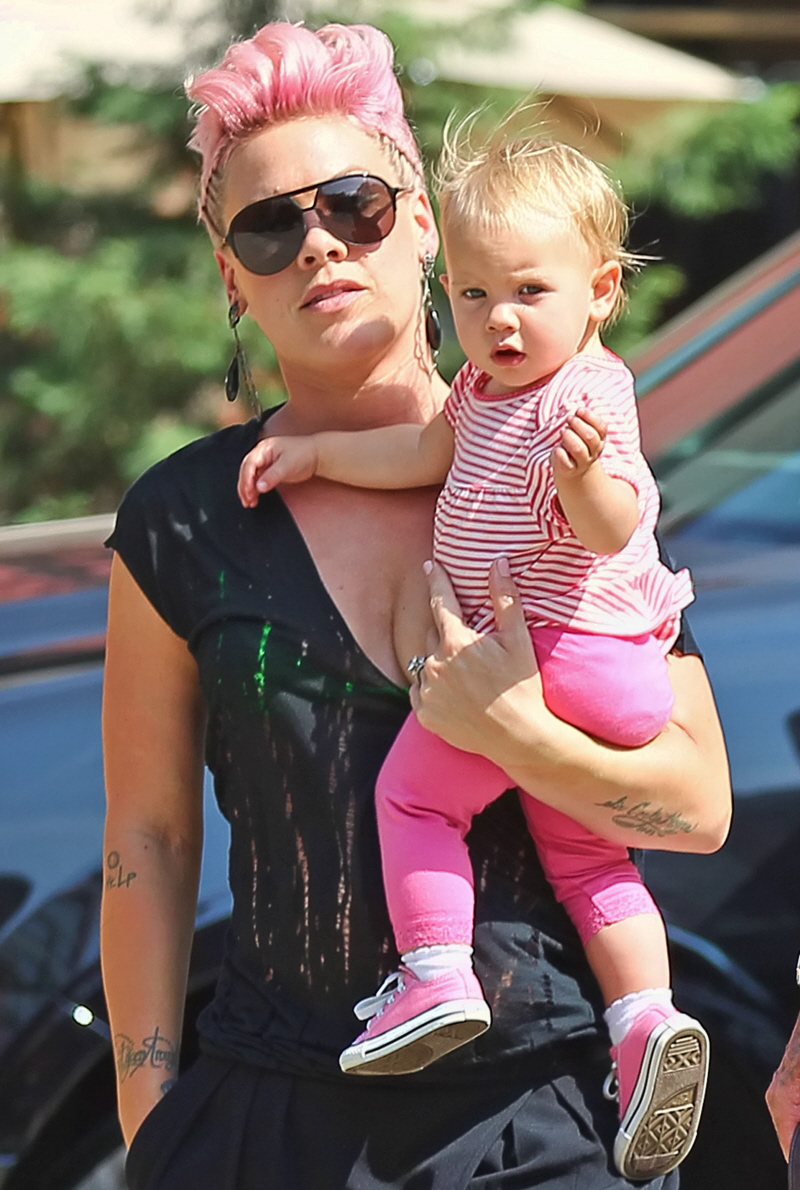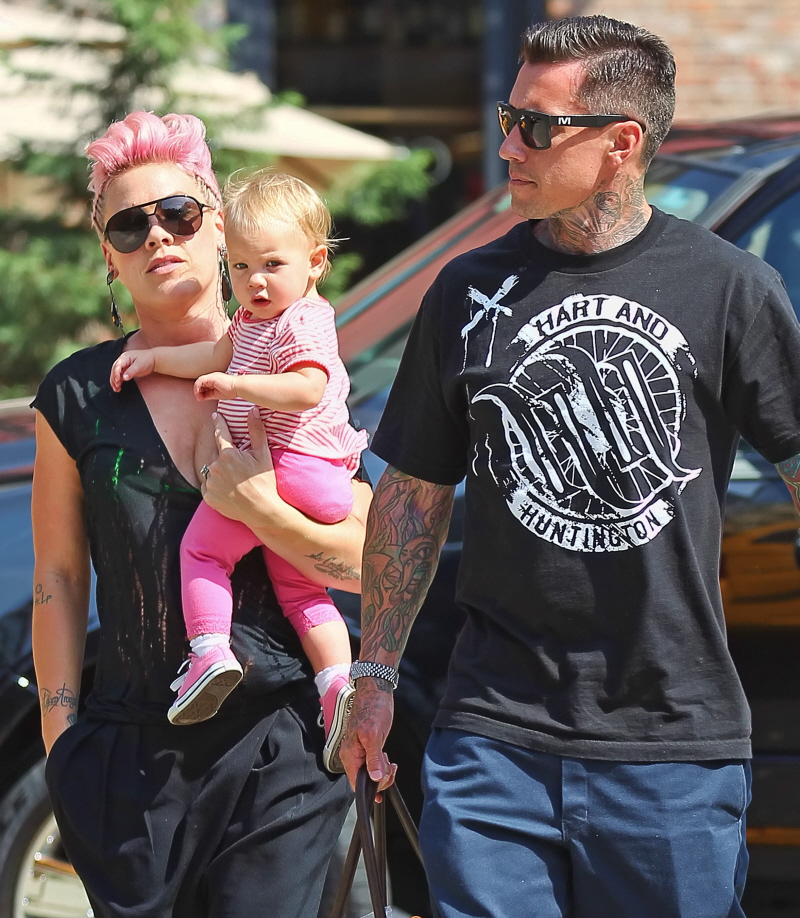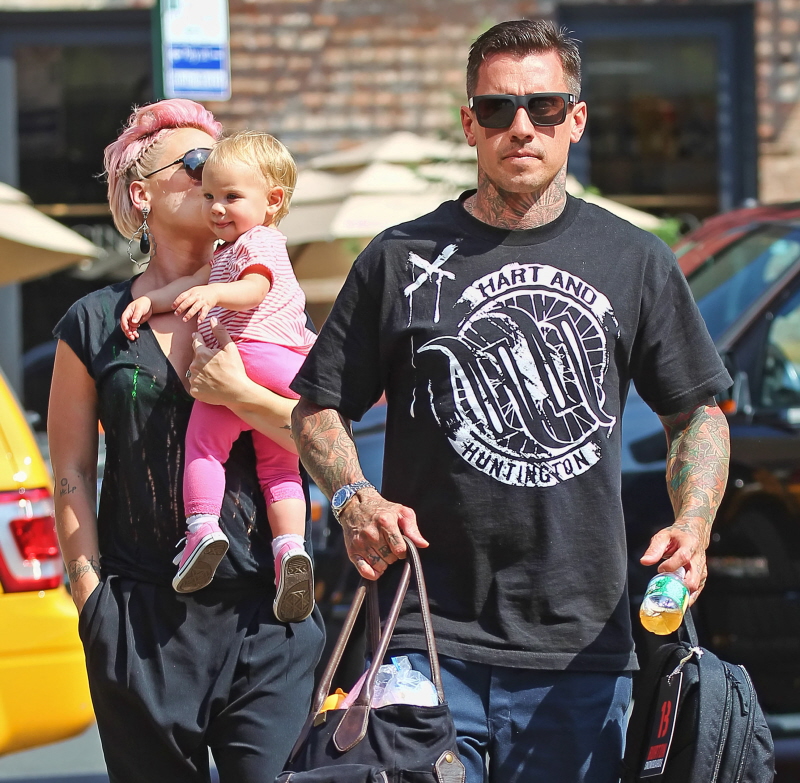 Photos courtesy of Fame/Flynet.