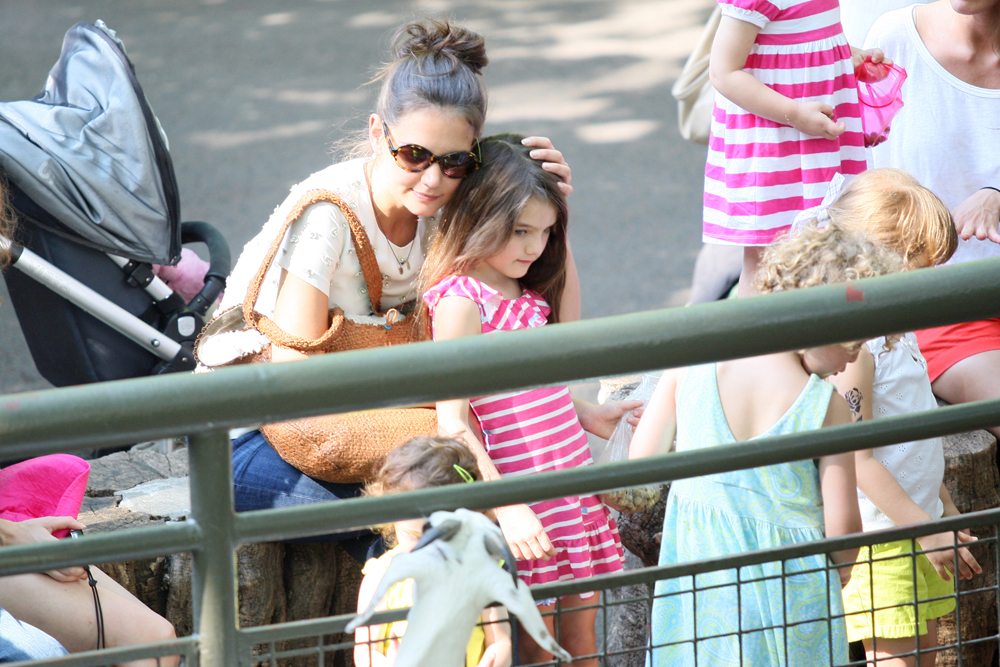 Yesterday, Katie Holmes celebrated her return to freedom once again with a daily outing. Somehow, I get the feeling that she and Suri were trapped for nearly two years in their former New York City apartment (remember how how they used to disappear for a month at a time?) without being allowed to do any of the wonderful things that the city's tourists can freely enjoy on a regular basis. Hence this outing to the Central Park Zoo with Katie's mom, Kathleen, who was along for the ride. I won't even attempt to identify these animals at the petting zoo (seriously, I am a pathetic suburbanite), but Suri appeared to truly enjoy herself.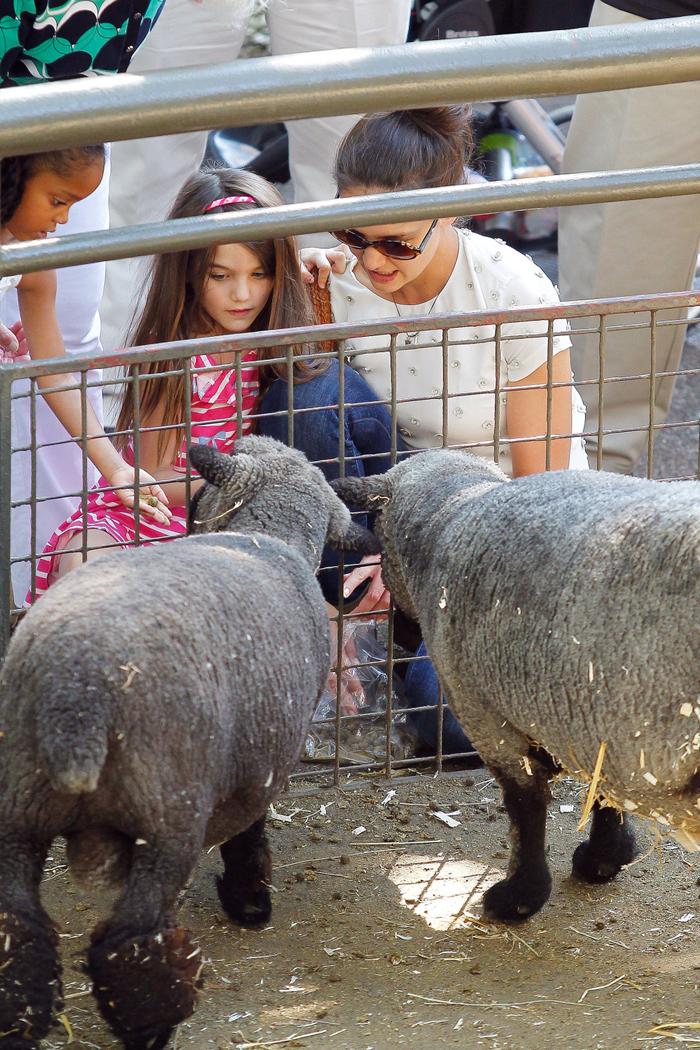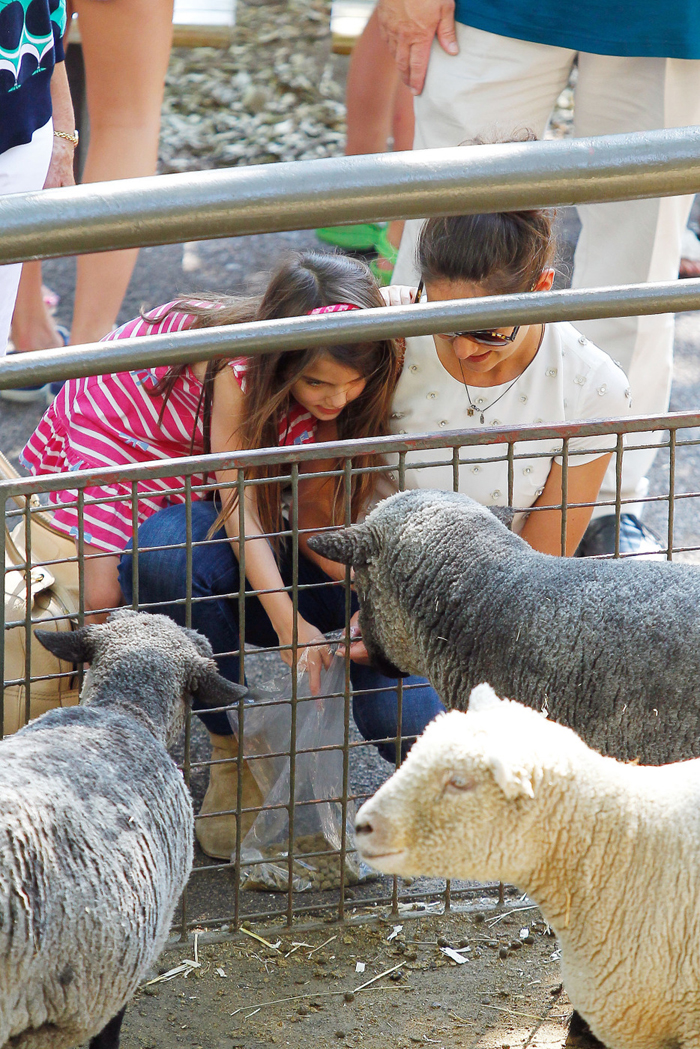 In related news, Katie has also just issued a silent message, which affirms that the topic of religion was very much a reason for the dissolution of her marriage. This of course runs contrary to the assertions of Tom's lawyers, who maintain that the CO$ had nothing to do with the divorce or the negotiations therein — because, by their spin, Tom is just a completely hetero dude looking for fly tail at every opportunity. Of course, it is standard CO$ procedure to act like the cult is merely a tool to help people through life even though at least three known Scientologists have confirmed that the CO$ was behind the Cruise-Kidman divorce as well. The only difference here? Katie filed first. Her silent message? She has just registered with a Catholic church in New York City:
Katie Holmes has finally turned her back on the controversial religion of Scientology by registering with a Catholic church in New York, it has been claimed.

According to a new report, the actress has formally confirmed her return to Catholicism by signing up to the Church of St. Francis Xavier. And Katie's decision to register as a parishioner at the church has been met with excitement by the congregation.

On its website, the Church of St. Francis Xavier, which dates back to 1847, "strives to be a prophetic, welcoming community, inclusive witness to the presence of Christ Jesus in our midst," according to its mission statement.

The actress' decision to register with the church is sure to be seen as her final way of distancing herself from Scientology. And the move is also the latest sign that Katie and Tom's six-year-old daughter Suri, of whom Katie is believed to have sole custody, will follow in the actress' Catholic footsteps, rather than follow her father and his devotion to Scientology.

Meanwhile, Tom is reportedly "still reeling" from Katie's decision to leave him, because of the secretive way in which she approached the split.'
[From Daily Mail]
Poor Tom. He's "still reeling." Look, I get that a few of you still feel for Tom and his "blindsided" response to Katie's covert methods in acquiring the divorce, but I just don't feel pity for the man. Here's the thing: Tom would rather willingly (and without a fight) give up joint custody of his daughter and concede to the instant demise of his third marriage than to give up his GOD-like (and telepathic) status within the CO$. Like, he values the approval of a cult who tells him he can fly and treats him like a superior being more than he desires his wife and child. That's pathetic, and I can't feel sorry for anyone who prefers that sort of delusion over reality. On the subject of flying, all of this CO$ nonsense certainly puts those crazy MI4 stunts into perspective, right?
Yesterday, Kaiser covered a preview of this week's Us Weekly, which included details of how Nicole Kidman possibly (yet not probably) offered Katie some support. Now the full issue has been released, and Us Weekly maintains that Katie grew very concerned that "Tom was beginning to audit Suri behind her back." And that's not all:
During a June visit on the Iceland set of Oblivion, says a Holmes source, "Tom was filming and Katie tried to discipline Suri over something. But one of Tom's Scientology handlers stepped in and said they couldn't let her do that, and they would have to call Tom." Holmes "snapped," says the source. "Katie had been watching how these same handlers turned Connor and Isabella away from their mom, Nicole. She suddenly saw that future for her."

Holmes was running out of time. Suri is at a critical age for entrance into the church, says Scientolgoy expert Stephen Kent, a professor at the University of Alberta: "There's an escalation of involvement when kids hit school age." To spare Suri, Holmes had to choose divorce. "She actually still loves Tom, but would would rather leave him than have Suri turned against her," says a Holmes rouce. It wasn't so much Cruise she feared, adds another insider, "but his inner circle and the people handling her. They were so controlling it was terrifying."

In her marriage to the world's most famous Scientologist, Holmes rarely had a moment to herself, even at home. "Every move had to go through Tom's camp, including when she could see her family," says a source familiar with her old security. "She was monitored around the clock." As a Holmes pal puts it, "Katie felt she was being watched more than protected."

Accordng to Karen Schless Pressley — onetime president of the church's Celebrity Centre — the Cruise home was staffed with informants. According to Pressley, Miscavige, the best man at the 2006 Cruise-Holmes vows, would personally read daily reports of everything that happened in the house. Adding to the suffocating scrutiny, Holmes wasn't allowed to receive her mail. "It had to be sent to Tom's team to open first."

But Cruise control sometimes became comical. When booking hotels, the action star would request that staff cut out magazine pictures of TomKat "looking in love," says a source, and put them in frames around the room.
[From Us Weekly, print edition, July 23, 2012]
That last paragraph puts into perspective Tom's belief that he really thought everything was just peachy in his marriage to Katie. Hence his "What's happening?" response to the split. CB and I were talking about this, and I really think Tom's going to have a breakdown over this divorce. It might not happen immediately, but it will occur, and it will be interesting to see how the CO$ deals with it. It's not like they can stuff Tom in a hotel room like they did with Lisa McPherson. Nope, Tom has to remain visible to the public. So … we'll see how this plays out.
Meanwhile, this week's tabloids are already gearing up for another wild ride. So far, we've got Star's take (via Jezebel), which features a cover story titled, "Katie's weight plummets." The cover itself features photos from Katie's July 4th outing that has also brought us portraits of Katie's sideboob and skinny back. Presumably, Katie has lost weight in the past few months because of the stress of the impending divorce, which is believable, but she doesn't really look anorexic. Just thinner. Star's inside story is more interesting in that it contains details of Katie's alleged $5 million payout from Tom plus $100,000 per month in alimony for five years and $30,000 more per month just for Suri. The story also goes on to claim that "Tom will do whatever it takes to make sure he comes out on top and "He's made it clear that he's willing to spend every last cent fighting for Suri." Whatever. Tom has already lost. Katie has won, and he's going to be stuck in an auditing room while Miscavige cracks his whip while wearing leather chaps. Gross.
Okay, now to erase that awful mental image. More of Suri at the zoo!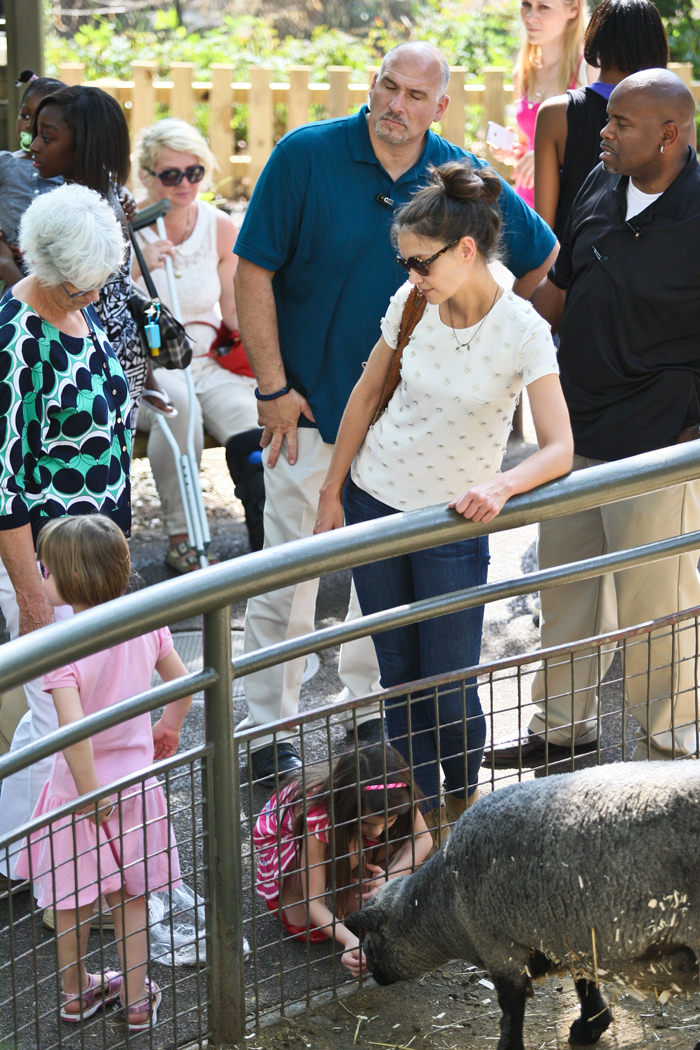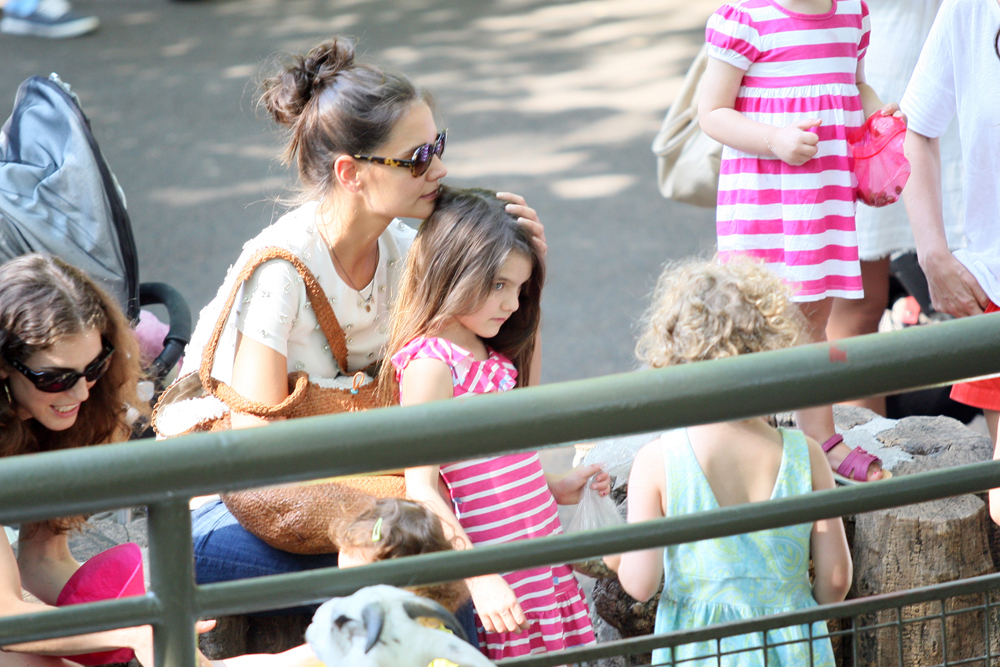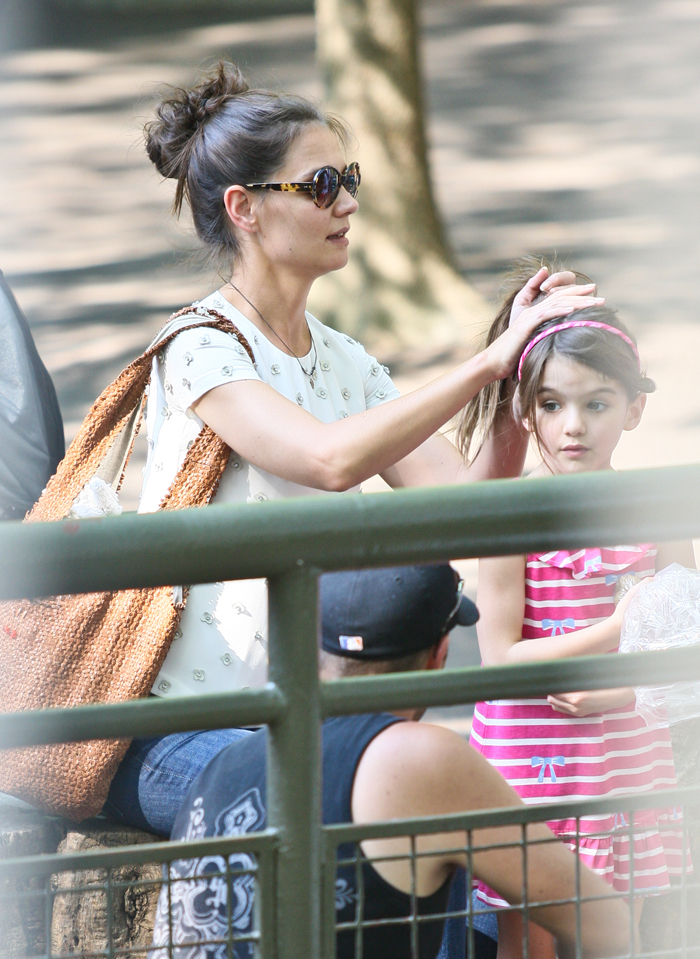 Photos courtesy of Pacific Coast News and WENN