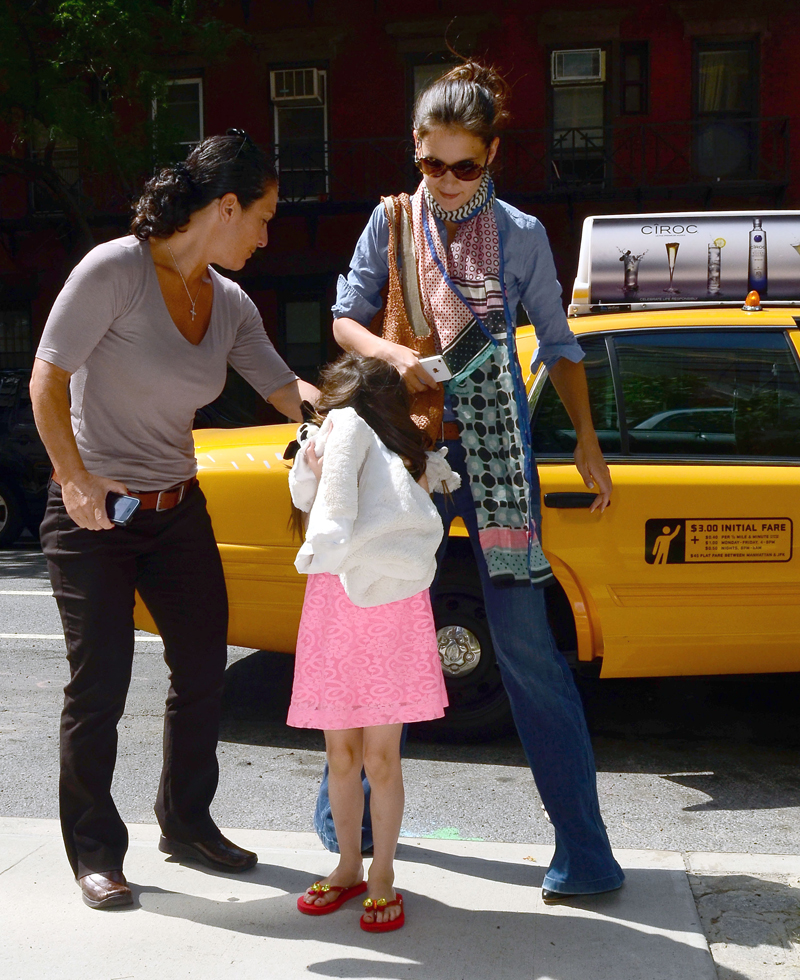 Here are some photos from yesterday of Katie Holmes taking a trip to NYC's Children's Museum of the Arts, and Suri (as always lately) looks less than thrilled about the photogs greeting their cab at the curb. At least she's not all cooped up in the apartment all day though, right? Suri's doing normal kid things now in the closest sense possible — hopefully the paps will become less interested as soon as this divorce story cools a bit.
After yesterday's revelation of a quick divorce settlement between Katie and Tom Cruise, many media outlets hope to be the go-to for details of the agreement. People kicks things off by quoting yesterday's TMZ story (already covered by Kaiser) in regard to Katie achieving "primary physical custody" and an allowance for "generous visitation" for Tom as well as a slightly weird pro-Tom note at the end: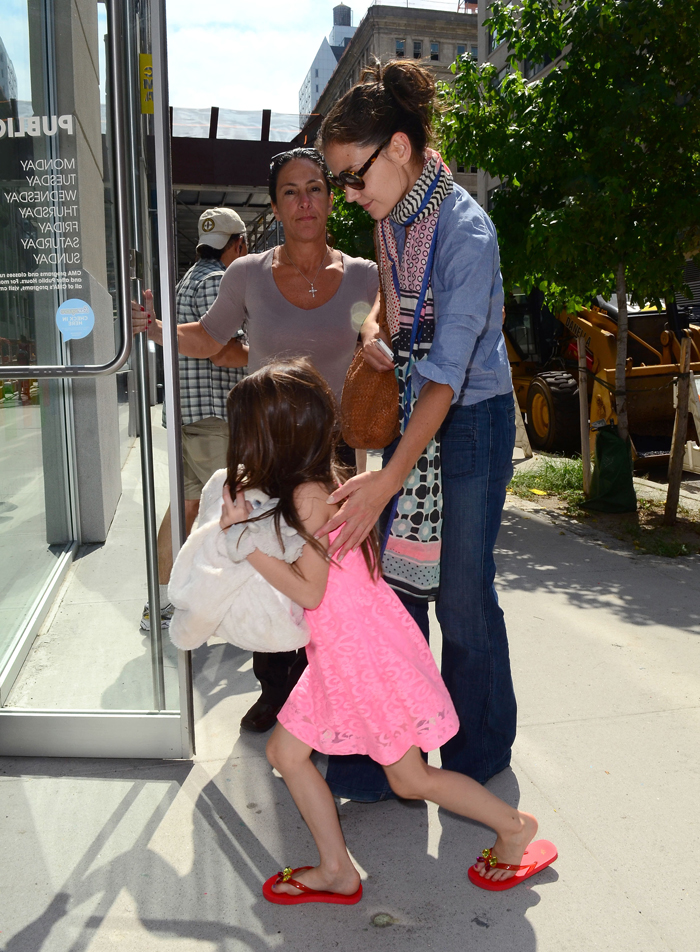 Tom Cruise and Katie Holmes agreed that daughter Suri should live primarily with her mother in New York with generous visitation by her father, PEOPLE has learned.

The terms of physical custody of the 6-year-old was a key element of the settlement announced Monday just days after Holmes filed for divorce, according to sources.

"They both love their daughter," says one source, "and Tom thinks she should be with her mother."
[From People]
As such, People keeps its account short and sweet for the benefit of Tom — now it looks like it was all Tom's idea for Suri to live with Katie when it's been beyond clear that Katie was dead set on keeping custody. See how that works?
Now here's where it gets sketchy. Almost immediately, Radar Online claimed to have an exclusive about how the custody agreement included a requirement that Suri's bodyguards and nanny would accompany her during all visits with Tom, thereby insulating Suri against any and all talk of Scientology. According to this take, Suri wouldn't be allowed to be exposed to CO$ parties or churches either, and the source insisted that "Katie made sure that this was ironclad in the agreement." This sounds much like the outcome that most of us (including Katie) were hoping for in regard to Katie keeping Tom from proceeding with Suri's indoctrination into the CO$.
Not so fast though. People quickly re-upped with word from one of Katie's lawyers, Jonathan Wolfe, that various reports concerning the settlement are not to be believed: "There are numerous inaccuracies in the reports regarding the purported contents of the agreement reached between he parties. The agreement is confidential and its terms will not be disclosed." So does this mean that Katie's attorneys are telling us that Suri won't always be protected by her nannies against Scientology while she's with Tom? Or maybe that's just what Tom wants us to believe because — let's face it — this entire divorce story makes his cult look even worse than it already did.
TMZ also presents its account with some interesting details as well. This story is probably the most accurate of the bunch:
TMZ has learned, the divorce settlement between Tom Cruise and Katie Holmes is extremely complicated, outlining things both Tom and Katie can and cannot do with Suri. Here's what we know.

– Katie will have what amounts to primary physical custody, but Tom has significant custodial time with his daughter.

– A report claiming that Suri must be in the presence of Katie's bodyguard and nanny when she is around Tom is "absolutely, 100% false."

– The custodial provisions of the agreement are extremely detailed, and religion is one of the topics. We're told there are restrictions on what Tom and Katie can discuss with Suri on the subject of religion, including Scientology, however, those restrictions are eased the older Suri gets.

In short, we're told the agreement is extremely detailed and outlines a course of conduct for years to come.
[From TMZ]
Meanwhile, The Mail quotes a lot of Radar's (presumably debunked) story but adds that Tom agreed to pay "a substantial sum" over and above that dictated by the prenuptual agreement and that "included a 'goodwill' payoff to help bring talks to a speedy conclusion." So the spin there is that Katie was motivated by money, and perhaps this was one of the rumors that her attorneys wanted to shut down.
My theory is this — much like yesterday's carefully-worded joint statement, Katie's lawyers may have already agreed ahead of time to make another blanket statement in an attempt to quell inevitable speculation over the settlement details. This agreement might have been part of the deal along with a non-disclosure agreement on the part of Katie. I sure as hell hope that Tom keeps his side of the bargain, whatever it is, and I hope Katie gave up nothing. Will we ever know the true details of the settlement? Probably not, but the media will surely continue to discuss the matter.
As CB has mentioned already, part of the necessary fun of this TomKat scandal is to go back and study their body language throughout the relationship. Here's an amusing photo that I just found from 2009, which I like to imagine as the precise moment when Katie may have realized that she married a madman.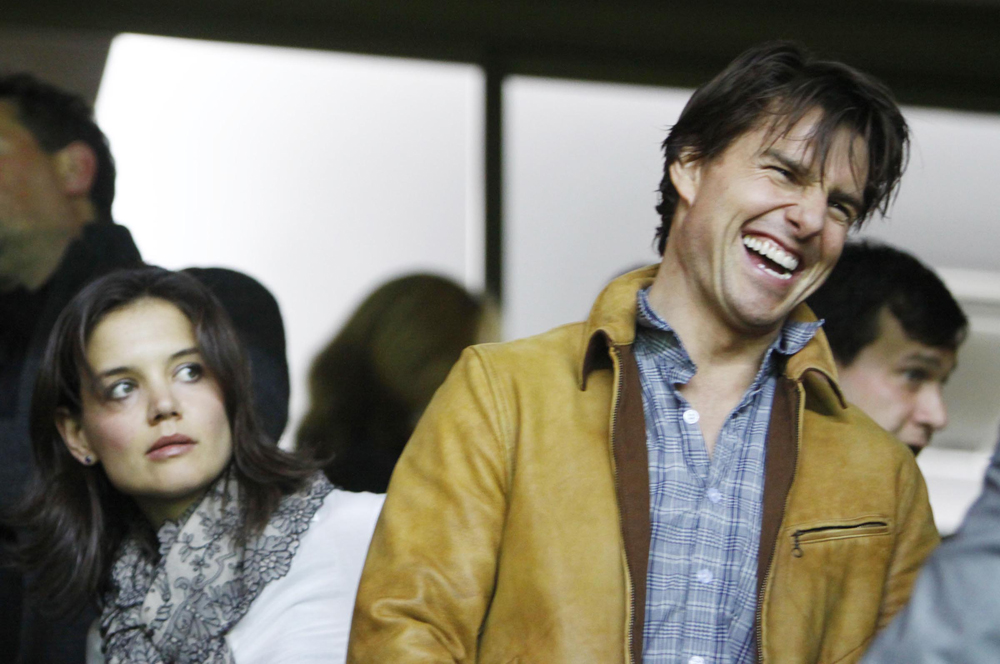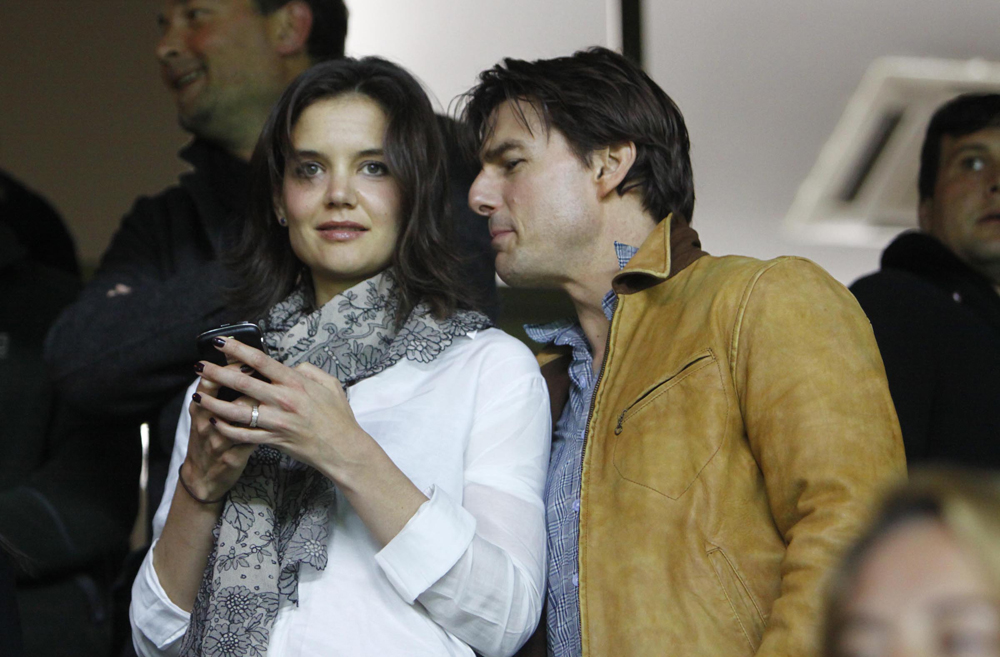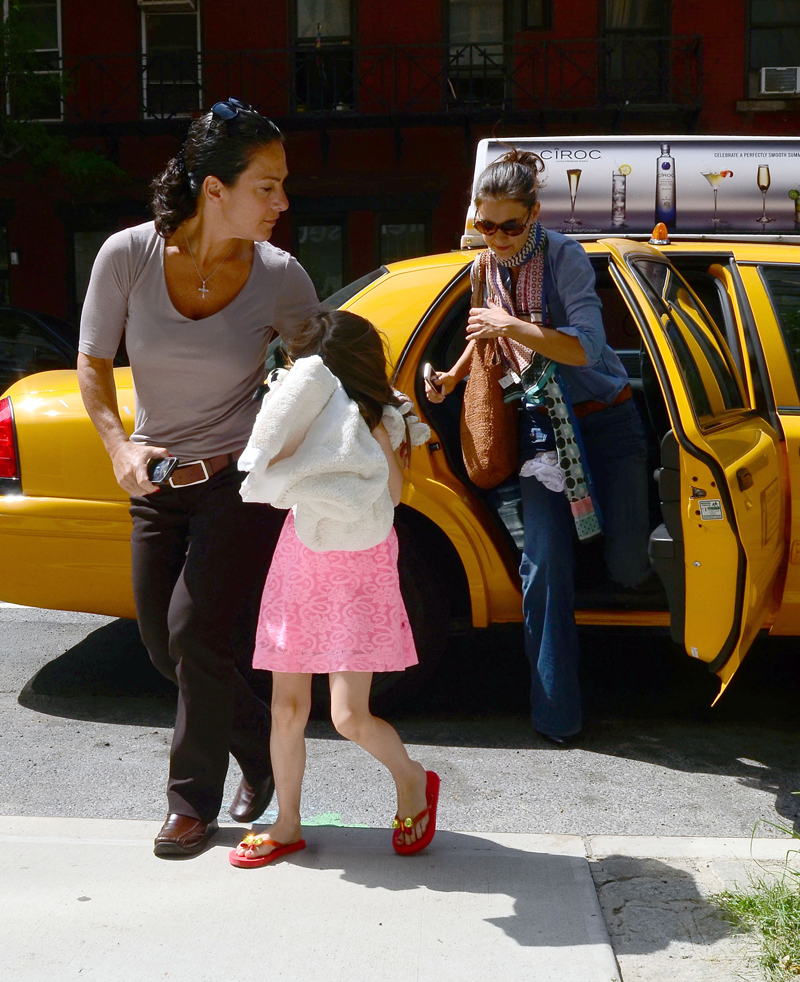 Photos courtesy of Fame/Flynet