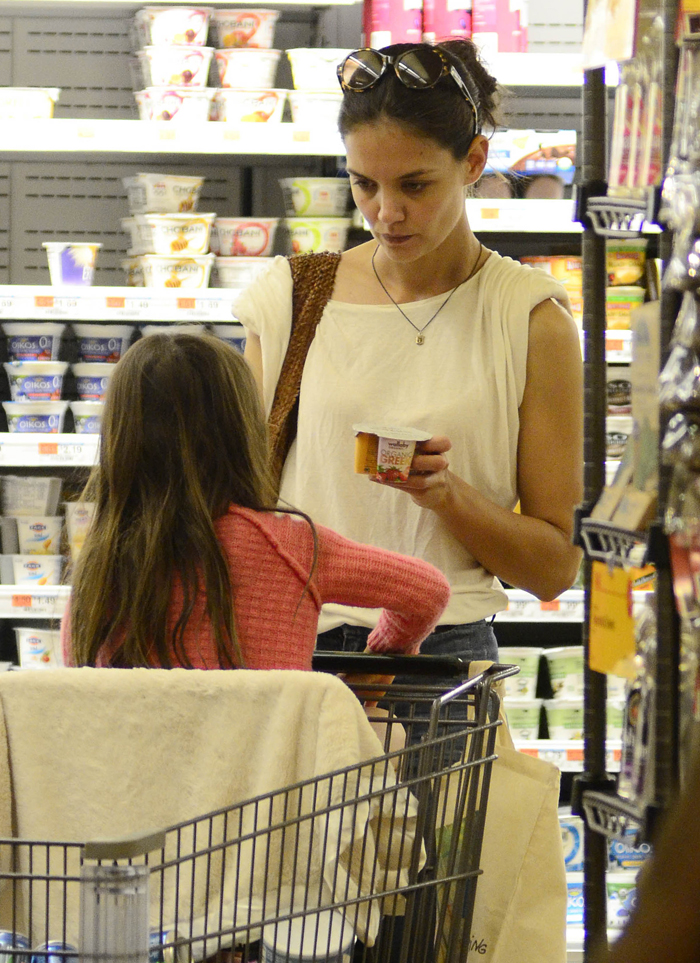 Here are some new photos of Katie and Suri during their Sunday morning outing to Whole Foods in their Chelsea neighborhood. As we've already seen, Katie reeeally likes her Whole Foods, and it makes a lot of sense (as Kaiser has already pointed out) for her to stay visible on daily outings so that we know she's still okay and that we should be alarmed if we don't regularly see her (i.e., if the CO$ tries to nab her). In yesterday's update, Kaiser also expressed her hope that Katie doesn't give up any ground to Tom during their supposed "calm" negotiations. Now here's some good news from Us Weekly, who says that Katie is not giving up on anything when it comes to her demand for full legal custody of Suri. Once again — go Katie: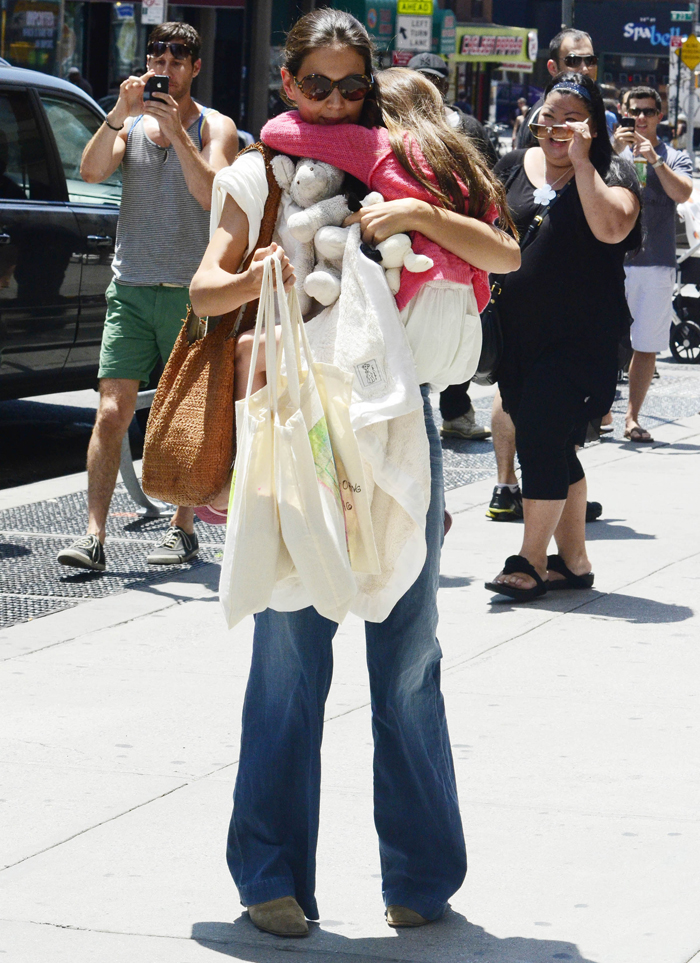 For the past few days, legal teams for Katie Holmes and Tom Cruise have been working steadily in an attempt to reach a settlement for the divorcing stars, but make no mistake: Holmes, 33, is not about to cave when it comes to their little girl.

"She is dead set on keeping custody of Suri," a Holmes source tells Us Weekly. The Romantics actress — whose future projects include the new film Molly (which she wrote) and a Holmes and Yang runway debut at New York Fashion Week this fall — filed for divorce from Cruise, 50, June 28, and asked for sole legal custody of daughter Suri, 6.

"Katie is not going to compromise on certain issues, all regarding Suri," the source says. During their nearly six-year marriage, Holmes became increasingly uncomfortable with the bizarre rules and restrictions of Scientology — particularly with respect with how to raise and educate her only child with Cruise. "This is about protecting her daughter," another source explained to Us.

While Holmes has been highly visible since the news broke, stepping out with Suri near their new NYC apartment nearly every day, Cruise has been M.I.A., reportedly holed up at his L.A.-area home.
[From Us Weekly]
Katie's professional life also appears to be mirroring her personal one. She's set to begin production next week on Molly, which Katie co-wrote and is co-producing and is about life as a single mother. Ahem.
Meanwhile and as Katie has enjoyed much of her first week of freedom in the public eye, Tom has stayed largely hidden. He has reportedly taken refuge in his Los Angeles home and is (allegedly) freaking out over not being in total command of the situation:
Cruise has lost control.

On Saturday, Katie Holmes spent her second consecutive marathon session at the midtown Manhattan offices of her attorney. And though estranged husband Tom Cruise has not been photographed in over a week, the superstar and his team "are in major crisis mode," a source close to the Rock of Ages actor, 50, tells Us Weekly.

"Tom's whole life . . . is being torn apart," the source says of Cruise, who was blindsided when Holmes filed for divorce and full legal custody of six-year-old daughter Suri on June 28.

"He is on the phone with his lawyers 24/7," the source explains, confirming that the Oscar nominee "is trying to hash this out" — custody, child support and property division — without going to court.

Cruise, whose loyalty to the Church of Scientology and its teachings became a sticking point in his nearly six year marriage to Holmes, "doesn't want his entire life laid out for everyone to dissect anymore."
[From Us Weekly]
Over the weekend, there was a story in the Mirror, which claimed that Katie and Tom briefly spoke on the phone (for the first time since the divorce filing) during one of the inevitable phone shufflings as Tom wished Suri a goodnight. A source insisted that the conversation was both "brief and civil." This is certainly a better option for Katie than CO$ marriage counseling (as revealed in a recent recent account from the Running Scared blog) would have been, right?
Finally, here's a nice gross-out sentiment with which to end this roundup — in a new article from the Mail, a former personal manager (and one time surrogate mother of sorts) of Tom's, Eileen Berlin, says that she's surprised that Tom's marriage to Katie lasted five years because she knew from the very start that it was "doomed." This conclusion was not based upon any up-close observations since she and Tom went their separate ways in 1983, but she recalls that Tom was very moody and that, at times, his anger would "boil up and explode … in a snap of your fingers." She also describes how Tom, who lived with her for three months, would often parade around her apartment in a G-string, "flexing his biceps and admiring himself." She also expresses no disbelief in Tom's unwavering adherence to the CO$: "He didn't believe in therapy but he obviously needed help. He just couldn't have a relationship and I think that was because you have to open yourself up. The world sees this good-looking guy, worth millions. I still just see this little boy." And now that little boy bides his time by (presumably) throwing his lifts at ceilings during epic temper tantrums.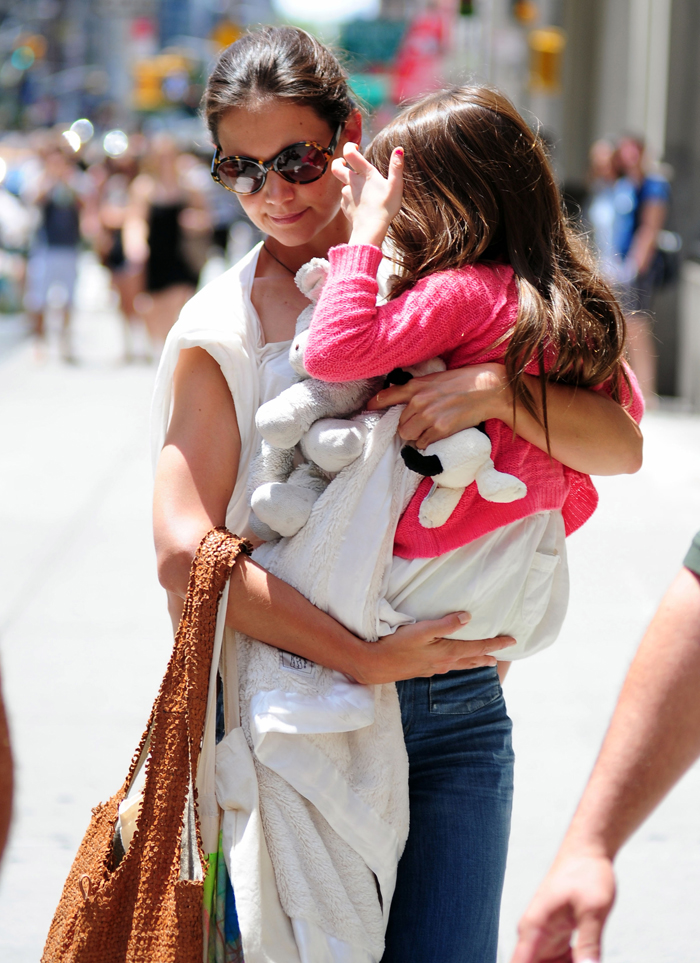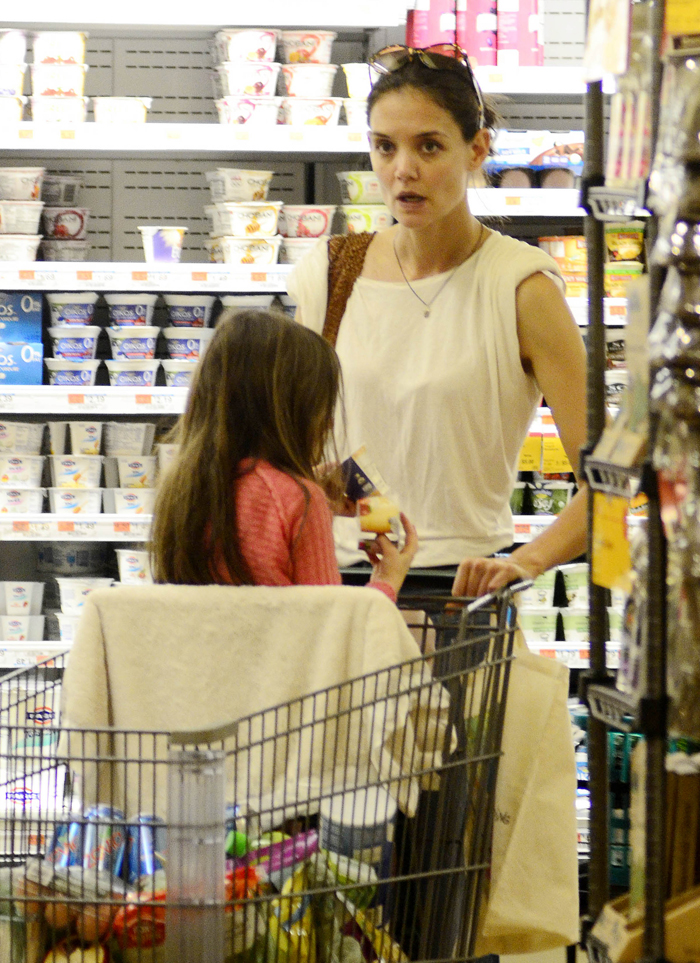 Photos courtesy of Fame/Flynet