Katie Holmes, legal and PR genius, makes another solo outing to Whole Foods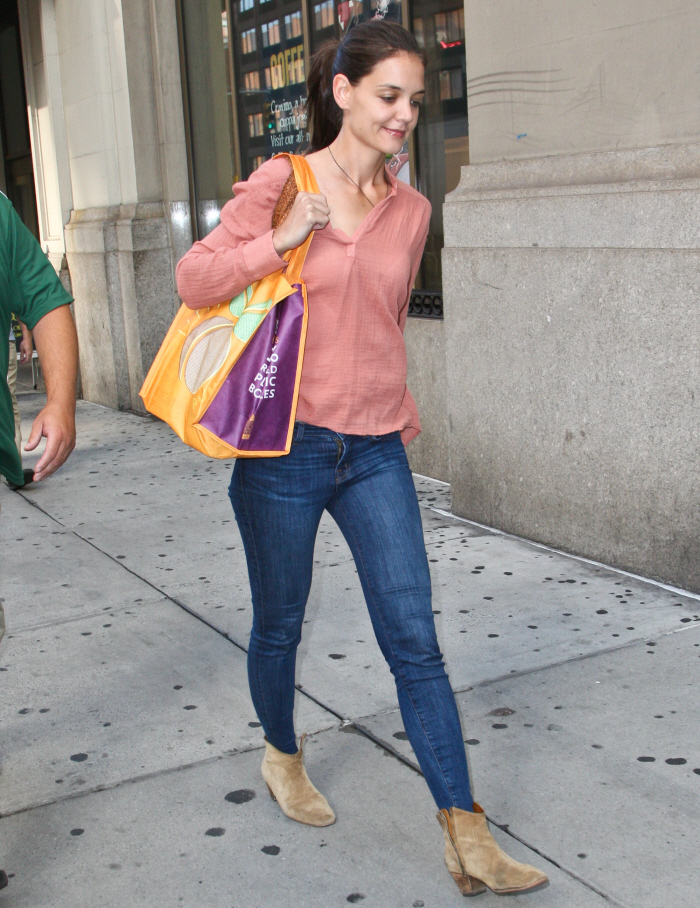 Here are some new photos of Katie Holmes making yet another trip to Whole Foods in Chelsea, today, Friday. I'm surprised Katie didn't bring Suri! I hope Katie left Suri with someone she trusts, like a family member or ten burly bodyguards. Or all of the above. I have to give Katie so much credit here – she's playing the media so, so well. Some celebrity women in her position would choose to hide out, parceling out the public appearances and candid photo ops gradually. Katie has been photographed nearly every day this week, hasn't she? And these are not undercover outings either – it's almost like she's inviting dozens of paparazzi to document her movements. It's protection for her, of course, because we're worried about her and we want to see her out and about. But it's also got an old-fashioned reason too: these photos help sell Katie's version of events. She lives in New York. She's a hands-on mom. She's going to fight for custody in New York because she's a single mom in the city, doing her best. All while Tom is a workaholic who is more interested in E-meters than his daughter.
Bedhead covered many of the latest developments and stories from the past 24 hours, but there are a few "breaking news" pieces that I wanted to get to. In convenient bullet points:
*Radar says Katie will be at a family law courthouse on July 17 for her first divorce hearing, and at that hearing Katie will "formally request temporary child support" from Tom Cruise. A source says, "Katie's legal team will be requesting temporary child support to cover living expenses and the added security she has hired since her split from Tom. Tom's Los Angeles lawyers have officially been given notice. Tom's New York lawyer will appear and it's undetermined at this time if Tom will be in court also because he is currently shooting a movie. His lawyer could also petition the judge for a temporary visitation order at that time. Katie will be in court and ready to testify at the hearing if needed." Haha, Tom is probably going to have to pay for all of the extra security Katie hired to protect herself against his crazy cult. LOL.
*Radar also claims that Tom can't legally file for divorce in California because "it is not possible to file in separate states at the same time." OMG, Katie is a legal genius!!!! A source says Tom will have no choice but to fight this thing (at least initially) in NYC: "Tom will have to file a formal response to Katie's divorce petition in New York, and he is going to submit a motion to have the case dismissed because he believes it isn't the proper venue. Tom is hopeful that New York will do the right thing and allow him to file in California."
*Sources say Katie is amazingly prepared: "Katie has gotten top notch legal advice because the case will remain in New York for the near future. Important issues coming up include temporary child support. Katie clearly has the upper hand in the proceedings at this point. It can't be emphasized enough that she took these extraordinary measures to protect her daughter, Suri."
*TMZ has a story about Tom's long-standing "control" of Katie, which started when they first got together. TMZ reports: "Tom Cruise controlled Katie Holmes like a puppetmaster … making every major and even minor decision in her personal and professional life … and in the end, she felt like she couldn't breathe without his permission … this according to sources close to the actress." Tom allegedly (or not so much) executed an "Art Kill" when Katie was promoting Thank You For Smoking back in 2005, and he wouldn't let producers use any images of Katie being romantic or sexy with Aaron Eckhart. Then Tom wouldn't allow Katie to make promotional flights with the cast of Batman Begins – instead, Tom made Katie fly in his private jet. Allegedly, Morgan Freeman was "disgusted" by the situation, although as one Tom-centric source says, "Wow, Tom offered her his private jet. How terrible for Katie." Basically, as soon as Katie and Ton got together, he was manhandling her career and it wasn't good.
Meanwhile, everyone seems to be waiting for Nicole Kidman to say something about this situation, although it seems more likely that Nicole is trying really hard to simply stay out of it. In my mind, she's sympathetic towards Katie but Nicole has her own agenda and her crazy history with Tom and with CoS rivals Katie's. A source tells Fox News, "Nicole won't talk, wants her privacy, wants to be left out of this and they (she and Cruise) don't speak much. Communication between her and Tom is very limited. Nicole really does not want to be dragged into this or say anything to anyone. At some point though, she will probably be forced to say something, and she will most likely support Tom for the sake of their children." See? Team Kidman is already softening the field so that Nicole won't get hit too hard when she's forced to come out and defend Tom. In the past few years, more and more information has come out about what CoS did to Nicole, and how they manipulated Connor and Bella, and how they might have even orchestrated Tom and Nicole's divorce after Tom "left the Scientology fold".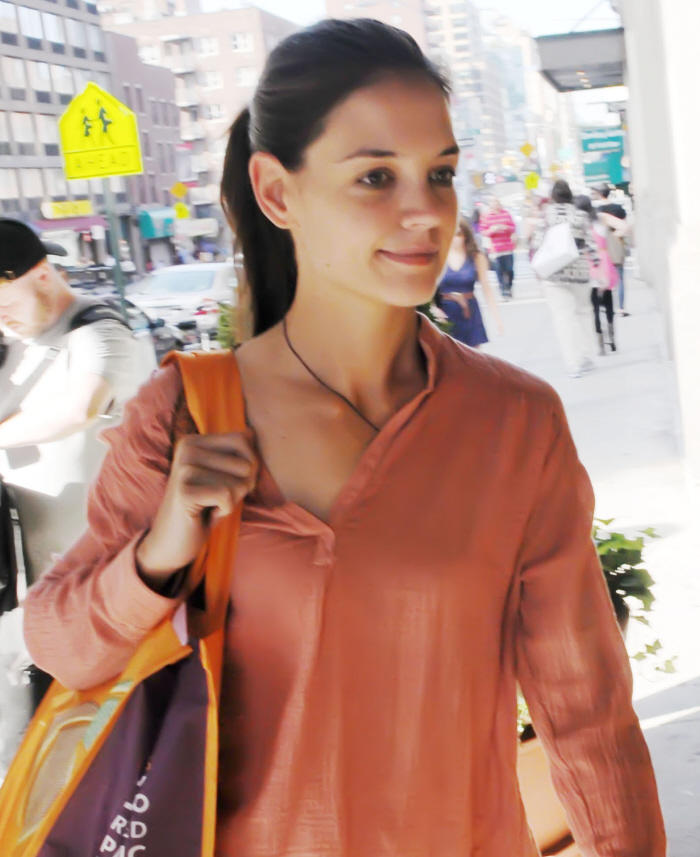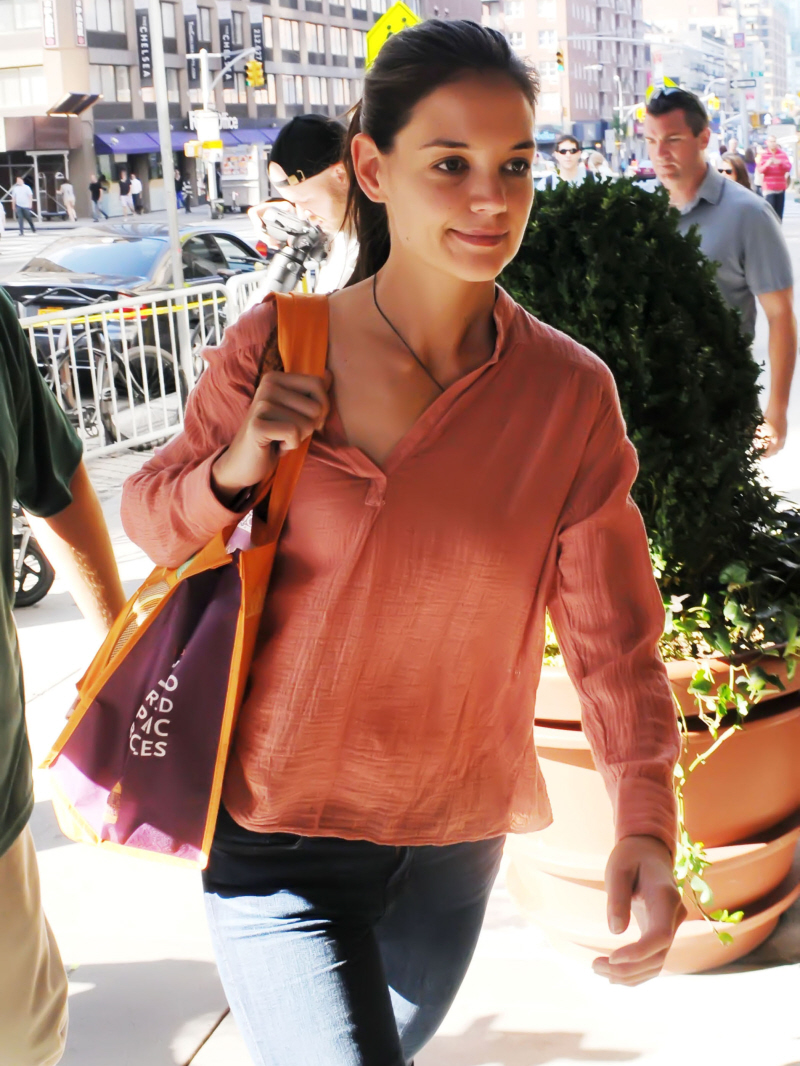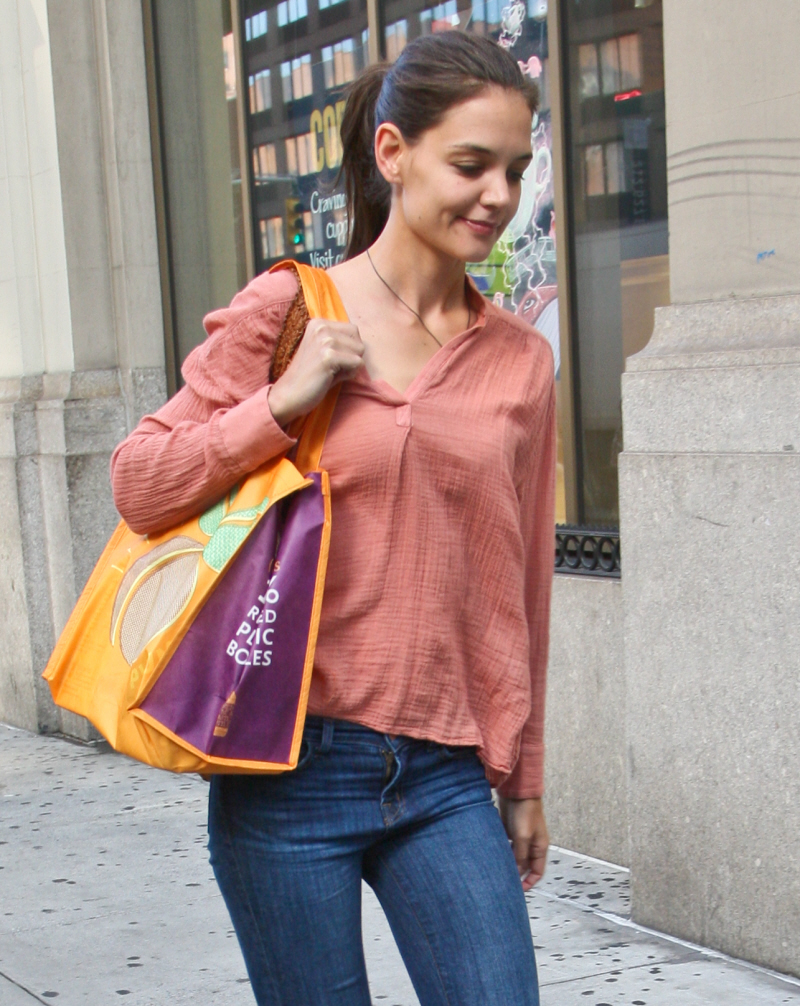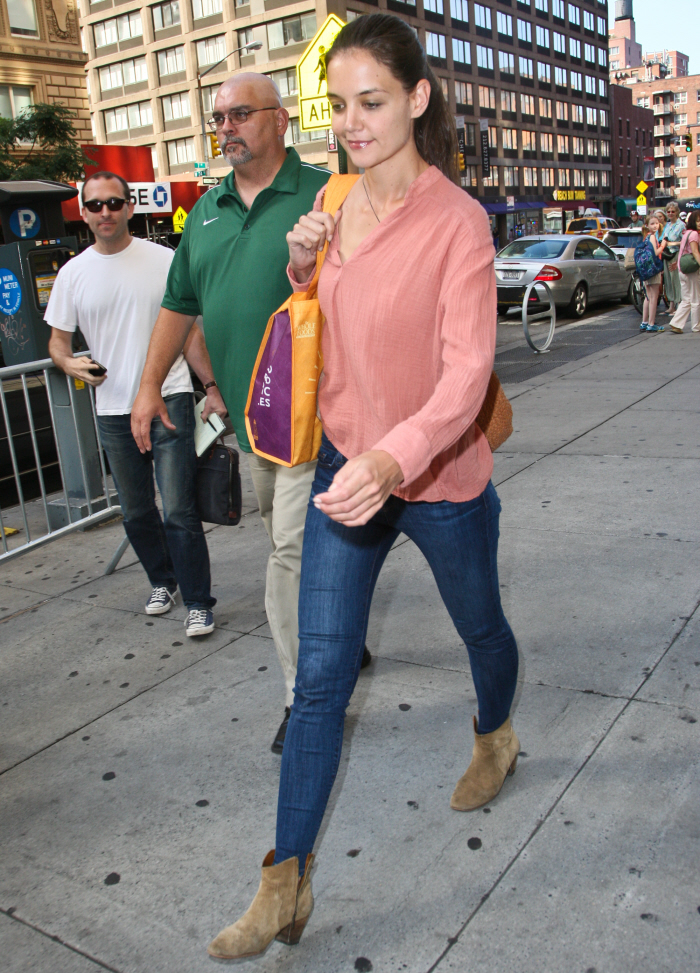 Photos courtesy of WENN.

Written by Kaiser

Posted in Katie Holmes

- Friends reunion on Ellen [Popsugar]
- Lindsey Vonn watches Tigers kids [Lainey Gossip]
- George Michael fell out of a car going 70mph [D-Listed]
- Real Housewives of Orange County recap [Reality Tea]
- New Man of Steel trailer [Pajiba]
- Jared Padalecki's hot bod [Buzzfeed]
- Doctors confirm Taylor Swift's new boobs [Evil Beet]
- Catherine Zeta-Jones finished treatment [CDAN]
- Anna Paquin hates the paps [Celebslam]
- Lance Armstrong is gross [The Blemish]
- What is Barbara Palvin wearing? [Moe Jackson]
- This is Petra Nemcova? [SVC]
364 Responses to "Katie Holmes, legal and PR genius, makes another solo outing to Whole Foods"