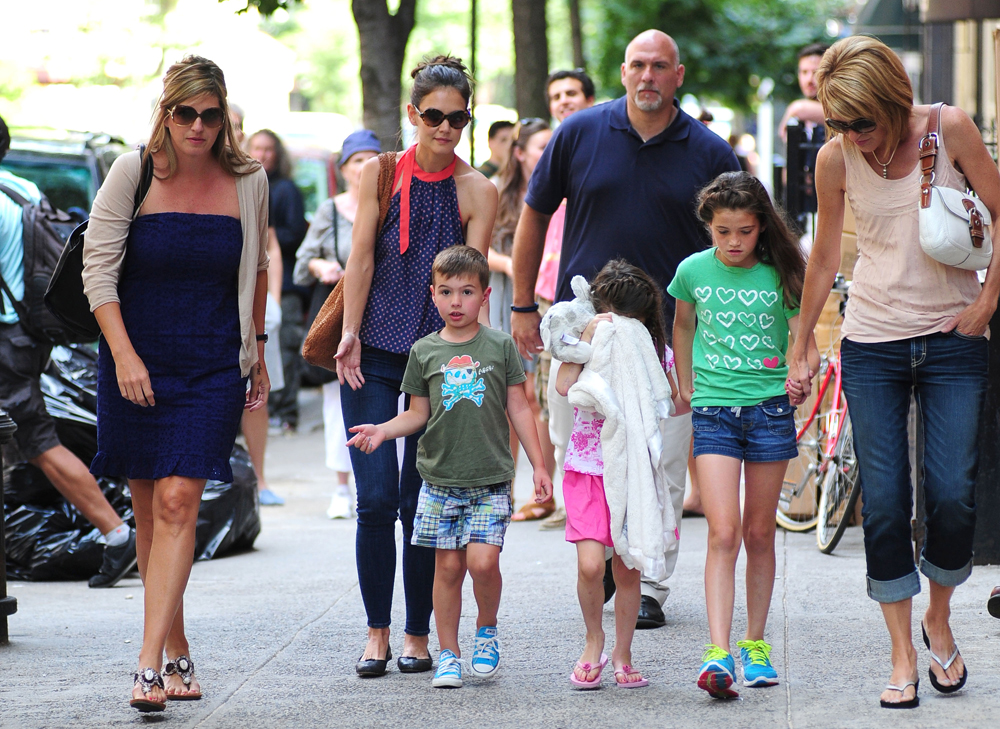 Another day, another huge info dump on the Katie Holmes-Tom Cruise divorce situation. There's a lot of stuff here, and I'm going to try and move through it as quickly as possible with a tabloid roundup at the end of this post. Ready?
First up — these photos of Katie, who is clearly enjoying her newfound freedom quite a bit, and now Suri is sharing in the wealth. After that ice-cream trip from a few evenings ago, Katie set up a playdate with a few of her new-old, non-Scientologist friends, and the ladies took their kids out for lunch and to the Children's Museum in New York City. Look, Suri has friends! Real ones, not Scientologists. And they're age-appropriate friends too. I'm overjoyed for the kiddo, who reportedly described the outing as "the best day ever," according to Us Weekly: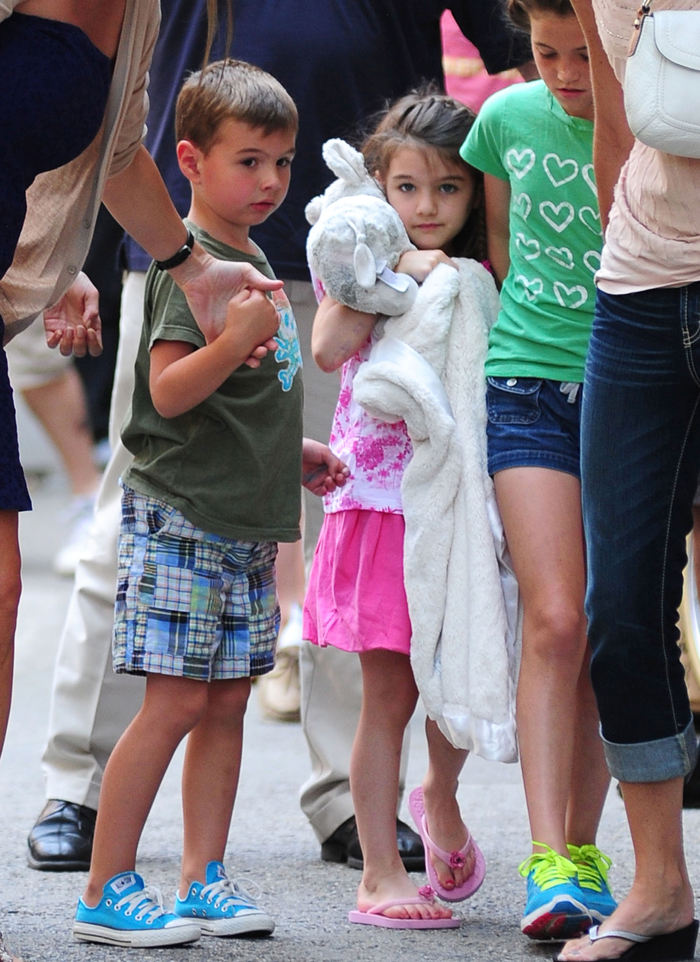 Since filing for divorce from Tom Cruise on June 28, Katie Holmes has been focusing her attention on their daughter, Suri Cruise, 6. The mother-daughter duo stepped out together Thursday with Holmes' two friends and their two children for a lunch date at Alice's Tea Cup in NYC.

Once they made it inside the whimsical restaurant after being swarmed by photographers, Holmes was able to relax. A witness tells Us Weekly the 33-year-old actress enjoyed french fries and ketchup at the kid-friendly restaurant — which offers fairy wings for children to wear during their meal. Suri played dress-up and shopped at the gift store before leaving.

Holmes made Suri's day by buying her a star wand, book and feather headband. "Suri was extremely happy," an onlooker told Us. "She was looking at everything behind the counter and literally said, 'This is the best day ever!'"

Earlier in the day, Holmes and Suri visited the Children's Museum of the Arts in Manhattan. The Jack and Jill star has stayed quiet on her split from Cruise, 50, after five years of marriage, but seems rather unaffected and has been keeping busy in the Big Apple.
[From Us Weekly]
Yay, Suri enjoyed the hell out of herself with some actual playmates! This is such a marked change from how Suri spent last summer, and the happy mommy-daughter day is tempered only by news that Katie will be bringing Holmes & Yang to Fashion Week for the very first time this September to premiere the Spring 2013 line. Maybe without Tom's influence, the line won't be so busted? Let's not hold our breath on that one.
In other news, Tom's camp is now attempting to spin the reason for the divorce by telling TMZ that Katie was, like, totally into Scientology and that her people are only leaking anti-CO$ news to hurt Tom. Because he's just so sensitive, you see. There's also a newly revealed photo from TMZ that claims to show Tom and Katie's last supper as a couple in Iceland on June 16. She looks miserable; he looks clueless.
Meanwhile, the Hollywood Reporter has published a four-page article that contains a wealth of information — primarily concerning the CO$ angle of this story — including claims that "Katie was monitored as if she lived under the Stasi," which gives credence to our story from last August that Katie's world was full of surveillance and control. The article also discloses how critics of the CO$ are marvelling at Katie's bold moves in the divorce thus far with remarks like "Katie could blow Scientology wide open," "what Katie is doing is going to drive a wedge in a door that Scientology was trying to keep closed," and "Katie ambushed Tom Cruise and in so doing outwitted some of the most controlling people on Earth." There's a lot of good stuff in the article (and I do suggest reading the whole thing), including more about Rupert Murdoch's impact on the discussion as a whole, but I'm excerpting my favorite part, which is a statement from Jenna Miscavige Hill (the niece of CO$ head David Miscavige), who voices her support for Katie as well:
Holmes appears more aggressive and fearless than those who have taken steps to distance themselves from the church or have "blown" — Scientology parlance for leaving the church — according to one-time key members of the church who have left, many after years of soul searching, and endured what they claim was often harassment, intimidation and being cut off from their families.

Even Jenna Miscavige Hill, David Miscavige's niece, who left the church in 2005, issued a statement Tuesday in support of Holmes and any concern she has over her daughter's involvement in the church.

"My experience in growing up in Scientology is that it is both mentally and at times physically abusive," Jenna said. "I was allowed to see my parents only once a week at best — sometimes not for years. We got a lousy education from unqualified teachers, forced labor, long hours, forced confessions, being held in rooms, not to mention the mental anguish of trying to figure out all of the conflicting information they force upon you as a young child. … As a mother myself, I offer my support to Katie and wish for her all the strength she will need to do what is best for her and her daughter."
[From Hollywood Reporter]
The article also features many important points from ex-high-ranking Scientologist Marty Rathbun, who claims that he witnessed Isabella and Connor Cruise being turned against Nicole Kidman by Tommy Davis, head of the Celebrity Centre. Rathbun claims that those poor children were scheduled for daily sessions with Davis, who repeatedly told them Nicole was a sociopath, and the staff at the Cruise household were also instructed to help out with this nasty chore as well. How despicable.
Now onto this week's tabloids. As expected, the Holmes-Cruise divorce was center stage in all three major publications this week, but they're all at a disadvantage over the daily-updated entertainment blogs and websites. A few interesting tidbits can be shaken out though:
* Star takes the stance of describing how controlling Tom was as a husband and how "Katie first saw Tom's control as love — but that changed." Star also says that Katie has been unhappy "for the longest time" with no one to vent towards because "Tom had taken to having their home phones and her cell phone and email monitored." Katie also supposedly decided last Christmas that she wanted out of the marriage, and she was able to manage some quiet meetings with her lawyer as well as — surprise — Sandra Bullock, who is all too familiar with getting out of a bad marriage.
* The Enquirer discusses how "Katie was fed up with the sham marriage" and felt alone while Tom was always away. She was also tired of Tom boasting about their amazing closeness as a family (i.e., what she felt was "his web of lies") when, in reality, he was never around. Katie was also allegedly very upset about recent on-set photos of Tom with his Oblivion co-star, Olga Kurylenko; the tabloid also regurgitates the story about Katie being devastated over that W mag shoot wherein (a disinterested) Tom frolicked with two blondes. Whatever.
* In Touch plays the "poor Tom" card a little bit by saying that the actor "really thought he and Katie would grow old together" but that Tom is also very "angry" and plans to "fight" Katie's demand for full legal custody. Katie, meanwhile, wants Suri to start first grade this fall instead of having Scientology-based homeschooling. In an amusing tidbit, IT also claims that Katie grew increasingly weary of Tom being gone for weeks and then swooping in for weekend-long photo ops as part of the tail end of a movie's promotion. I can't say I blame Katie at all for getting tired of that nonsense.
Now for more photos of Suri With Friends! Aside from the intrusive paps, Suri looked to be enjoying the act of interacting with children her own age.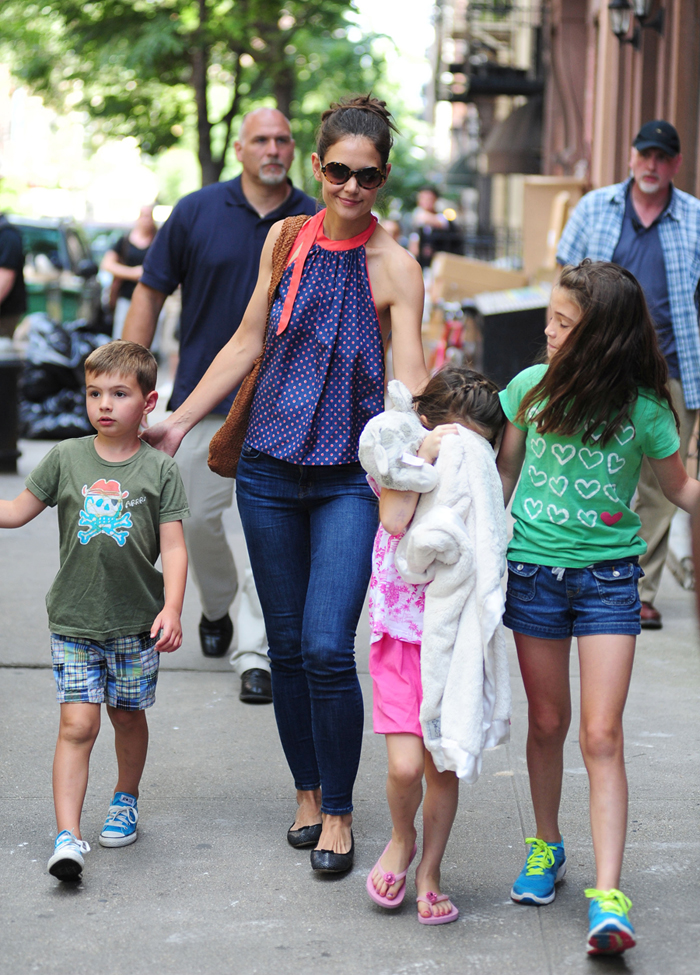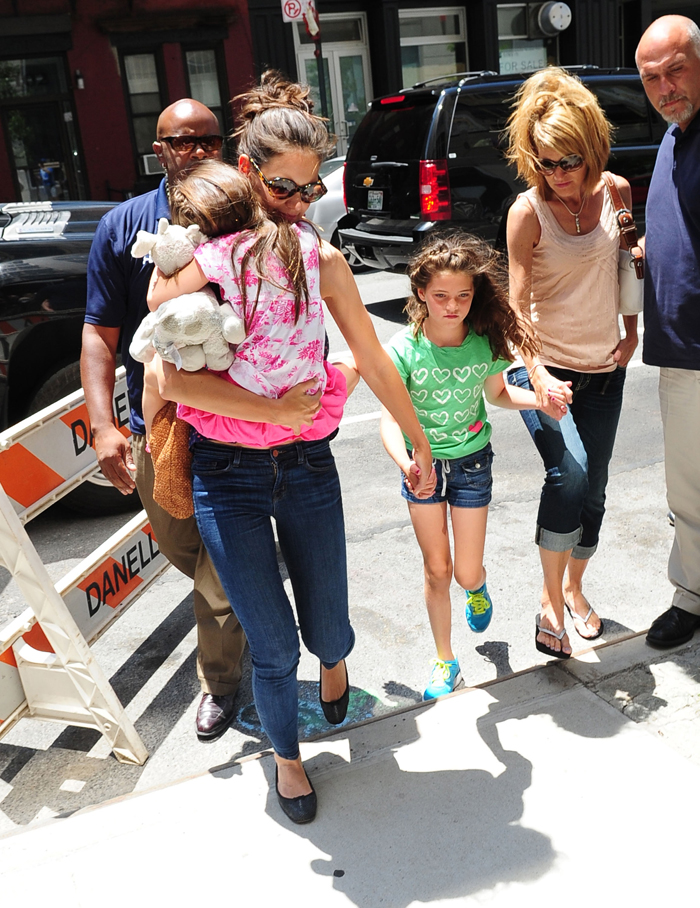 Photos courtesy of Fame/Flynet