Rupert Murdoch tweets about Scientology, says it's 'creepy' & a 'very weird cult'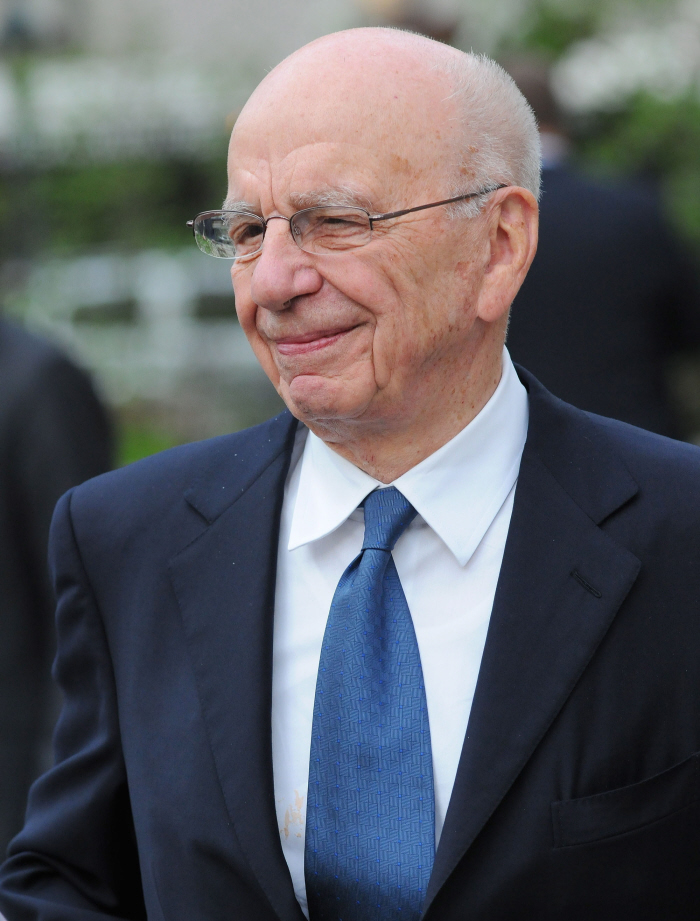 I always forget that Rupert Murdoch is on Twitter. From what little I see of his feed, he's not some LeAnn Rimes-type, compulsive tweeter. Murdoch generally averages two to four tweets every other day or every three days. Perhaps his followers are supposed to treat these tweets like Murdoch gems, parceled out over time, like Rupe is the Oracle of Mt. Murdoch. The worst part? I think most of Murdoch's Twitter followers probably do see him that way. Like Warren Buffett is "the Oracle of Omaha," Murdoch-acolytes see him as "The Oracle of Fox".
Murdoch is still struggling (though he won't admit it) after all of the hacking scandals came out over the course of a year, culminating in a legal and PR sh-tstorm rocked the halls of power in the UK, and changed the way the British tabloids operate. Contrary to popular belief, it doesn't seem like Murdoch is sitting at home licking his wounds. Vanity Fair had a great piece (here) a few months ago about Murdoch's "internal investigation" into the hacking, in which he hired an outside investigator to basically comb through everything and turn over incriminating evidence to the police . And not just evidence – News Corp. is turning in its own employees to the authorities too.
Basically, I think Rupert Murdoch is looking for a fight, and he's looking to change the subject. And he might have found his fight. On Sunday, Murdoch began tweeting random thoughts about David Cameron, Mitt Romney and then… he took on Tom Cruise. And Scientology.

[Via Rupert Murdoch's Twitter]
Whoa. Rupert Murdoch coming right out and calling the Church of Scientology a "cult"?! Xenu must have pissed in Rupe's cornflakes! Surprisingly, Rupert didn't delete the tweet or offer an apology. He followed it up with,"Watch Katie Holmes and Scientology story develop. Something creepy, maybe even evil, about these people." And then, hours later, he tweeted: "Since Scientology tweet hundreds of attacks. Expect they will increase and get worse and maybe threatening. Still stick to my story."
Do we have to give this one to Rupert? Though I loathe the man, I kind of like that he isn't backing down from his criticism of CoS. Of course, I still think this might be the best response: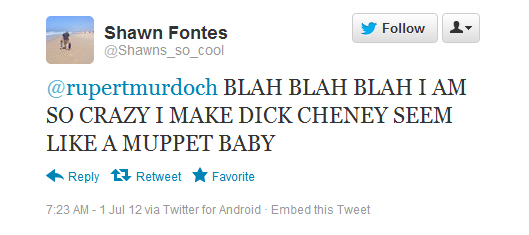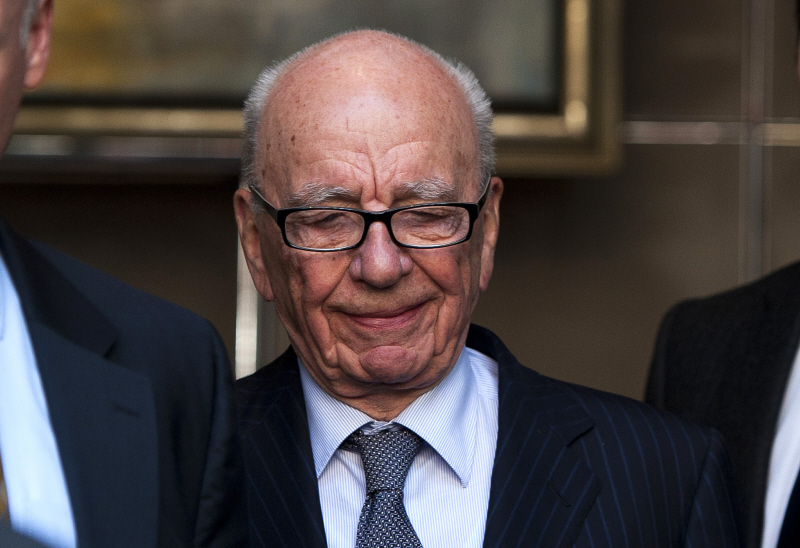 Photos courtesy of WENN.

Written by Kaiser

Posted in Rupert Murdoch, Scientology

- Friends reunion on Ellen [Popsugar]
- Lindsey Vonn watches Tigers kids [Lainey Gossip]
- George Michael fell out of a car going 70mph [D-Listed]
- Real Housewives of Orange County recap [Reality Tea]
- New Man of Steel trailer [Pajiba]
- Jared Padalecki's hot bod [Buzzfeed]
- Doctors confirm Taylor Swift's new boobs [Evil Beet]
- Catherine Zeta-Jones finished treatment [CDAN]
- Anna Paquin hates the paps [Celebslam]
- Lance Armstrong is gross [The Blemish]
- What is Barbara Palvin wearing? [Moe Jackson]
- This is Petra Nemcova? [SVC]
68 Responses to "Rupert Murdoch tweets about Scientology, says it's 'creepy' & a 'very weird cult'"