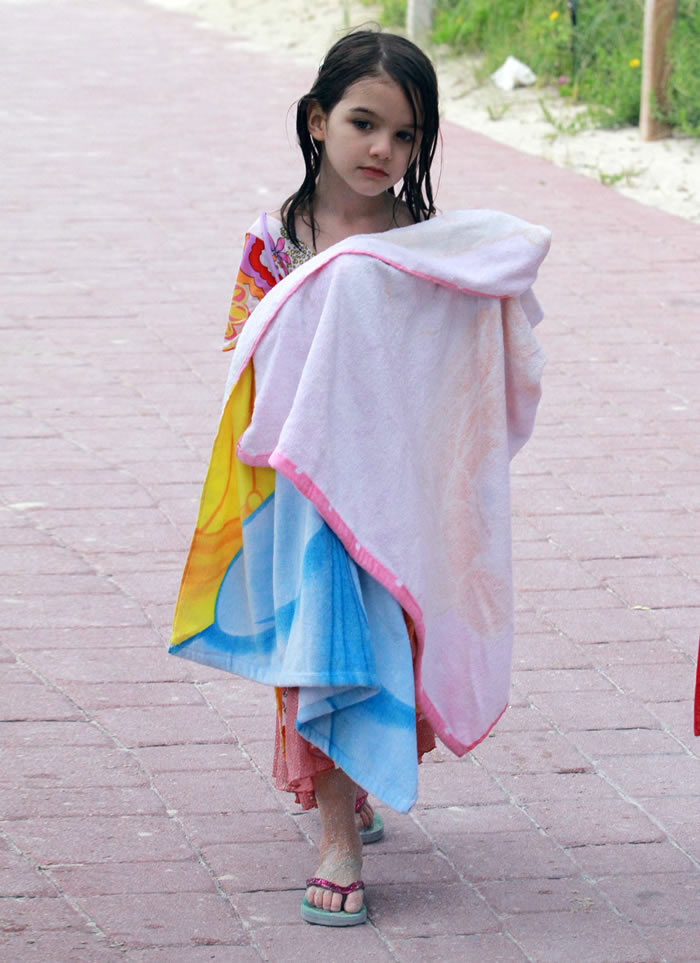 It's really no secret that Suri Cruise never hangs out with friends that are her age, for she appears to exclusively enjoy the company of grown ups (sometimes in some very adult-oriented venues). So that hasn't changed, but while Papa Tom has been butching it up for the Rock of Ages shoot in Miami, Katie and Suri have followed along to the city and largely spent their time together poolside and eating ice cream. Now, In Touch claims that this very ice cream cone was a "guilt gift" from Katie because she feels so bad for her daughter's friendless plight, and some Miami insiders have expressed their belief that poor Suri is a truly miserable child.
Suri's Lonely Summer!

As her family moves to Miami while her dad, Tom Cruise, shoots a movie, little Suri trudges through her days — with no friends.

Building sand castles, eating ice cream and playing by the pool, Suri Cruise should be having the summer of her life. But what good is all the fun in the sun when Suri, 5, has no one to play with?

While living in Miami with mom Katie Holmes — as dad Tom Cruise films Rock of Ages there — Suri has been stuck entertaining herself every single day. And despite her parents' best efforts, it's obvious she's unhappy.

"I've never seen Suri with any other kids around her," a Miami local tells In Touch. "She never hanges out with other children her age, ever." While learning to swim at the posh Continuum condominium complex pool on June 18, Suri was surrounded by stone-faced bodyguards instead of giggling pals.

The next day, she and her parents took a daylong boat trip and she was so exhausted by the grown-up activity that she had to be carried off the ship. "She was completely passed out," explains an onlooker.

She misses Tom, too.

But besides that outing, Suri hasn't been able to spend much quality time with her beloved dad, making matters worse. As he throws himself into his role in the musical movie, "Tom is working very long hours," an insider reveals. "He hardly ever gets breaks, so Suri and Katie have never come to visit the set, as far as anyone knows."

And though it's true that Suri is used to the solitary life, one can't help but wonder if she wishes she had more friends her own age.

"She has the perfect life, but it's the perfect life for an adult, not a child," explains a family friend. "She gets everything she wants except the one thing she probably needs — a normal childhood."
[From In Touch, print edition, July 11,2011]
You know what? Under relatively normal circumstances, I'd probably assume that Suri and her mommy are merely best friends; and it isn't an uncommon circumstance for a very young only child and her mother to develop an extraordinarily close bond, particularly if the child is an "old soul." However, this is not an ordinary family by any means, and even if it wasn't a Hollywood family, Scientology virtually guarantees that Suri will never live a normal life. In fact, the CO$ believes that children are merely smaller adults because they really do have old souls. Like, literally, that's one of the main tenets of the "religion," and Katie herself has spoken of what "a very strong woman" that she believed Suri to be even before she was two years old. Still, do I think Suri is a "lonely" child? Probably not at this stage of the game when mini-Louboutins and a $100,000 treehouse are there to fill the void. Give Suri a few years, and she might change her mind. Or maybe not.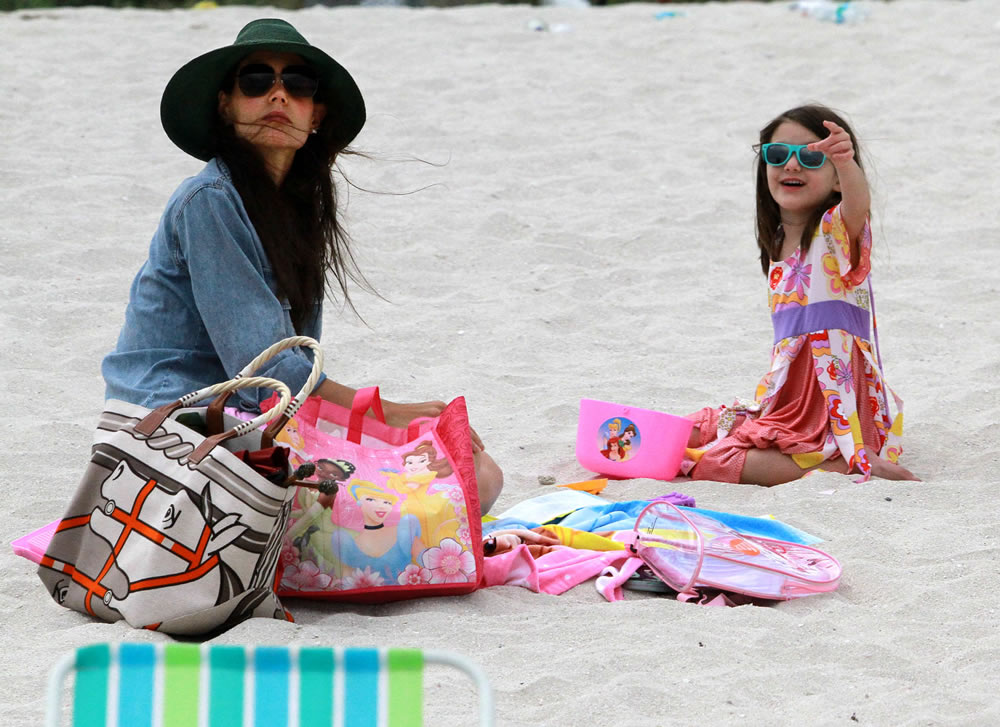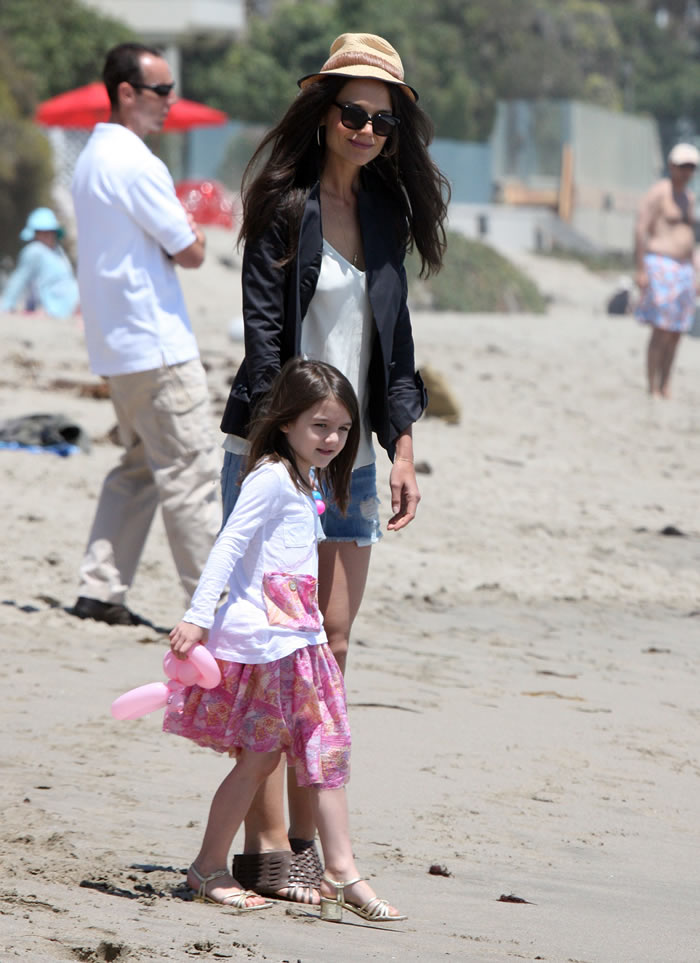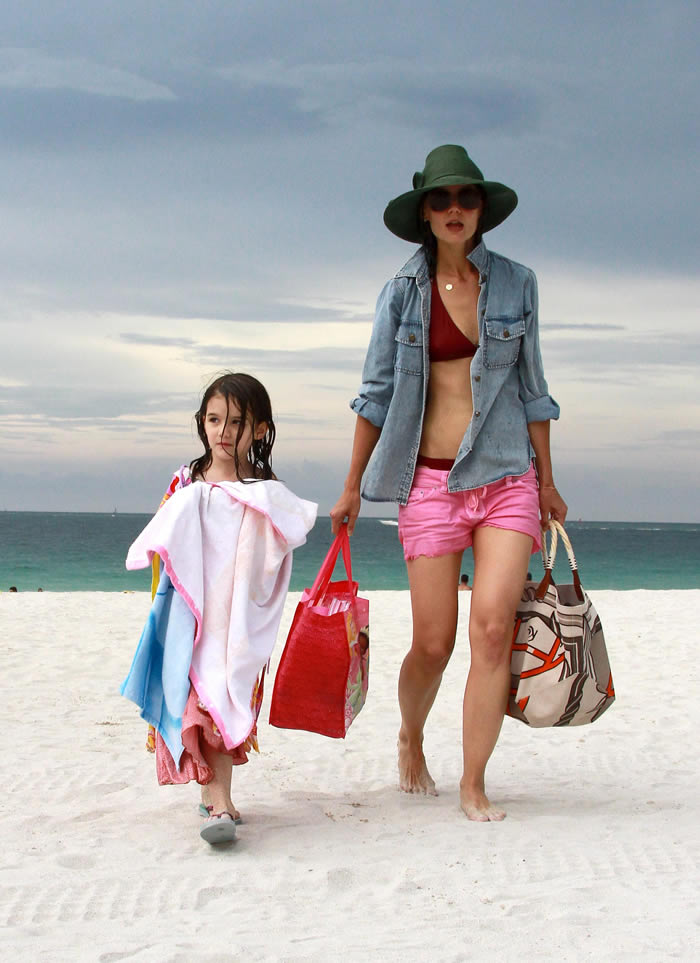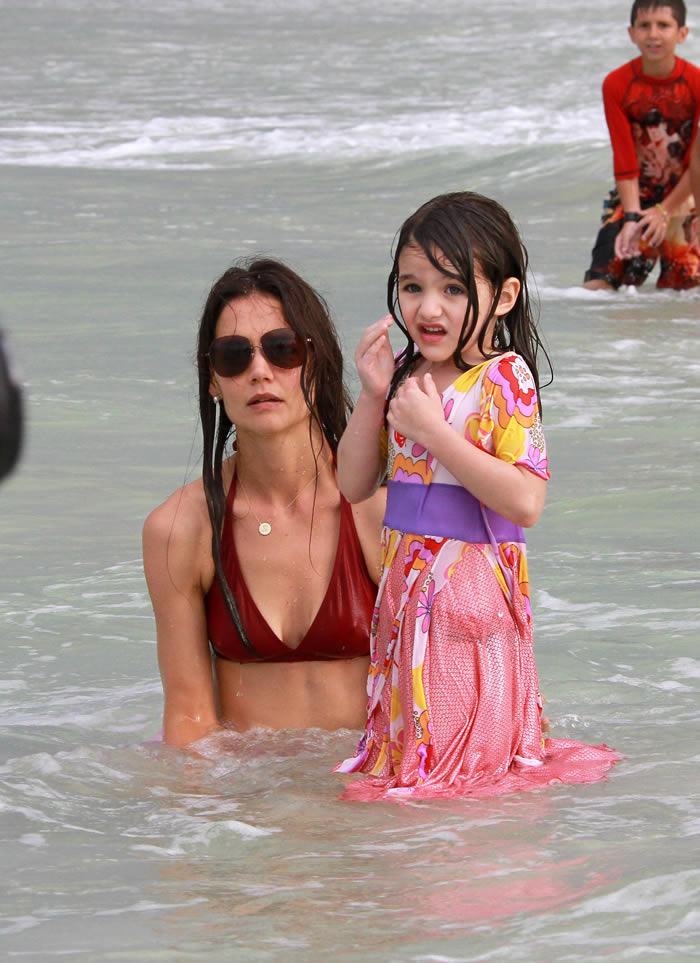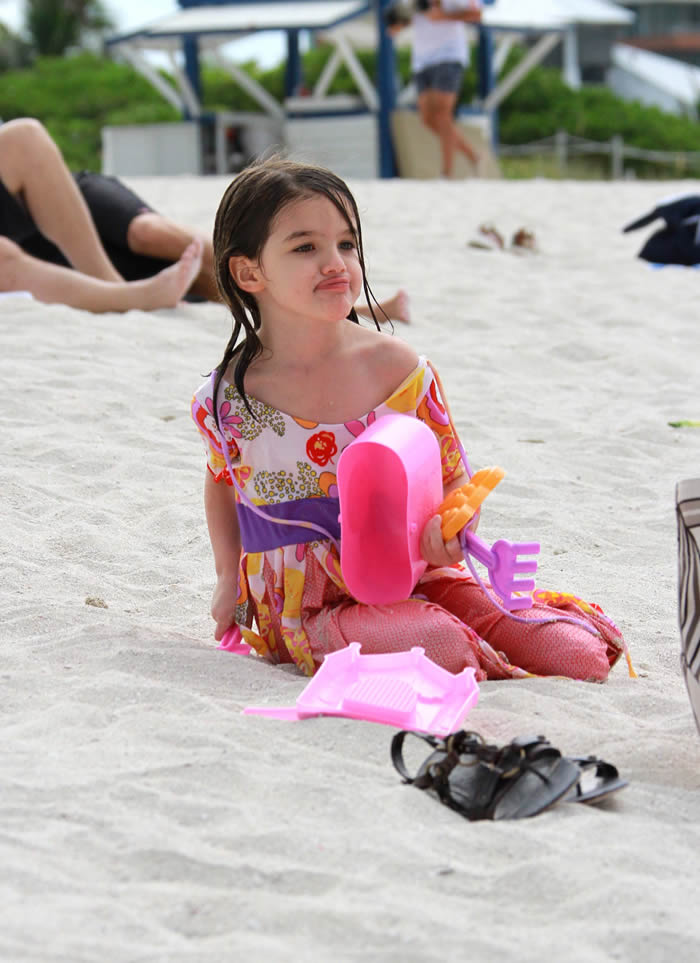 Photos courtesy of Fame Pictures