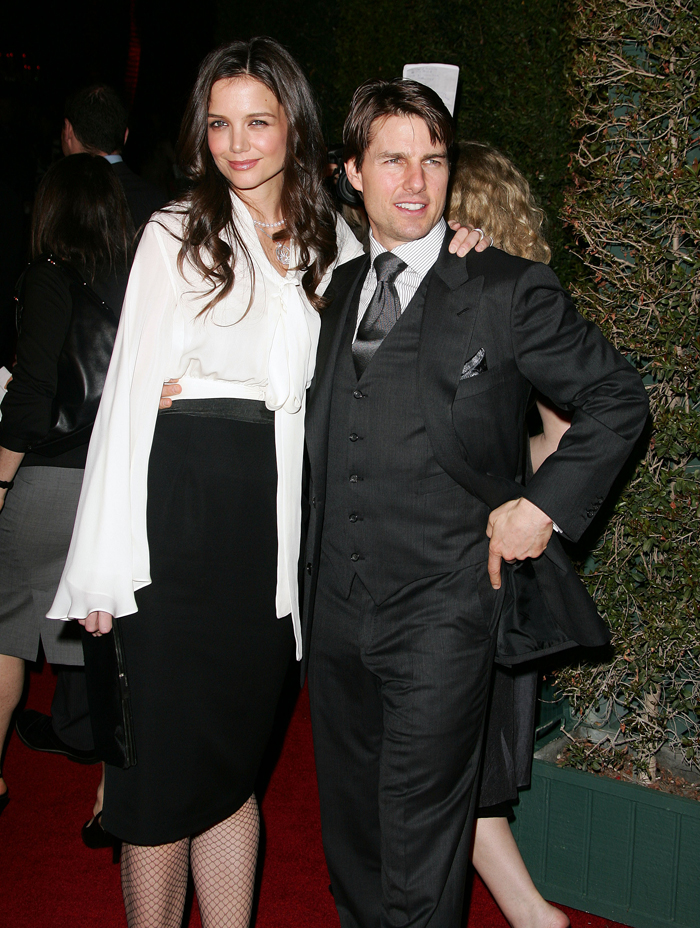 The good news for Tom Cruise these days is that he was just named the highest paid actor by Forbes magazine due to his May 2011-12 earnings of $75 million. The bad news? Everything else. Reports out yesterday claimed his estranged wife Katie Holmes had filed an emergency custody order. Radar online claimed to have confirmed the order, but Hollywood Life has the best details. The order was said to require Tom to personally appear for a hearing in NYC, and he would not have been allowed to use a (solely) California-licensed attorney. Also (more importantly), the proceedings would have been public and New York law (which is much friendlier to those requesting sole custody) would have applied. Only Katie's lawyer has denied that she requested an emergency custody hearing, and claimed that to date she has only filed for divorce. People has a "source" (read: Tom's lawyer) who states that Tom is going to file in California, and adds that it's "ridiculous" that Katie filed in New York. Advantage: Katie.
Katie Holmes's lawyer is denying reports that the actress wants an emergency hearing on custody and child support in the Tom Cruise divorce.

"Other than her action for divorce, the only pending application filed by Ms. Holmes remains her request for an anonymous caption," her lawyer Jonathan Wolfe says. An anonymous caption means that the papers in the case are filed anonymously.

The statement is response in to online reports that Holmes, 33, on Tuesday filed what is called an emergent application that could have resulted in a public hearing in a New York court.

Since her surprise filing last week – in which Holmes, 33, reportedly asked for sole legal custody of their daughter Suri, 6 – Holmes has remained in New York with Suri.

Cruise, who hasn't filed any legal papers yet, flew from Iceland to Los Angeles, where he spent his 50th birthday with his older children, Isabella and Conner.

A source close to the case tells PEOPLE Cruise prefers to file in Los Angeles, which he considers his home base. Also, despite having a New York apartment, the family primarily spent time in the Big Apple for work or outings like Broadway plays, says the source.

"They don't live in New York City," says the source. "It's ridiculous."
[From People]
Meanwhile, Tom is attempting to appear very sympathetic in the eyes of the public. It turns out that he wasn't flying to NYC on his birthday to reprise the Top Gun soundtrack on Katie's doorstop, but instead, he's gone back to Los Angeles. People has further details that the occasion was a "somber" one because, at this stage of the divorce game, he only has phone contact with Suri. People (suspiciously) stresses that Tom phones Suri "several times a day," but I have to wonder …. how exactly is this situation different from the planned scenario wherein Tom spends nearly every waking moment (including birthdays) on film sets? Sounds like someone is "playing" the press.
Indeed, Tom is doing just that. His reps have leaked info to Us Weekly that Tom literally "plann[ed] his own 'surprise' birthday bash" for this week and begged Katie to attend in Iceland for "one last try at reconciliation," because "he was confident he could talk her out of [leaving] and keep her with him," but mean old Katie refused. Now this is where it starts getting really ugly. Tom's lawyer has issued a statement of how his client is merely waiting to give his side of the story until Katie stops using the media to her own advantage:
Tom Cruise's lawyer says his client will file a rival divorce case but will not reveal where. Bert Fields also revealed he's allowing Katie Holmes' legal team to "play the media" before allowing Cruise to tell his side of the marriage breakdown.

"Tactically we can't say where Tom will file a divorce case and if he'll be seeking joint custody of Suri," said Mr Fields. Fields said that Tom Cruise was "very sad" about the breakdown of his five-year marriage.

"We are letting 'the other side' (Katie and her team), play the media until they wear everyone out and then we'll have something to say. It's not Tom's style to do this publicly. He is really sad about what's happening."
[From BBC]
That's an incredibly bitchy statement from a so-called officer of the court, right? As if Katie has been merely "play[ing] the media" by filing for divorce without Tom's express consent. Then she hit up Whole Foods where a NY Daily News reporter took some photos and asked Katie how she was doing. Her answer? "I'm all right. Thank you." For shame, Katie. For shame.
Here are some further details about Katie's escape from underneath Tom's controlling grip. People has details that Katie had no choice but to "fake it" in order to keep Tom unaware of her plans while he was away in Iceland filming Oblivion. Earlier this month, her inner circle discreetly swapped cell phone numbers so that now her "old best friends" (a.k.a. "Scientologists") "don't have her new number, no email. She's unreachable." Further details about the divorce come from The Sun, which says that the marriage "was doomed from the start" because of Tom's questionably "intense" friendship with CO$ leader David Miscavage. The HuffPo also recounts the urban legend of Tom and Katie's marriage contract as well, which is well worth a read.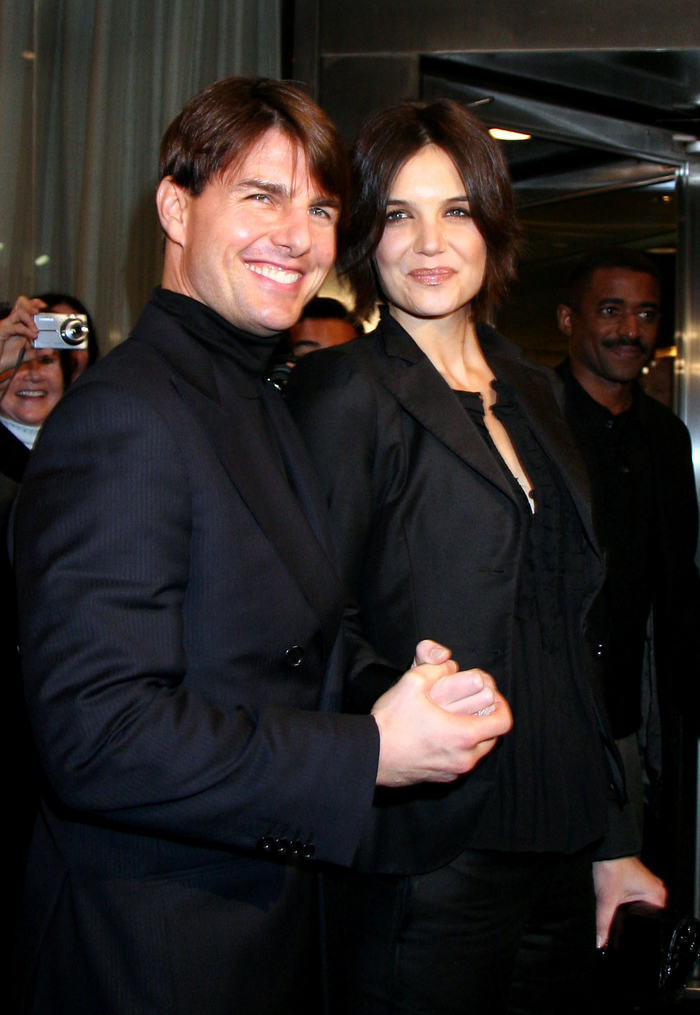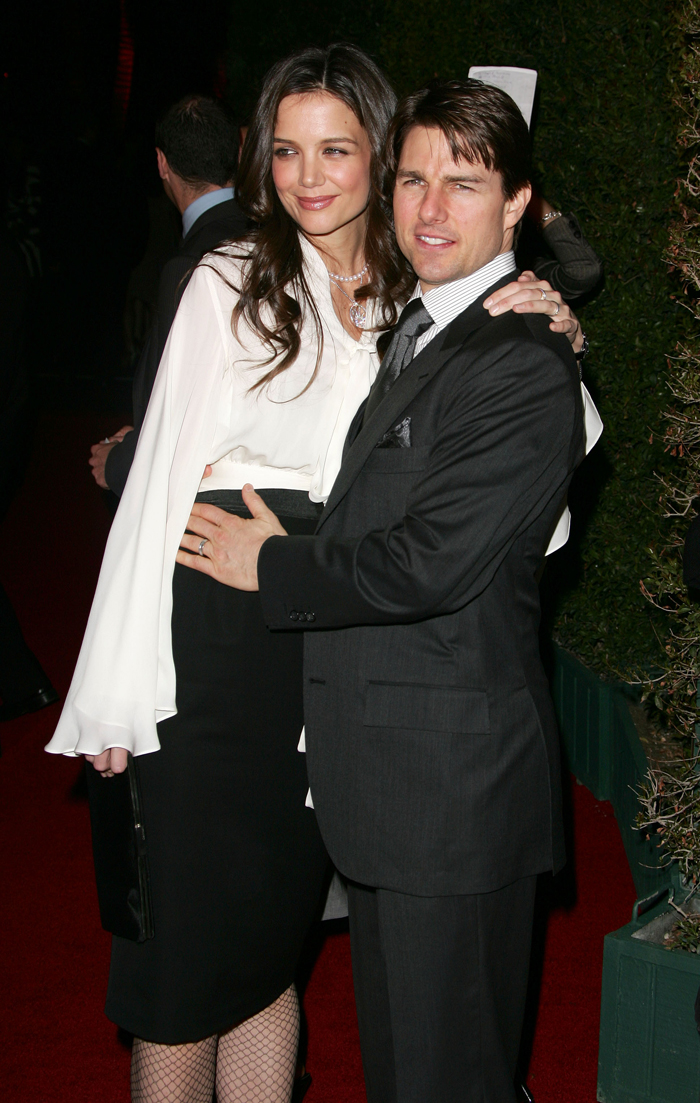 Photos courtesy of Fame/Flynet