Katie Holmes takes Suri out for ice cream, doesn't want Suri to be audited (again?)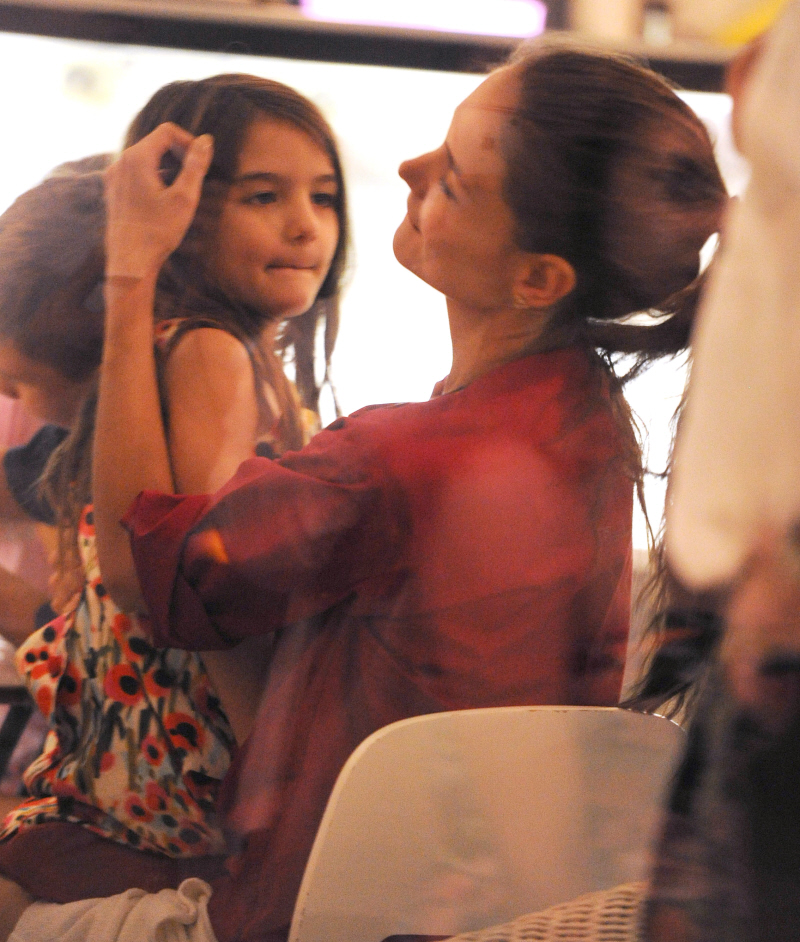 These are some new photos of Katie Holmes and Suri in NYC. Katie took Suri out for some "late-night ice cream". Xenu may come and go, but Katie will never put Suri on any kind of child-like schedule, I guess. Well, the photo agency doesn't say exactly what constitutes "late-night" – maybe it's just 8 pm or 9 pm? Even then, that sounds more like the time when a mother should be winding her kid down for bed, not hopping her up with ice cream. Maybe it's a unique occasion. Maybe Suri is getting a special treat for adjusting so well to the new apartment and being without her dad (and Xenu). I hope Katie knows that if Tom really puts the screws to her in a custody hearing, this could possible become evidence against Katie – "Katie doesn't keep our daughter on an appropriate schedule. She takes her out for ice cream late at night. Bad mothering!!" Or maybe this is a show of strength on Katie's part – she's just provided more photos where she looks like a hands-on mom, the stable parent to Tom's workaholic Xenu-lover.
I do think that all of this – the divorce filing, the ballsy PR campaign, painting Tom and CoS into a corner – all of it is FOR Suri. It's so Katie can determine what kind of childhood and life Suri has, and Katie (at long last) is thinking about what's best for her daughter. Radar reports that Katie "is determined not to end up like Nicole Kidman" in this situation. Katie is treating Tom's divorce to Nicole (and Nicole's subsequent estrangement from Isabella and Connor) as a cautionary tale:
Cruise's two children with Kidman, Connor and Bella, "lived with their father and Katie during the marriage full-time. They aren't that close to Nicole, and Katie is determined that she won't be cut out of Suri's life," a source close to the situation tells us.

"Bella and Connor are devoted to their father and Scientology, and Katie saw this firsthand, and this is one of the reasons she filed for sole custody. Katie will not be relegated to a secondary role in her daughter's life, period, and she is prepared to fight Tom in court. Katie isn't going to back down, and she will do whatever it takes to ensure that she raises Suri herself," the insider added.

Kidman revealed in a 2007 interview that her kids referred to her as Nicole, and not mom, and Holmes said Connor and Bella called her mom. Isabella, 19, is living with her Scientologist boyfriend, Eddie Frencher, in an apartment in downtown Los Angeles and is pursuing a career as an artist. "We are very proud to be Scientologists," she recently told New Idea.

Connor has set his sights on becoming a DJ and was with his father last week on set in Iceland when Holmes filed for divorce.
Meanwhile, TMZ has another "It's all about Suri" story this morning – and this one is heavy on the Ick Factor. Katie doesn't want Suri to be interrogated/audited by CoS.
Katie Holmes desperately wanted to save Suri from a form of interrogation practiced by the Church of Scientology that she was steadfastly against … TMZ has learned.

Sources close to Katie tell TMZ, back in 2005 she had witnessed Tom's other kids participating in a Scientology ritual she found to be troubling … and feared Tom would drag Suri through the same process.

Ex-Scientologists call the process "sec checking." Here's the way it works. The subject holds electrode handles on a device called an e-meter and is then asked a series of personal questions that help the Church locate "areas of spiritual distress."

Some ex-Scientologists claim the questions include:

– What has somebody told you not to tell?
– Have you ever decided you did not like some member of your family?
– Have you ever bullied a smaller child?
– Have you ever lied to a teacher?
– Have you ever done something you were very much ashamed of?
– Have you ever refused to obey an order from someone you should obey?
– Have you ever gotten yourself dirty on purpose?

During the process, a person called an "auditor" collects e-meter readings.

Several ex-Scientologists have come out against "sec checking," claiming it's a mild form of psychological terrorism designed, in part, to get children to report on their parents.

We're told Katie would have none of it and it is one of the reasons she broke from the Church and ultimately Tom.
Eh. Of course, children shouldn't be "audited" and the whole thing is extremely creepy, weird and wrong. But I don't think it should be deemed "psychological terrorism". And it also seems a bit weird because… I'm guessing Suri has already been audited. Katie has been audited for sure, and I'm sure Katie knows exactly what goes down at these things. First they get out the tin can…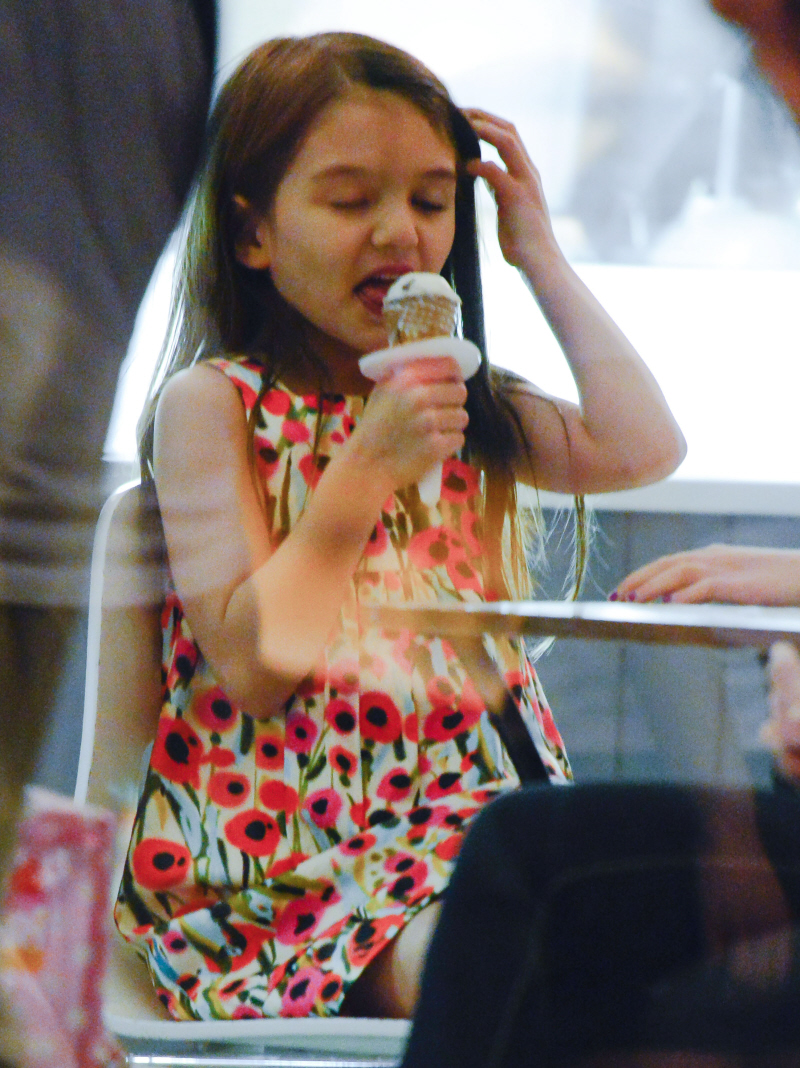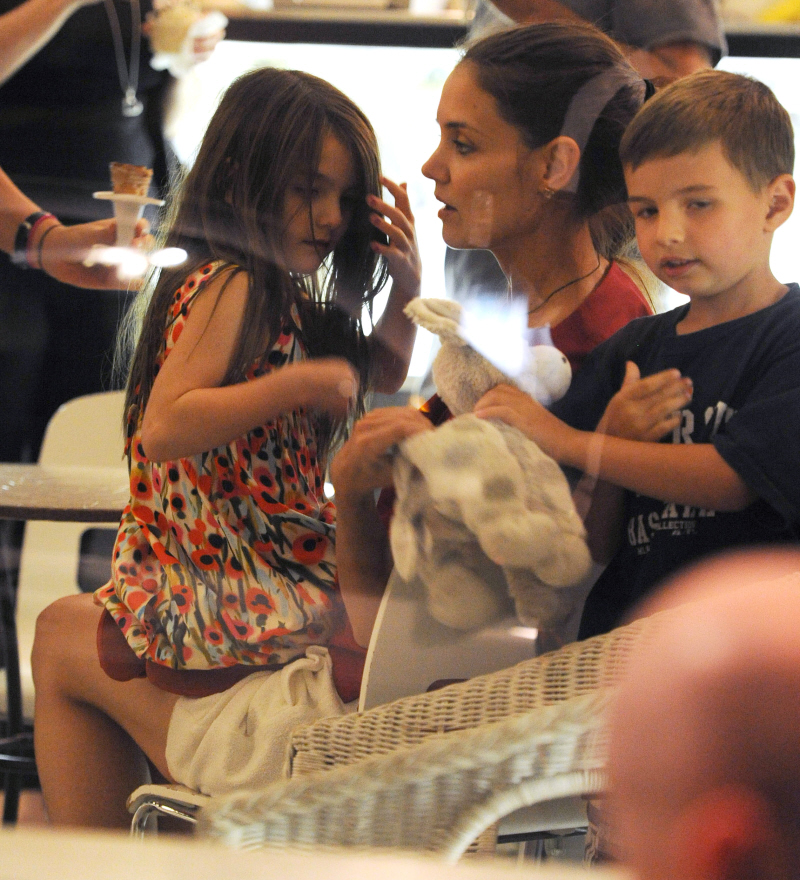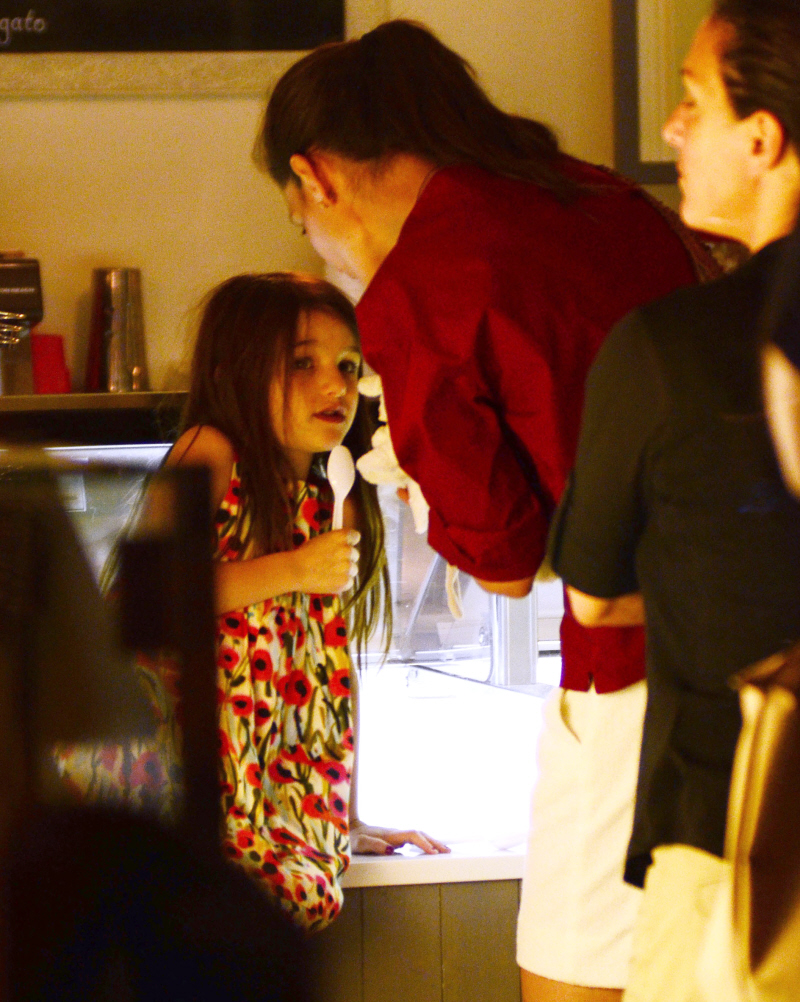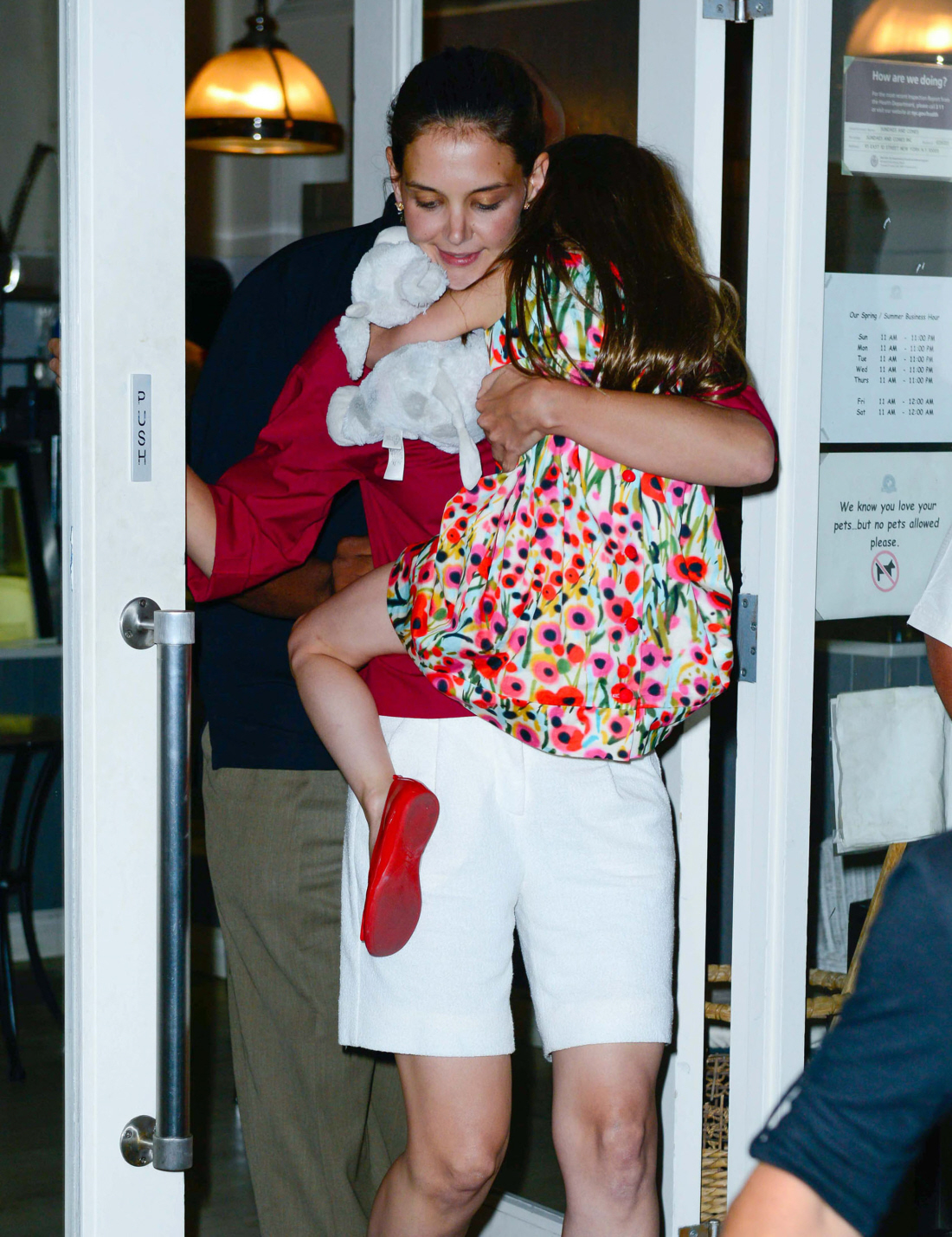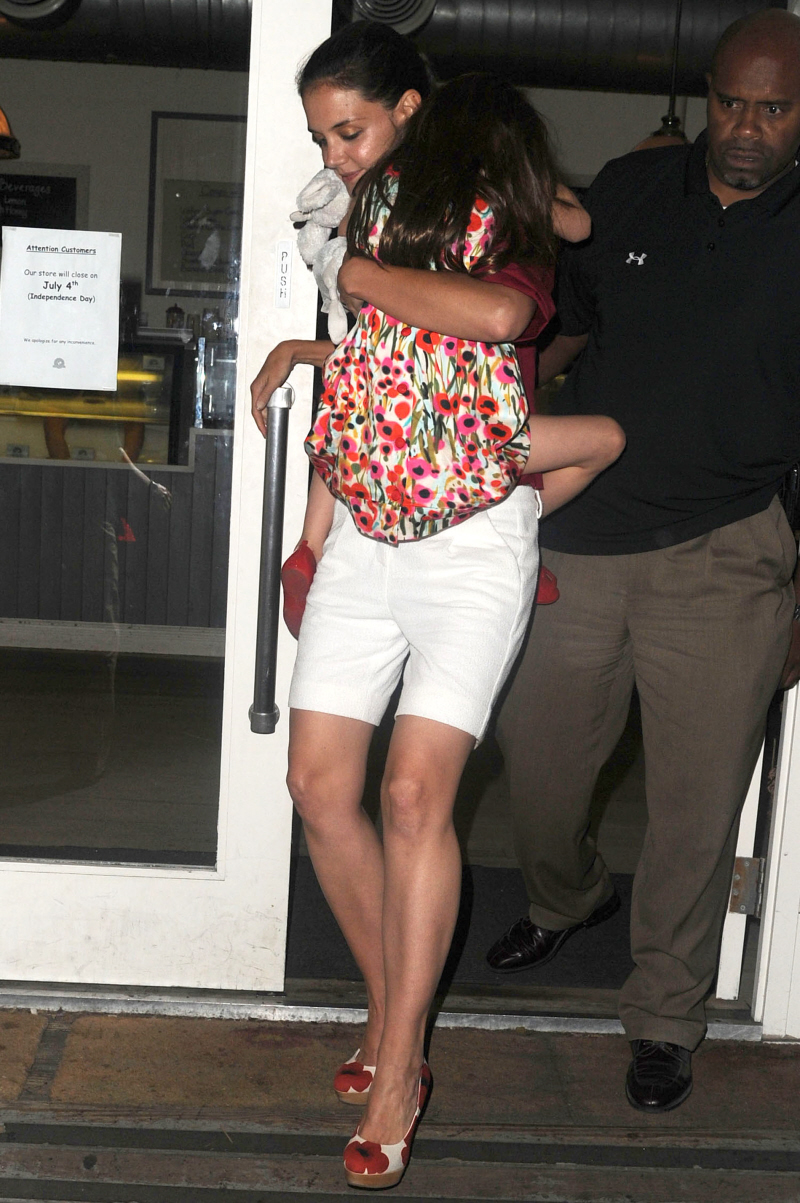 Photos courtesy of Fame/Flynet.

Written by Kaiser

Posted in Katie Holmes, Scientology, Suri Cruise

- Harry Styles & Kimberly Stewart going strong [Lainey]
- Demi Moore's new man is gross [D-Listed]
- Fug or fab: Emma Stone [Go Fug Yourself]
- Arrest warrant issued for Jenelle Evans [Reality Tea]
- Only God Forgives review [Pajiba]
- Hugh Jackman, scooter master [Buzzfeed]
- Who does Drew Barrymore call her sister? [Evil Beet]
- Cannes couples past and present [Popsugar]
- Arrested Development supercut [CDAN]
- Lea Michele's see through skirt [Celebslam]
- Cheating wife's lover escapes out of window [Movin925]
- Joe Francis is crazy [Starcasm]
332 Responses to "Katie Holmes takes Suri out for ice cream, doesn't want Suri to be audited (again?)"