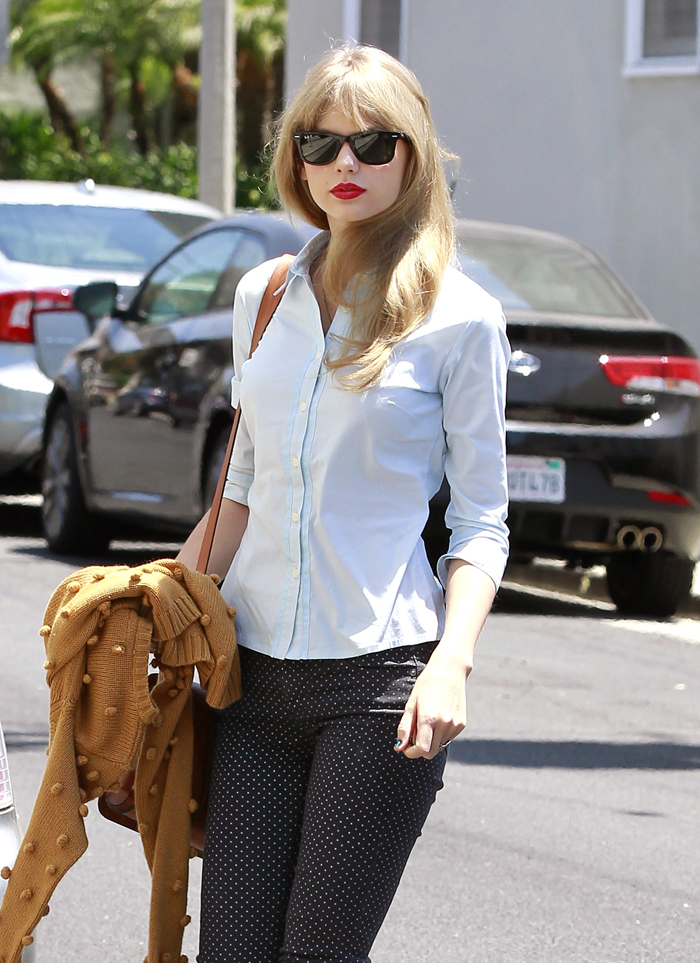 Taylor Swift is on the hunt for a new guy to write songs about, y'all. Or rather, she's looking for a new boyfriend, if you will. Have you ever noticed that it's always about Swifty being the pursuer, not the other way around? Kaiser once framed the issue in terms of Taylor being quite "predatory" in nature, but maybe I'd be the same way if I were a rich, successful country singer who could have her (temporary) choice of any boy in the room. I mean, a girl needs artistic inspiration. Now two of this week's tabloids have it on special authority that Taylor now has her sights set upon Patrick Schwarzenegger. Let's start off with In Touch's story: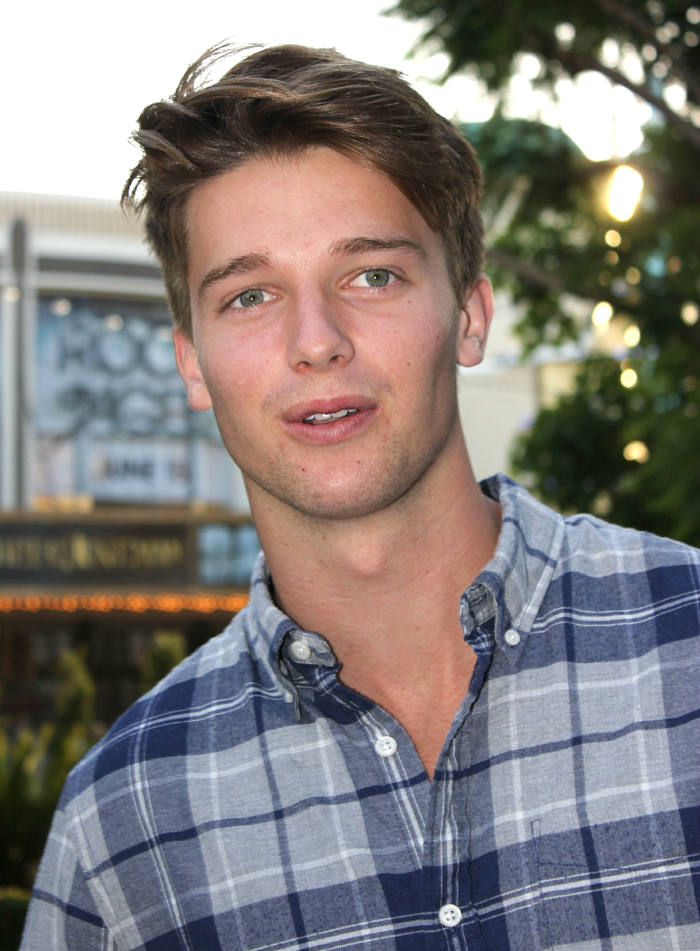 Taylor Swift is known for high-profile romances with the likes of Joe Jonas, Taylor Lautner and John Mayer, but this time she seems to have her sights set on America's royal family. Taylor, 23, spent the Fourth of July with 18-year-old Patrick Schwarzenegger and his famous family at their compound in Cape Cod, Mass — the two were seen laughing and walking on the beach. Patrick is the son of Arnold Schwarzenegger and Maria Shriver, a Kennedy cousing. Taylor is a fan of the family — she says she once got "starstruck" meeting Ethel Kennedy, Patrick's 84-year-old great-aunt.
[From In Touch, print edition, July 23, 2012]
Meanwhile, Maria Shriver will have none of this nonsense and fears that Taylor will break Patrick's heart. LOL.
Maria Shriver doesn't want Taylor Swift singing any love songs to her hunk son Patrick Schwarzenegger — and she's told the country supersar to take a hike. Maria fears Taylor will chew him up, spit him out and then write a song about him as she's done with previous famous boyfriends.

"Maria got word to Taylor and warned her not to get any ideas about dating Patrick," revealed an insider. "She basically told Taylor to 'back off.'"

The singer was photographed cozying up to recent high school grad Patrick at an Independence Day gathering at the Kennedys' Hyannis Port, Mass., compound.

Taylor is a longtime Kennedy family friend, and an excited Patrick tweeted that the festivities were "the best 4th of July I could ask for."

Said the insider: "Maria is worried that Taylor will lead Patrick on and then leave his heart shattered in a million pieces, like she's done with other guys."

While Maria thinks Taylor is a sweet girl, "she's 100 percent opposed to Patrick dating her," said the insider. "He's entering the University of Southern California in the fall and she doesn't want anything distracting him."
[From Enquirer, print edition, July 23, 2012]
Obviously, the danger here isn't that Patrick (who's a good-looking kid, no doubt) will fall helplessly in love with Taylor, who will mercilessly kick him aside like yesterday's brunch leftovers. Nope. Instead, what would happen is that they'd have a semi-passionate affair for a few weeks, and then Patrick would get tired of the cling factor and dump Taylor over the phone. Finally, Taylor would include the requisite humiliating song on her next album and move onto the next guy.
So Maria has the right idea about discouraging this romance. Will she be successful? Who knows. But no one messes with Maria; that is, except for Arnold.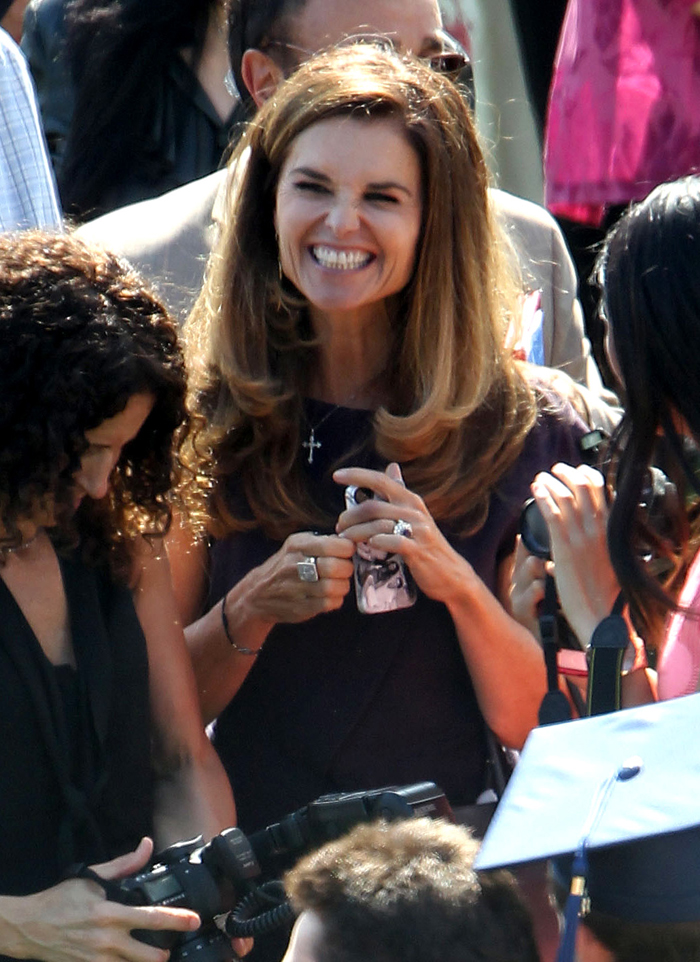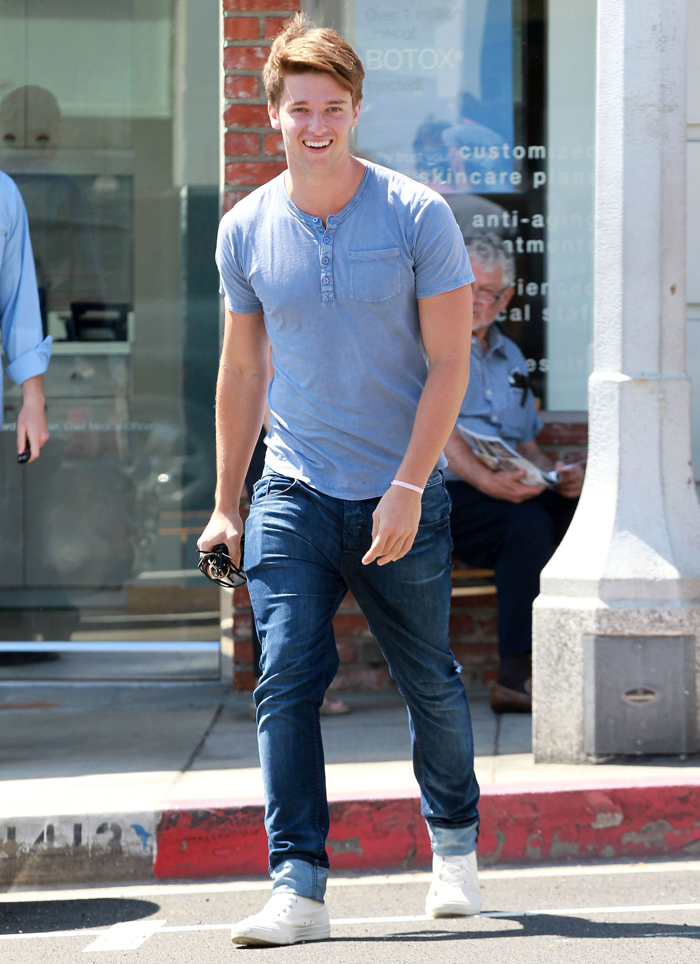 Photos courtesy of Fame/Flynet