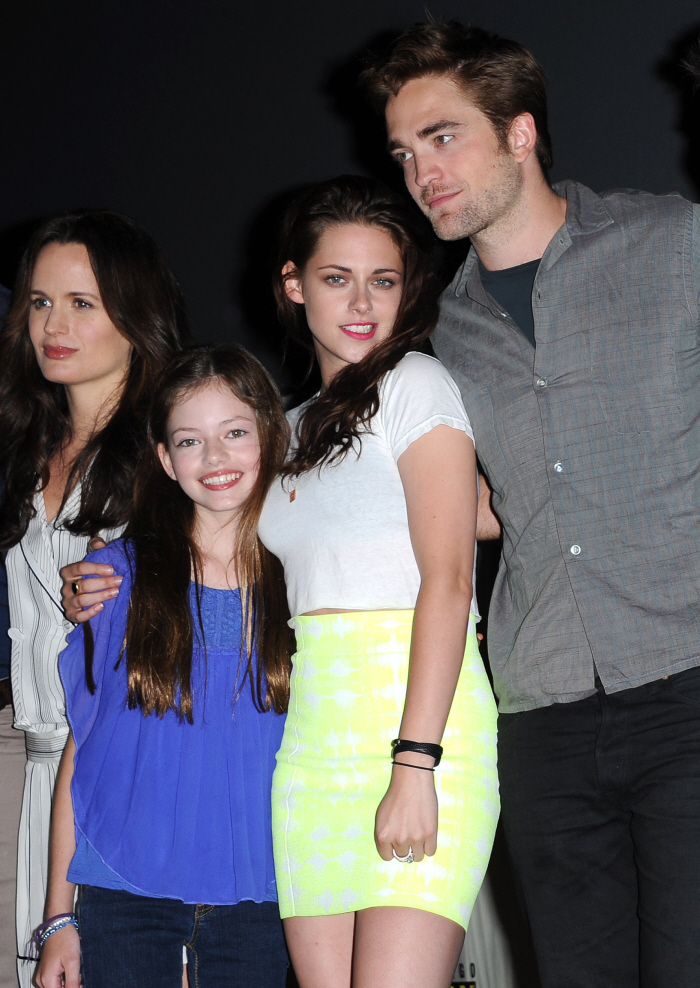 Maybe I'm showing my age (better than showing my ass), but when I was growing up, all of the younger celebrities that I admired were childless. It was part of the deal those days – 20-something actresses and singers weren't all that interested in settling down and having babies. I can't imagine being 13 years old today and looking up to someone like Kristen Stewart (who is 22), and hearing about how she wants a baby. I'm not getting all judgmental and "celebrities should be role models" about it, I just can't ever remember being a kid and admiring some really young celebrity who was into babies. It's a zeitgeist thing – Generation X was all about having babies in their 30s. Generation Whatever (what is this generation called? I forget – but Generation Whatever is a great name!) is all about teen pregnancies and getting married at 21 and that stuff. Anyway, Us Weekly says that Kristen Stewart is all about babies. SPARKLE BABIES.
Life imitating art! Kristen Stewart and Robert Pattinson were bitten by the baby bug while playing parents in November 16′s The Twilight Saga: Breaking Dawn – Part 2. On set, Stewart, 22, and Pattinson, 26, connected with 11-year-old Mackenzie Foy, who plays their half-vampire, half-human daughter, Renesmee.

In rare unguarded moments for the fiercely private couple, they let themselves imagine life as parents. "They would talk about how they would raise their own children," a set source tells Us Weekly. "Kristen would say, 'Well, I'd never do this or that.' Sometimes it would start off as a joke, but you knew they were really thinking about it."

And, when the couple — who has been together for three years — attended a friend's wedding on June 23, they seemed more interested in what comes after marriage: the baby carriage.

"Kristen was talking to a pregnant guest and told her that she would love to have a baby with Rob," says the source. "She thought it was so cool — at one point she touched the woman's belly to feel the baby kick."

Pattinson, for his part, has long known that Stewart is the mother of his future children.

"He is over-the-moon in love with Kristen," says a Twilight source. "For him, she's The One, so it's just a matter of when they decide to have kids."
This seems suspiciously well-timed to go along with the early stages of Breaking Dawn Part 2's promotion, sure. But it could also be for real. I've always said – it will be interesting to see what happens with Kristen and Rob once the franchise is over. At this point, I do think they'll stay together for another year or so afterwards, but after that… God knows.
And can we please stop talking about Sparkles and Kristen as if they'd ever do the film of 50 Shades of Grey? I hate to put it in these terms, but both of them are "too good" for that project. Incidentally, both Kristen and Sparkles got questions about 50 Shades while at Comic-Con, and they're responses were of the "JESUS TAKE THE WHEEL" variety. Sparkles was asked what he would do if a copy of 50 Shades was right in front of him, and he said, "I would just sit there and lick the pages." When Kristen was asked if she, Sparkles and Taylor Lautner have a 50 Shades book club, she said "That would be disgusting." And back to the casting stuff – people, please. It's going to end up being cast straight out of the CW. No actor of any kind of serious profile wants this mess. Stop mentioning Michael Fassbender or Ryan Gosling or anyone of that caliber. It's going to be someone like Ian Somerhalder or Jared Padalecki (I had to look him up).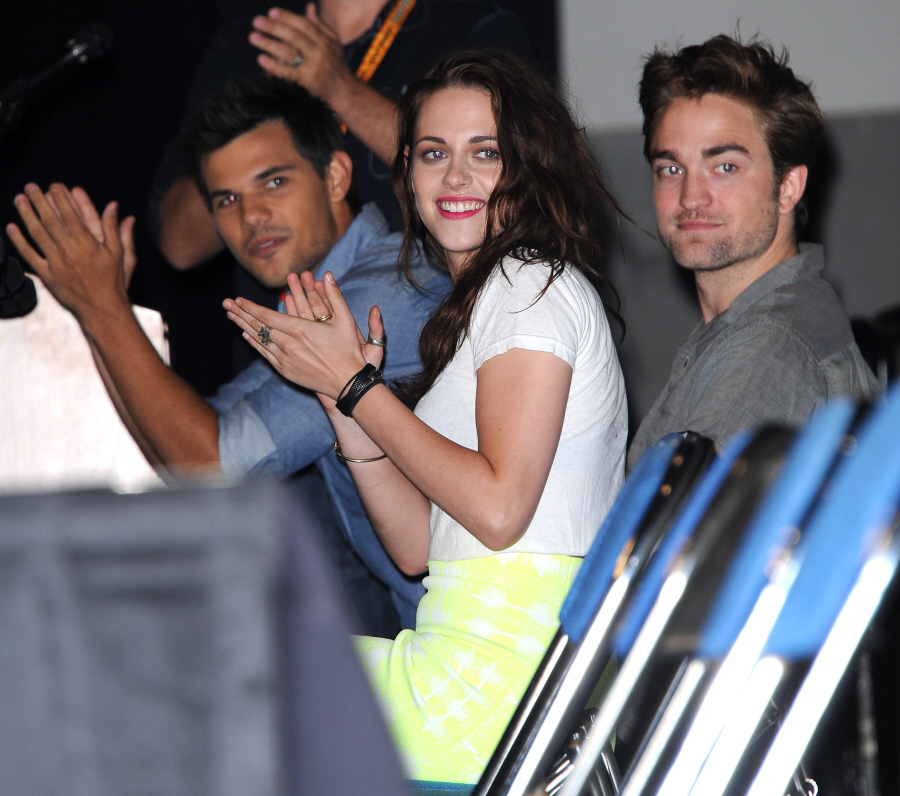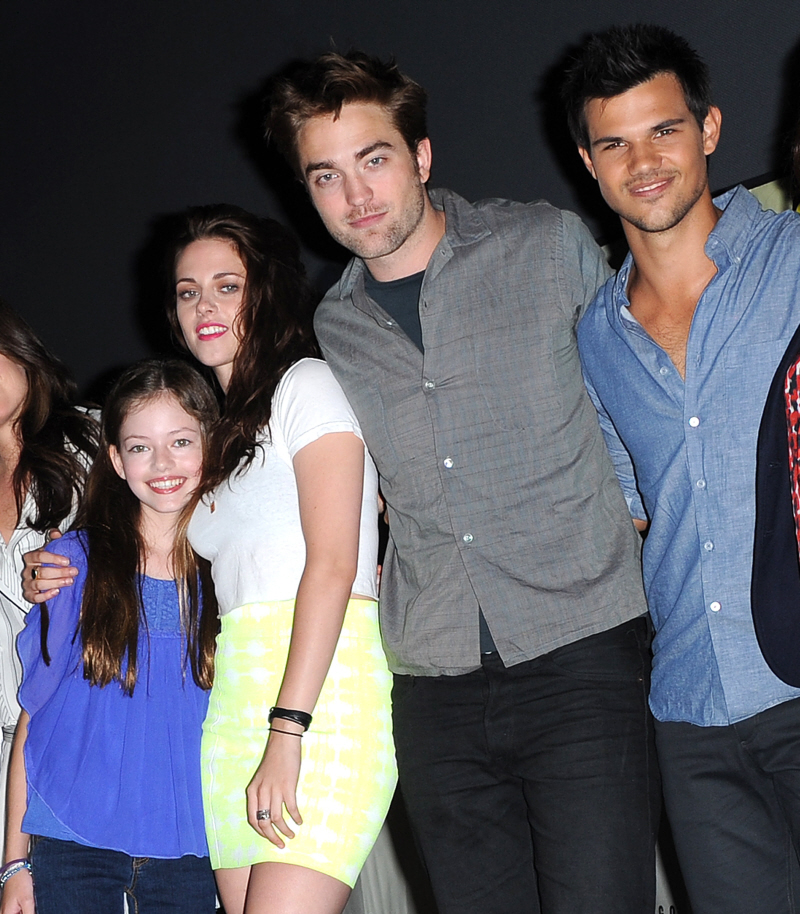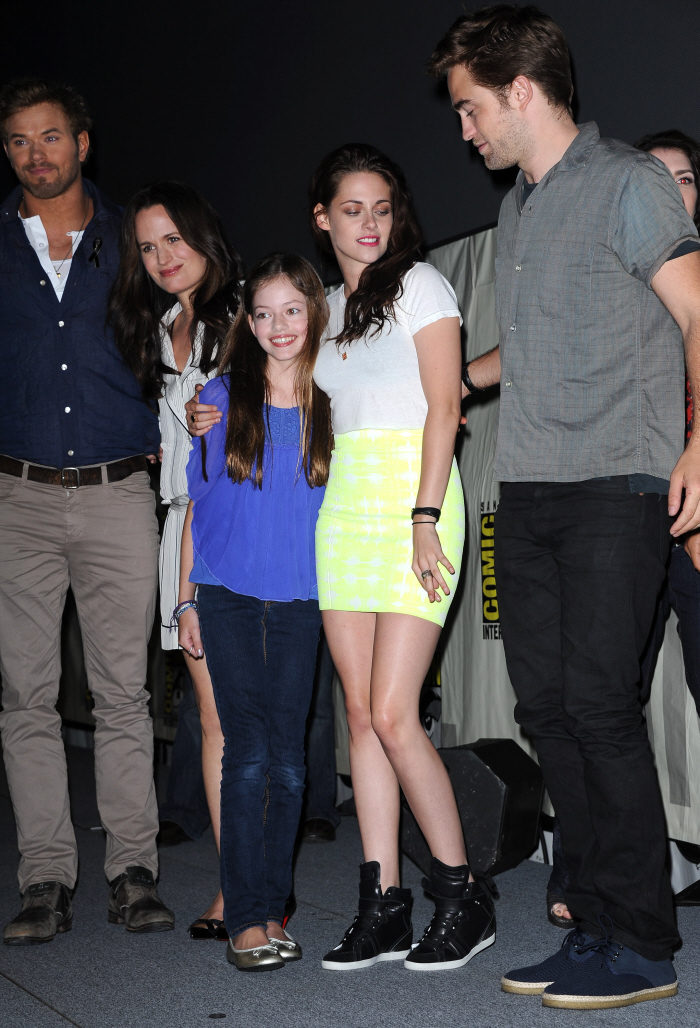 Photos courtesy of WENN.