Mild spoilers for previous and future episode of True Blood below
EW has details of the True Blood panel at Comicon, and I've just spent a few enjoyable minutes watching the highlights, above. EW doesn't even do the video justice, it must have been amazing to be there. Kristen Bauer (Pam) gets chocked up when she describes how much she cares about Alex Skarsgard (Eric) and how emotional it was for her to film the scene where he released her as his progeny. (That's at 2:30 in the video above.) Then he kisses her hair! It's really sweet. In their interview with EW, (video is at the bottom of this page on EW) Alex talked about filming his back story with Pam, calling it "amazing," and adding that they've "been waiting five years for that." They both agreed that they wanted more details behind that story. You can tell they have a close friendship.
At about 5:30 in the video above, Ryan Kwanten (Jason) walks on his hands across the stage! It's amazing, and I got the feeling that Joe Manganiello was wishing he'd taken his shirt off instead of just standing up and doing a little half-stripper move. You know he would have taken it all off if he thought he could get away with it. (at :30)
Anyway here are the highlights from EW, with more at the source. Again, spoilers!
On Bill and Eric's Bromance
Moyer tells Skarsgard he looks good in his black T-shirt. (They're playing up that bromance we've seen this season). "We've had a little too much fun together and its been four years of us fighting over Sookie. There's like a Butch Cassidy and Sundance Kid," says Skarsgard. Moyer adds, "We have to join together so animosity aside, I felt like when we work together, there is something between us in the past that we haven't seen yet, like an old friendship."

Kristen Bauer (Pam) on her Walmart sweatsuit
Time to address Pam's wardrobe! "I see a Walmart sweatsuit in the front row," says Von Straten of a group of costumed fans. She talks about the day it was picked out for her. "There was a rack of Walmart sweatsuits and we start with a yellow one and we say, I don't think we have to try on anything else." Meanwhile, Tara has discovered her boobs while stripping! Is she discovering her leathery side, too? "Pam went up to Tara and made me up," Wesley explained. "My mother called me and said `that bustier!' It's been fun to have the fangs out."

On what's to come & the series' future
There will be more flashbacks of the Stackhouse parents, Ball promised. "Were going to learn more about what happened to them and the affects on Sookie and Jason." Ball confirms that there are "definitely some hot sex scenes," coming up, "and all tastes will be satisfied."

A fan asks whether we'll see a faerie war in the series. "We have at least one, possibly two more seasons, um possibly three for all I know of the show going forward. I would say there probably is a chance of that," Ball said.

On 50 Shades casting rumors
Moderator tells Skarsgard that a lot of people on Twitter want him to star in the movie version of 50 Shades of Grey. "I gotta read that. I haven't read it." Moyer replies, "He's just lived the life." Says Skarsgard, "All I heard is he's got a chamber in his basement." Paquin: "You've got experience in that!"

Stephen Moyer thanks showrunner Alan Ball, who is stepping down after this season
Moyer ends the panel by paying tribute to Ball. "Everytime you think you just did the most amazing scene, you get something more incredible from Alan Ball. It would be a very fitting end to this panel to thank Alan Ball for making this happen." The crowd and the cast give Ball a standing ovation. "If I wasn't so old and tired and so beat up I would do more seasons of this show," Ball said. "It's the most fun I've had in my career."
[From EW]
As for where this show is now, True Blood really ramped up this season and last's night's episode was one of the most interesting so far. I have to say, however, that there's very little I'm invested in beyond the plots with the vampires. Whatever is going on with Terry and the smoke monster, Alcide being pack master, the faerie land, and Jesus' soul being trapped in the underworld is just not as exciting to me. It's still solid TV, though. As I've mentioned before, there are parts of the show that I don't pay as much attention to. The cliffhanger last night had me on the edge of my seat, and I enjoy the drama over masked bandits killing supes. I love this show and it's so much fun for me to see the actors discuss their characters and relationships.
Here's the trailer for Season 5. Some of these things we've seen happen already, but there are also spoilers – beware.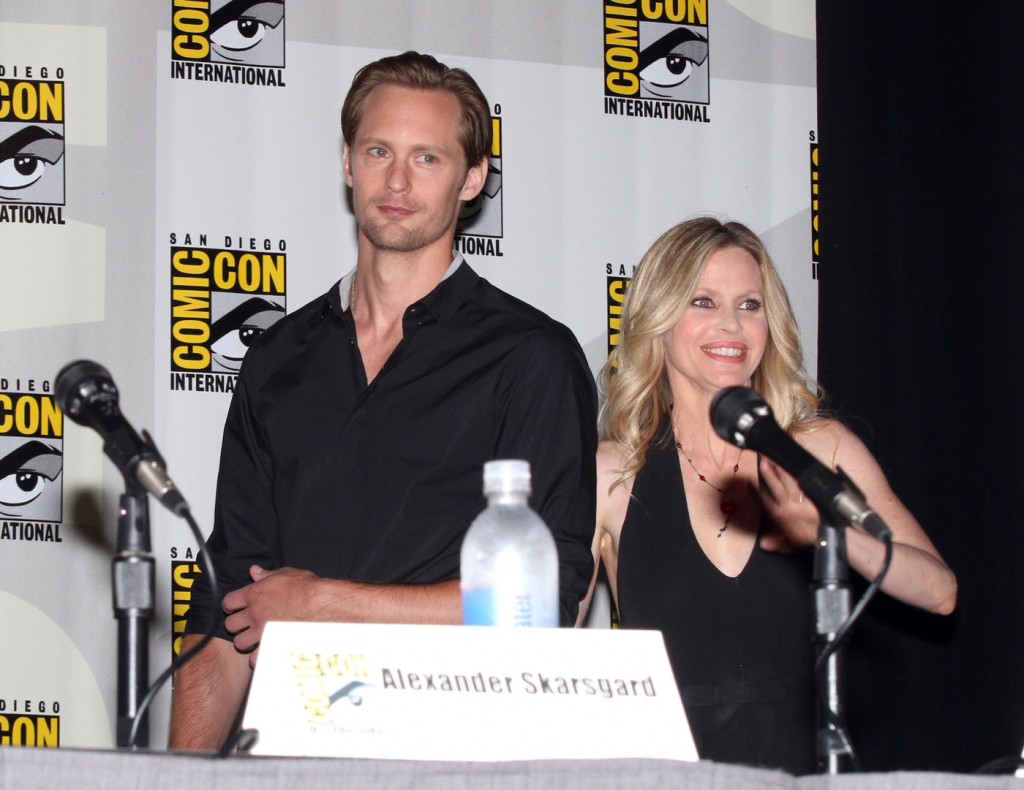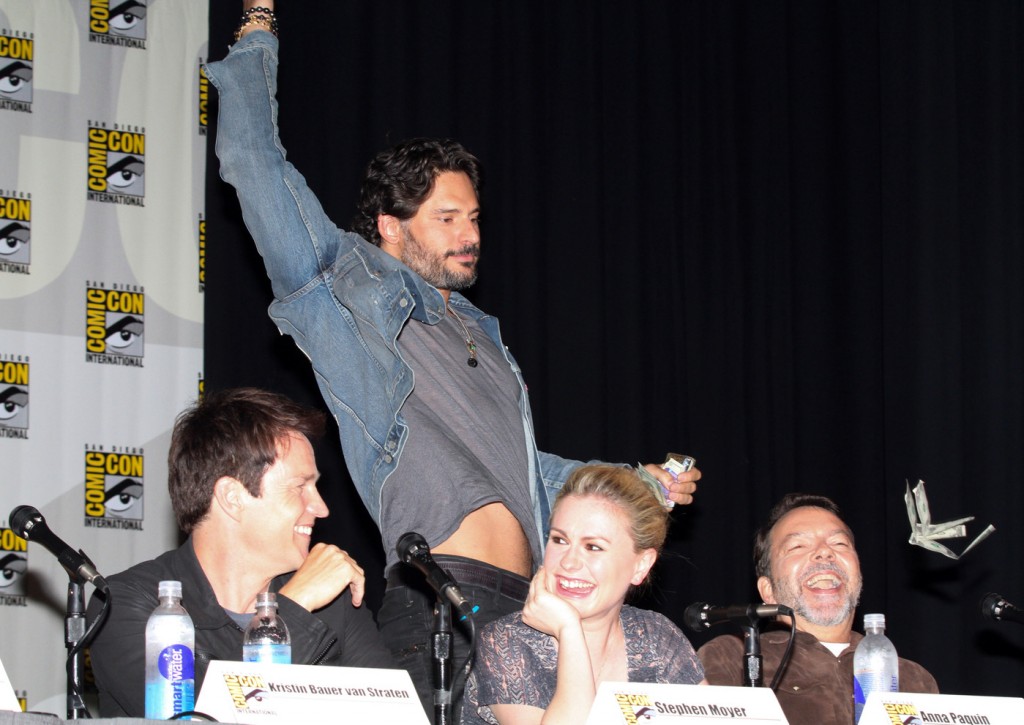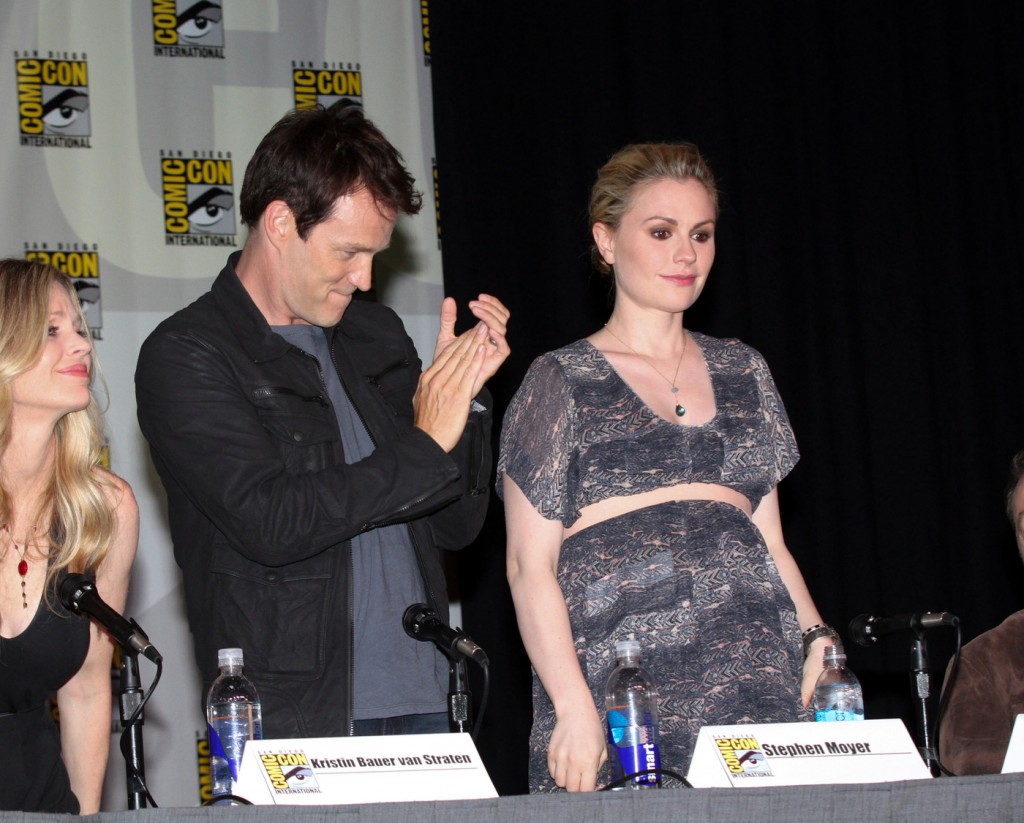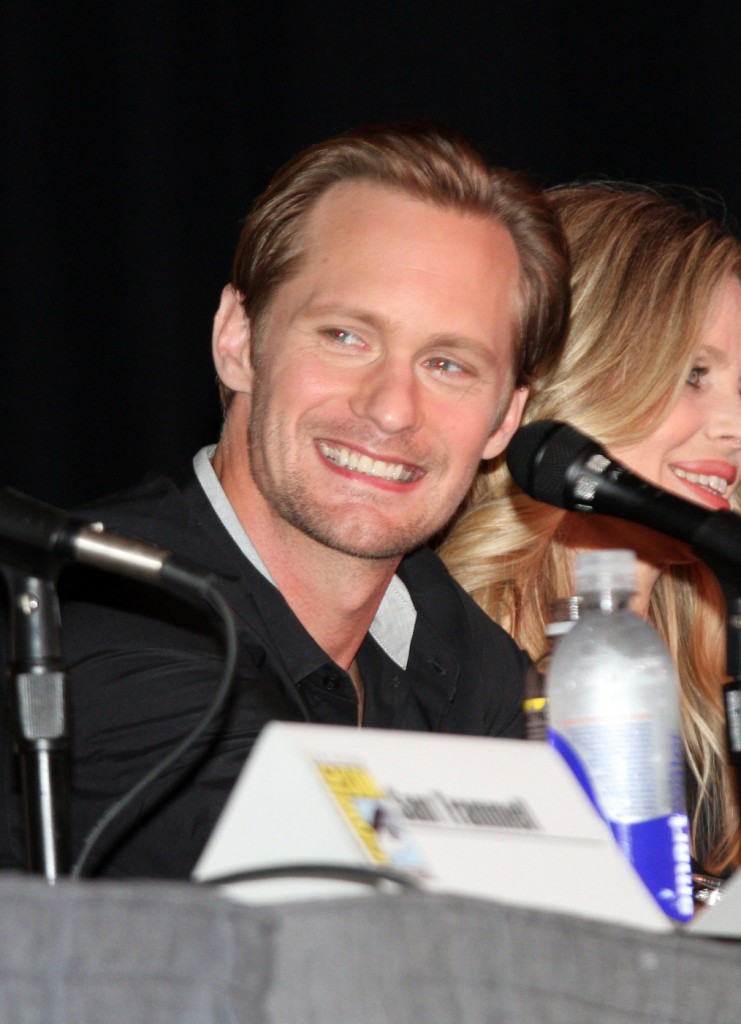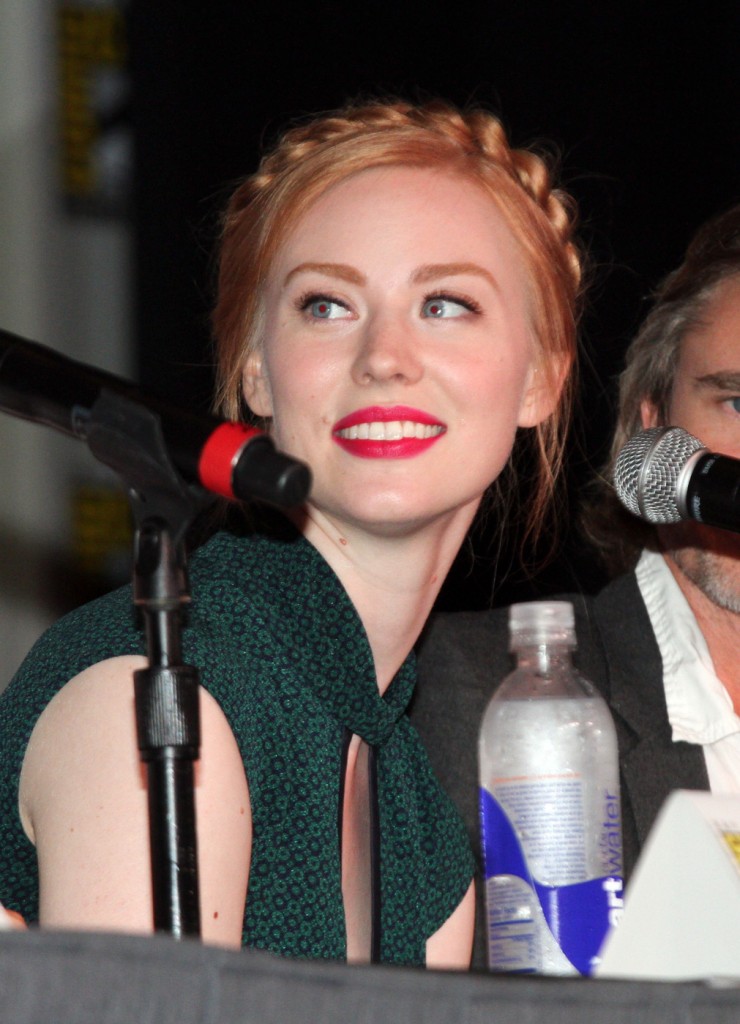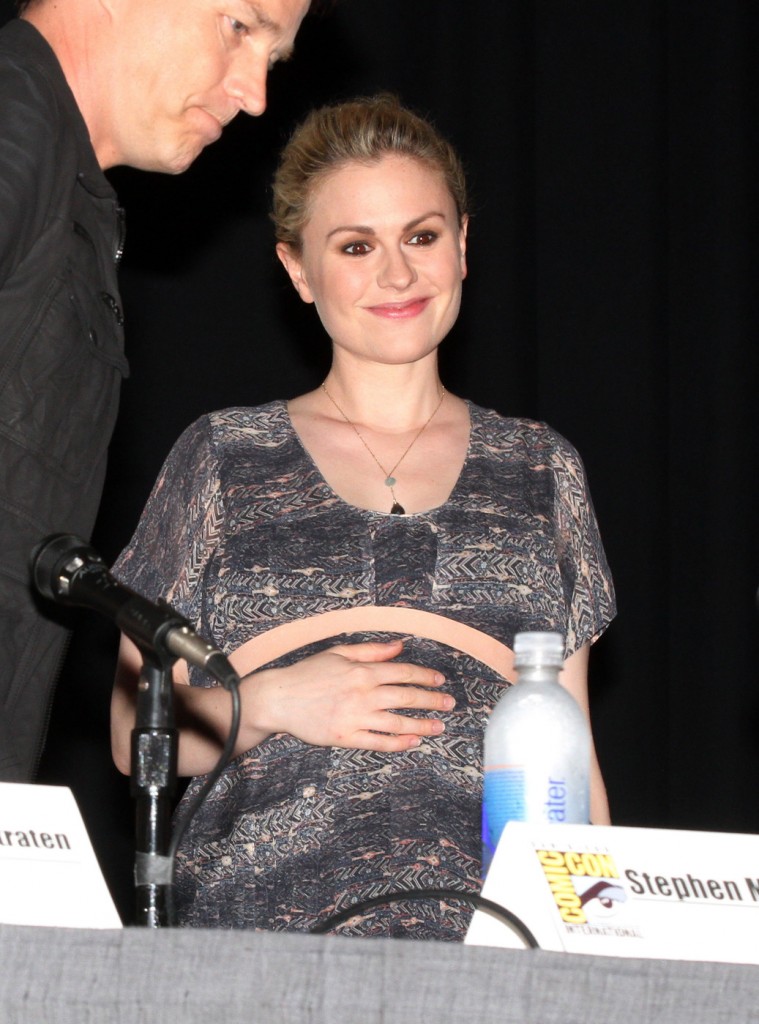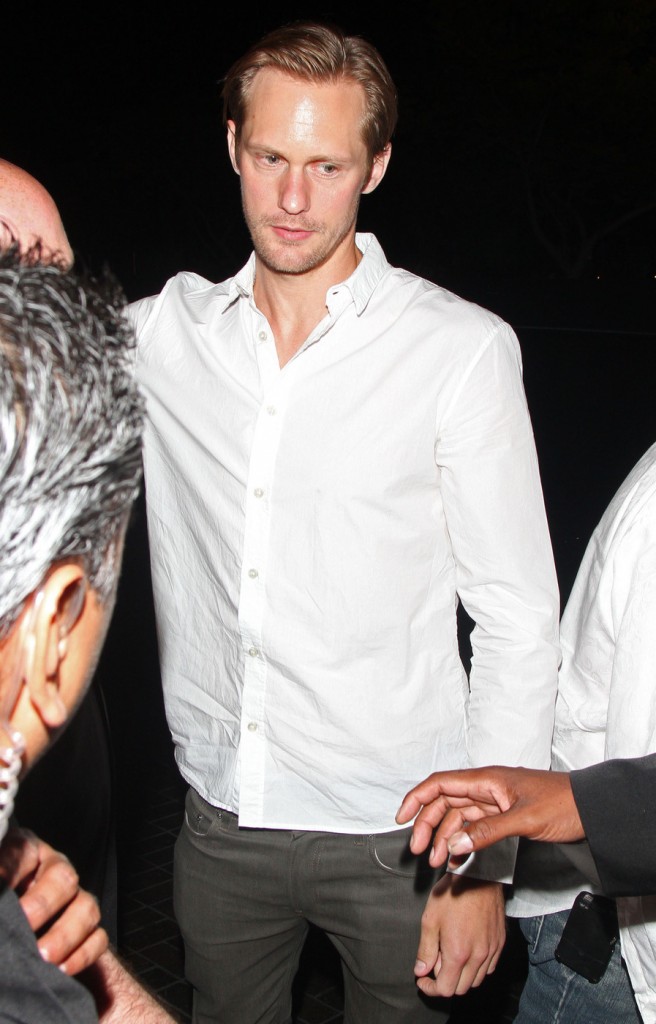 Alex is shown alone looking hot outside Comicon on 7-13-12. Photos from Comicon are from 7-14-12. Anna is getting big, and she does not look thrilled about it. Cute! Credit: Tonnessen/Steinberg, PacificCoastNews.com