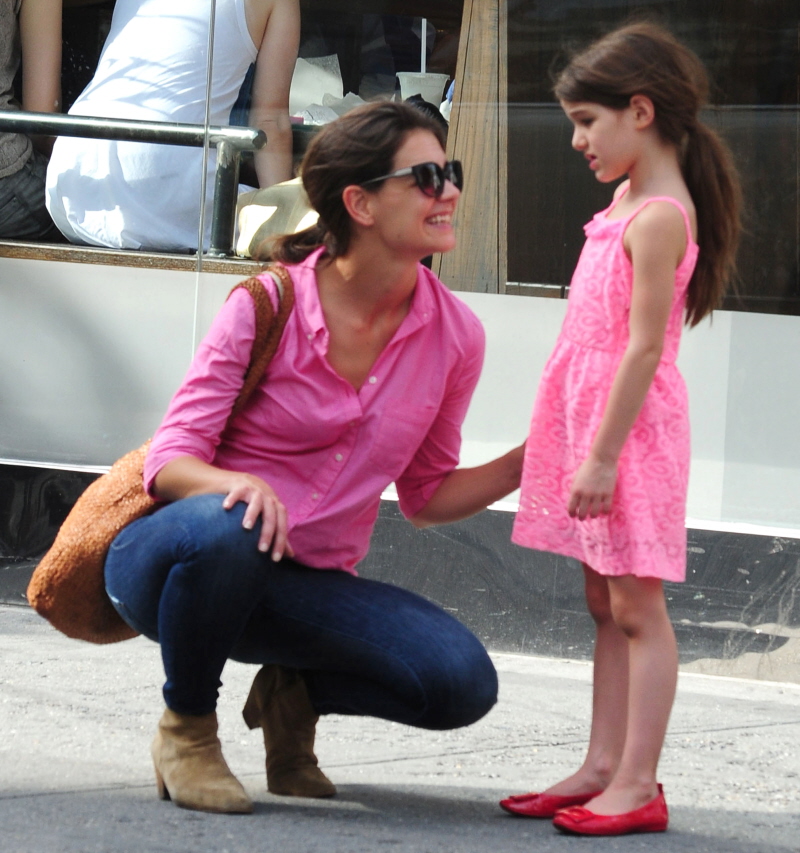 In yesterday's Katie Holmes post, I mentioned that Katie, Suri and some "friends" (!!) had made a visit to a pet shop in Manhattan over the weekend. Katie and Suri left empty-handed (and with Suri in tears because her mom wouldn't get her a puppy!), but I do think that a pet is probably coming. Katie seems to be sending the message to the world: she's putting down roots in New York City, Suri will be a New York girl, and everybody better get used to that. I said that I hoped that Katie and Suri would end up with a kitten – to me, an indoor cat just makes more sense when you're living in the city. I kind of ignored the "controversy" over the fact that Katie and Suri were looking at puppies in a pet store rather than a shelter – which… is this a thing? Yep.
A national pet shelter organization is urging Katie Holmes to consider adoption after she was spotted shopping for a puppy in a Manhattan pet store, RadarOnline.com is exclusively reporting. The Batman Begins actress took her daughter Suri to a high-end pet shop on Saturday.

A sales assistant took two of the pups out of their display cases to show the actress. One of the tiny dogs was a French bulldog and the other looked to be a Morkie, Yorkshire Terrier/Maltese mix. Holmes ultimately left the store without a puppy and that had a disappointed Suri in tears.

But now the North Shore Animal League America – the world's largest no-kill animal rescue and adoption organization – is inviting the soon-to-be-ex-Mrs. Tom Cruise to visit their facilities and adopt a dog through their organization.

"It's a matter of education," Devera Lynn, spokesperson for the Animal League, tells Radar exclusively. "Unfortunately most pet stores are provided their dogs from commercial breeding organizations otherwise known as puppy mills. The breeder parents are not kept in conditions that are acceptable to caring for companion animals. They don't get the medical care they need. They are overbred and when the dog is no longer able to breed they either sell them to auctions or kill them."

The New York-based organization is inviting Katie to follow their motto to "adopt a pet and save a life."

"If you go to a shelter you're going to find beautiful, healthy puppies, even purebreds," the spokeswoman says. "Not only that you will also be saving a life. We would love to show Katie the animals we have if she is ready to adopt."
Ugh. I've always gotten my animals from the pound or from friends who have "rescued" an animal but can't commit to a pet long-term (that's how I got my current puppy, who was 5 pounds when I got him and is now a 100-pound monster). I believe strongly in adopting from shelters and adopting "rescues". I also believe this shelter has a right to get some publicity and educate the public by using Katie and Suri's visit to a pet store. But I don't think Katie and Suri should be tagged as "bad people" or "bad pet owners" if they don't end up with a rescue. Different people want different things, and Katie has a lot on her plate right now. If she does get Suri a puppy, she might be looking for a specific breed that will be good with children, good with city life, good with apartment living. I'm not saying that Katie couldn't find a puppy like that in a shelter – only that she shouldn't be harshly judged if she does end up with a pet store puppy.
Or she could just get a cat! Incidentally, my mom just got a kitten and then she promptly left town, so I've been looking in on him – this kitten is absolutely CRAY. And he's a rescue too. I should donate him to Katie and Suri. Suri will be able to keep with him (my mom named him Opossum).
Meanwhile, Radar has another story about Tom Cruise and Suri video-chatting with each other. It feels like we've already heard that story…? A source tells Radar, "It's all part of the divorce settlement that Tom be allowed to video chat with Suri. Likewise, when Suri is with Tom, Katie can video chat with her… Tom and Katie were advised that this could be a very useful tool to help Suri with the adjustment of her parents getting divorced. Tom and Suri have been video chatting and Tom just lights up when her face appears on the computer screen. Tom and Suri also communicate on the telephone and there is no limit on the contact for either parent. If Suri wants to talk to Tom she will call him, with help of course." I wonder if Suri tearfully told her dad that EVIL MOMMY wouldn't let her get the puppy she wanted? Hopefully, Tom backed up Katie on that one. But that might be too much to hope for right now. Tom probably screamed, "PUPPIES FOR EVERYONE!"
PS… I am SO OVER Katie's booties. But I grow increasingly enamored with her lovely purse.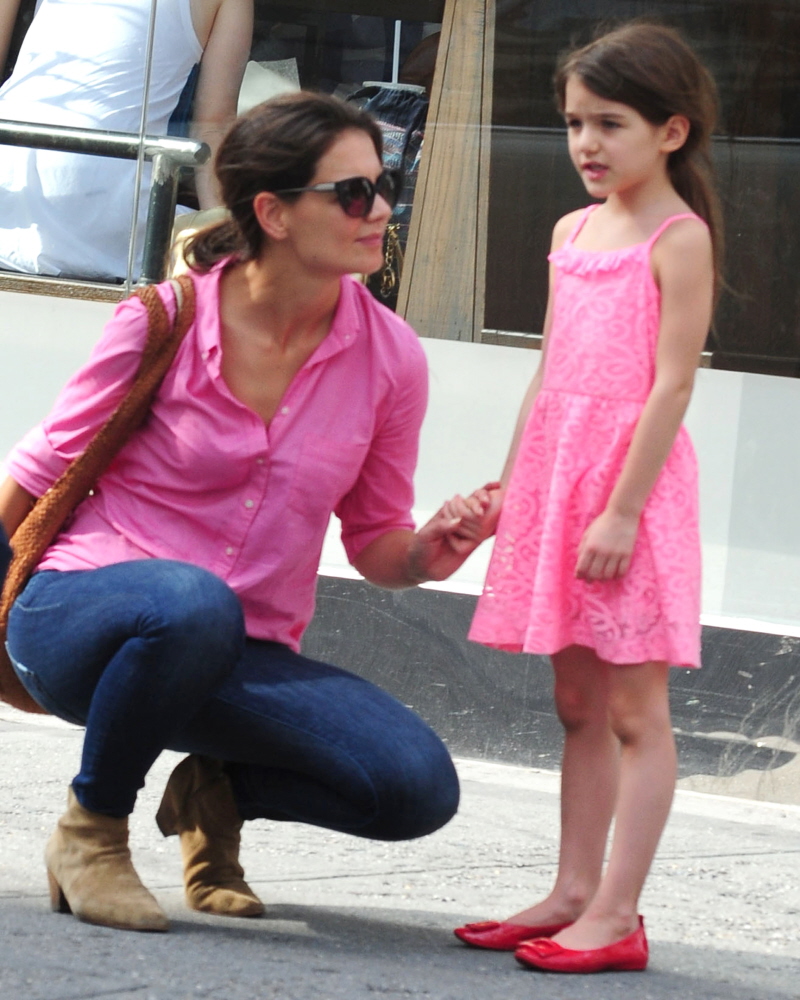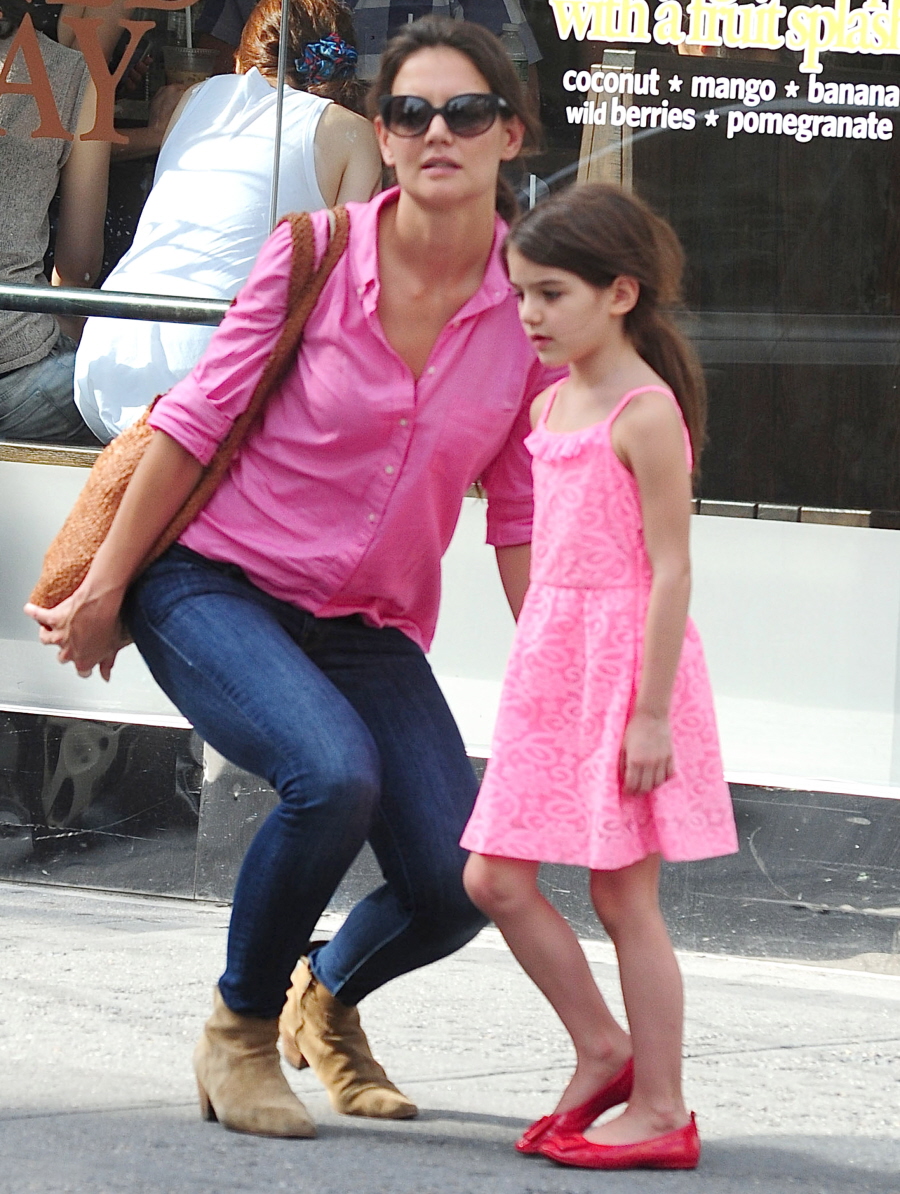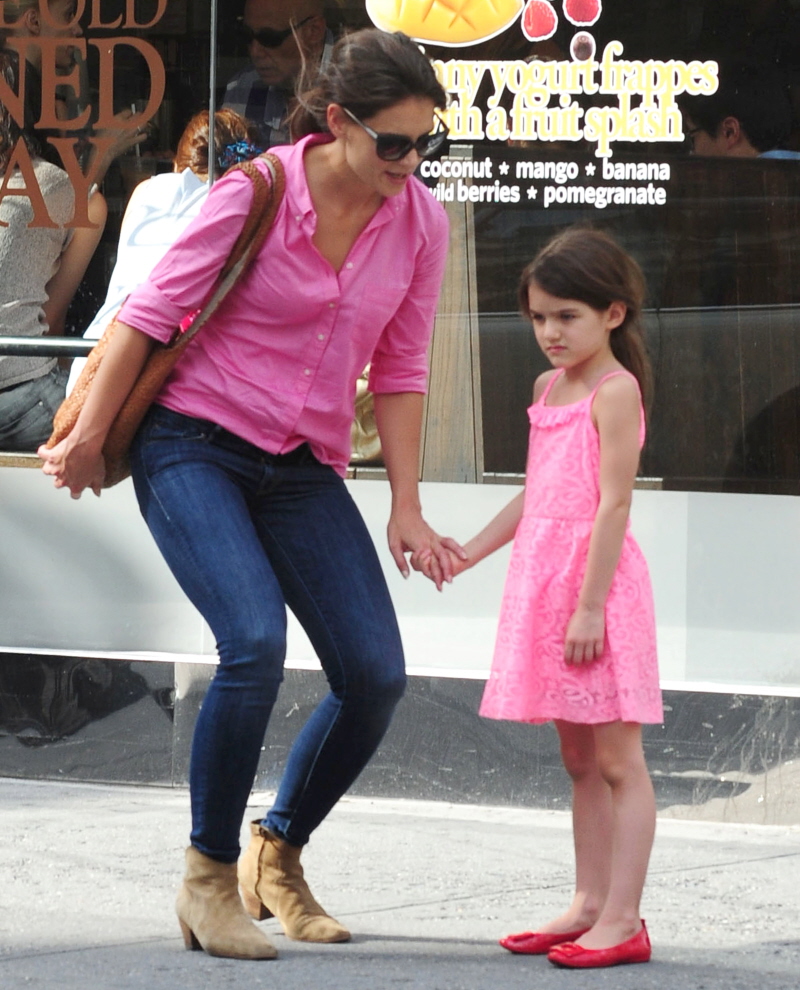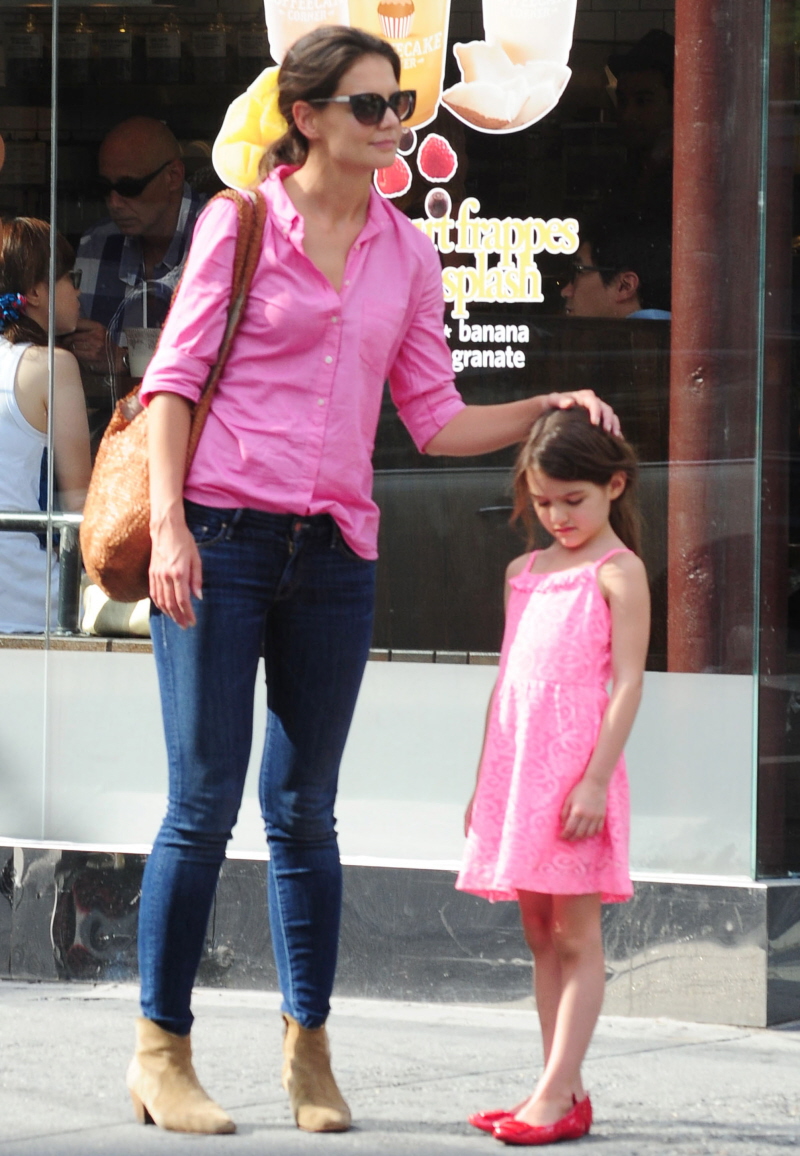 Photos courtesy of Fame/Flynet.