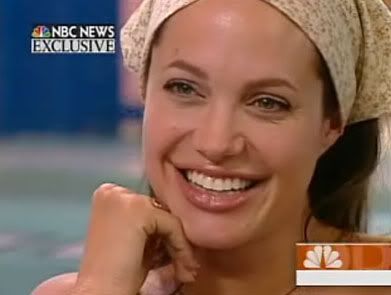 Angelina revealed in an interview with Anne Curry that her due date is about a month away. She is now said to be expecting a boy that they're planning on naming Africa:
Eight months pregnant Angelina Jolie is planning on combining her two biggest loves- motherhood and activism- when she delivers her first child next month reports Star Magazine. Jolie is going to do so by naming the baby "Africa"! "They both love the name- they think it's so distinctive and unique," says a source close to the actress and her love, Brad Pitt, adding that Angelina and Brad, hope that the name will also help strengthen ties between their baby and their adopted children, Maddox and Zahara. And, contrary to recent reports, Star's sources confirm that the baby will be a boy. "Brad doesn't call him the baby, he calls him 'the little guy,"' says a source close to the Pitt family. "He's been raving that with the amount of kicking that's been going on, his son is going to be a soccer player!"
People reported a couple weeks ago that Jolie bought clothing suitable for a little girl and was overheard saying that she was expecting a girl, so chances are high that either one of these rumors is true.
Meanwhile the Jolie-Pitt Naimibian wedding rumor is further fueled by the fact that Brad bought a special "wedding crystal" that local custom dictates grooms give to brides on their wedding day:
Rumours hit after Pitt bought an ivory and quartz crystal stone from a jewellery store last weekend (22APR06). According to local custom, grooms give the gem to their brides as a pledge of fidelity.
The pair have already been the subject of two wedding hoaxes, which drew the world's press to Italy and to Namibia, where they were rumoured to be tying the knot last weekend (22APR06) – the same day Pitt bought his girlfriend the ivory crystal.
As Millie commented on our article about the rumored Namibian wedding, maybe Angelina will go through with it – as long as it's a local ceremony and not legally binding in the states.
Thanks to Just Jared for these screencaps from Angelina's Today show Interview. It aired this morning at 7am and will be shown in full on Dateline on Sunday at 7pm. Just Jared also has parts of the interview transcribed. Angelina is advocating for education for children around the world.
The Today show interview is not on YouTube yet, but you can watch it online with Internet Explorer only (cause it's MSNBC of course). Here's the video.
Here is another interview with Angelina from her pre-Brad days. She discusses a boy in Africa that she met during her UN ambassador work who particularly moved her. Try not to cry when you watch it.