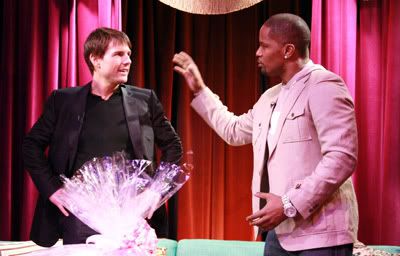 Jamie Foxx took time off from his full schedule of sex to stop by MTV London studios while Tom Cruise was taping an interview to congratulate him on the birth of his baby daughter, Suri. Foxx delivered a pink crib full of Burberry baby accessories to the actor, and gushed about what a nice guy he is:
After giving Cruise a big pink crib full of toys, as well as man-hug and some warm baby congratulations, Foxx parked himself on the 1LSQ sofa and told host Russell Brand how he really feels about the Mission Impossible star. "I'll tell you what's amazing about Tom Cruise," said Jamie in his hoodie and suit jacket combo, "I name Tom Cruise intangible, cos of things he does.
"For one he's good looking, he's charismatic, he has all the money in the world and he has a great career. And he's still nice!"
Foxx went on: "You don't see it normally, I've seen a lot of people do a whole lot less than Tom and they've got the 95 bodyguards and whatever, not this guy."
Tom may not have 95 bodyguards, but he does have an armoured car now. He bought a $180,000 USD armoured vehicle after receiving death threats against him and Katie.
Tom Cruise has joked that he asked Jamie Foxx to be an uncle to Suri:
He said to the Mirror: "Jamie Foxx is going to be uncle. I asked him today and he's accepted. He's an amazing guy."
"And when I get back to the States I'm gonna ask Kanye West."
Tom's kind of funny, and with all these feel-good stories it's easy to warm up to the guy. I have to remind myself that he's touring around Europe while his wife is stuck at home with a new baby and the Scientology freaks, though. Have her parents even come to visit her yet?
There are a few more Cruise stories that we'll post with the pictures from the MI Paris premiere shortly.
Here is Cruise at the MTV London studios with Jamie Foxx and with his daughter, Isabella. [via] She looks like she really looks up to him. The poor girl.