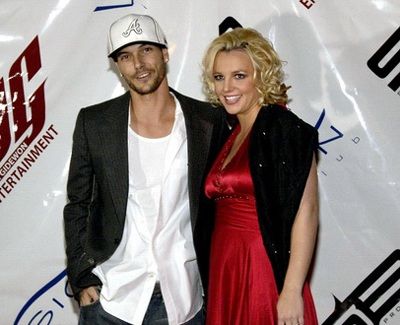 Britney Spears has a press conference scheduled for May 7th. She's supposed to be announcing her pregnancy and may admit that she's separated from Kevin: (please let the second part be true):
"Britney hasn't held a press conference in so long that
we know its something big, pregnancy, a split, we're not sure
" says Karen Phillips from Sony/BMG. Pictures have recently surfaced of Britney in a red bikini showing a round stomach that is definitley bigger than before. Spears who has been keeping quiet and when going out wearing large flowing dresses and tops to hide her stomach will face a huge media flock if a split or pregnancy is announced. Spears and Federline tied the knot in September 2004 and have already one child together Sean who is close to 8 months old.
Jive Records and Britney's management were allegedly planning to release her 5th Album in November this year and a world tour was being drawn up for early 2007; Spears was also due to perform at numerous award shows this year but has since pulled out of the commitments due to an unexplained reason.
Now it really does sound like she's pregnant. She's probably not breaking up with K-Fed, though. The article says they haven't been seen together in "weeks," but that's not true. They were just together in Vegas for his show at Pure, even though Britney didn't attend.
Kevin has called Britney the inspiration for his terrible rap-like music and says that little Sean Preston just loves to listen to it:
"My wife is an inspiration to me for life in general.
"In some senses [sic] I feel I have to stick up for my family.
"I want my son and my daughter and my other son to sit up there and look at daddy on TV and say, 'Damn!'"…
It seems Sean Preston is daddy's biggest (only) fan, Federline said of his son: "He is all smiles when he hears it.
"You can tell the musically inclined thing is already there with him."
Kevin is just so well-spoken, isn't he? He also revealed his painful past and said he was involved with gangs in Fresno:
"
A lot of my people got locked up; a lot of my people are dead. I'm not gonna sit here and get into details about what I did.
"
"I'm not gonna sit here and say that I'm this grimy, gutter, gangsta. But I have been on the hustle."
OMG that is funny. When someone says they're not getting in details, they mean there are no details.
Here is Kevin walking to his car or something. When the photographer asked him if Britney is pregnant, he didn't respond. [via] TMZ has a video of it and of Kevin driving around. I wasted a minute of my life watching it, please don't make the same mistake.