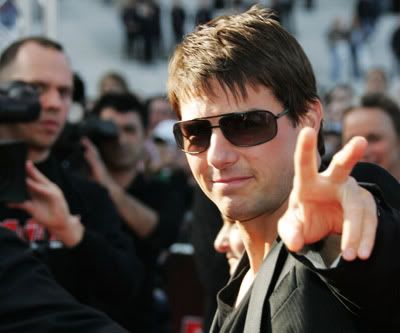 In one of his creepier quotes, Cruise reveals that he has renamed his girlfriend "Kate" Holmes, because that just sounds more motherly to him:
After discussing the issue with Cruise, Holmes has decided her Christian name 'Katie' sounds too young for a 27-year-old and is now known to friends and family as 'Kate'.
Cruise explains, "Katie is a young girl's name. "Her name is Kate now she's a child-bearing woman."
Sure Holmes decided to change her name, the one she's been using her entire life and her entire career, just because it sounded better. My name is Katie too, and to me Kate always sounded like a nickname for a younger person. Whatever. Holmes has changed everything else for Cruise, she may as well let him call her what he likes, too.
And Cruise calls her "child-bearing." That's very specific, and very strange language that seems to add credence to the rumors that she was inseminated.
In an MTV interview to air Sunday, Cruise says he would give up his achievements for his kids. That doesn't quite jibe with his actions lately. He also said he would like to star in a film with Katie Kate:
"If I had a choice between all my life's achievements and my kids, it would be my kids every time, I'd give up everything else."
"I'm very properly in love with Kate. She is amazing and spectacular and we can't wait to get married now."
"Katie and I have this 'b and b' thing down – she breast feeds and I burp and change nappies."
"I don't mind getting stuck in. I haven't slept for a while, what with the new baby and the promotion for the movie, so it's all a bit hectic, but a lot of fun. But I think baby Suri will be great. In fact I'd love to be my kids – they have a great life."
He also mentioned plans to co-star in a movie with Katie: he starred in three films with ex-wife Nicole Kidman.
"I can't wait to do a movie with Kate," he said. "I don't think working together is a bad idea at all, a relationship can definitely work under that pressure if you like someone enough."
Who says things like "I'm very properly in love?" That's so strange and seems like an obvious put-on.
Cruise also attended the Paris premiere of MI3 yesterday. Michelle Monaghan attended, but the other big stars from the film were absent. Tom has a new baby at home but he still couldn't stay away.
Here are pictures from the Paris premiere.