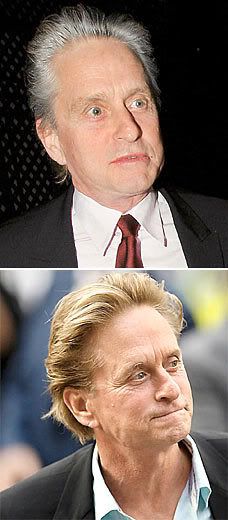 Micheal Douglas just looks really scared in this picture that reveals how he's let his hair, but not his face, go to seed. He was photographed while out celebrating his dad, actor Kirk Douglas', 90th birthday:
As his hair turned increasingly grey the Hollywood star had regular highlights in the past to keep it a more youthful blonde.

But these days it seems he is finally ready to start looking his age – at least as far as his hair and eyebrows are concerned.

Pictured leaving The Ivy restaurant in Beverly Hills with his 37-year-old wife Catherine Zeta Jones, Douglas had reverted to his natural grey.

Wearing a cream jacket and lilac top with purple trousers and sunglasses he walked in from of Miss Zeta-Jones who looked stunning in a low-cut black dress and diamond necklace…

Over the years speculation has been rife about Douglas's enduring good looks.

The actor, who turned 62 in September, has denied having any cosmetic procedures despite reports that he had paid £7,000 to "freshen up" his features with a face and eye lift before his marriage to Miss Zeta-Jones.

And last year, when the couple, who have two children, Dylan, six, and Carys, three, holidayed in Barbados, the Fatal Attraction star was seen with two bleeding scars in front of both ears.

His publicist denied surgery, insisting he had had two benign lesions removed from his face.

Later that week he appeared on the beach showing off a newly toned physique, prompting speculation he had also had liposuction a and a tummy tuck.

And this summer he was spotted with a remarkably smooth wrinkle-free face above a wrinkly, haggard neck, which experts said could prove he had had some kind of cosmetic treatment. He was in Los Angeles with his wife to celebrate his father Kirk's 90th birthday.
Kirk Douglas issued a cool press release to the young 'uns on his 90th birthday. He urges us to vote and get involved in making a difference in the world and says if we don't know who he is we can just Google him!