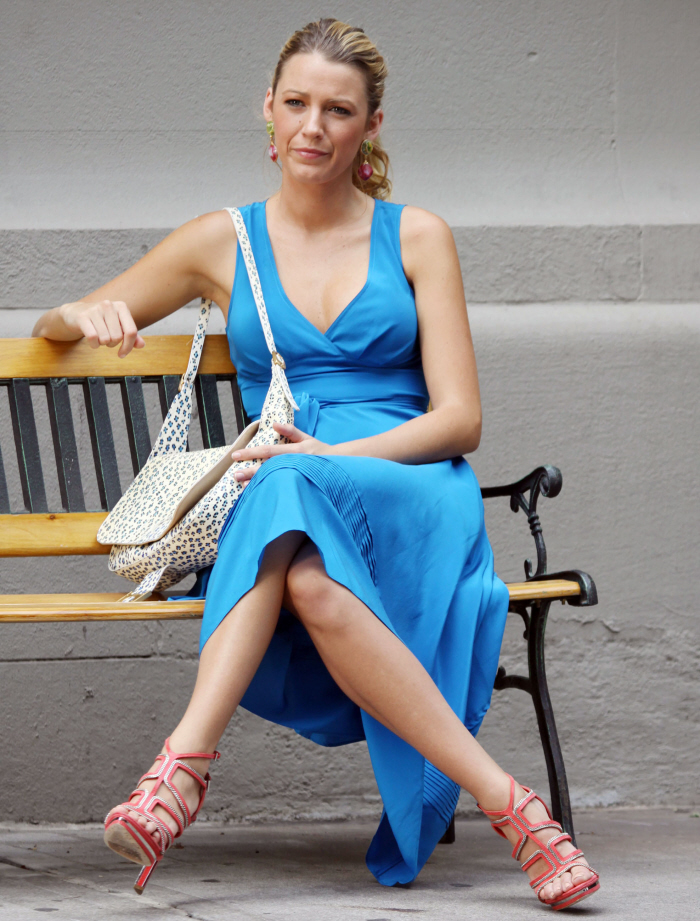 Here are some photos of Blake Lively filming Gossip Girl in NYC yesterday. She had two costume changes (that I see), and she seemed to be filming exterior scenes with Chace Crawford and then with her character's possible love interest (?), played by Barry Watson (who I kind of love in general). I can't even verbalize how much I love the blue dress. God, that's so pretty. It would look like hell on me, but on Blake, it's kind of perfect. I also love that when she wasn't filming full-length shots, she switched out her high heels and put on flats. Atta girl.
Allegedly, Blake has a new interview in the British magazine More – likely promoting Savages. Here are some highlights:
Blake on her insecurities: "I have insecurities like any girl. I used to be really shy and unconfident. I hated being tall. Walking the red carpet is so scary, so I pretend to be Marilyn Monroe – someone who owned their sexuality and projected this incredible aura of self-confidence."

Style pressure: "There's a lot of pressure to constantly find the best designer outfits. As a teenager, my mum was constantly after me to dress better. She encouraged me to dress up and discover my own style. I love fashion and shopping though, just like any girl."

She still claims she doesn't exercise: "I don't exercise, but I will start one day. I'm 24 now, so I guess I've been very, very lucky that it doesn't show that I like to eat. I should probably start working out I guess!"

What she looks for in a man: "When I look for a partner there has to be a strong connection. He needs to be my best friend, whether he's macho or sensitive – it doesn't matter. He also has to make me laugh. I enjoy someone who's a lot of fun to be with. He also needs to be kind, patient, caring and not take himself too seriously. And of course, he needs to appreciate my cooking! I'm very domestic."

She thinks cooking is sexy: "I really like to cook. Cooking makes me feel sexy. I think there's something so sensual about it – the smells, the touches, the flavours, the experience of creating something," she explained. "And you know, when you're doing it with someone you love, creating that together, I think it's really attractive."

She can't wait to have babies: "I want to be a mom someday. I'm upset that my nieces and nephews aren't my own children," she sighed. "It's something I can't wait for and I'm so excited about."
[From More Mag via the Belfast Telegraph & the Herald Sun]
Blake is really putting herself out there has a domestic goddess/girly-girl/wife-material, right? All of this talk about food and babies and shopping… it feels like Blake has stepped out of the 1950s. That's never really occurred to me before – Blake IS very retro, isn't she? She's all about "hooking the husband" and putting herself out there as "marry-able". My dad would have loved her – he always told me that no one would marry me unless I learned how to cook. Like that was the biggest threat, I guess, that no one would marry me?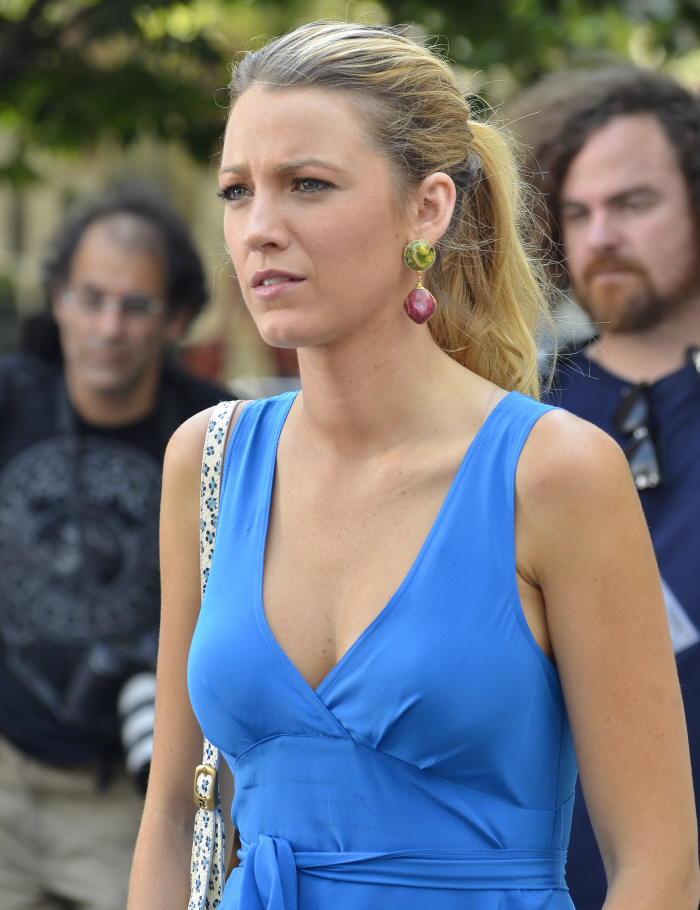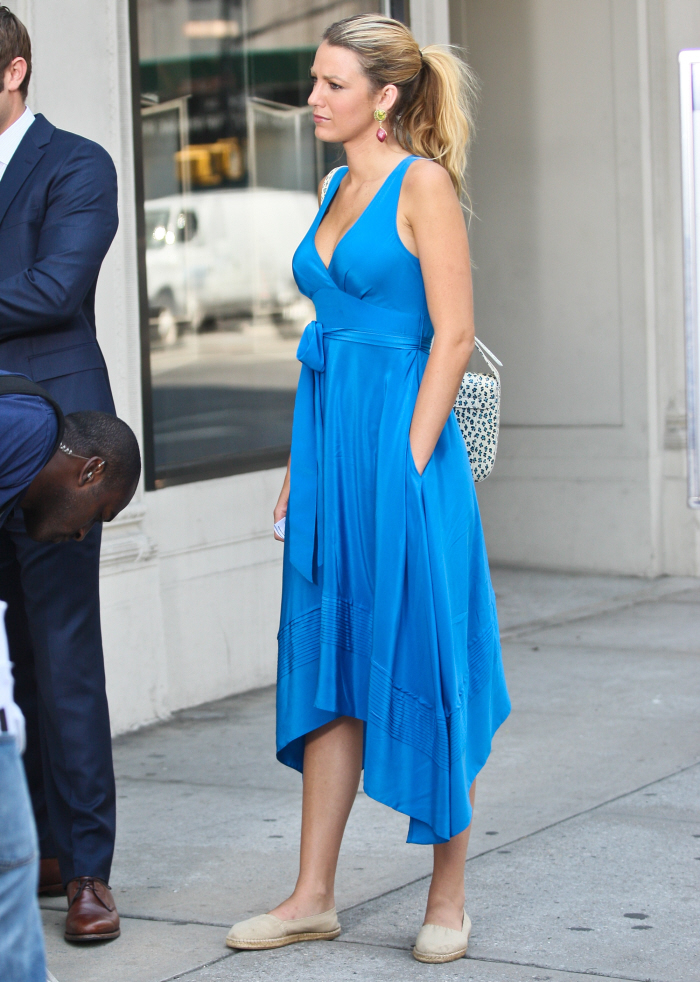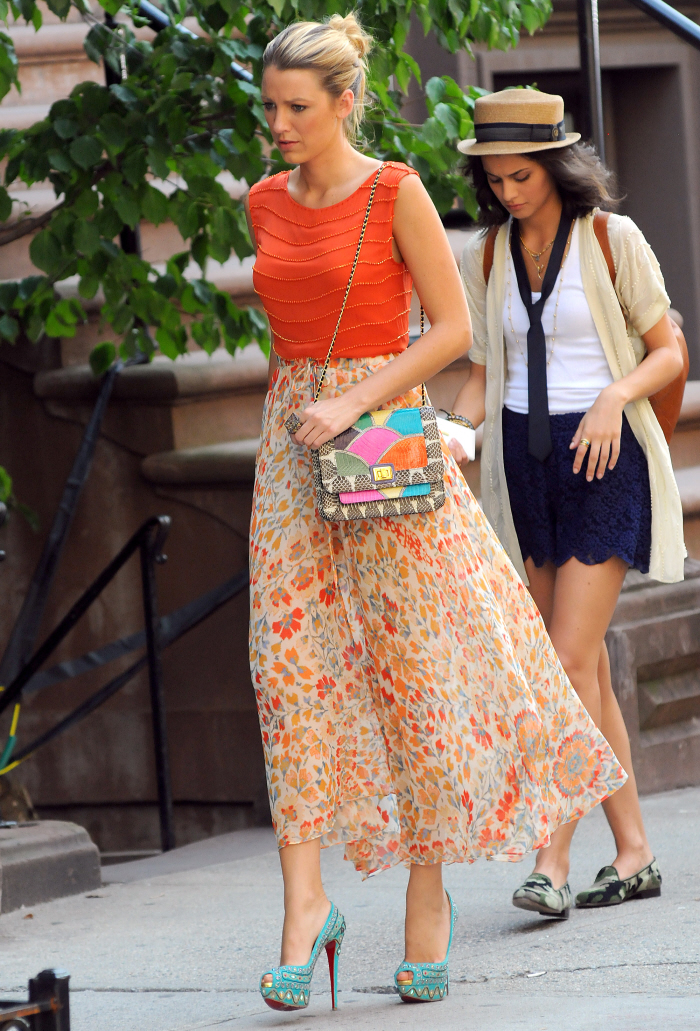 Photos courtesy of WENN.