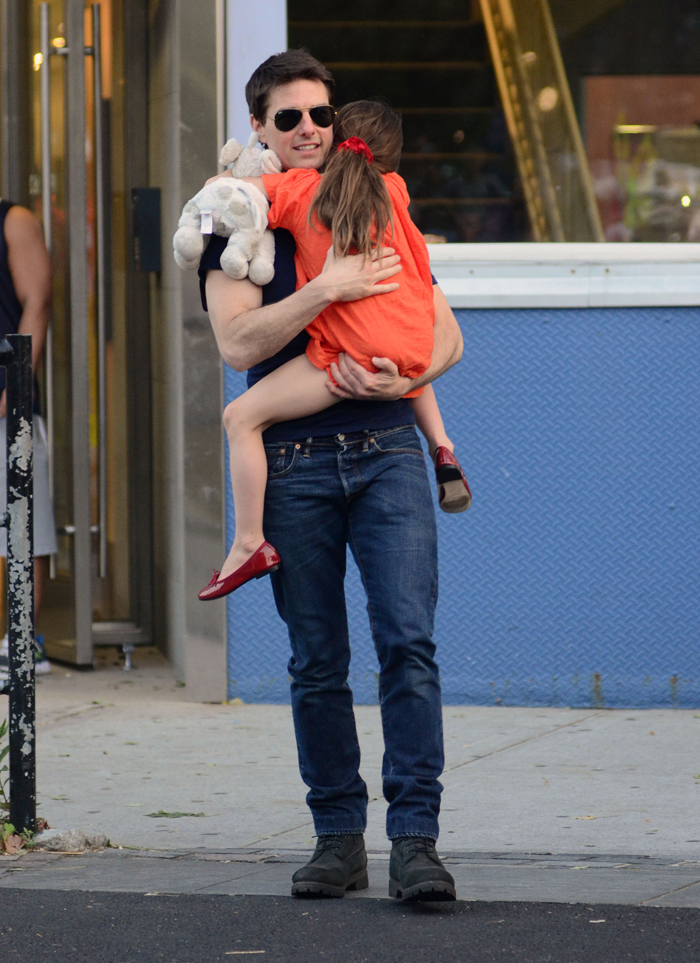 Here are some photos of Tom Cruise and Suri yesterday as they ventured out to Suri's gymnastic class in New York City. People has a photo of them a bit earlier in the day when Tom was wearing a dress shirt, but you'll notice that Tom changed into a short-sleeved, royal blue shirt that allowed him to show off his guns while he carried Suri throughout the throngs of paps. He's totally carrying her everywhere, right? This is a distinct difference from how Katie's been allowing Suri to walk on her own since the divorce was announced. As we discussed yesterday, Katie is now all about making Suri's life as normal as possible, but Tom just can't do "normal" to save his life. It's a good thing he believes that his inner Thetan will live on forever, right?
As a quick side note, many people have noticed that Suri has started wearing flip-flops (instead of kitten heels) around town since Katie made a break for it. Supposedly, this is a planned move by Katie to have Suri "start dressing more appropriately for her age," and that it was always Tom's idea to allow Suri to wear the heels, lipstick and basically anything she wanted. So Suri is at least wearing flats in these photos (while Tom's still got those lifts glued to his feet), and she is reportedly staying with Tom at the Greenwich Hotel (where he also stayed last time he visited NYC) instead of at the family's old apartment. TMZ reports that Tom picked Suri up at Katie's new place in Chelsea but that he and Katie had no contact whatsoever. Here's People's story: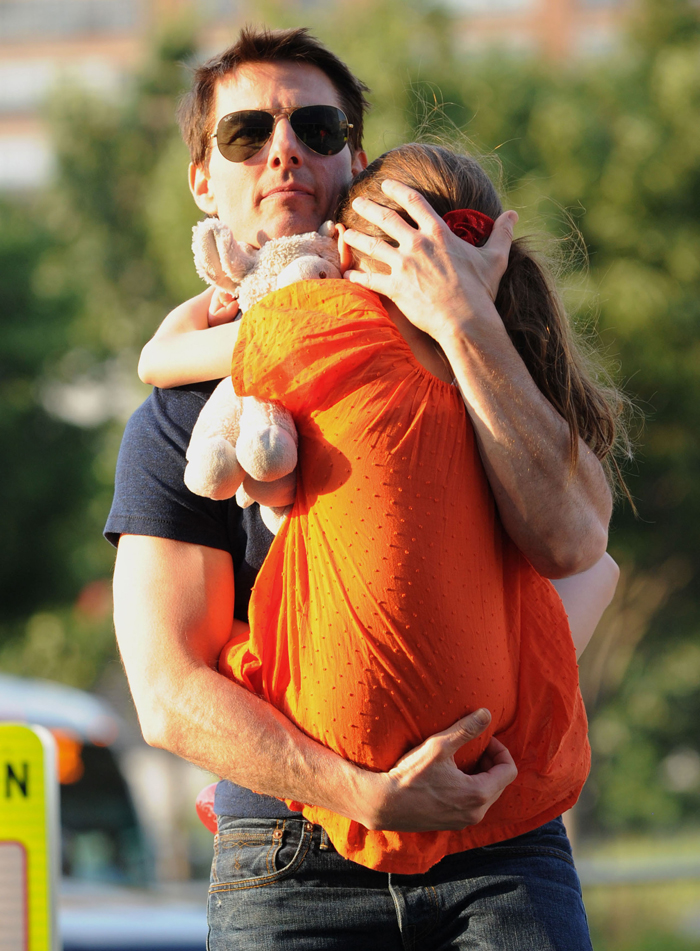 Tom Cruise is finally getting quality time with his daughter Suri.

Two weeks after Katie Holmes filed for divorce, the 50-year-old star arrived in New York City on Tuesday and was photographed carrying his daughter into a hotel. It is his first visit since he and Holmes, 33, reached a divorce settlement on July 7.

"Tom looked really happy," an observer in New York tells PEOPLE.

"He's been dying to see her," says a source of Cruise, who finished shooting his latest movie, Oblivion, on Sunday in California. Cruise learned of Holmes's divorce filing while shooting the same film on location in Iceland. And although he and Suri have spoken frequently since the split, he has not seen her in person since mid-June.

Holmes and Cruise have agreed that Suri will live in New York with her mother, but the actor will see her often. "He'll be with her whenever he can," says a source.

Currently, the pair plan to spend several days together in the city, where Suri is expected to attend a local private school this fall.

Sources close to Cruise and Holmes say the former couple will work together to make sure that hand-offs are as pleasant as possible. "They both know they are going to have to make decisions together regarding Suri for many, many years," says the source. "And they know she loves both her parents."
Here's a look at all the paps who were waiting outside for Tom and Suri.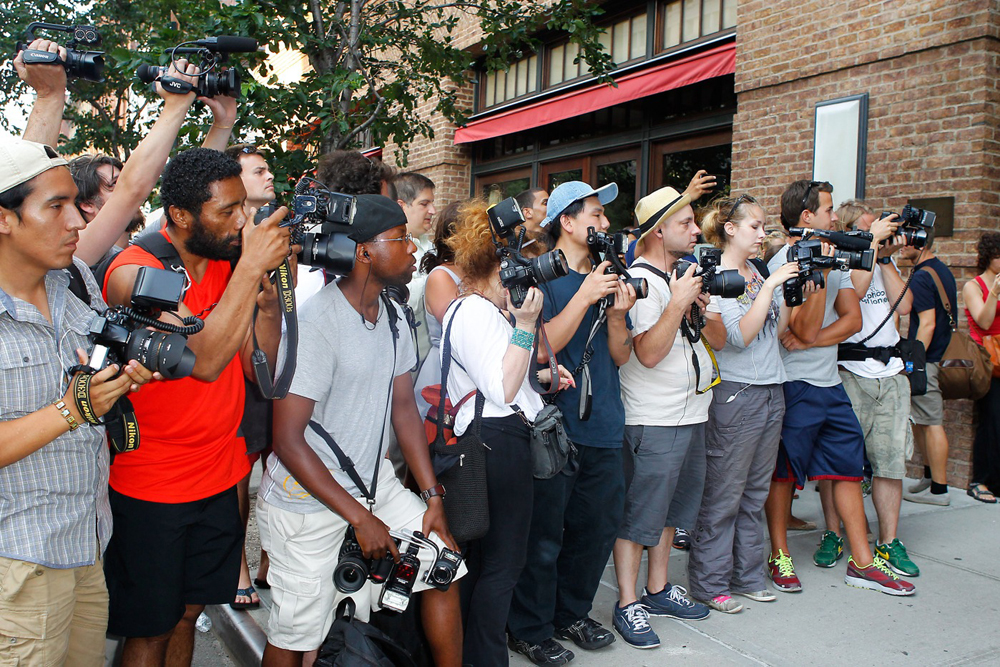 Obviously, the paparazzi (for better or worse) are pretty unavoidable when it comes to Suri Cruise and both her parents, so perhaps Tom should realize that Katie is also merely going about her daily business when she is photographed with Suri as well. Remember how Tom's lawyer, Burt Fields, accused Katie of "play[ing] the media" merely because she had the audacity to go grocery shopping and visit museums with Suri? Quite hilariously, a Cruise source also insisted that when Tom paid his first post-split visit to Suri, "There will be no photo op." Of course, you'll notice that Tom (unlike Katie) always makes direct eye contact (even through sunglasses) with the cameras and smiles directly at the paps. He just can't help himself.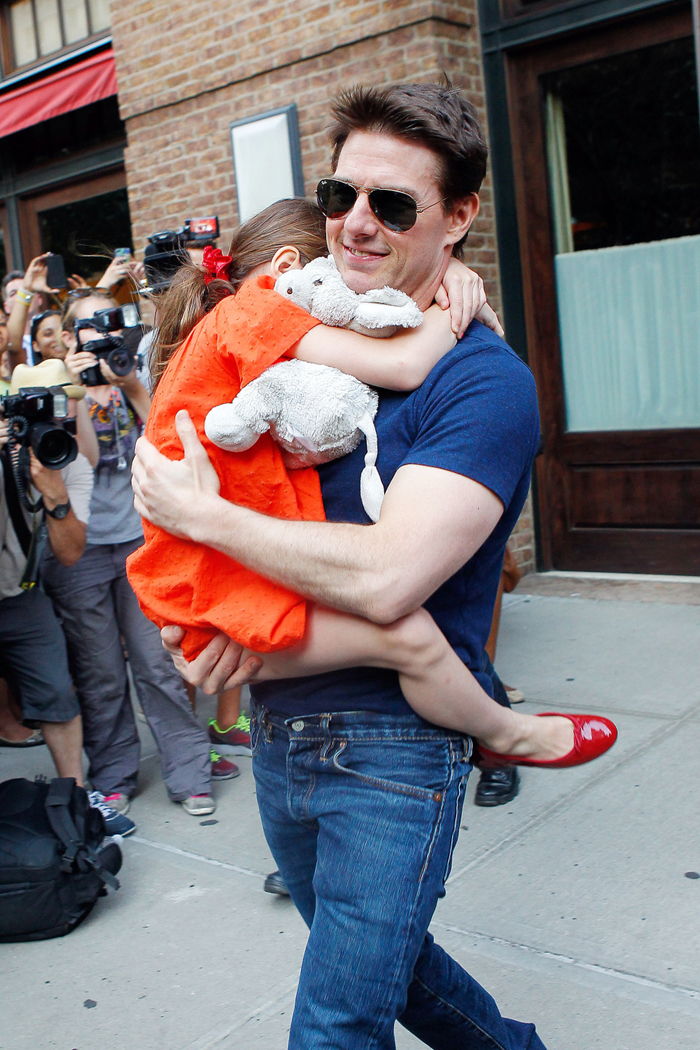 Oh look, Scientobodyguard is back! He's the one that Katie always used in NYC until she fled the scene, and I guess Tom rehired him.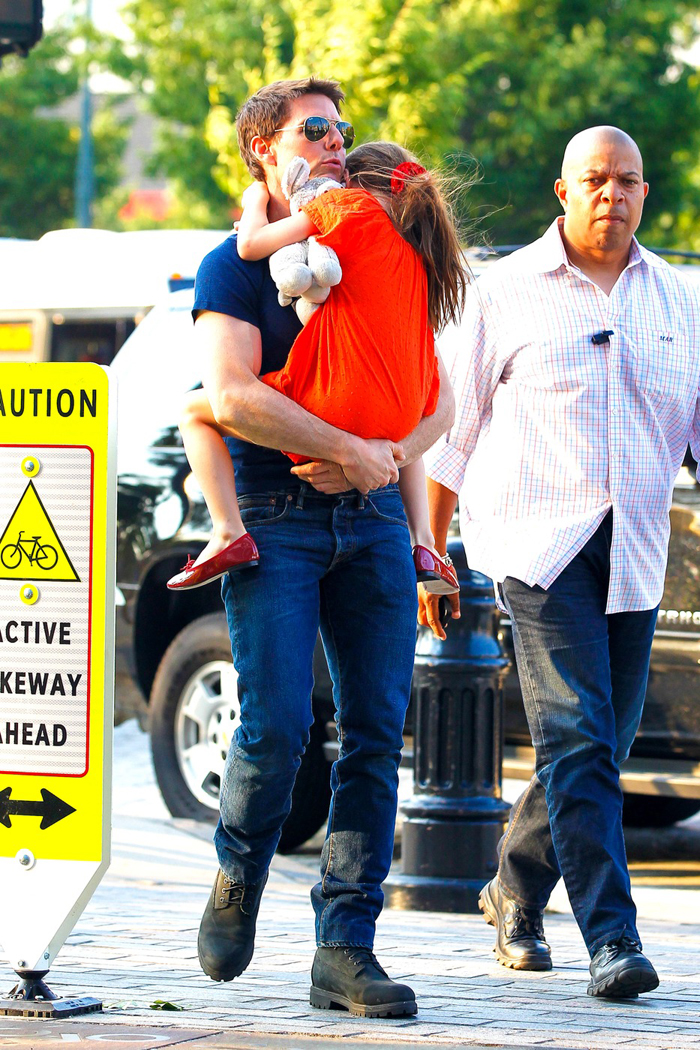 Photos courtesy of Fame/Flynet and Pacific Coast News