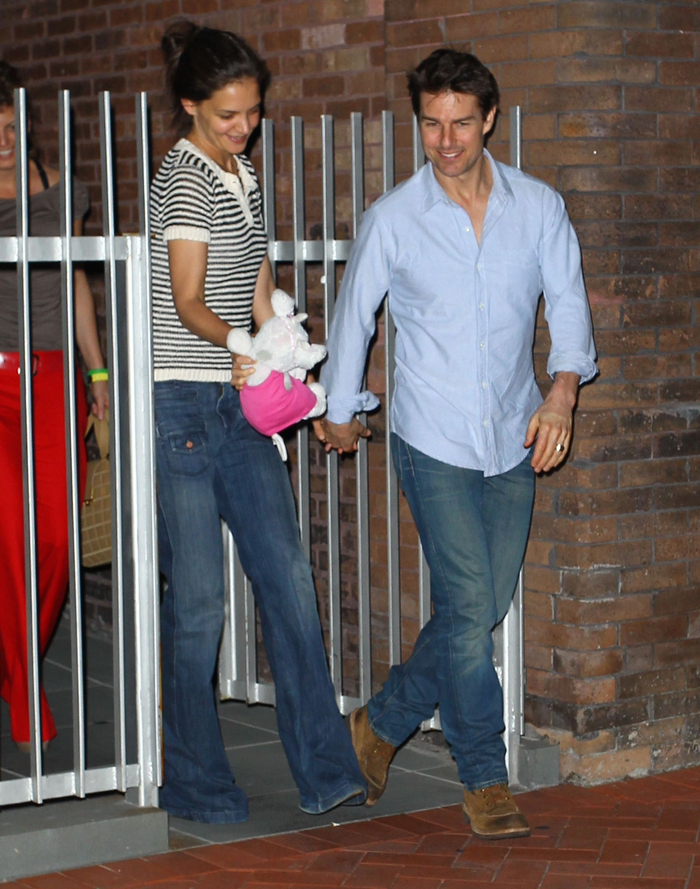 Here's some just-released photos, which are the last ones that we have access to of Tom Cruise and Katie Holmes together — they're shown holding hands on 4/1 in Baton Rouge while Tom took a mini-break from the Oblivion set. As you can see, Katie is wearing her very best painted-on smirk, so I guess maybe she's not such a terrible actress after all. These are not the official final photos, however, which you can see here — Tom and Katie were together in Iceland on 6/16, and she looks pretty damn miserable. Now get ready for a TON of TomKat divorce updates: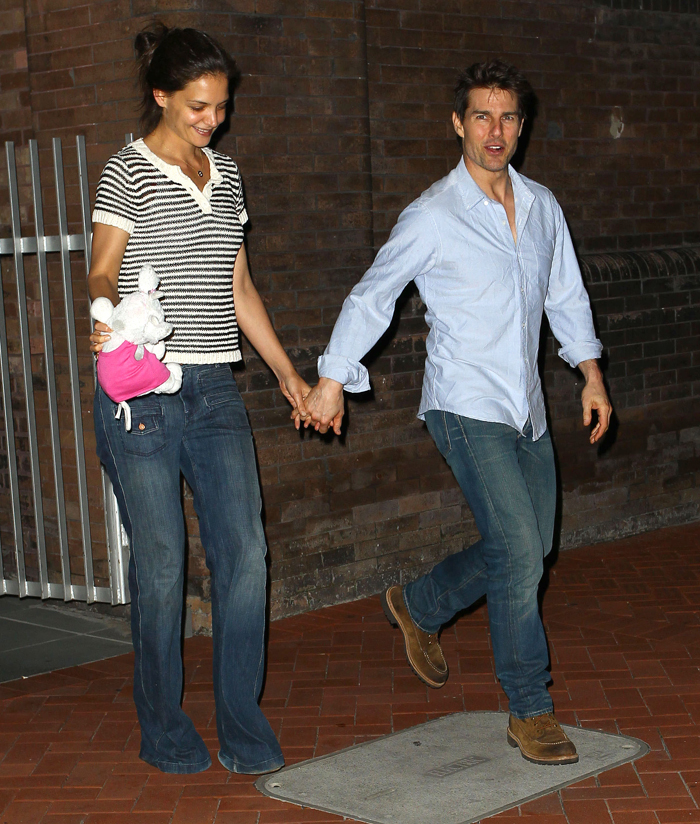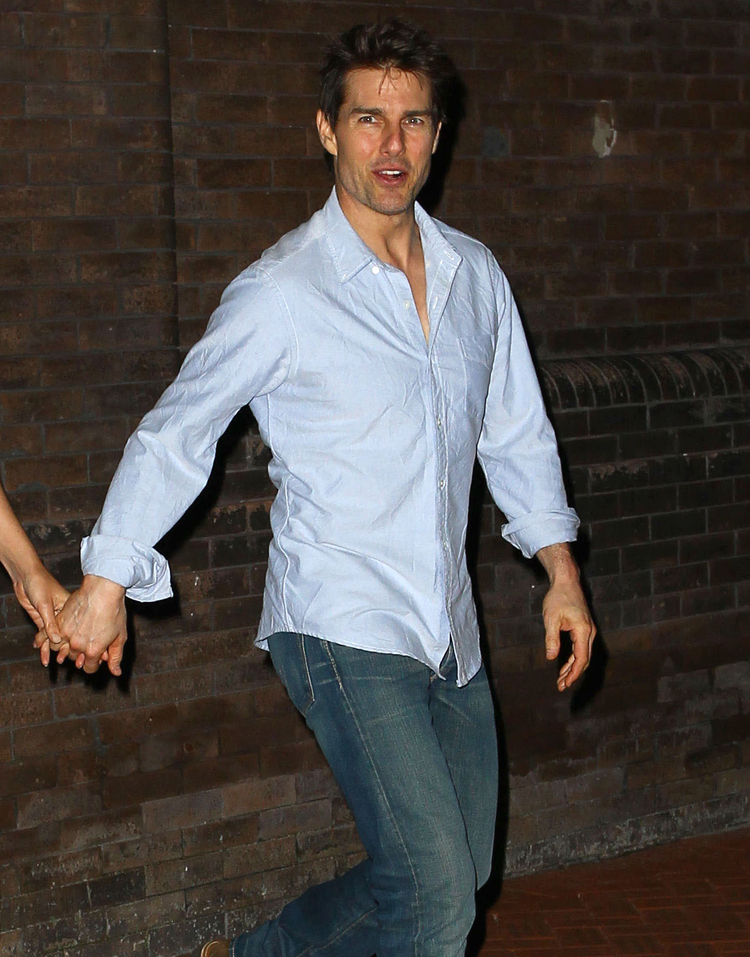 Remember how people wondered why Tom and Katie didn't do their usual "happy family" photo op before Rock of Ages? She didn't even attend the premiere with Tom, and everyone said she was "working" in China and couldn't attend (that was the official excuse, but I really think that it was ultimately because they were fighting). Obviously, Tom was in New York City for at least a few days last month while promoting ROA, shooting a few scenes for Oblivion at the Empire State Building, and being non-roasted by the Friar's Club. During that time, he and Katie were both in NYC but never spotted together, and we posted a photo of Tom leaving the Greenwich Hotel, but I assumed that he was merely doing press interviews there. Nope. He was actually staying at the hotel while in NYC last month, and TMZ has the details. Not only did Tom and Katie not sleep in the same room together during his recent NYC stay, but he never even set foot in their apartment:
Katie Holmes and Tom Cruise were both in New York City in the weeks leading up to her filing for divorce, but they did NOT stay under the same roof … TMZ has learned.

According to our sources, Tom was in town for a few days around June 10 to film a movie. We're told Tom did not stay in the apartment the couple has in NYC … but rather at The Greenwich Hotel … and never once stepped in or near the apartment.

Our sources say Katie, meanwhile, was going back and forth between the apartment she and Tom shared, and a new apartment she recently got. The two were both photographed during their time in NYC (see above) but never together.

We're told Katie did bring Suri to visit Tom at the hotel on two occasions for a few hours and that the visits were unplanned — Tom's own security didn't even know they were coming.

According to the people we spoke to in Tom and Katie's building … they couldn't remember the last time they had seen Tom. Our sources say that while they were clearly having problems, Tom had no idea this was coming and his entire team was caught flat-footed by the filing.
[From TMZ]
Meanwhile, it is believed that Tom will file his own divorce papers in California, and he'll be asking for joint custody as opposed to the sole legal custody that Katie has requested in her New York filing. Radar has spoken to some lawyers who believe that she can't use Scientology in her argument to achieve sole custody of Suri, but a bit deeper into the article, the argument is reframed as "Katie doesn't really need to use Scientology as the basis or reasoning to get sole custody." So it sounds like if her lawyers can otherwise prove that Tom is unfit to raise Suri and make decisions about her education, religion, and upbringing, then Katie might still be able to pull it off. Also, while a court will not specificially ban Tom from joint custody merely because he is a Scientologist, Katie might be able to prove something more sinister is going on and use it for her case. This is actually very scary stuff too — TMZ now has details that Katie believes she's being followed by agents of the cult:
Katie Holmes believes Scientology now views her as a threat to the organization and has put a team on her tail … sources close to the actress tell TMZ.

We're told Katie believes in recent weeks — as the discord between her and Tom Cruise grew — Scientology has been following her moves, especially in New York City.

This does not appear to be the mind of a paranoid person. People who have photographed Katie multiple times tell TMZ there have been several "mysterious" men and vehicles around Katie's apartment and following her when she's out.

Specifically … a white Cadillac Escalade and black Mercedes SUV (see above) have been seen near Katie's NYC apartment for the past week.

FYI — there is a publication that has put a tail on Katie, but the people doing that are separate from the people Katie believes have been dispatched from Scientology.

It is unclear if the two vehicles that have been constantly spotted near Holmes' pad are from Scientology or from the publication.

If Katie is able to keep the divorce in New York — where courts generally like to award sole legal custody to one parent or the other when there is conflict — proof that she's being tailed could help her case.

We put in a call to Scientology … so far, no word back.
[From TMZ]
I think that's hilarious that TMZ actually called the CO$ for their take on the story. As if they'd indulge the media with a response! LOL. (UPDATE at the bottom of this post.)
Further down the gossip line, E! Online also has a few stories about why Tom and Katie split. The first story takes a "the fairy tale was over" stance and holds that Katie has been unhappy in the marriage for years. She wanted him to be home more, he wanted to be away working all the time, and she was upset that his career always came first: "Tom only knows how to be a movie star. He's a great dad and husband when he is there and present, but…work comes first." The second story runs with the theory that we've Scientology was the main reason for the split. Apparently, Scientology was "everything" to Tom while Katie wanted to pull away from the "church."
Some even more interesting details are coming from an article in the Sunday Mirror about how separate sleeping arrangements have been a part of the marriage for quite some time now, and Katie was embarrassed that all of their staff knew about it. That story seems competely believable to me in light of our previous coverage of Katie's life full of surveillance and control. The Mail excerpts the Mirror's story as well and concludes that Katie fully "cracked" under the pressure of never being able to act independently. It's difficult to see how Katie didn't realize how she was also being handled during she and Tom's courtship, but I guess it wasn't nearly as severe during the "lovebombing" phase of the relationship.
Meanwhile for Tom, the show must go on. Despite being "deeply saddened," he's taken no time off from filming Oblivion and is seen here filming at Reykjavik airport in a helicopter. I guess maybe he prefers to distract himself through work.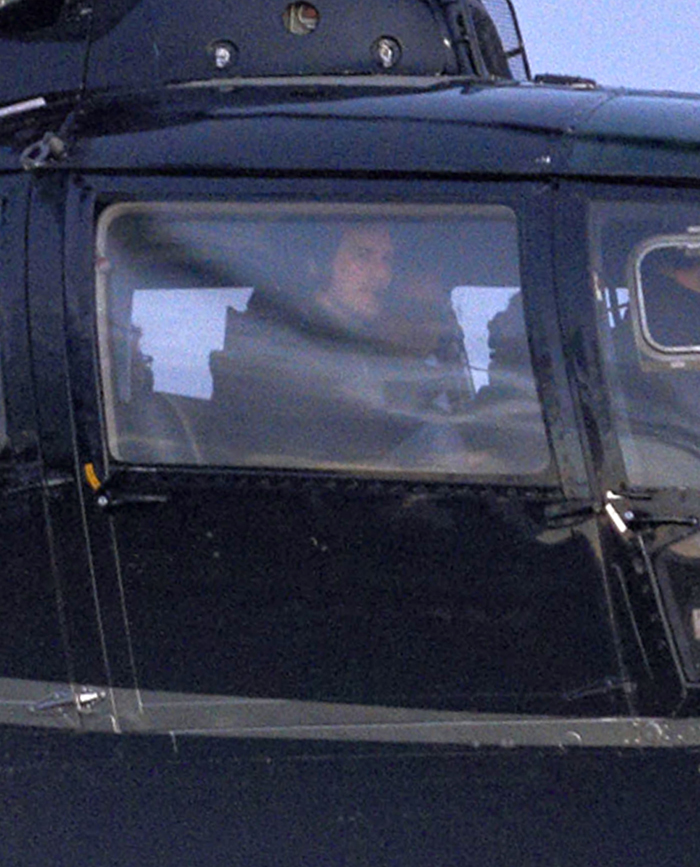 UPDATE: Pacific Coast News has published this photo of a white SUV outside Katie's NYC apartment. The vehicle is reportedly following her every move. How terrifying, but I guess the paps are serving their purpose.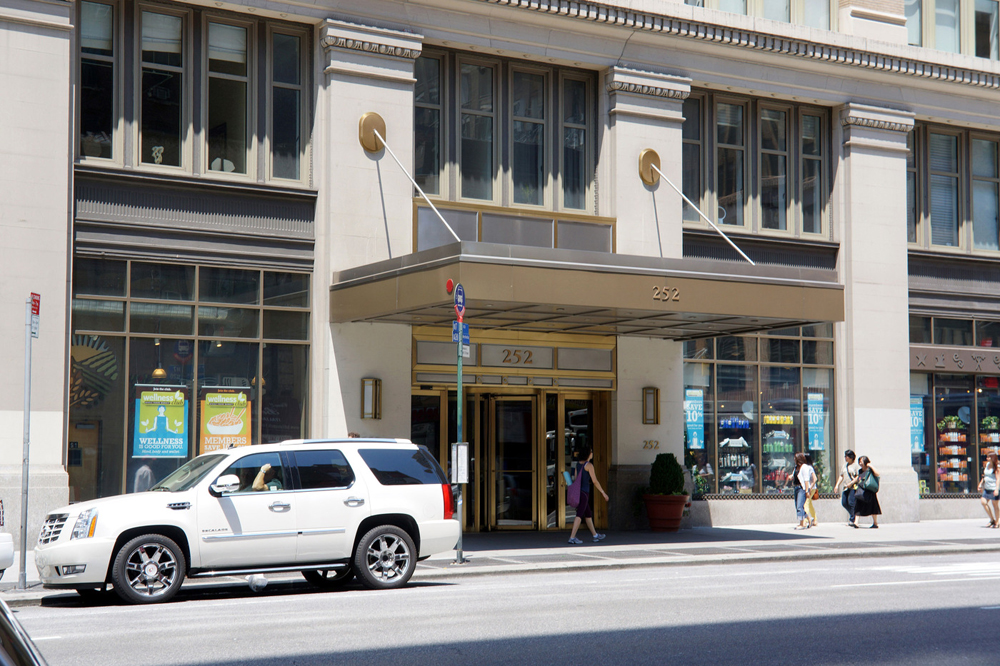 Photos courtesy of Fame/Flynet