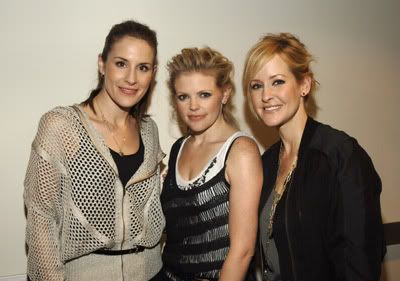 The Dixie Chicks are planning to break up the band after the Grammy Awards in mid February of next year. At first I was going to report that two of the Dixie Chicks, Emily Robison and Martie Maguire, are fed up with pint-sized lead singer Natalie Maines' continued political outspokenness. If you read Star Magazine's "insider quote," though, they just say that they are all tired and want to spend more time with their families, and that everyone has dealt with the repercussions of Natalie's statements. From interviews I've read with them, they seem like they all stand by each other, and I would bet they just need a break:
The controversial country superstars have secretly decided to split up after the Grammy Awards – because Emily Robison and Martie Maguire no longer want to share the nest with outspoken Natalie Maines, say sources.

"The Chicks are tired and wrung out," said a group insider. "They feel they've come to the end, and they want a break from each other to spend more time with their families."

The three women, who have seven children among them, are at odds over Natalie's blunt political ramblings. And while sources say sisters Emily and Martie share many of Natalie's anti-George W. Bush views, they feel her public rants have taken the focus off their music.

"They've supported many of her political beliefs, even though it's put their lives and the lives of their families in jeopardy," said the insider.

"They've received death threats, and it's made them all nervous wrecks."
That's too bad, but they've had plenty of success since they were banned from some conservative airways in 2003. Their concert attendance went down as a result, but their latest album, "Taking the Long Way," did well on the charts.
The Dixie Chicks have been together since 1989, and originally had two additional members along with Martie and Emily. Natalie Maines joined as lead singer in 1995.
They are nominated for quite a few Grammy Awards: Record of the Year (Not Ready To Make Nice), Album of the Year (Taking The Long Way), Song of the Year (Not Ready To Make Nice), Best Country Performance By A Duo Or Group With Vocal (Not Ready To Make Nice), Best Country Album (Taking The Long Way), and Producer Of The Year, Non-Classical (Rick Rubin on Taking The Long Way.)