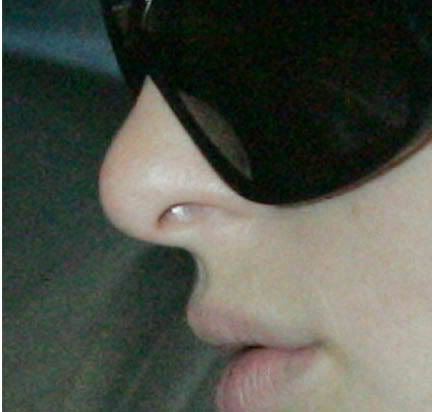 Paris Hilton's rep is a genius. He comes up with the best excuses. Back in May he told the whopper that somehow Paris and Nicky spent hours shopping for their mother for Mother's Day for Christian Dior items, even though they were only seen out at Kitson that day and they don't carry that brand. Unfortunately, a "fellow whizzed by and grabbed the package" when it was being delivered. That's precious!
Now he's saying that the mysterious white substance up Paris' nose after she was hanging with Brandon Davis in New York was "stray dessert!"
Is yet another young star having trouble keeping her nose clean? Just days after Nicole Richie was busted for DUI, it seems her friend Paris Hilton is being a bit more naughty than nice this holiday season. According to the New York Post, Paris was spotted with a bright white substance inside her nostril after a lunch with oil heir Brandon Davis at NYC's hot Nello restaurant on Dec. 12.

Her rep, Elliot Mintz, was quick to issue a denial, with this fascinating explanation. "I can tell you Paris does not use narcotics," he said. "I would imagine [it's] something like whipped cream or a sugary substance from dessert. Something that naturally might have found it's way to onto her face if she touched her nose or whatever. I'd label it a stray dessert." A stray dessert? If you say so. But here's a tip, Paris: Next time, be careful with your candy (or "whatever"), you wouldn't want anyone to get the wrong impression.
I love that!
Here are the pictures in question, courtesy of Splash News Online.