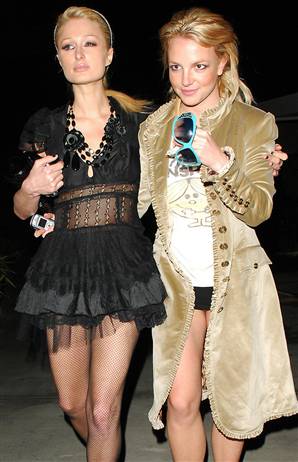 Ok, let's face it we have all been thinking the same thing, "How can Britney possibly be spending quality time with her kids if she's always drunk and hungover?" Paris Hilton and Britney Spears, new BFF'S have been spotted out on the town together in Los Angeles and Las Vegas.
Paris recently defends Britney on her MySpace.com page,
"Lately, you've been seeing pics of me and Britney partying (blah blah) and she knows that some of her fans are very upset about what they call her behavior and sadly they're blaming the issue on her being friends with me.

"For people to call out her parenting skills on behalf of her partying ethics is appalling. Britney loves her kids to death, and I know for a fact that it truly hurts her when she sees these cruel things being written about her. She goes home every night to her babies and partying has not come in the way of her parenting.

"Anyone who has called her out on this should really be ashamed. There are thousands of mothers out there who like to go out and have a good time. But, you do not see people out there calling them 'bad parents.' She's young, and if she wants to go out and have some fun, let her. Just because she does these things does not mean she doesn't care about her children. For the sake of Britney and her kids, be kind. Love, Paris."
Source-Wenn via Source
Update from Celebitchy According to Page Six, Britney and Paris are no longer BFFs after Britney's people told her to stay away from Paris and concentrate on her career. She seems to have gotten the "stay away from Paris" part right at least.