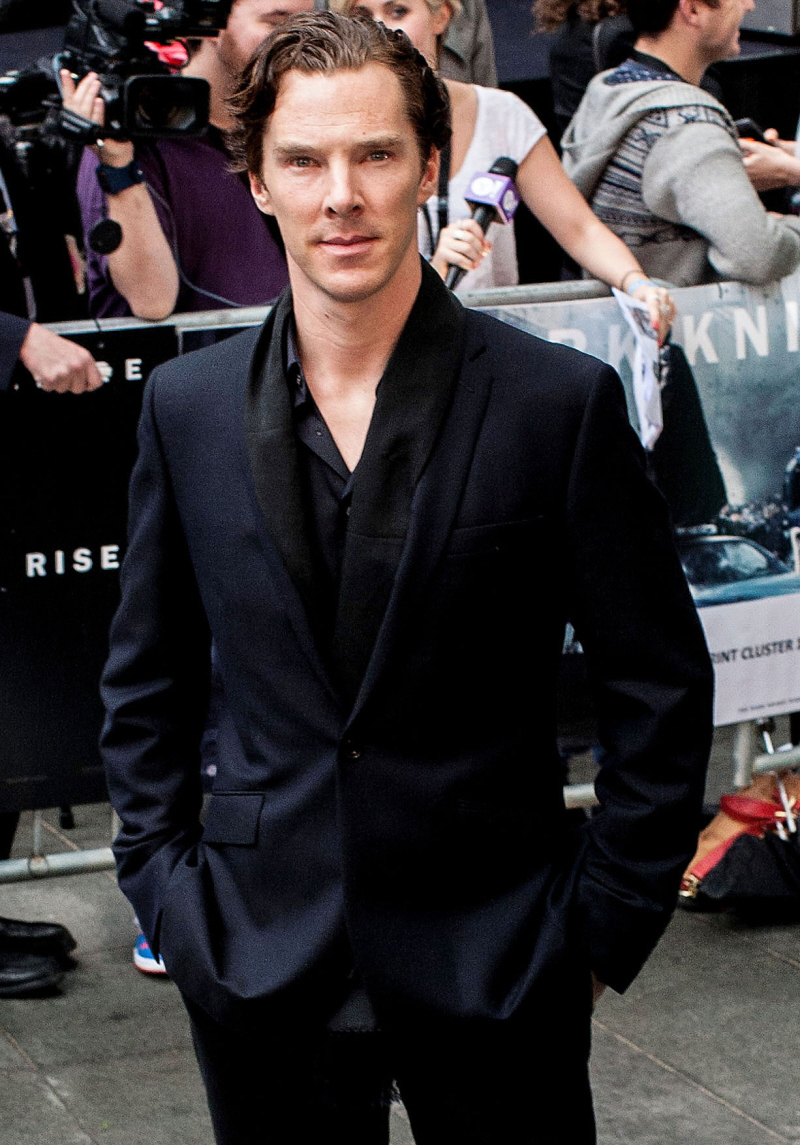 You know how my crushes come in phases? While someone like Michael Fassbender is a full-blown obsession, even I have to admit that on any given day, I'll fancy someone else a bit more than Fassy. Lately, my #1 crush has been Benedict Cumberbatch. I've just really been into The Batch lately. Maybe it's the repeated viewings of A Scandal In Belgravia, maybe it's his haunting, perverse beauty. Maybe it's because he seems like a good time, although in a very "posh" private-club way. Anyway, Cumby has been having a good run lately. Last week, he was nominated for an Emmy for Sherlock, and Sherlock was nominated for 13 Emmys overall (many of which it totally deserves). Cumby is up against Woody Harrelson, Kevin Costner and Idris Elba… and even though I love some Idris, I do hope The Batch is victorious.
In addition to the Emmy nominations, Benedict also celebrated his 36th birthday a few days ago. All of the Cumberbitches were sending him well-wishes and some of them – awesome, wonderful Cumberbitches – raised more than $11,000 for The Teenage Cancer Trust in Cumby's name. Isn't that nice? Well, although Cumby was recently in the UK (to see The Dark Knight Rises and perhaps to celebrate his birthday), he's spent a good chunk of the summer in New Orleans, filming Twelve Years a Slave… with Michael Fassbender!!!!! How much do you want to be in NOLA right now? Gah!!! And what would happen if you chanced upon The Batch, say, in an ice cream parlor? That happened to one lucky Cumberbitch, and she wrote about the experience on her Tumblr. Just to let you know – this made me love him even more!!
I met Benedict Cumberbatch today at an ice cream shop in New Orleans.

I'm visiting from New Mexico for a conference, and a friend of mine lives here and took me out to the place today. We were sitting maybe five minutes and I look up see him walking in.

I freaked out. On the inside. And stared like a freak. Benedict Cumberbatch just walked into the ice cream shop.

Him and his friend ordered ice cream, and because people are asking he got some sort of coffee flavour I believe but not 100% sure in a waffle cone, and then proceeded to sit at the table next to us.

Freaking out.

Anyway I was trying to explain to the other girls I was with, one had no idea and the other had heard of him, and I was dying. I didn't want to be that annoying person, so I waited until they were finished to approach him.

He gets up to walk out and I get up too and say "Excuse me sir" and he turns and looks at me and I say "I don't mean to be a bother, but I'm a huge fan of yours"

And he breaks out into this huge grin and kinda looks at the floor and says "thank you!" and I'm clutching my phone and I say "I'm sorry, but could I get a picture with you?" and he says "of course!" and we go outside.

Because I'm freaking out I start blabbing and I said "I'm sorry I'm not from here I'm just very excited to meet you." and he laughs and says "I'm not from here either!" (I died).

He asks where I'm from and I say "Las Cruces, New Mexico." and he stops and thinks and asks "where again?" and I say "Las Cruces, New Mexico" and he repeats it and nods slowly.

He turns to his friend and asks if he would take a picture, and his friend said "sure no problem!" Benedict comes next to me and PUTS HIS ARM AROUND ME and I put my arm around him and felt his back and I died again.

His friend took the picture and said "I think I got it!" and Benedict said to me "pull it up, make sure it's a good one!" so I do and we all 3 look at it, me still freaking out that he's 3 inches from me, and he says "it's a great one!" and I died.

He then asked why I'm in New Orleans and I explained that I was here for a volunteering conference to help clean up the city. He turns and looks at me and says "I've seen thousands of you guys everywhere!" he asks when I'm leaving and I say "tomorrow."

He starts slowly walking away as I say "thank you so much!" and then I just blurted out "We're all waiting!" and he stops walking and laughs and says "you know I do other things! But we are going to start filming in January and I believe it'll be out next fall!"

He waves, says to have a safe trip home, and walks away, and I walk back into the store, a world completely oblivious to everything that happened.
Doesn't he sound so nice? He just wanted some ice cream and still, a Cumberbitch found him. And he sounded really sweet. So… he likes coffee ice cream? I'm a mint-chocolate-chip girl myself. Cumby and I will have to discuss this when I end up assaulting him at another ice cream parlor.
Here's the photo Cumby took with the girl – it's not a very good one of him, but then again, he doesn't photograph very well. She notes that he was wearing shorts and that he has "great legs".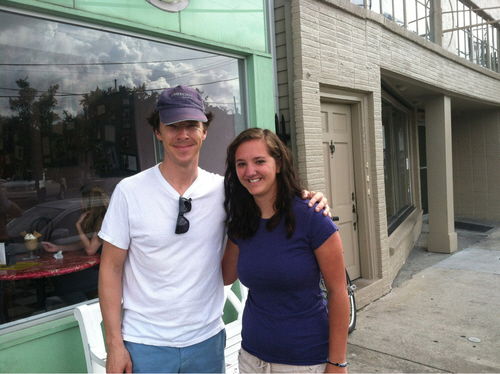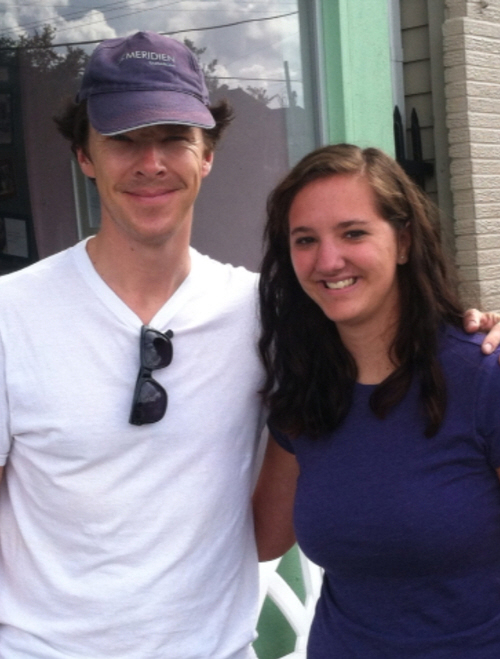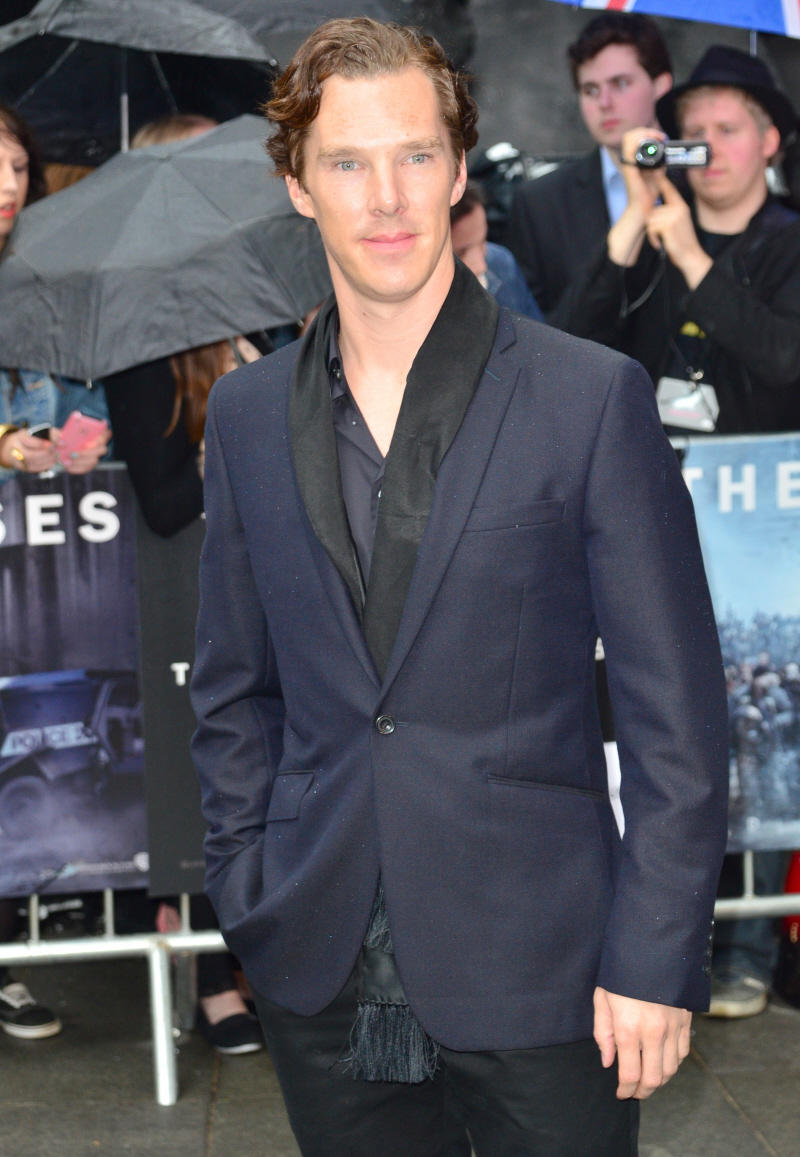 Photos courtesy of Tumblr, WENN.