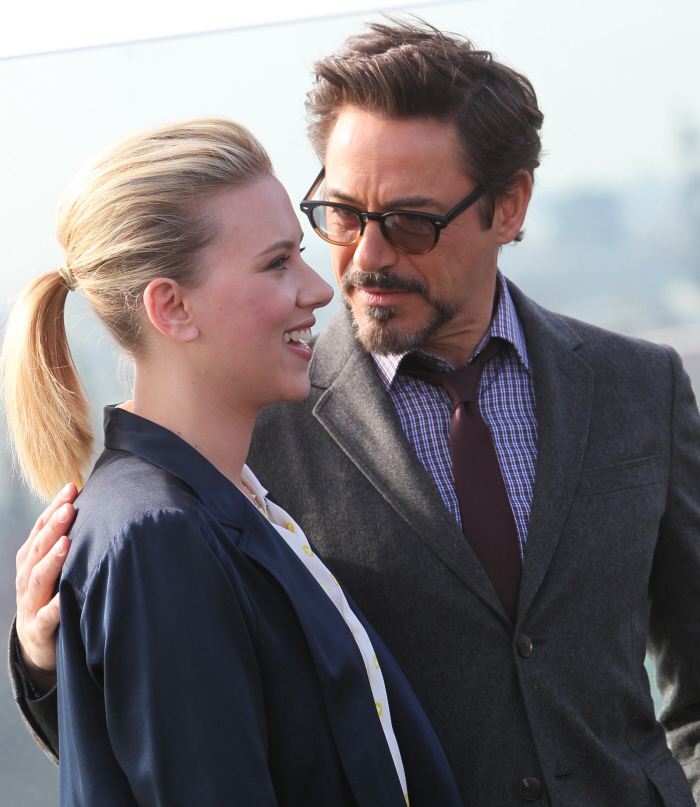 I really, really hope this post brings out some wailing Avengers fan-girls. First, let me ask you: does Scarlett Johansson seem like the kind of woman who would be overly friendly with your husband? Yes. I think she would. I'm not saying she would actually bone a married dude (Am I? I don't even know), but I do think she would be one of those women who just flirts with every dude, regardless of his single-or-married status, regardless of whether you're shooting dagger-eyes at her as she leans in and bats her eyes at your husband. Anyway, this Enquirer story definitely plays into that image that some of us have of Scarlett. According to sources, the "wives" of some of the Avengers are not happy with their husbands' close friendships with ScarJo. I guess Black Widow's special power is jiggling AND flirting.
Scarlett Johansson loves driving men mad as much as any girl, but she's also a babe who likes to pal around with guys, just like one of the boys – which makes the wives of her "Avengers" co-stars CRAZY!

"ScarJo's buddy-buddy friendships with their husbands has really rubbed some wives the wrong way – especially Chris Hemsworth's wife, Elsa, and Robert Downey Jr.'s wife, Susan," said the insider. "Their husbands text back and forth with Scarlett, call her and giggle on the phone – and when they rave that Scarlett is 'like one of the guys,' it really grinds the girls' gears! They think it borders on being flirty. And there's an 'Avengers' sequel in the works, so the problem's ongoing."

But "Innocent" ScarJo, happily settled in with ad exec Nate Naylor, "doesn't see herself as a femme fatale – she's never broken up a marriage or anything. She just likes being one of the boys!"
[From The Enquirer, print edition]
From what I know of Susan Downey, she really doesn't seem like the jealous type. She has RDJ's heart, and she knows it. She probably thinks it's cute that Robert flirts, but I also buy the idea that Robert knows his limits, and he would never do anything to harm his marriage, you know? As for the Chris Hemsworth and Elsa Pataky stuff… hahahaha. I can't wait to read the comments on that one. Oh, and ScarJo better not try anything with Mark Ruffalo!! She can have Tom Hiddleston, though. I think he's single. Shhh…. Do you hear that? That was the sound of all of the Hiddlestoners screaming "NOOOOOOOOoooooooOOOOOOO!!"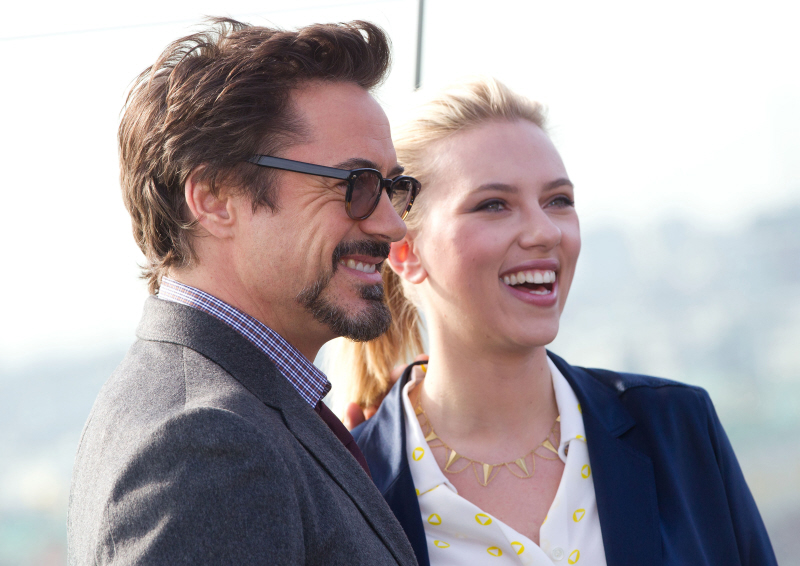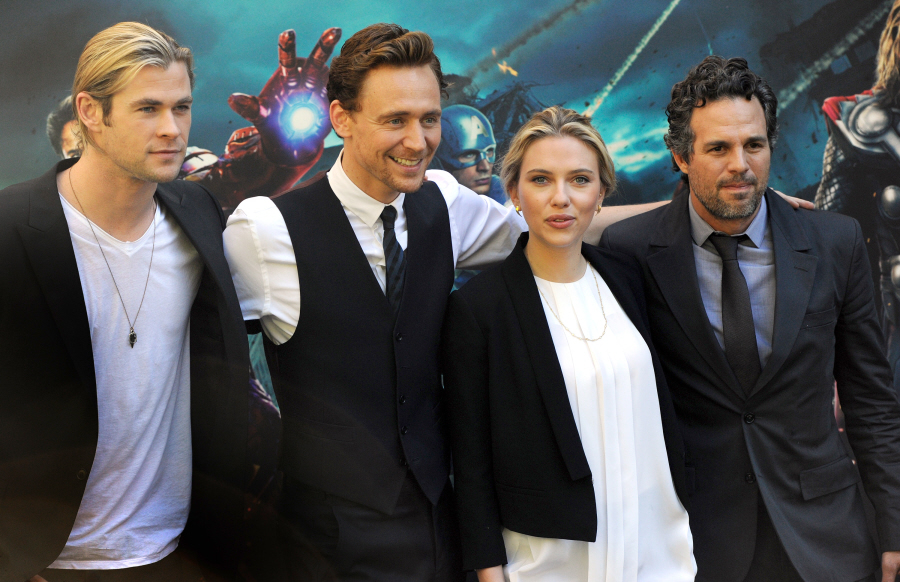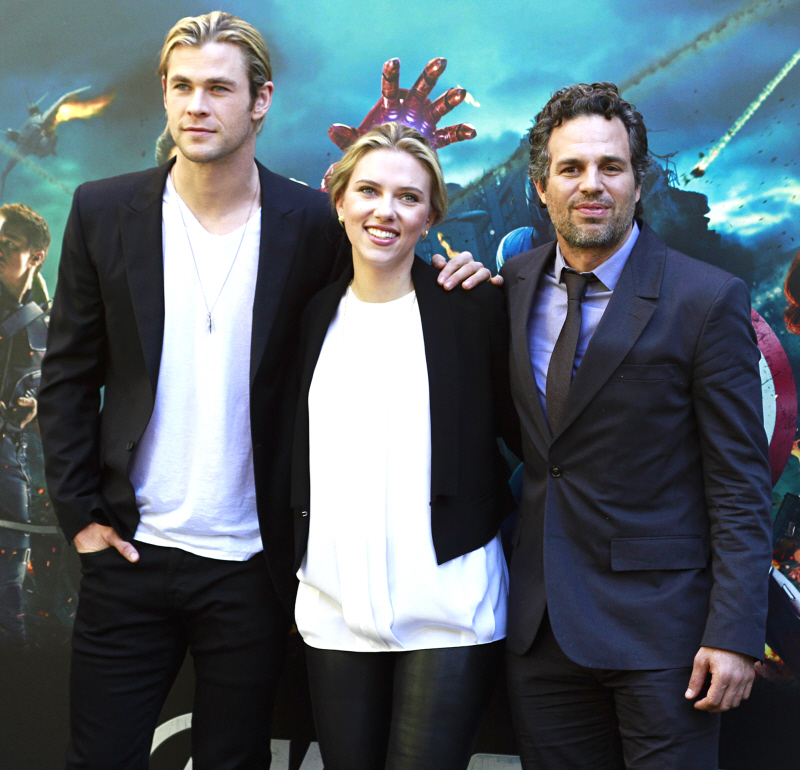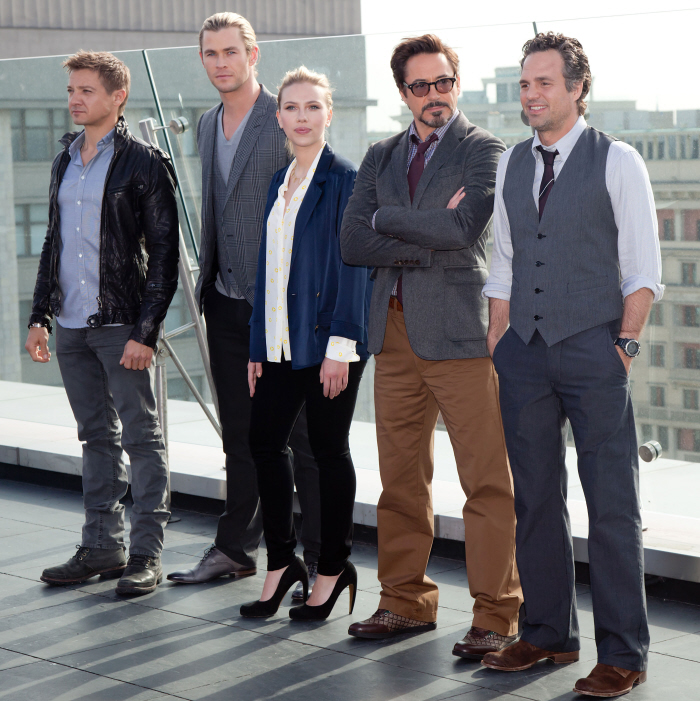 Photos courtesy of WENN.