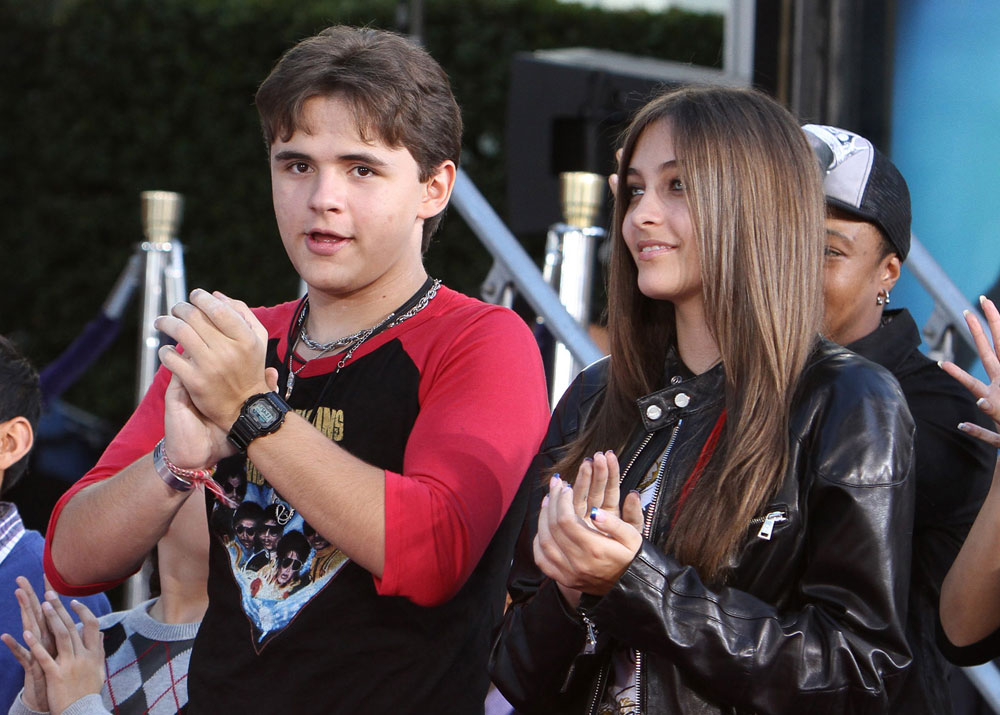 The insane amount of details and breaking news on the Jackson family saga has been calming down now that Katherine Jackson has been returned to her grandchildren. It's of course still not over. We've heard Katherine, 82, say that she wasn't kidnapped by four of her adult children, and that she went to Arizona on her own accord. While Katherine read this statement to ABC news she was surrounded by four people and the single journalist who was there wasn't allowed to ask a single question. TMZ described it as a "hostage situation."
Now we're hearing from Michael's oldest child, Prince, 15. Prince backs up his sister Paris' version of events, and even tweeted a screenshot of a text message conversation with three of his aunts to prove that he and his siblings were blocked from contacting his grandmother. Here's what he wrote on Twitter, and I was impressed by how well written it was:
I would first like to start off this tweet by thanking the fans that have always stood by me and my family, my dad really appreciated your support and I still treasure it to this day. As I am sure everyone is well aware of the events that have been going on. I have been holding off on backing up my sister and her tweets avidly because I was waiting for the time to reveal my side. As long as I can remember my dad had repeatedly warned me of certain people and their ways. Although I am happy my grandma was returned, after speaking with her I realized how misguided and how badly she was lied to. I'm really angry and hurt. The following image is of a group chat I had started to several family members. This group text message I had started was replied to but they didn't know that I could see the responses. For this whole time, they denied us contact to our grandmother. "If you continue with your lies I will continue with the truth"
[From Prince Jackson's Twitter]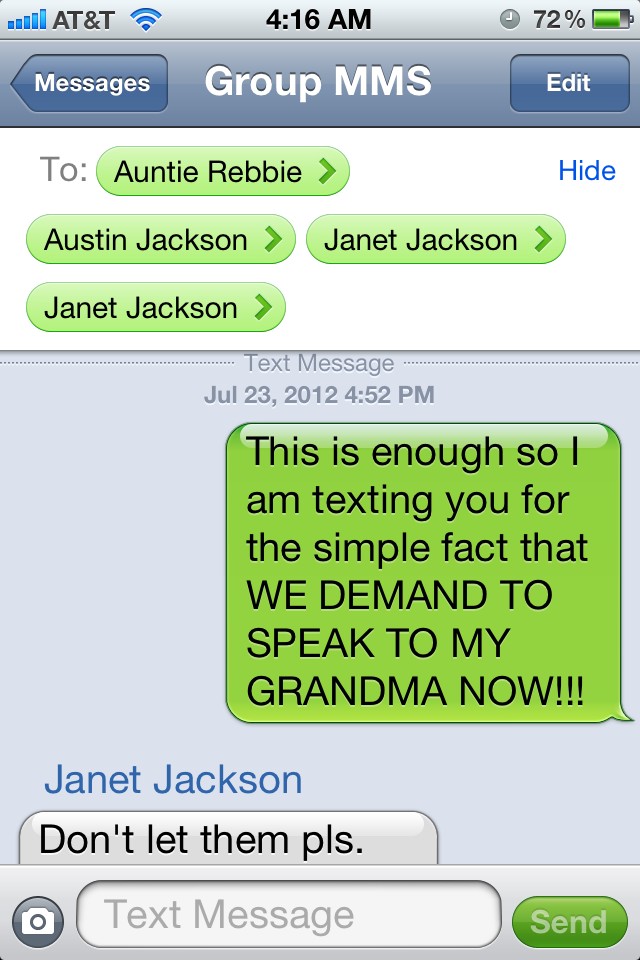 There was a story that Prince's Twitter account was "hacked" to post this message, but Paris claimed on Twitter that this tweet from Prince is genuine, and that the message claiming he was hacked was actually someone with unauthorized access trying to discredit him. She wrote:
"the thing my brother tweeted last night was the last true thing he tweeted.. he was hacked saying what we tweeted was false.."
These poor kids.
There's of course a lot of other news in this case, and I'll briefly include it here. A staff member for the Miraval resort where Katherine Jackson was staying last week has issued a statement claiming that she had full access to a working phone at all times. It looked to me like they comped part of her stay in exchange for the free publicity. (Their PR person was with them during Katherine's statement and Katherine mentioned their name several times.) They probably realized that the circumstances made them look complicit in cutting Katherine off from the outside world.
Katherine is said to have had an "emotional reunion" with the kids with the youngest child, Blanket, 10, "especially traumatized by Katherine leaving because he is extremely close to her and was absolutely lost without her." She's since met with her lawyer about working to have her guardianship of the children reinstated after it was temporarily awarded to their cousin, TJ, in her absence. Katherine's lawyer also denied reports that she suffered a stroke.
So what's next for this incredibly dysfunctional family? How is Katherine going to serve as an effective guardian for the children when she seems to be so easily controlled by the faction of Jacksons working to take over Michael's estate? Will safeguards be put in place to ensure that the kids aren't separated from her again? It sounds like they're trying to make sure that happens, but this lady is 82. She's not going to be able to watch those kids forever. Hopefully she'll be able to care for them until Prince is 18 and can legally stand on his own. We've seen that those kids definitely have the wherewithal to stand up to their greedy aunts and uncles.
After I wrote this story, the news broke that La Toya, the one sibling of Michael Jackson's who had yet to take sides, has told TMZ off the record that she wants her family to work out their issues in private and not through the press. Who would have thought that La Toya would be the sane one?