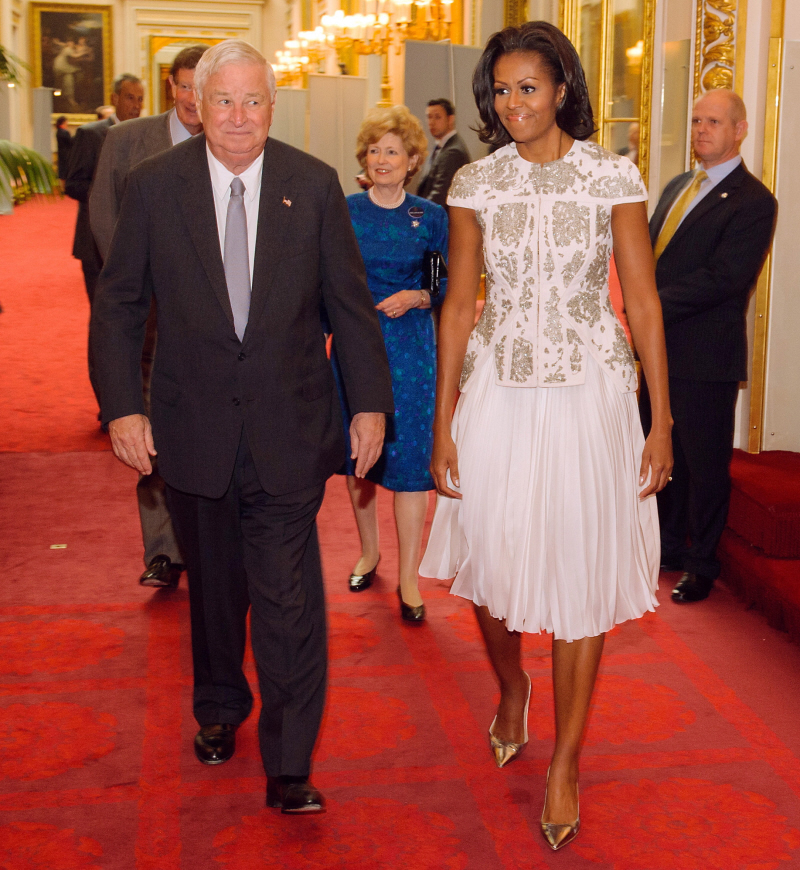 I really thought Pres. Obama was going to come to the London Olympics Opening Ceremony, but I guess not. It's fine because he sent Michelle Obama, and she quickly became the cheerleader-in-chief for Team USA. These are some photos of Michelle being received at Buckingham Palace just before the Opening Ceremony – note the way she looks at Queen Elizabeth. It's priceless. Michelle was escorted to the Palace and to the Opening Ceremony by the American ambassador to the Court of St. James (our ambassador to the UK, but that's what it's really called, FYI). Michelle's outfit is J. Mendel – I love it on her. Just enough sparkle, and still very summery. FLOTUS was in London for a full day before the Olympics started, meeting with American athletes, hanging out with David Beckham, and doing some interviews. Here are some highlights:
"Beyond proud" is how Michelle Obama told U.S. Olympians she felt while meeting with them on Friday morning, as the world awaits the evening's opening ceremony for the 2012 Summer Olympics.

Over breakfast at an east London sports center with some of Team USA – including women's basketball players, fencing competitors and members of the track and field squad – the First Lady praised the inspiration they provide to those watching back home.

"Some of my fondest memories growing up and as an adult involve watching the Olympics on TV," Mrs. Obama told them. "My family would sit together for hours watching these men and women perform feats of endurance speed that would have us cheering at the top of our lungs."

She added, "My brother and I would dream about how maybe one day we might be able to achieve something just as great for ourselves."

Mrs. Obama also told those gathered how her father, an athlete himself, battled MS, which over seven years changed him from "a thriving competitor" (as a boxer and swimmer) to someone on crutches.

"The Olympics for him was a special time for him to watch amazing athletes perform on the world stage," said the First Lady. "You never know who are inspiring: from a family on the South Side of Chicago to a young athlete going to pick up a soccer ball or start running after watching something you all do."

Noting that "we are all proud of you all," Mrs. Obama also had some advice. "Try to have some fun. Try to breathe and take it in. But also win!"

Later, swim star Summer Sanders described the scene at the American Ambassador's home in London – where Mrs. Obama was also a special guest – as "the best backyard party in town."

Spurred on by the University of Florida Gator Marching Band and whoops of approval from about 1,000 kids, many from U.S. military families based in the U.K. (and to whom the First Lady gave a special thanks), Mrs. Obama sprinted to a stage platform and said, "We are so incredibly proud of you, and anytime I get the chance to show you guys love, I do it."

The children – who were joined by such athletes as David Beckham, Carl Lewis, Teresa Edwards and Shawn Johnson – were there for a day of sports and musical entertainment, all part of Mrs. Obama's Let's Move program to promote healthy exercise and eating.
But the main message of the day was about making healthy choices and never giving up.

"We love you," said the First Lady. "But we want you to take care of yourselves, help your families, turn off the TV, eat some vegetables – yeah, that's part of it! – because we want you guys to grow up to have the future you deserve. Is that a promise?"
I like Michelle's pep-talk: have fun, take it all in, but seriously, WIN.
And for a moment of bipartisanship, here are some photos of Mitt and Ann Romney, who were also at the opening ceremony. I know Mitt left soon after (he flew from London to Israel), but I believe Ann is staying because one of her horses (Rafalca!) is competing in dressage (with rider Jan Ebeling). Ann is really, really into the horse world, and I saw her interview with Matt Lauer (Mitt was there too), and you could tell how excited she was. Also: Ann is super-pretty. She has a really beautiful face. I know y'all are going to yell at me no matter what I say, so I just decided to be really superficial. Ann Romney is a beauty. And Michelle Obama is adorable.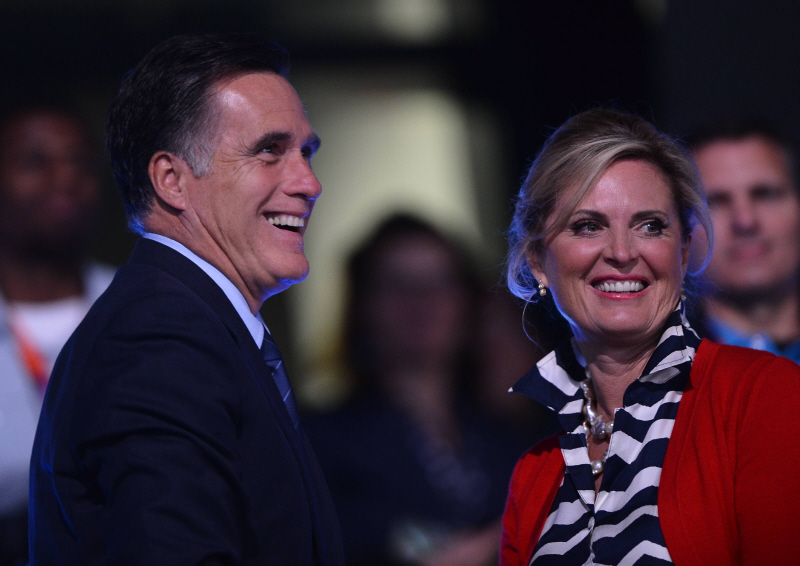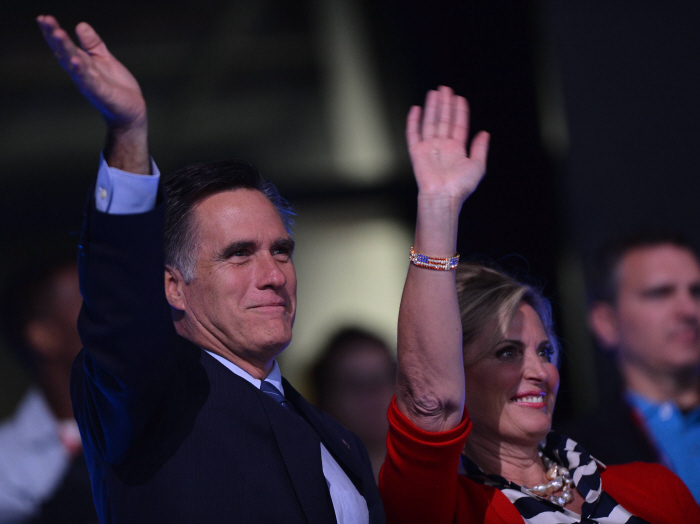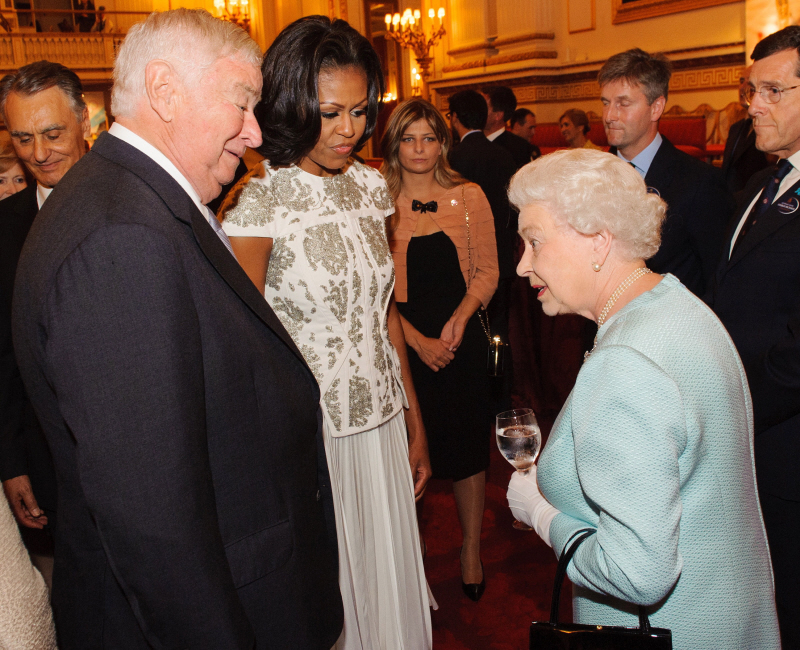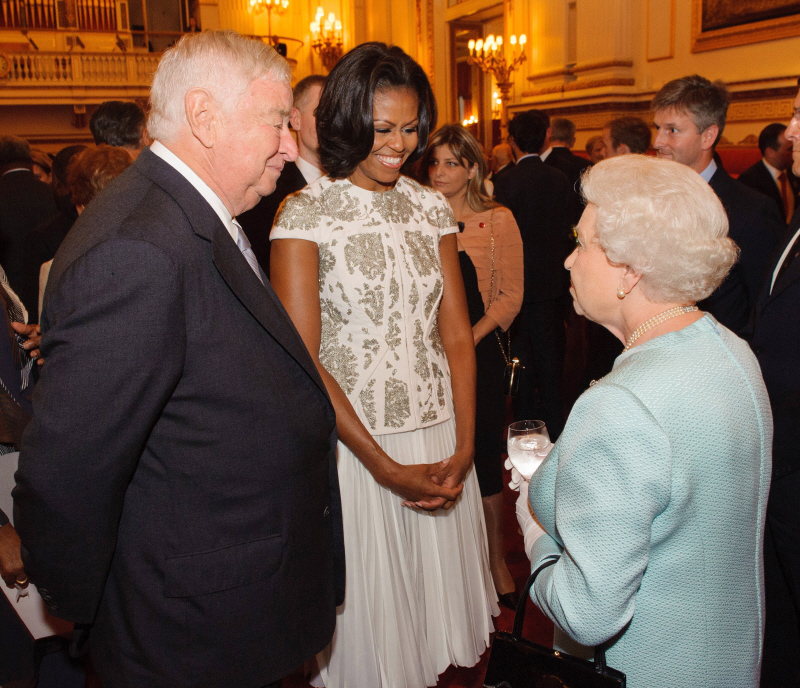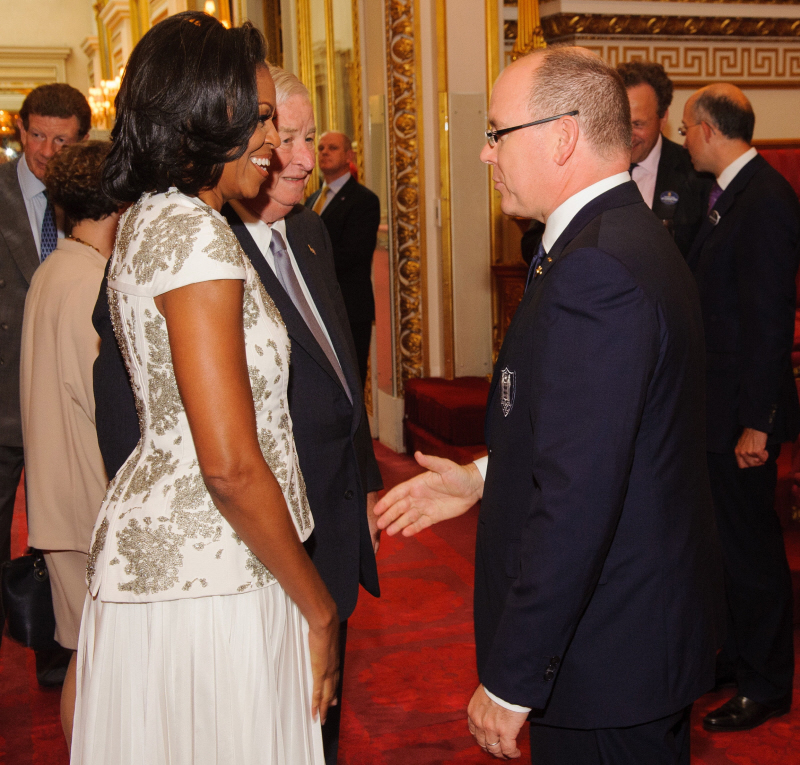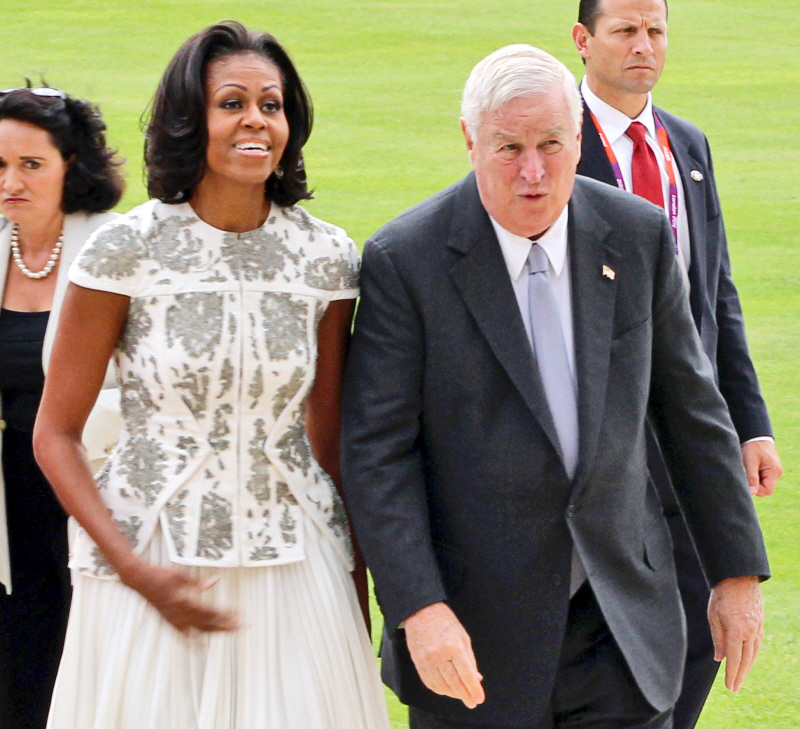 Photos courtesy of WENN.