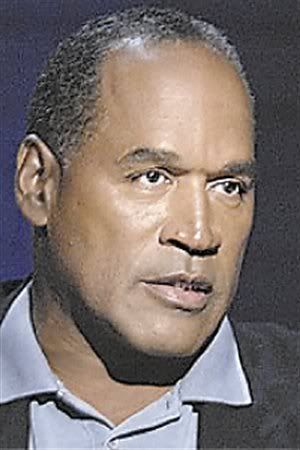 As if we needed any more proof that OJ killed his wife and the poor guy who happened to be returning her sunglasses, OJ's houseguest and witness at his trial, Kato Kaelin, made a statement suggesting he knows more about the murder than he testified. He said "What do you mean if" when asked what he thought about OJ's book:
Kaelin was asked about Simpson's disgusting book, "If I Did It." His response — "What do you mean 'if'?"

The criminal and civil trials were my life for two years. I covered it for the CBS affiliate in L.A. and it was the only topic in my life. Trust me, Kato knew a lot more than he told. Remember, he claims he was awakened by a thump that shook the walls of the guesthouse — that was Simpson hitting the A.C. (no, not Cowlings, the air conditioner).

Remember; before the murders, Simpson and Kato drove to McDonald's together. There are a lot of stories about what they did and what they said during that McRun. At the very least, O.J. Simpson was in a rage after getting snubbed by Nicole, and he was always willing to rant even when people weren't in the mood to listen. Kato the houseguest was obligated to listen.

And one more thing — there's no doubt in my mind that Kato heard a lot of commotion after Simpson left for the airport. Double murder is a messy business, and there was plenty to clean and discard that night. I don't think Kato was part of the cleaning crew, but I think he knew exactly who was.
Meanwhile two women claim that OJ taught them the trick he used to make it look like the bloody glove didn't fit his hand. His lawyer Johnnie Cochran famously said "if the glove doesn't fit, you must acquit." The women say that OJ told them it was Cochran's idea to perform a parlor trick in court. He stiffened his thumb and bent it, making it impossible to fit the glove on his hand.
Simpson's book "If I Did It" was canned by publishers after public sentiment rallied against the presumed killer cashing in on a double murder. A high profile interview about the book on Fox news was similarly cancelled. Simpson received a $3.5 million advance for the book, which he admitted was "already spent."