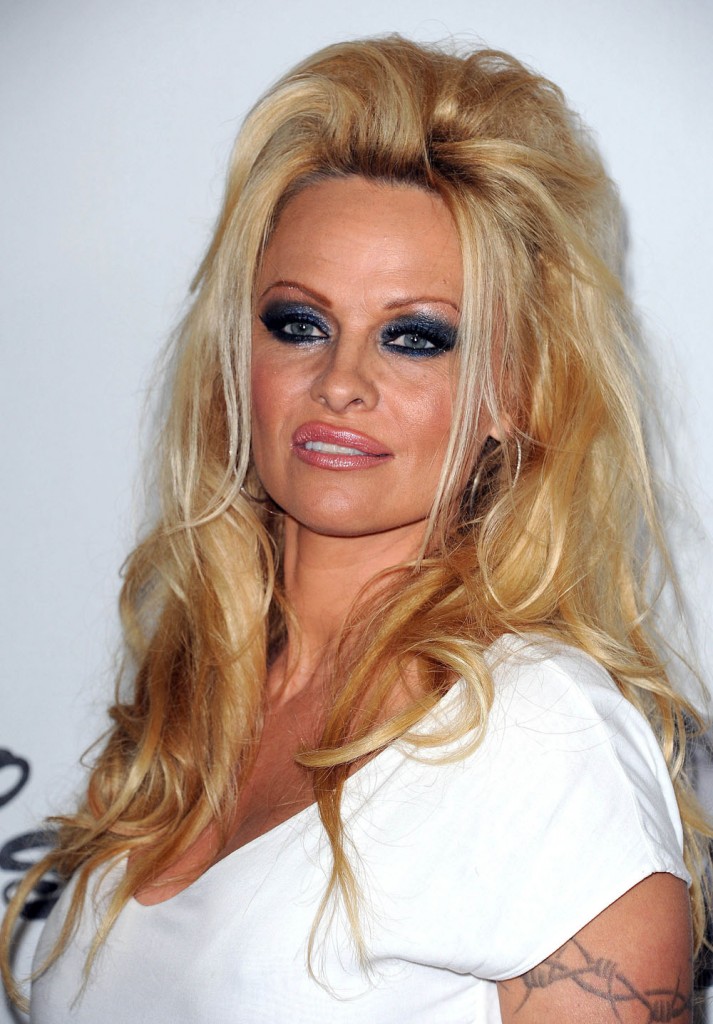 On Friday, when I wasn't paying attention since I was already focused on the weekend, the cast of "Dancing with The Stars: All Stars" was announced. They're recycling past competitors for the first time, and are including winnners, runner-ups, and attention-getters like Bristol Palin, Pamela Anderson and Kirstie Alley. The full list is here, and it's not just the people we gossip about, they're also featuring truly strong dancers, with half of the 12 competitors having won their respective seasons. One of the past contestants who won't be featured because a) she can't dance, b) she's insufferable and most importantaly c) the public no longer cares about her, is Kate Gosselin. EW has an amusing insider story about how Kate wanted back on the show and was denied. (She can always keep trying to sell that ridiculous reality show concept in which she somehow finds a pool of men desperate and famewhorish enough to date her.)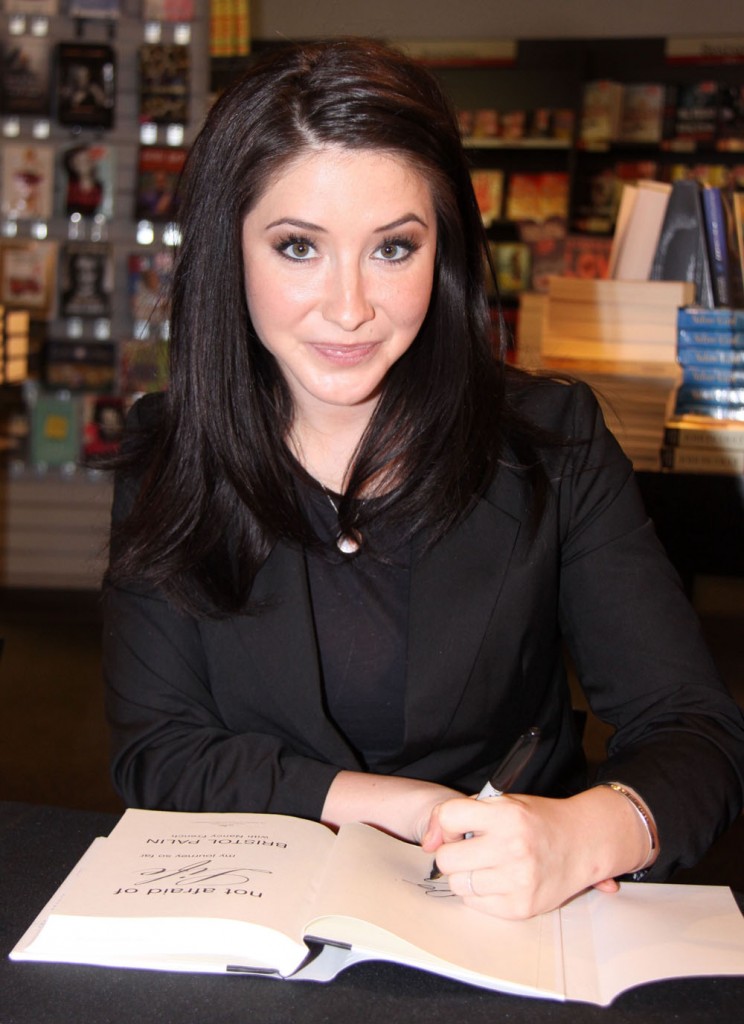 EW also has details of the press conference announcing the casting, during which Bristol Palin got snippy and defensive, as is typical for her:
Just like old times, eh Bristol Palin?

The daughter of ex-Alaskan Governor Sarah Palin was back on the hotseat Friday to answer questions about why she — and 11 other celebrities — decided to make a return visit to Dancing with the Stars this fall. Though Drew Lachey and Pamela Anderson managed to get a few words in edgewise, Palin received most of the questions from members of the media, who repeatedly tried to press the young mom about why she wanted to do another reality show.

By the end of the press conference, a rather defensive Palin deflected a question about the upside of getting lots of publicity by repeating her mantra "God provides opportunities like this for me" and by saying "it's a positive, active show. It's going to be awesome. Do I like to provide for my son? Yes, I do."
Asked why she'd return to a show that generated so much negative publicity for her the first time around, Palin said, "the press is going to talk to me no matter what I do. I might as well have fun."

Apparently, it wasn't a hard sell to get the eldest daughter of the former Vice Presidential candidate to return to the ballroom. One insider on the show say it was an "easy sell" to get her back in sequins — just like it was the 11 other celebrities who will participate in the show's first all-star edition beginning Sept. 24. (One star who didn't make the cut was Kate Gosselin, who wanted to return but apparently the producers didn't think her current "storyline" was that interesting. Snap!). Then again, DWTS would have been foolish not to approach Palin, as her season generated huge ratings for ABC.

At one uncomfortable point Friday, the conversation turned to Palin's politics and how she feels about gays. "I love 'em!" shouted Anderson, in one of the few chances she got to talk during the entire panel.

"I like gays," Palin said. "I'm not a homophobic. Just because I'm for traditional marriage … I don't hate anybody. People will make up things about me. I'm going to go dance and have fun. It's not about politics, it's not about traditional marriage. It's about dancing. That's all I have to say about it."
[From EW.com]
I don't understand the "God provides opportunities" thing coming from Bristol. If He gives opportunities, doesn't He also put adversity in your path and enemies and all that, and aren't you supposed to be gracious about it, since it's all part of his plan or something? I don't really see that from Bristol, but whatever. God gives her opportunities since she's special, everything bad that happens comes from haters fueled by the liberal media. The journalists were focusing on her at the press conference because they knew how easy it would be to rile her up and get some good quotes.
To celebrate the fact that she's back on the show, Pamela Anderson went out Friday night and got wasted. Since that's what you do when you have hep c. I hope she was drunk when she applied that navy blue sparkly raccoon eyeshadow and teased her hair up like that.
Kirstie Alley just tweeted a lot. We're about to see her lose the weight she gained back after DWTS ended last time. And she'll claim she did it with her magic L. Ron juice and that she was a size 4 the whole time.
I'll watch a couple of these shows just to see these women compete again, but more than that I'll talk about it. That seems to be what they're aiming for by casting Bristol and company.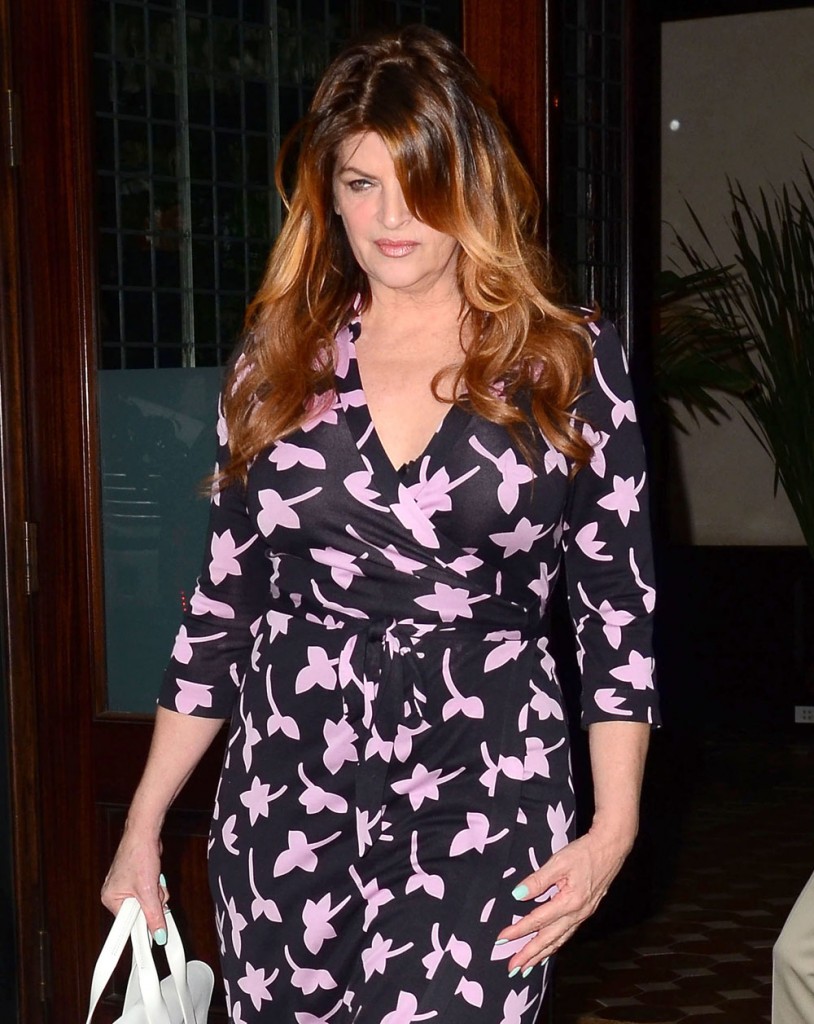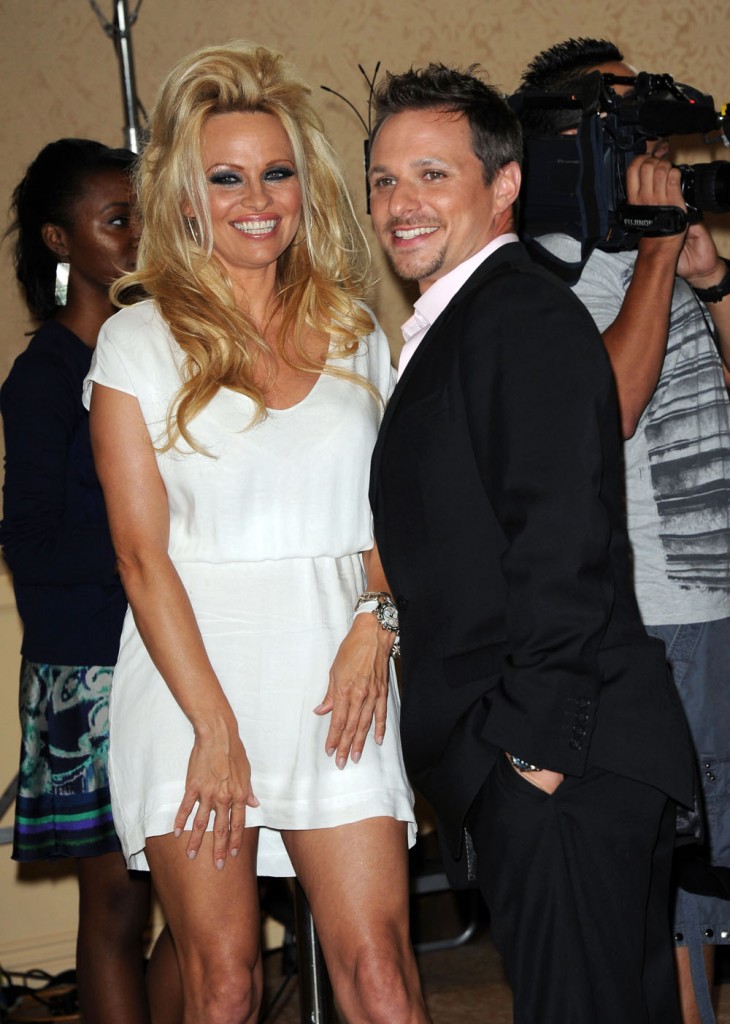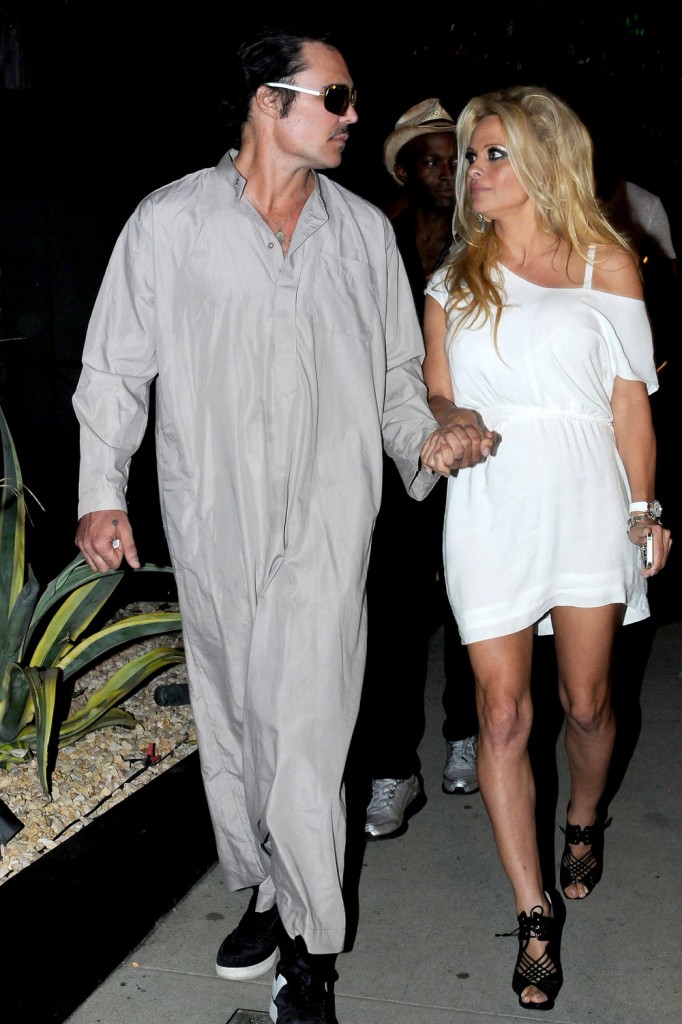 Pamela Anderson is shown on 6-27-12 outside Boa Steakhouse. I have no idea who that guy is wearing the caftan that she's holding hands with.