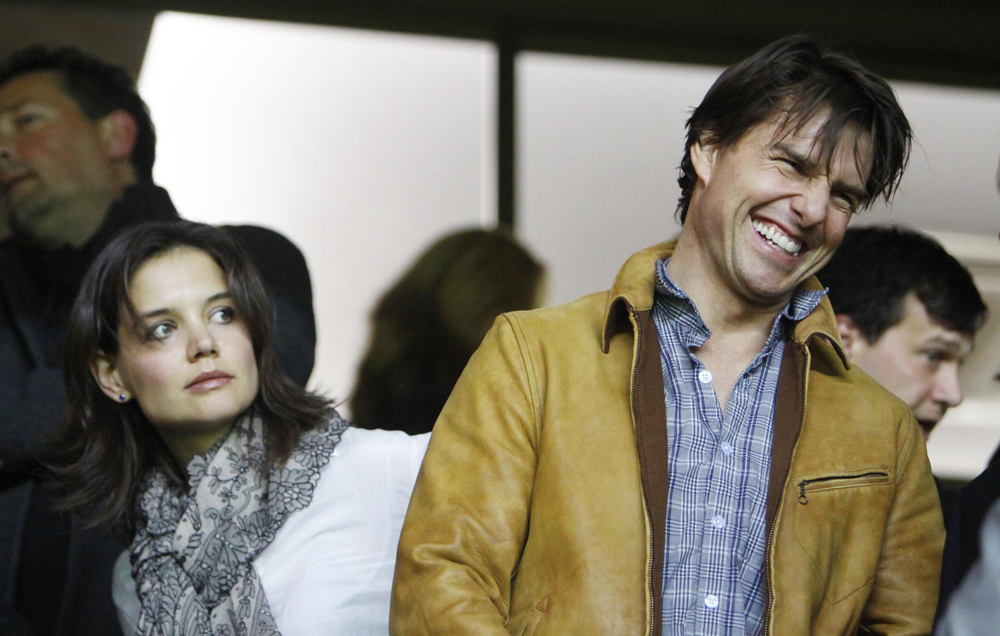 Our photo agencies have been slacking off quite a bit in regard to new Katie Holmes and Suri Cruise photos over the past week or so, so I apologize for not being able to post these delightful pictures of Katie and Suri feeding the giraffes at the Bronx Zoo on Saturday. Both girls look seriously happy, and it's nice to see them doing normal mom-daughter things together per their new routine. Also of interest are these cute photos of Tom wearing blindingly white hightop sneakers with massive lifts built into them. Tom was leaving his lunch spot in Malibu before heading straight towards the Scientology Celebrity Centre, so I guess Tom finds it valuable to stick his with routines as well. Whatever.
Yesterday, we covered Part One of John Brousseau's interview with the Village Voice, which talked extensively about his life inside the Scientology as part of the Sea Org. Of course, I only excerpted the parts of the talk that spoke of Brousseau encounters with Tom Cruise as well as the hundreds of thousands of hours of free CO$ labor that Brousseau not only worked himself but helped to direct. The context of yesterday's story was how Tom worships CO$ leader David Miscavige "like a god" and how Miscavige would do anything to keep the "face of Scientology" happy. Sure, Tom apparently paid for raw materials to completely revamp his Telluride home and various vehicles and other properties, but Scientology provided the labor free of charge. Those who worked on Tom's projects were paid about $50 per week for up to 100 hours of labor, and while we've heard about Tom taking advantage of CO$ slave labor before, Brousseau's details make the whole story even more real. He even provides the Voice with several photographs of the work he oversaw (and performed much of) for Tom.
This opens up the brief opportunity to discuss a particular argument that is brought up in relation to the Sea Org's exceedingly low pay. Brousseau even mentions it in Part Two of his Voice interview, which I'll get to in just a moment, but first I want to discuss the claim that "low overhead" for Sea Org members is a justification for a $50 per week pay check. Yes, these workers get free room and board and meals; but as Brousseau mentions, this means that you share a house with many other people (or in his case, other married couples) and previous members have commented that the housing is usually substandard with barely-working plumbing and that meals often consist of beans and rice and little else. If one ever decides to leave the Sea Org, they lack basic life and job experience. They lose all of their CO$ friends and relatives, and they are automatically charged in full (as "freeloader debt") for all CO$ auditing and courses that they have ever received. So leaving is not really an option for the vast majority of Sea Org members.
After 32 years, John Brousseau finally got out, and now we have more of his story, but first, here are some of his photos (courtesy of Village Voice) of what he (and his fellow laborers) constructed for Tom Cruise. Behold the airport hangar made with CO$ slave labor.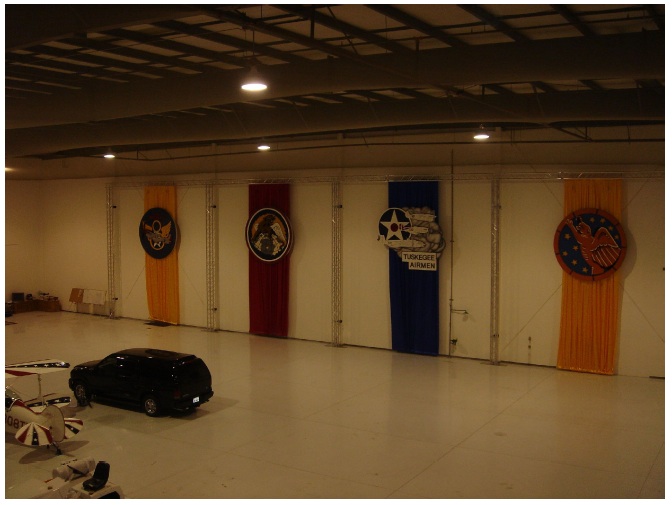 Here's the customized truck interior and a pen carved from a Eucalyptus tree close to where Tom first learned to audit.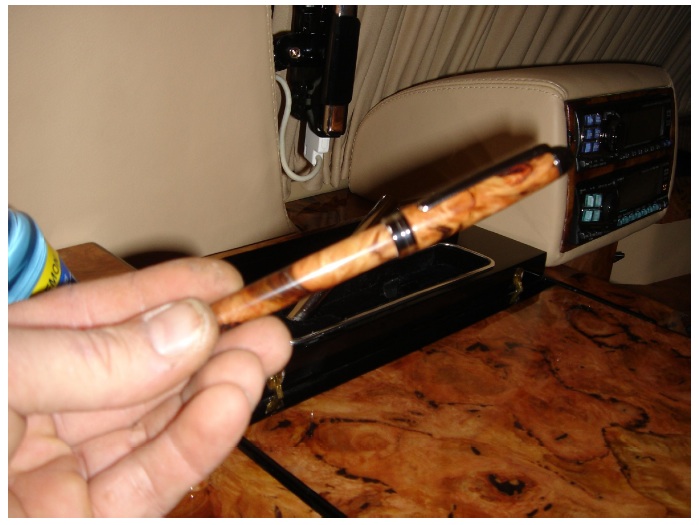 Here's what that eucalyptus tree looked like before it was turned into a truck interior and a pen. Poor tree.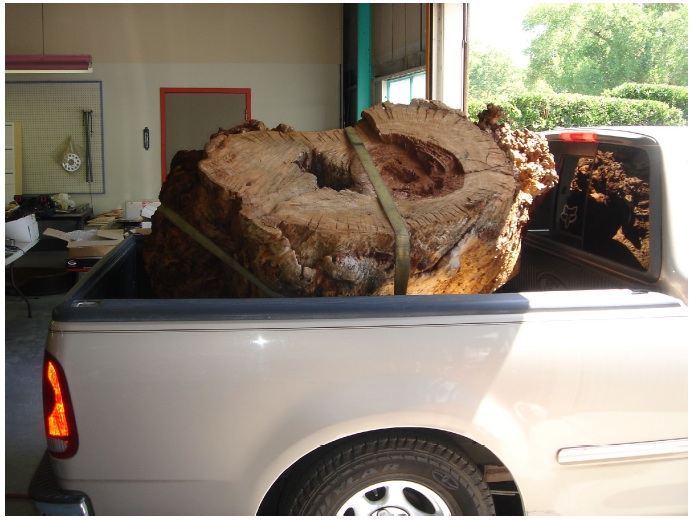 Now let's move onto the second part of the Voice's discussion with Brousseau. I'm trying very hard not to excerpt too heavily here (although this stuff is very addictive), so I would fully suggest reading the full piece if the urge strikes you. Among the topics of discussion are his eventual escape from the cult where he was ordered to help turn "The Hole" into a virual prison for wayward CO$ execs, but I'm only including the stuff about greedy Tom and how the greedy cult caters to his every whim:
On that fateful Eucalpytus tree: In 2006, Brousseau [had] been asked to customize yet another vehicle, a black Ford Excursion, which on its own was nothing special for a celebrity like Tom. But Brousseau had found a way to upgrade the vehicle in a way that would bring Cruise, then 44, nearly to tears. Brousseau replaced many of the surfaces in the vehicle with wood sculpted from the burl of a Eucalyptus tree that had been blown down in a storm at Scientology's International Base. The custom job was so detailed, it even included a matching pen in a special hidden compartment. "Tom fell in love with this thing. I told him, 'Here you go, Tom. Here's the pen and stuff that was made from a tree that grew at the place where you learned to audit.' There were tears in his eyes."

Tom received repairs on demand too: "Somebody spilled something [in the The Ford Excursion], or there was a scratch on the burl-wood finish. I'm out there wet-sanding it and buffing it in the middle of the night. Laurisse [Stuckenbrock, Miscavige's "communicator"] gets hold of me after Miscavige has flown somewhere in Tom's Gulfstream. And she wants that done right away. Things like that happened three or four times over the next few years."

Tom never paid for the labor: "I went up to Oregon to a manufacturing plant that was making Tom Cruise a new [second] motor home," he remembers. He spent the next six months working at the plant, each day from six in the morning to midnight. "I was making sure these guys were doing these finishes correctly. They weren't used to this high-end stuff. Tom paid the tab to the company, Marathon Coach, but he never paid me."

Brousseau wants to be clear that he never felt slighted when he wasn't paid for the hours he put in working on Cruise's homes and vehicles. "I'm not complaining. I had low overhead. I had a place to stay and food to eat. I even saved money despite being paid $50 a week." When Brousseau has publicly released photographs of the work he's done for Cruise, he says it was not to carp that he was owed money, it was to make Cruise question why he was benefiting from a group that is supposed to be helping humanity.

On the airplane hangar: "Tom had gone to where Miscavige lived. Miscavige had a garage there all tricked out. I had made signs for every kind of car and motorcycle he owned. Tom saw it and said it rocked, and said he wished his airplane hangar looked as good. So Miscavige had the people in Cine [Scientology's movie making division] make these giant signs. Four months it took just to make the signs. And the hangar's fancy office was completely designed and constructed at Cine Castle. It was reassembled at Burbank. Tom was blown away by it. He was raving — 'Dave, thank you!'" Brousseau says. "It was sick."

On a "bed for the gods" & the humidor: "There were renovations going on to Miscavige's living quarters in Upper Villa. I built him a bed for the gods. It had a hand-carved headboard. It looks like a giant fantail. It had inlaid wood from all over the base. Cottonwood, elm, eucalyptus. Tom Cruise was beside himself when he saw it. 'God, look at this bed!' I built a handmade humidor that would hold 500 cigars. I had hand-tooled leather on top. It was one of a kind. You could probably get $40,000 for that humidor. And the thing was, Miscavige didn't smoke cigars. Tom Cruise did, and Miscavige wanted to show off for Tom when he came to visit."
[From Village Voice's Running Scared blog]
Then when Miscavige pull out those cigars, Tom's eye wandered towards that "bed for the gods," and the two shared a knowing glance … just kidding. Maybe.
Throughout all of this, I have to wonder how Tom — even if he disregards the fact that slave labor was used — ever thought it was appropriate for his "church" to be constructing such elaborate gifts for him. I mean, what on earth kind of church does that for a member? And what sort of church patron thinks he deserves such excessive services? Tom Cruise, that's who.
Brousseau states that he was motivated to leave the cult after reading the now famous "Scientology: The Truth Rundown" article from the Tampa Bay Times paper as well as watching Anderson Cooper's four-part series on CNN (during which the Coop interviewed several former church officials including Marty Rathbun and Amy Scobee). When Brousseau left, he was tracked down personally by Tommy Davis (head of the Celebrity Centre and frequent subject of Suri Cruise paternity rumors) and had to barricade himself in his hotel room while claiming that he'd called the police. Brousseau was luckier than most Sea Org escapees because he had a vehicle and some money saved up (due to his work on revamping the Freewinds cruise ship), but he had no family, and he had been pressured to divorce his wife by Shelly Miscavige, who disappeared a few years later in 2007. (Brousseau suspects, "I think you'll hear that she's dead at some point, because she's never coming back. Once Miscavige loses faith in someone, you're a treasonous b*st*rd never to be trusted again.") Brousseau soon took refuge with Marty Rathbun and then proceeded to rebuild his life at age 52. He is now remarried to another ex-Scientologist, but he'll never get back those lost years.
In other CO$-related news, the great grandson of L. Ron Hubbard, Jamie De Wolf, has spoken about Tom Cruise in a CBS-affiliated interview. De Wolf refers to Hubbard as a "portly red-headed charismatic lying con-man pseudoscience self-help author" and performs as a stand-up comedian. De Wolf says that he's been harrassed by the CO$ but maintains that Tom is merely a "victim of the mirage that my great grandfather created around himself." Eh. Not really. Tom loves Scientology with every fiber of his being, and the CO$ will continue to give him everything that his little (lifted) heart desires. They'll even find him a new wife soon too. Just wait.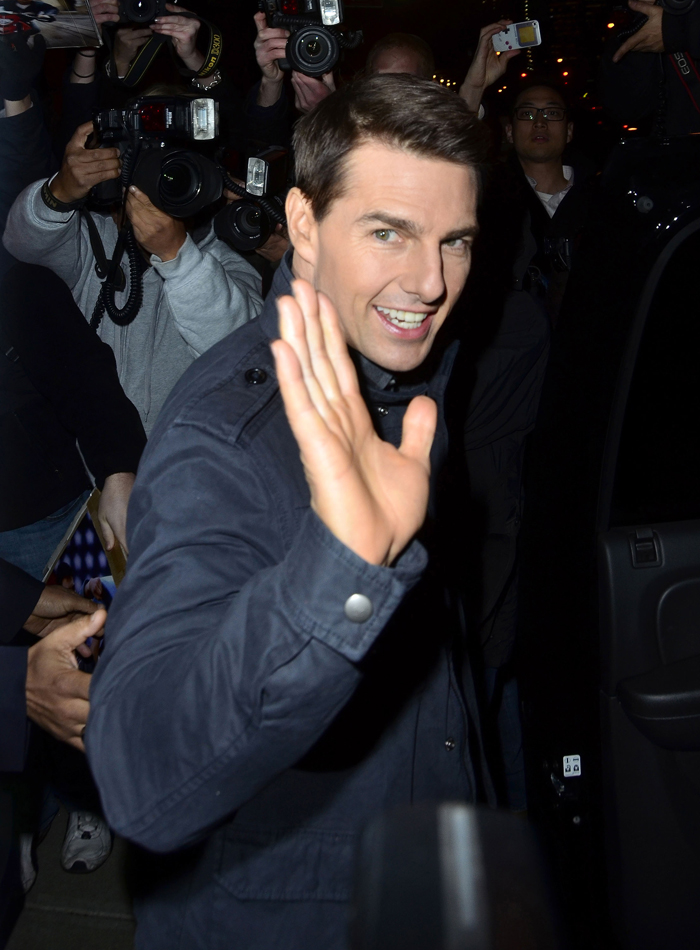 Photos courtesy of Fame/Flynet and Village Voice