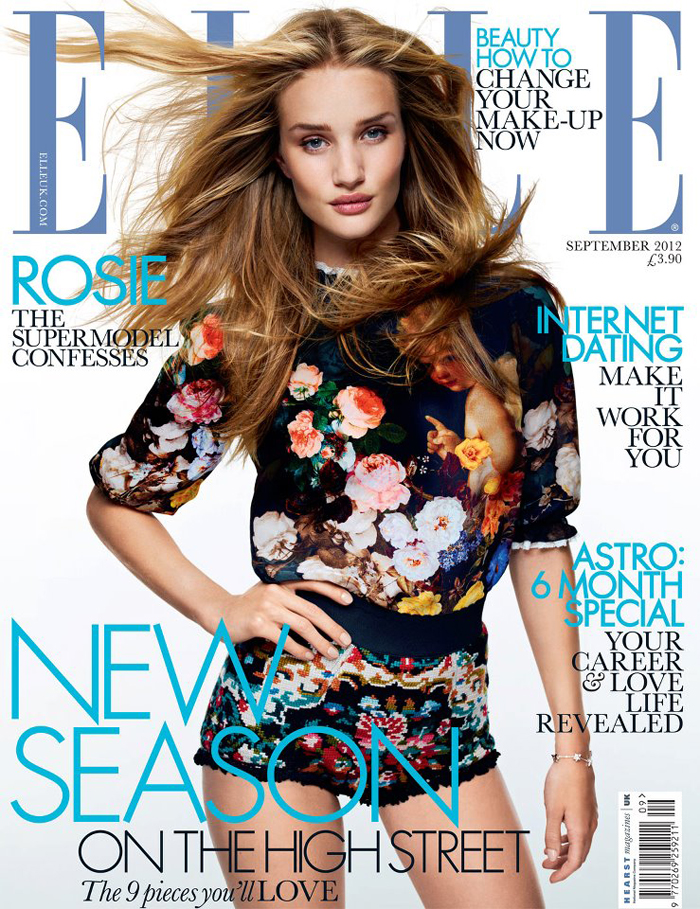 Rosie Huntington-Whiteley covers the September issue of Elle UK in a Dolce & Gabbana jumpsuit that would probably look a lot better on a spring cover. But I get it — she's Rosie, so she's in full bloom, right? As for the interview, well, Rosie's got a history of saying weird things in interviews, such as all of that "mood lips" business and talk of just being a farm girl because her family raised a few chickens when she was a girl.
While I don't dislike Rosie, I think she does suffer a few delusions of grandeur in regard to acting, which have been facilitated by learning how to arch her back just right for Michael Bay in that latest Transformers movie. The last we heard about Rosie's acting career, she was mulling over all of her countless offers and waiting for the right script. I think she really wanted to prove some indie cred, but now she's currently filming Mad Max: Fury Road with Tom Hardy (sorry, Kaiser) and Charlize Theron. So yeah, Rosie's totally going to be an action babe. She's also looking towards the future with motherhood on the brain and talks about her new panty line. Panty line, get it?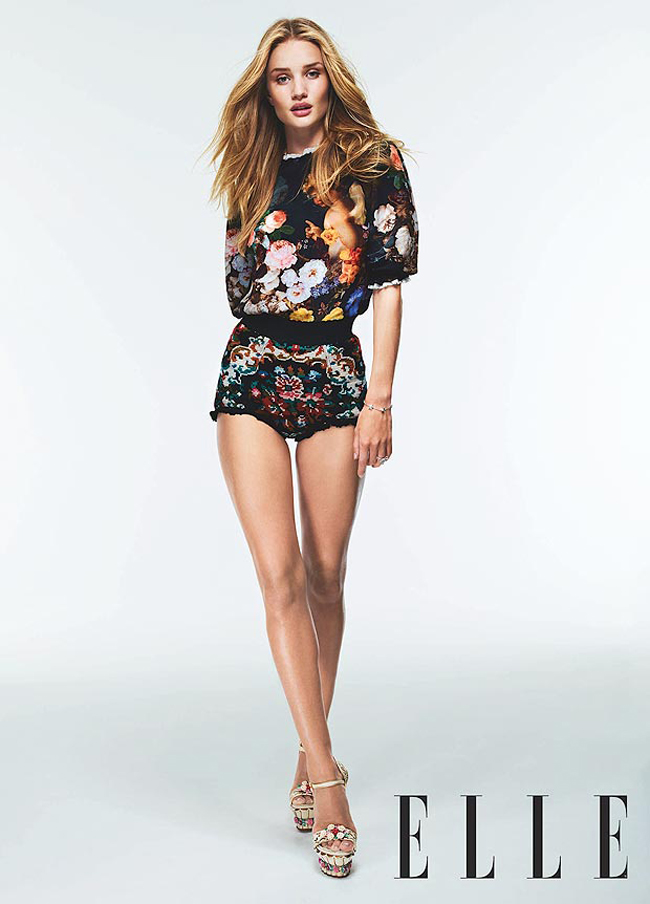 She wants babies with Jason Statham: "I always see myself working, but definitely being a mum will be a big part of me. Look, I think my career is very self-indulgent. It's all about me. I'm not a doctor, I'm not looking after people, I'm not saving children. I'm in the entertainment business. I'm a model. I'm an actress. So it is very self-involved. I think there is naturally a point where you think, 'I don't care about myself as number one any more.' I want to care about other things."

Starting out was difficult: "I wasn't quite tall enough either and I hated it to be honest. There was no individuality, no opportunity to be individuals. I think that people forget you're human and you just become an object. [In New York] I was constantly reminded that I wasn't right wherever I went and that was difficult because I'd come from a place where it didn't matter. For any young girl to be told they're not good enough, every day, wherever they go."

Why she stuck with it: "I don't know, I just had this thing, that this was where I was going, this was the opportunity that life had presented me with. This was my destiny and I wasn't going to just pack it all in because these people gave me a hard time – and that's still my attitude now."

On her new bra & panties line: "I've wanted to design ever since I can remember and I fell into modelling through wanting to design and then, through my modelling career I modelled a lot of lingerie. My top goal is for it to be accessible and appealing to everybody, I didn't design it for just me."
[From Elle UK]
Well, I give Rosie credit for acknowledging that she's not saving the world as a model because at least she understands that entertainers aren't of the utmost importance. I wish that more models and actors would admit that what they do really is only meant to amuse us and isn't worthy of all the praise in the world. At the same time, I can appreciate how Gisele Bundchen hasn't fancied herself an actress like Rosie seems to do. But I guess I can't have everything from one person.
Here's a bit of a sneak peek at one of Rosie's bra designs for high-street chain Marks &; Spencer. Um, it's a bra? That's all I have to say here.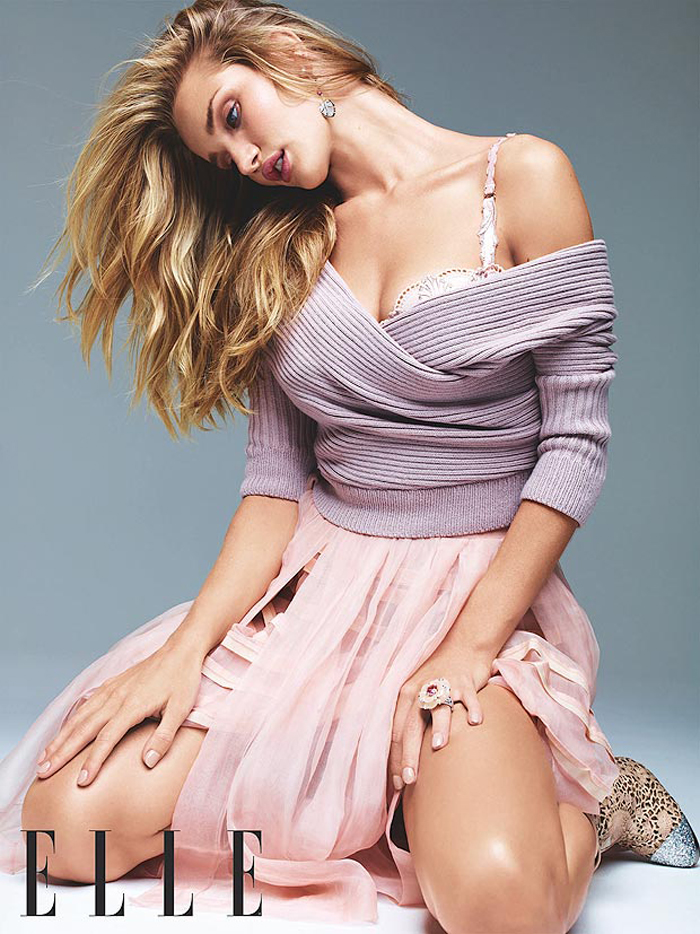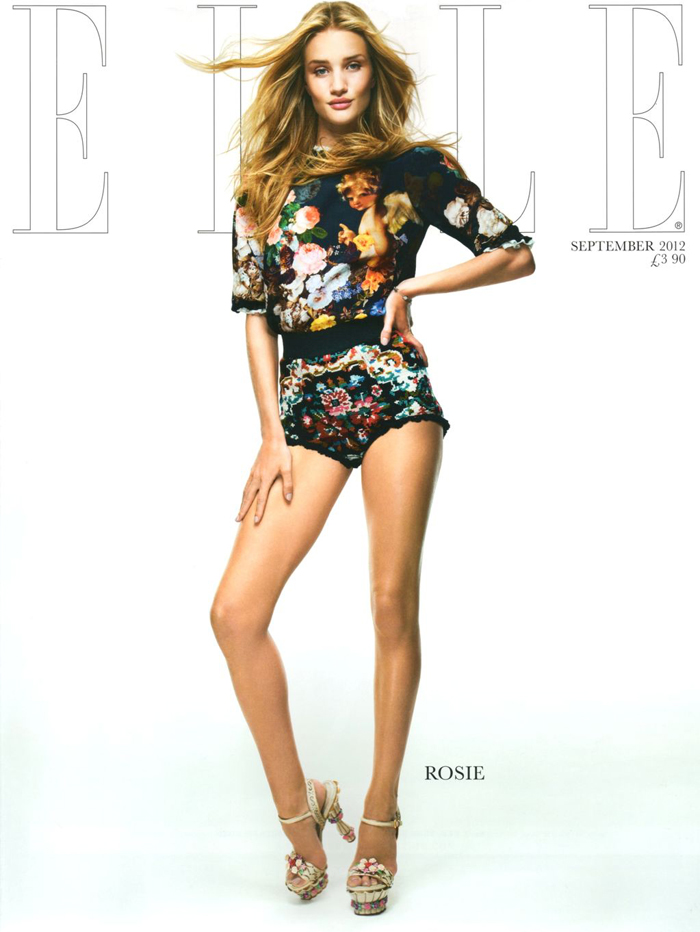 Photos courtesy of Elle