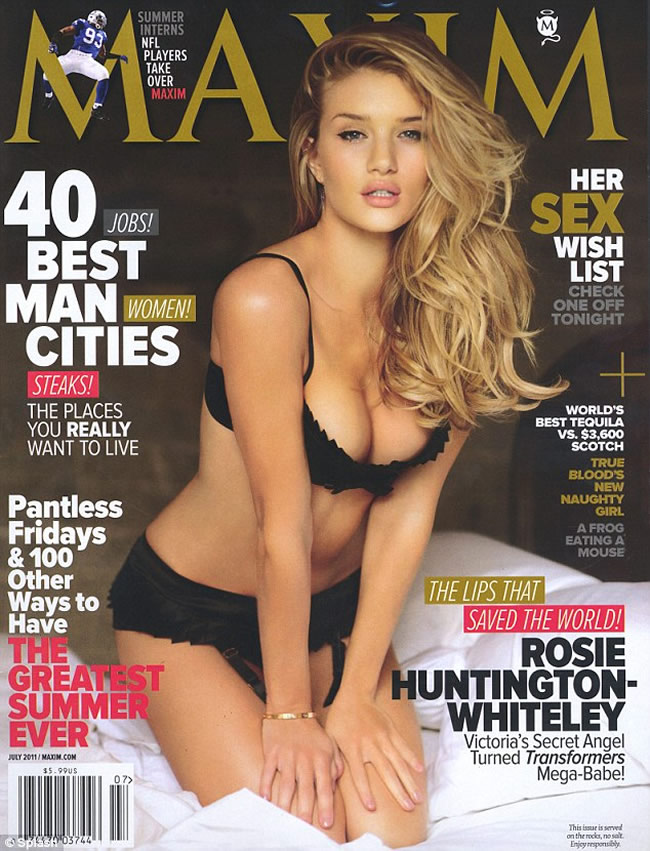 Are you ready for another edition of "Deep Thoughts with Rosie Huntington-Whitely"? That's certainly what I was looking forward to reading while approaching her July cover story in Maxim, which also recently named her the top babe of their Hot 100 List. After all, this is the same girl who is starring in the upcoming Transformers movie yet had the nerve to exclaim, "Don't test me on Transformers!" Then, Rosie also insisted that she wanted a sniff of Angelina Jolie's career while simultaneously acknowledging that modelling comes with a whole set of body issues that, for her, just melted away on their own. Like magic. Well, Rosie's Maxim piece isn't quite as remarkably stupid as her other interviews, but she does take great pains to rave about her love of English food. Whatever, right?
What's Dark of the Moon about?
Sam, Shia LaBeouf's chracter, has to sve the world, and he's got a new girlfriend, which is my character, Carly. Things unfold a little bit darker than they seem at first…

Is Megan Fox's disappearance explained?
Yes, it's explained, but that's all I'm saying.

Is it explained with explosions? This is a Michael Bay movie, after all.
Well, Shia and I are explosive together! The movie begins with us in a new relationship, and then we go from there.

Did you get a feel for just how much Bay loves things that go "boom"?
I don't think anything is subtle on a Michael Bay set. Everything is 10 times what it is in reality. More fire, more noise, more explosions! Faster, harder…I was thrilled to witness it all.

With the trend of models starring in big roles now, do you think it's fair to take the money out of hard-working actors' pockets?
Do you think it's fair that actors have been taking the money out of hard-working models' pockets? Actresses have completely taken over the fashion industry in the last five years, in terms of big deals. Maybe it's time the models got some payback.

Your recently moved here. Do you miss home?
Everyday. It's my soul, England. I miss the people, the culture, the food…

Wait–you miss the food in England? Really?
Oh, my God, so much! I find it strange that people say English food is so bad. To me it's delicious. I've never really considered it, but I was thinking the other day maybe it's strange to have beans on toast for breakfast.

You're famous for your lips. Is that something you've worked on?
The rest of my body requires a lot of upkeep, but the lips are one thing I don't have to work on. They're funny, because they change color with my mood. They get really, really red when I'm angry or passionate, and pale when I'm miserable or tired. But I suppose everyone else's do too.

Uh, no…
They have a life of their own. they get me in trouble. you know mood rings? I've got mood lips.

Have your lips started to get you recognized more often in America now?
I was at the DMV. My driving instructor was like, "You're the Victoria's Secret model!" I failed my last test miserably, but this guy passed me with flying colors.
[From Maxim]
Has anyone else heard of the "mood lips" phenomenon before? The only time that my lips ever change color on their own is when I'm sick, so I'm really not sure what Rosie is referring to in that instance. Then again, she could also very well be lying about not using any sort of fillers on her lips either because, in addition to changing color at will, they miraculously transform into different sizes too. Rosie is a Transformer too!
Regardless of the endless talk of Rosie's lips, I do believe she has a somewhat point about actresses (like Emma Watson and Scarlett Johansson) taking over all of the major advertising campaigns that used to belong almost solely to the models. The same goes for magazine covers too, but this transition was a necessary one because there simply aren't enough models these days with household name recognition that can really sell a product or magazine like actresses can do. The age of the supermodel is now over, so it's only natural that models could start taking over some of the acting roles in return. The only problem there being that said model must be able to act, unlike what Rosie has recently demonstrated in the latest Transformers trailer. Then again, Rosie probably doesn't speak as much as strike a pose in this sequel. No "Spice Girl" empowerment for her!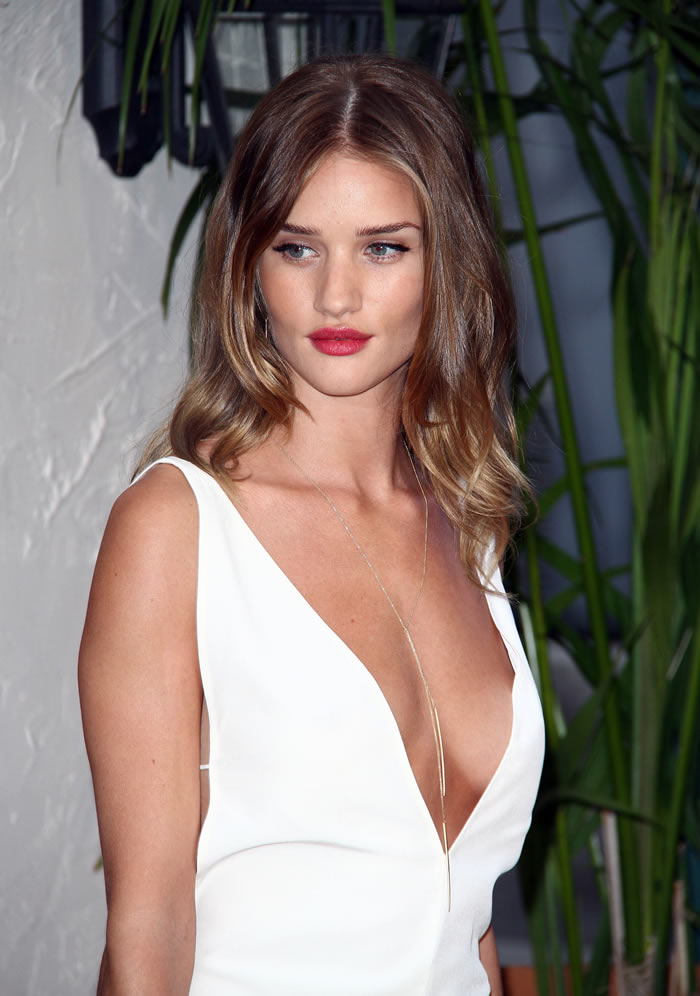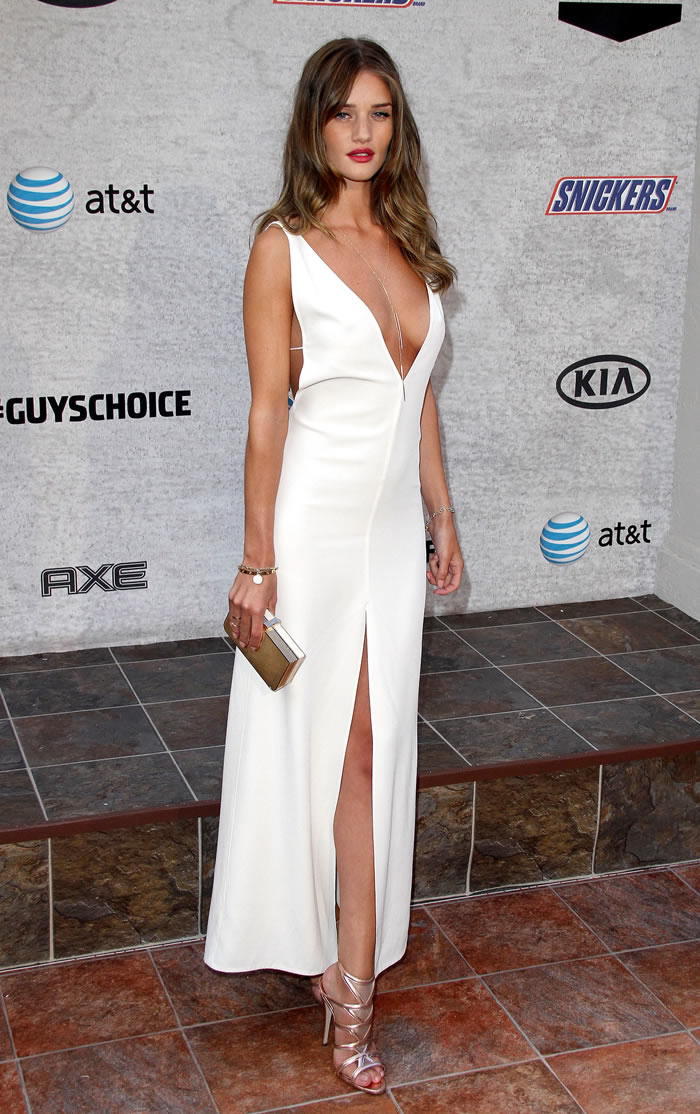 Cover shot courtesy of Maxim; Rosie at Spike TV's Guys Choice Awards on 6/4/11 courtesy of Juan Rico/Fame Pictures.